Whether you're a chronic dieter seeking to get out of the diet-binge cycle or just someone who is looking to improve your relationship with your body, here are 7 practical tips to help you overcome body image and food obsession and help get you on the right path toward ditching diets and finding unconditional self-love.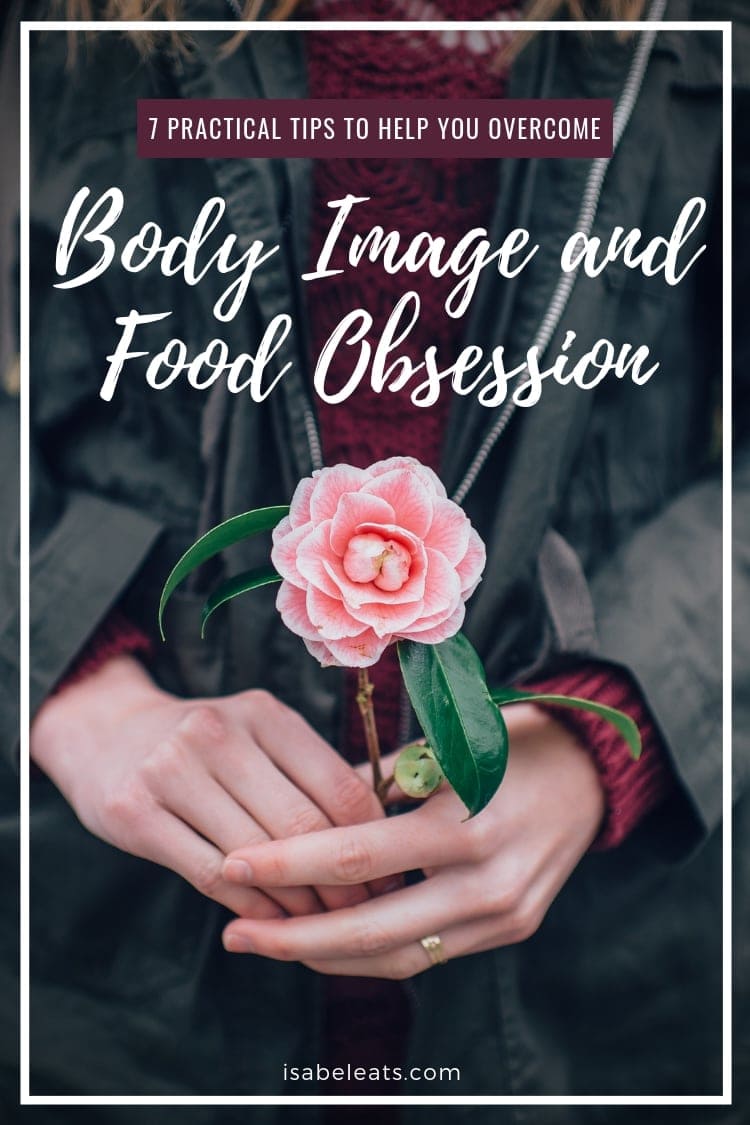 Are you constantly worried about how you look? Can't stop thinking about the food you just ate and what you're going to eat next? Or maybe you're always on the lookout for the next best diet or healthy cleanse that promises to get you the body you've always wanted?
You're not alone. So many of us have been there, including me.
In the past, my self-image was tied to making "healthy" choices and controlling my food in order to maintain a certain body composition.
I was obsessed with what I ate, how much I ate and what I needed to do if I ate "too much." I was so afraid of giving up control of my food for fear of gaining weight and (in hindsight) being unlovable.
Striving to be healthier is not a bad thing. In fact, seeking personal growth and development in mind, body and spirit is part of what life is all about. But when that desire to "be better" around food and fitness starts to negatively affect your life, that's a sign to take a step back and examine what's really going on.
So how do you figure out what the deeper issue is? Listen.
Pay attention to the emotions that are behind the actions.
When you take the time to truly and honestly evaluate what the motivation and intention is behind the "healthy behaviors" you're practicing, is it life-giving, energizing and overall positive? Or does it come from a place of insecurity, hate, shame, fear and control?
More often than not, wanting to lose a few pounds or look better for a big event comes from an innocent place. But as yo-yo dieters and those struggling with disordered eating know, the road from dieting to body image and food obsession is a slippery one.
Whether you're a chronic dieter seeking to get out of the diet-binge cycle or just someone who is looking to improve your relationship with your body, here are 7 practical tips to help you overcome body image and food obsession and help get you on the right path toward ditching diets and finding unconditional self-love.
1. Stop counting calories.
Control. That's what counting calories can offer you – at least that's what all the calorie counting apps and dieting books want you to believe. But if you stop and think about if and how counting calories is serving you, you'll soon realize that you're not really in charge at all.
Adding up your caloric intake every day makes you a slave to those pesky little numbers. That number has so much power over you. You're given a number and if you go over that number, you've failed. You stick with it for as long as you can, searching for the promise of more self-confidence, a better body, a better life. Until one day, you just don't have the willpower to stick with it anymore and you blow it. You eat things you "aren't supposed to" and commit to getting back on track the next day. And the cycle starts all over again.
I've got one question for you – how has that been working for you? Do you feel totally in control of your life, of your body, of your mind? Or is calorie counting really just helping you ignore and cope with feelings you don't want to deal with?
Stop counting calories and make a pact with your higher self to truly listen to what your body is telling you it needs.
2. Ditch the scale.
Stepping on the scale every day, every other day, every week, or even every other week does absolutely nothing to help you overcome your body image and food struggles. It only serves to keep you focused on your food and exercise, making you a slave to the number you're shown. Sound familiar? If the number on the scale determines your mood and how you feel about yourself, it's time to throw that sucker away.
It may seem pretty scary to completely let it go, especially if you're weighing yourself every day. That's okay. If it's too much to ban it from your life completely in the beginning, slowly wean yourself off of it by stepping on it less often than usual. For example, if you weigh yourself daily, commit to only doing it every other day, no matter what it says the next time you step on. Then transition to every three days, then every week, and so on. Personally, I found it difficult to slowly remove it from my life in the beginning. Instead, I vividly remember the day that I sat down with my mom, handed her the scale and asked her to hide it from me or throw it away. She helped do what I couldn't do myself and also kept me accountable. This may be a better option. Try and see what works best for you.
3. Stop reading and looking at things that bring you down.
You're sitting in your living room one beautiful weekend afternoon and all you can to do is flip through your newest fitness and health magazines, read the latest article on your favorite health website that tells you how to burn more calories throughout the day and check out your Instagram/Facebook/Twitter feed to see if any of your favorite healthy living people have posted anything new. After doing that for a while, you close your laptop and can't help but feel inadequate about yourself, your day, your life. 10 minutes later, you open up that Facebook app and do it all over again.
Does this sound like you? If the content you consume makes you feel lousy about yourself, stop it! Slowly start to unfollow those bloggers, celebrities, weight-loss gurus and even friends that do terrible things for your self-esteem. And yes, that even includes this blog! If reading this blog bums you out and makes you feel substandard, please hit the exit button! I will totally understand!
4. Surround yourself with people of all body shapes and sizes.
In addition to distancing yourself from content and people that make you think twice about your self-worth, it's important to find role models that help you expand your definition of beauty. Surround yourself with people of all body shapes and sizes, especially those who are different from what your "goal" is. This will slowly help you see that beauty, success and even plain old likability isn't defined by the number on the scale or the size of your thighs. Fat is not a bad thing. Fat is not a good thing. Thinness is not a bad thing. Thinness is not a good thing.
5. Get rid of clothes that don't fit.
Holding onto those jeans that used to fit when you were at you goal weight isn't doing you any favors. Having a drawer full of clothes that are no longer serving you isn't motivating (at least not in a positive way), but actually brings about feelings of disappointment, anger and sadness. Instead of trying to change your body to fit into clothes, change your clothes to fit onto the body you have right now. A great, well-fitting outfit that compliments your current body can do wonders for your confidence and self-esteem. So even though it may be difficult, take the plunge and throw away (or donate!) that dress that makes you feel bad. And then do a little dance and give yourself a pat on the back.
6. Find a hobby or interest outside of the food & body image space.
If you're spending way too much time thinking about and doing things that are a part of the food, fitness and body image world, find something else your passionate about. If you can't think of anything else you're passionate about, find an activity that you wouldn't mind doing, even if you don't really love it. It can be anything from knitting, writing, organizing, gardening, crocheting, sewing, drawing, painting, joining some type of social group, taking a photography class, learning how to play an instrument, etc… The possibilities are endless. I promise you'll find something you enjoy, even if it takes a few tries. This will help you see that your life doesn't have to revolve around food and body image. There's a great big world out there with so much to offer. Go explore!
7. Practice being uncomfortable.
Do something you didn't think you were capable of doing and write it down, making sure to keep a list of all of your accomplishments. It can be small things or big things. For example, some of the things on my list of accomplishments include getting through my first job interview, going down a water slide for the first time ever (which is a huge deal because I don't know how to swim and I'm absolutely terrified of roller coasters and anything that gives you that feeling in your stomach when there's a sudden drop), every single time I've given a class or work presentation (I'm so uncomfortable with public speaking) and of course, overcoming my struggle with food. Life is full of challenging moments. And it's in overcoming these challenges that we learn and grow.
In no particular order, I find it most helpful to focus on implementing one change at a time. I'm not going to lie – shifting your thinking around food and body image isn't going to happen overnight. After all, dieting rules and ideas about thinness and fatness have been culturally ingrained in us. But that's okay. In fact, it took me years to fully feel like I wasn't obsessive and crazy around food. But I can tell you it's so worth it.
Like this post? You may also like these!