This Apple Pear Salad with a Honey Cilantro Vinaigrette is an easy 5 minute recipe made with crunchy apples, sliced pears, dried cranberries, walnuts and shaved Manchego cheese.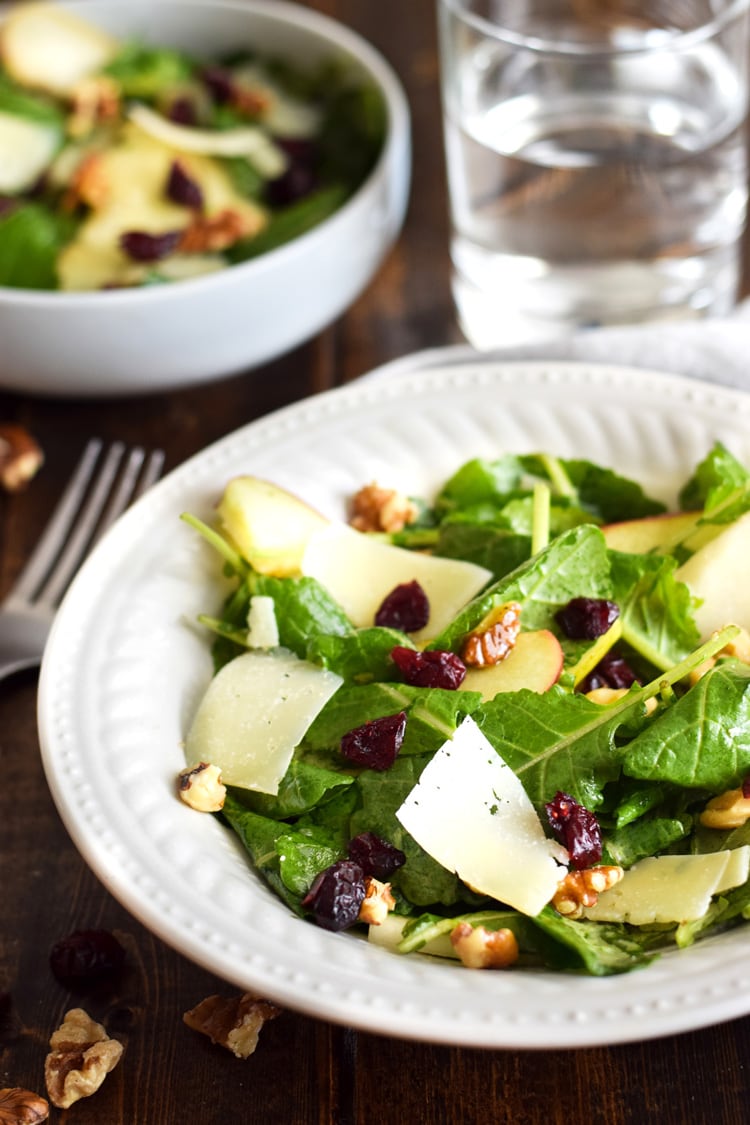 Happy 2017, everyone!
We did it. We survived Thanksgiving, Christmas, New Year's and all the delicious sugary foods that came along with the holidays. As a food blogger, it almost seemed never ending. My Instagram and Facebook feeds were filled with photos and videos of Christmas cookies, cupcakes, sweet breads, special desserts, chocolate covered this and candied that. I was seriously in heaven.
But now that the holiday madness is over and I finally have a chance to breathe, I'm pretty excited about eating my vegetables. For me, eating "healthy" is all about balance and truly being mindful of what your body is craving. There is no one-size-fits-all to eating well.
If for some reason you didn't have any sweets last month and you're craving some right now, then please stop where you are and make this Cinnamon Cranberry Crunch Banana Bread. But if you're like me and ate pretty much anything covered in sugar over the holidays (again, I was seriously in heaven), you're probably over dessert at this moment in time. Maybe I'll crave dessert tomorrow? VERY possible. But right now, I'm all about this salad.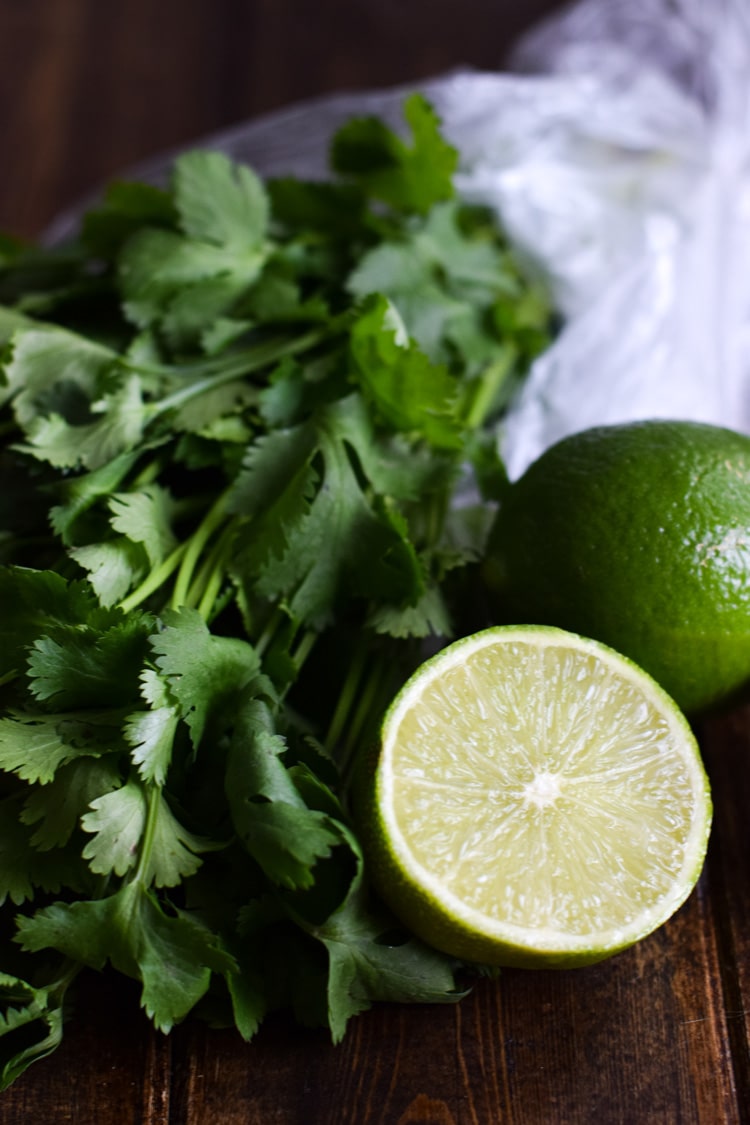 One of the best parts about this salad? The dressing is made in the blender. Aka – easiest dressing ever. I used cilantro leaves and lime juice to bring in some bright flavors that are often used in Mexican cooking and balanced it all out with some honey for a touch of sweetness.
To make, just throw all of the ingredients for the vinaigrette into the blender and pulse until the cilantro is chopped to your liking.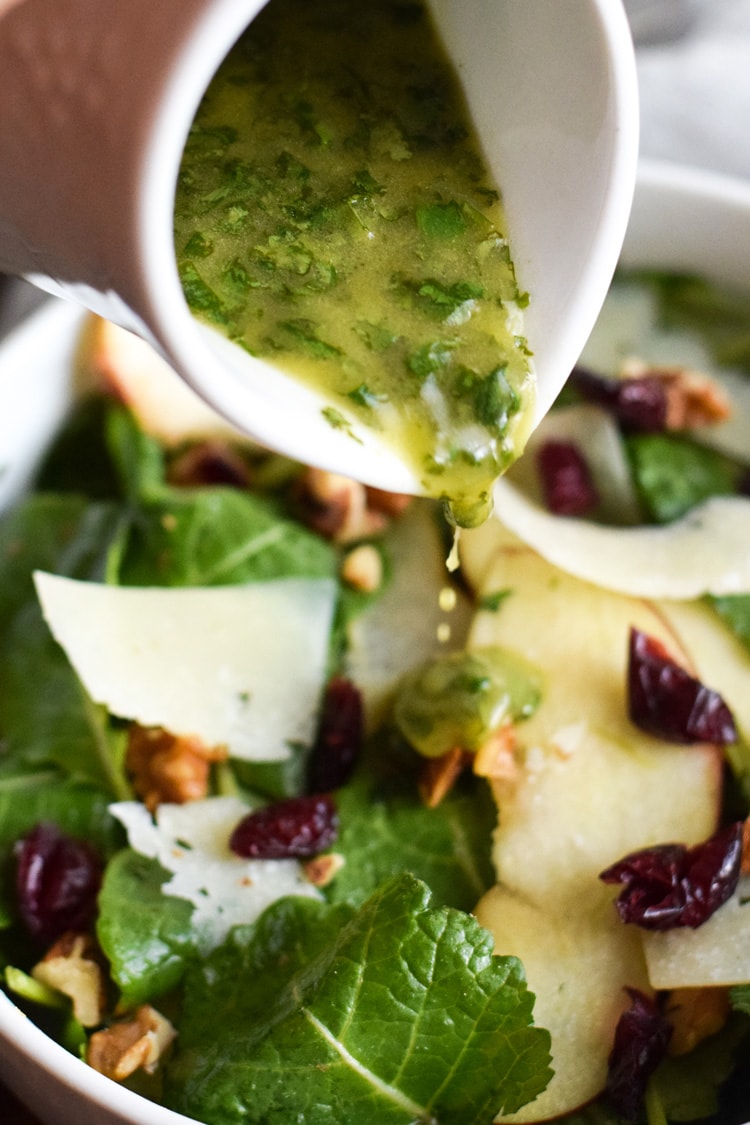 For the salad, I used baby kale leaves which I found at my local grocery store, but you can also use any mixed greens that you'd like. I prefer kale because the leaves are sturdy and really hold up well alongside the apple slices, but really any mixed greens will do.
Just put everything in a large bowl, and toss it to coat with the vinaigrette. Serve in two large salad bowls or 4 smaller side plates and top with as much shaved Manchego cheese as desired. If you don't have any Manchego cheese, you can also use shaved parmesan.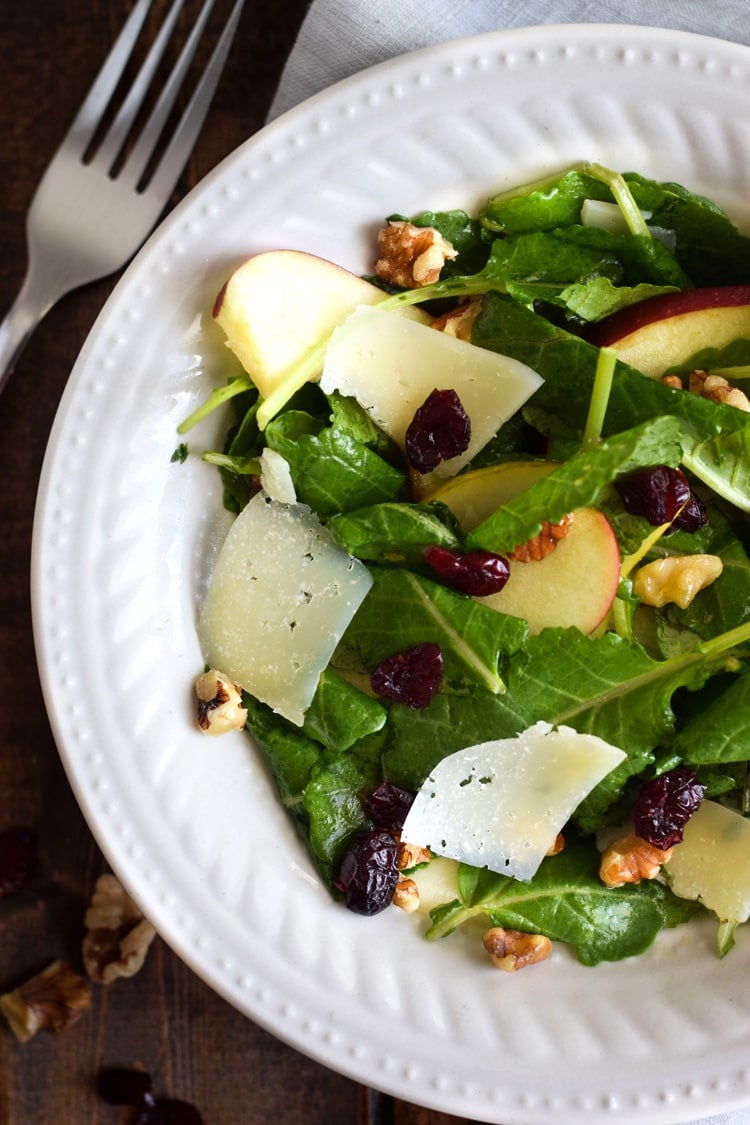 INGREDIENTS
For the vinaigrette
1/4

cup

olive oil

2

tbsp

honey

2/3

cup

packed cilantro

Juice of 1 lime

Pinch of salt
For the salad
4

cups

baby kale

1/2

pear,

thinly sliced

1/2

red apple,

thinly sliced

1/4

cup

dried cranberries

1/4

cup

chopped walnuts

Shaved Manchego cheese,

as much as desired
INSTRUCTIONS
For the vinaigrette
Add all ingredients ingredients into a blender and pulse until the cilantro is finely chopped. Refrigerate until ready to use.
For the salad
Add all ingredients except shaved Manchego cheese to a large bowl. Pour dressing over top and toss to evenly coat. Serve immediately.


Top each salad bowl with as much shaved Manchego cheese as desired and enjoy!
Did you make this recipe?
Leave a comment below and tag @isabeleats on social media!