Jump to Recipe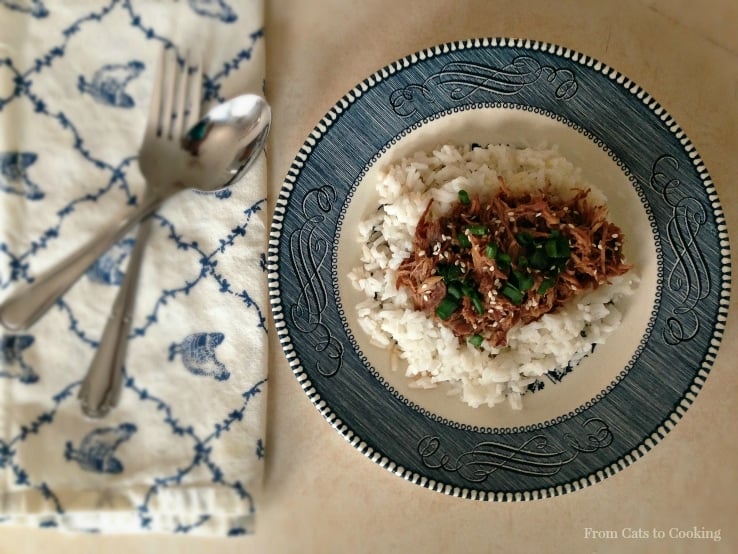 This recipe was such a wonderful surprise. I did not expect for these Asian slow cooker pulled pork ribs to be mouthwatering and blog-worthy, but they certainly were.
Most people do not think of the slow cooker as an essential tool for summer cooking. I should know because I was one of them. Don't get me wrong – I am usually the first one to suggest grilling out on the porch on hot summer nights. But lately, I have been pretty busy with things outside of the kitchen and the apartment and do not always have much time to devote to making a good dinner with enough leftovers for John and I to take to work the next day. And let me tell you, as as a woman who is two years out of graduate school destined to be paying back student loans for the next 30 years, leftovers and any other money-saving tricks are important. And that's where the slow cooker comes in handy.
For the ribs, I used boneless pork ribs because that's what I had in the freezer but I can image that bone-in pork or beef ribs would work and taste just as good.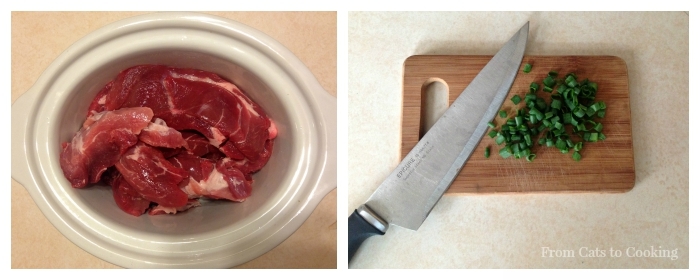 Some of the ingredients in this recipe are a staple in many kitchens. But some are definitely not. If you are curious, adventurous and like trying new foods, here are some links to the exact products I used for some of the more uncommon food items.
After turning the slow cooker on in the morning, I headed off to work and completely forgot about the ribs within half an hour of getting to the office. Another perk of the slow cooker – set it and walk away. But later that day, I was quickly reminded by the amazing smell that greeted me at the door.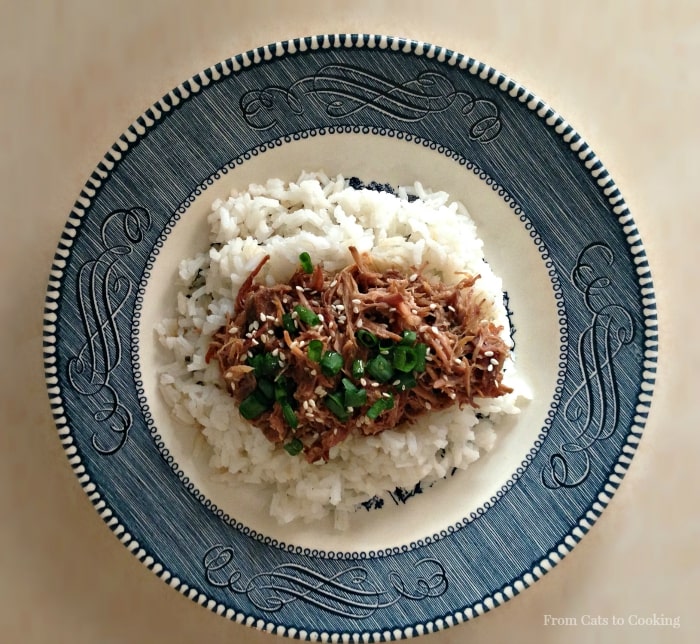 I served my Asian slow cooker pulled pork ribs on top of rice and garnished it with some green onions and sesame seeds. The next day, I ate leftovers on top of some salad greens, salsa and cheese – my very own homemade Chipotle salad bowl. I also found myself taking random bites of the stuff straight out of the fridge (don't judge me) here and there. Needless to say, this recipe is going to become a regular in my kitchen.
If you try this and love it as much as I do, let me know in the comments below! I would love to hear about it!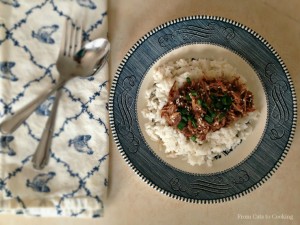 Prep: 10 minutes
Cook: 6 hours 30 minutes
Total : 6 hours 40 minutes
Ingredients
3.5 lbs boneless pork ribs
2 tbsp lite rice vinegar
2 tbsp garlic powder
1 tsp white pepper
1/2 tsp ginger powder
1 tsp fish sauce
2 tsp fresh chili paste
3 tbsp honey
1 tbsp salt
Chopped green onions for garnish (optional)
Sesame seeds for garnish (optional)
Instructions
Add all ingredients in the slow cooker except for the fresh chili paste and honey.

Mix the ribs in the slow cooker with tongs to evenly coat all the meat with the seasonings.

Cover slow cooker.

Cook on low for 6.5 hours.

After 6.5 hours, mix in the honey and fresh chili paste.

Garnish with chopped green onions and sesame seeds and eat up!
LIKE THIS RECIPE? KEEP IN TOUCH WITH ME ON SOCIAL MEDIA:
Instagram | Facebook | Twitter | Pinterest
This page contains affiliate links. If you make a purchase on Amazon after clicking one of my links, I may receive a small commission. The price of the item stays the same and any money I make goes to supporting this blog. I only endorse products and services that I fully believe in.