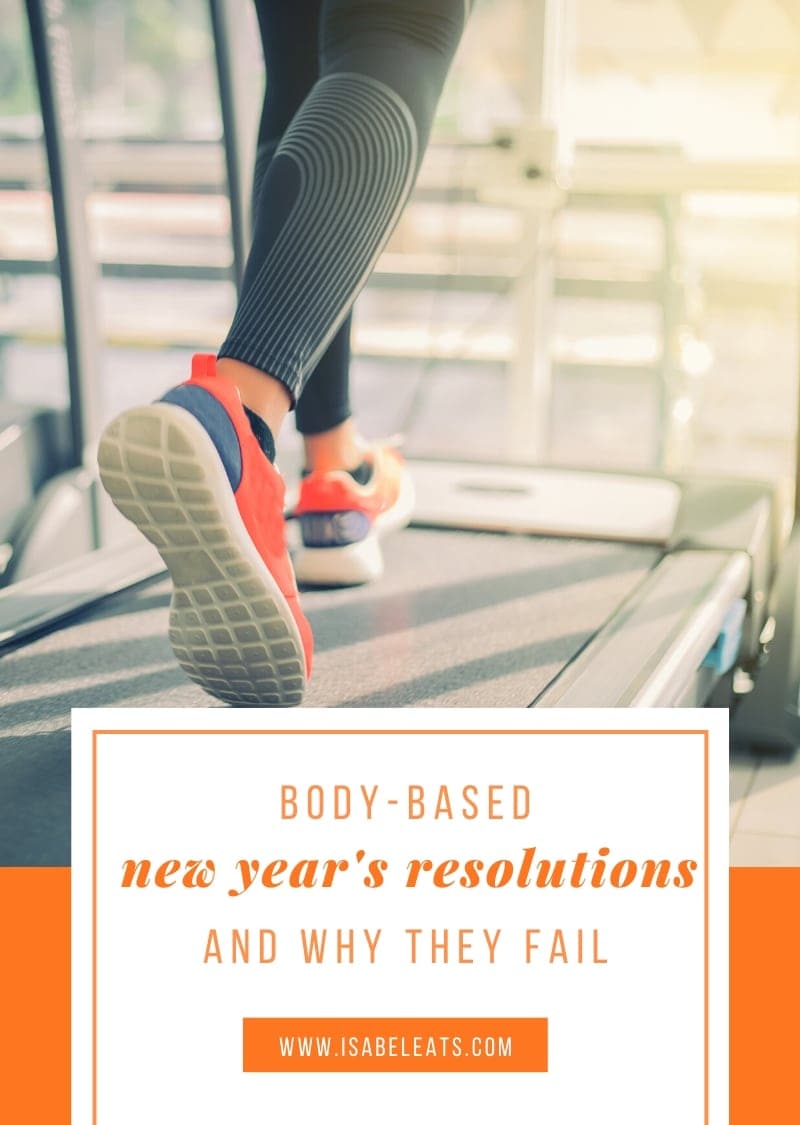 This post was written by my dear friend Paige Knapp who is equally as passionate about raising awareness about food and body image issues as I am. You can learn more about her below.
Raise your hand if you've ever made a New Year's resolution that goes a little something like this:
"This year I'm going to go to the gym every day and finally get my dream body," or "This year I'm going to give up carbs for good and finally lose some weight."
If you made a goal like that, great! I'm proud of you for wanting to make a positive change to your lifestyle. But now that it's halfway through January, I have to ask: How's your progress going?
For most, the answer is probably "not very well."
These resolutions are the most popular ones in the country, but that doesn't mean that they're easily achievable. In fact, less than half of all resolutioners actually achieve their goal! If that's the case, why do we keep falling into the same body-focused resolution trap?
January is plagued with ads for meal replacement bars, crash diets, and intense workout challenges. But despite the hype, none of these things help people achieve those New Year's resolutions. Think about the last time you hit up your local Starbucks and ordered a "skinny" latte, or when you were browsing the aisles for a quick snack and decided to choose a Think Thin bar. These companies are forcing you to think about your body with every product they try and sell you, but why?
Diet culture is a market, and that market is targeting you. Exercise franchisers know that they'll be able to make a ton of cash during January if they offer special discounts, because most of the people who buy end up dropping out and not coming back after a month anyway. The heads of food companies know that you're probably more likely to choose a "skinny" bar over a "whole food" bar at the beginning of the year, because you think it'll make you thinner. And the worst part? Those "skinny" options usually don't contain ingredients that are great for your body. They're plagued with artificial sweeteners and stabilizers that – for most people – lead to nothing but belly aches.
Every year we use these same strategies to try and achieve our ideal bodies, but every year, we think that we fail. But I want to let you in on a little secret: we aren't the ones failing. Our crazy restrictive diets and stressful, unsustainable exercise routines are!
Let's take this one step at a time, starting with exercise. If you made a resolution to go to the gym every single day before work. Before making your resolution, how many days a week were you going to the gym? Were you even going at all? Then be real with yourself! Don't start going to the gym 5 days a week: start with 2, or even 1! You want to make your goal small at first so that it's easy to achieve, and build on from there.
Eating "better" is a great goal too, but it does have its downsides. It's not specific enough to stick to, and eating too little can cause a lot of stress and discomfort in your body. It may also keep you trapped in a cycle of cutting out more and more foods that you want to be eating. So instead of pledging yourself to keto come January 1st, how about trying to include one more vegetable a day instead?
And no matter which resolution you made, you're probably not feeling too great. So why keep making those same choices? At the end of your life, you'll have made dozens of resolutions. Do you really want them all to have been about dieting, exercising, and becoming smaller?
It's not too late! It's still January. Try changing up your resolution to one of these instead:
Set a SMART goal.
That means that it's Specific, Measurable, Attainable, Relevant, and Time-based. Commit to one or two gym sessions a week. Swap out your typical bag of chips at lunch with some veggies and hummus or an apple with some nut butter. Drink an extra bottle of water each day. And be sure to track when you do these things to see your progress! Putting a little star on your calendar each day is a great way to see your progress over time and keep you on-track with your streak.
Learn a new hobby that has nothing to do with your body image.
No one ever said that you had to focus on weight loss with your resolution. Start writing, journalling, or learn to play an instrument! Work at those goals a little each day, and be sure to use the same SMART principles to keep yourself accountable.
Resolve yourself to finding true health this year.
Instead of tracking every soul-crushing workout and calorie that you've burned, track your energy level after you finish your workout. Instead of tracking every bite of food that goes into your mouth, try tracking how you feel a few hours after eating it. Commit yourself to feeling better instead of just looking better and you'll be way more inclined to keep up those good habits for the rest of your life. And if you're looking for a place to start, I highly recommend checking out my Food Feelings Workbook.
---
About the Author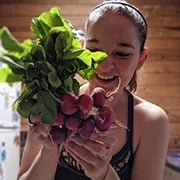 Paige is a 20-something NASM certified personal trainer and holistic health coach in Iowa City, Iowa. She empowers women to eat more delicious food and ditch chronic cardio to become their healthiest selves. She wants to help you sift through the diet & fitness culture BS to take control of your health, and you can find more about her here.