Jump to Recipe
This Cheesy Spicy Sausage Dip is a spicy, cheesy, tomato-based dip that's delicious with tortilla chips or pita bread.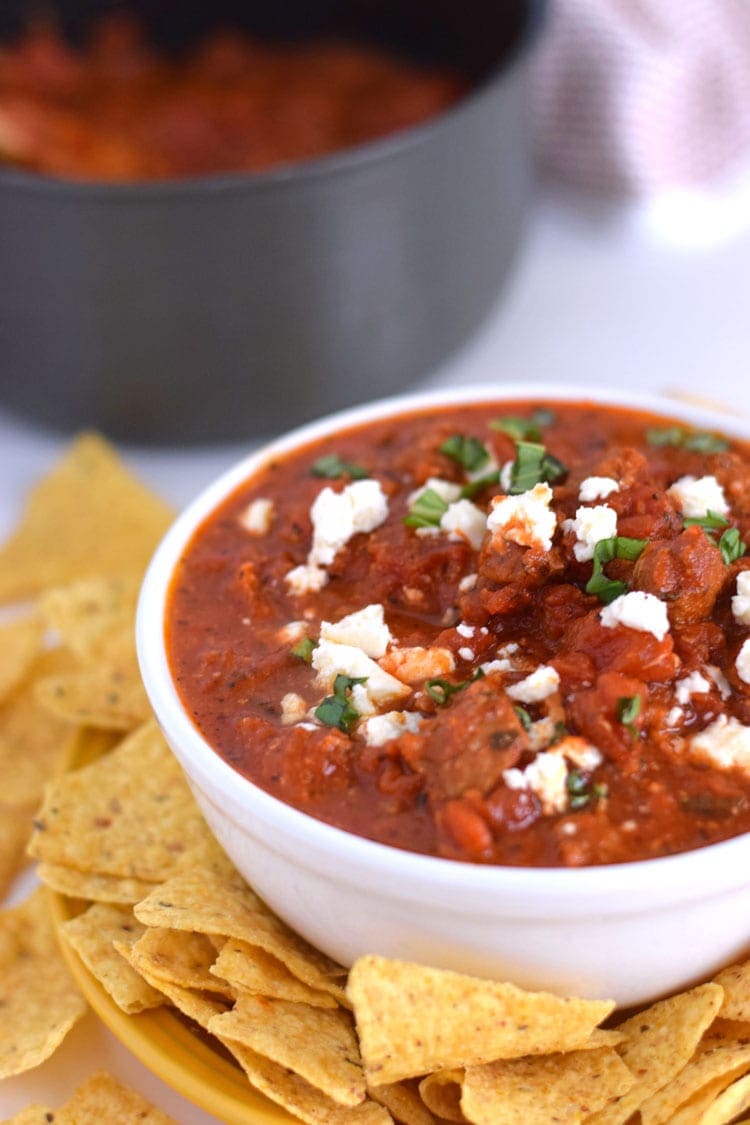 Ordering an appetizer at a restaurant is one of my favorite things. Partly because I love that it signifies that I'm going to be staying a while, relaxing, enjoying myself and partly because it's a reminder that I've come so far from the days when I constantly worried about whether or not the food was going to "make me fat." Today, if I see something on the menu that I can't take my eyes off of, I order it. Simple as that.
That's what happened to me about a year or so ago in a smoke-filled bar in my neighborhood called The Squirrel Hill Cafe (also known as The Squirrel Cage).
After sitting down and ordering some beers with the fiance, I opened the food menu and was immediately intrigued by the "Hot Sausage Dip" on the appetizer list. Maybe it's just me, but I had NEVER heard of sausage dip before. What the hell could that be? All I knew was that I liked spicy food and had to give it a shot.
You guys, I fell in love.
It was a spicy, cheesy, tomato-based dip that was thick enough to eat with tortilla chips and pita bread but a little too thick to be used as a marinara or pasta sauce, despite what it looked like at first glance.
All I knew was that the two main ingredients were a spicy Italian sausage and diced tomatoes. After ordering it my fair share of times, I thought I'd take a shot at recreating it in my own kitchen.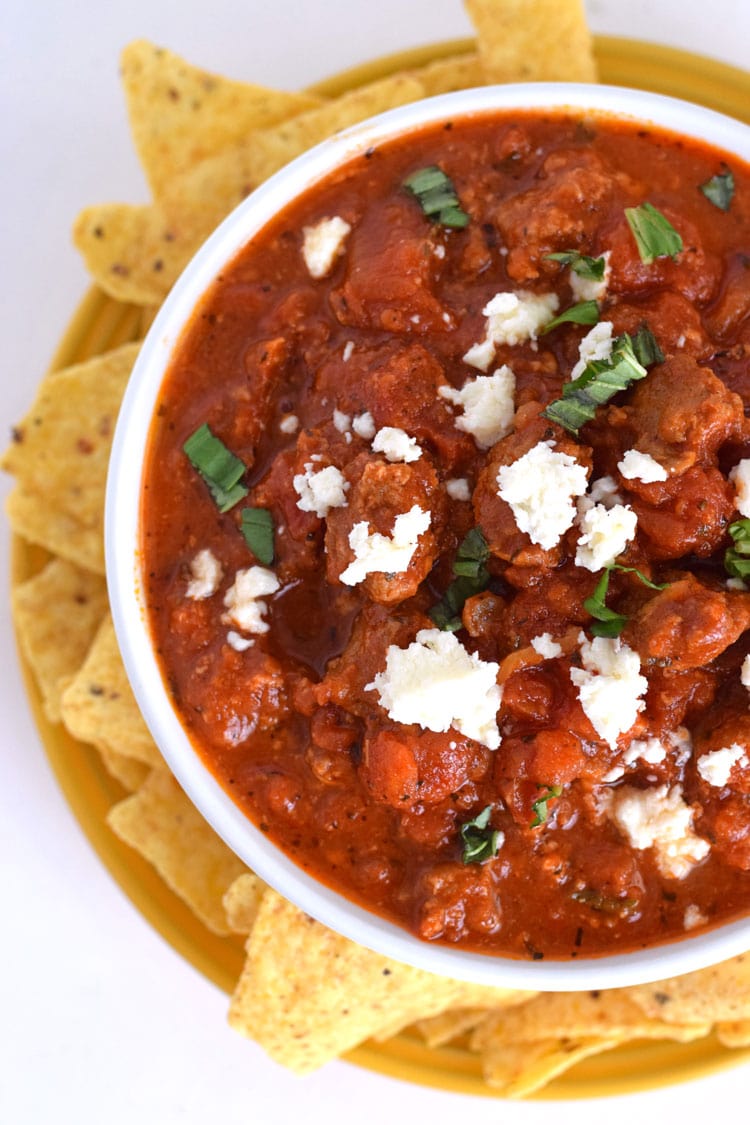 I'm not sure how close to the real thing this recipe actually is, but it sure is damn good.
Since I used canned diced tomatoes, the trick to making it really flavorful and getting rid of that strange "canned" taste that we've probably all experienced is adding a ton of herbs and spices and simmering the heck out of it. After about an hour of simmering on the stove top covered with a lid, it's important to uncover the lid and let it cook to reduce the liquid just a tad bit to get the thickness just right.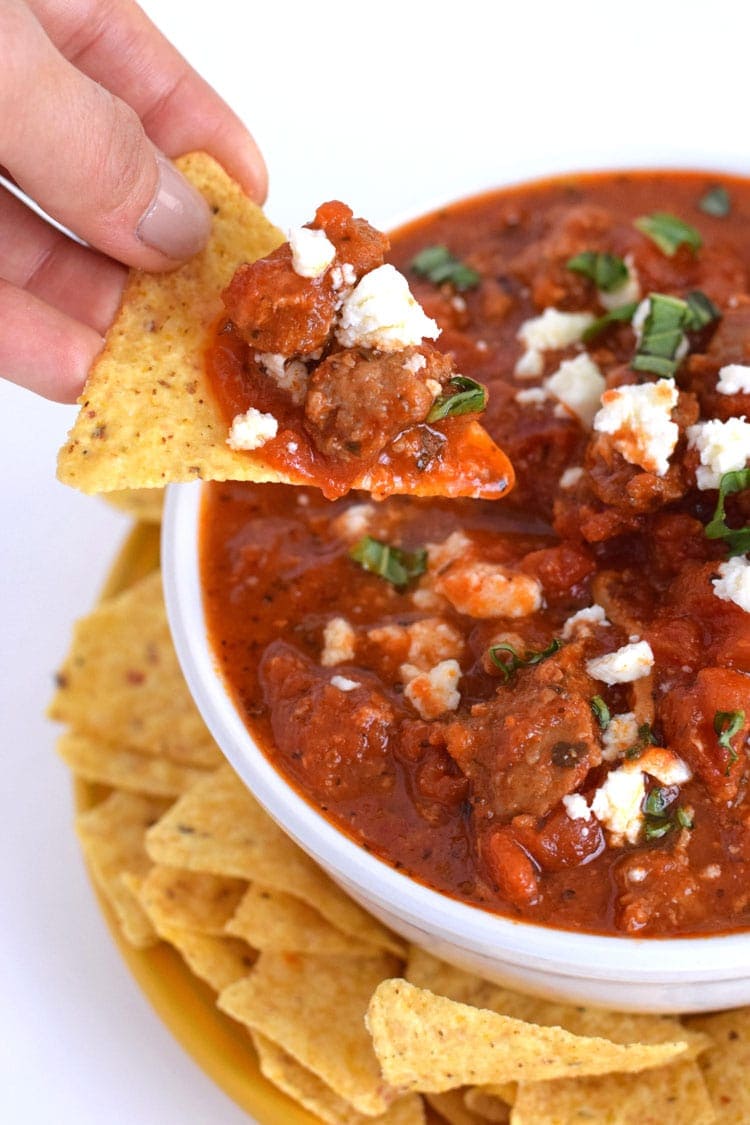 Whether or not this is anywhere close to the Hot Sausage Dip from The Squirrel Cage doesn't really matter because I made this recipe for a little NBA All-Star watching party I hosted and it was an absolute hit.
(Will, this is for you buddy.)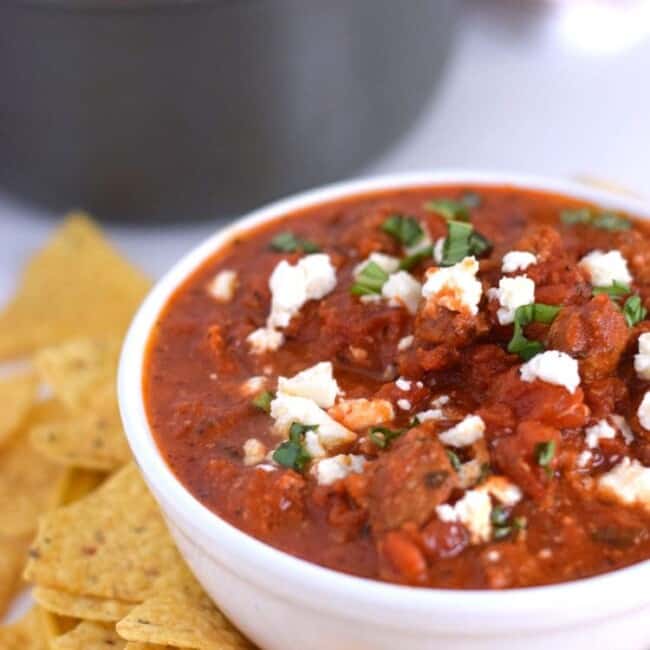 Prep: 10 minutes
Cook: 1 hour 30 minutes
Total : 1 hour 40 minutes
This Cheesy Spicy Sausage Dip is a spicy, cheesy, tomato-based dip that's delicious with tortilla chips or pita bread.
Ingredients
1 pound spicy Italian sausage
3 14-ounce cans diced tomatoes
3 ounces tomato paste (or half a can)
1/2 cup chicken stock
1 tablespoon dried basil
1/2 tablespoon garlic powder
1/2 tablespoon dried parsley
1/2 tablespoon onion powder
1 teaspoon coarse sea salt
1 teaspoon paprika
1/2 teaspoon cayenne pepper
1/2 teaspoon dried oregano
1/2 teaspoon coriander
1/2 cup shredded Mexican cheese
1/4 cup crumbled queso fresco or feta cheese
Freshly chopped basil, optional
Instructions
Remove casing from sausage and brown in large pot over medium-high heat.

Mix in all ingredients and bring to a boil.

Cover and simmer on medium-low heat for 1 hour.

Uncover and continue cooking for 15 minutes.

Mix in shredded Mexican cheese.

Top with crumbled queso fresco, freshly chopped basil and enjoy!
Nutrition Information
Serving: 1/8th of recipe Calories: 155kcal (8%) Carbohydrates: 5g (2%) Protein: 15g (30%) Fat: 9g (14%) Saturated Fat: 4g (20%) Cholesterol: 48mg (16%) Sodium: 803mg (33%) Potassium: 151mg (4%) Fiber: 1g (4%) Sugar: 1g (1%) Vitamin A: 650IU (13%) Vitamin C: 5mg (6%) Calcium: 90mg (9%) Iron: 1.4mg (8%)