Jump to Recipe
Made with a hint of cinnamon and adobo chili powder, these Chili Chocolate Waffles topped with fresh berries, powdered sugar and maple syrup are a brunch delight!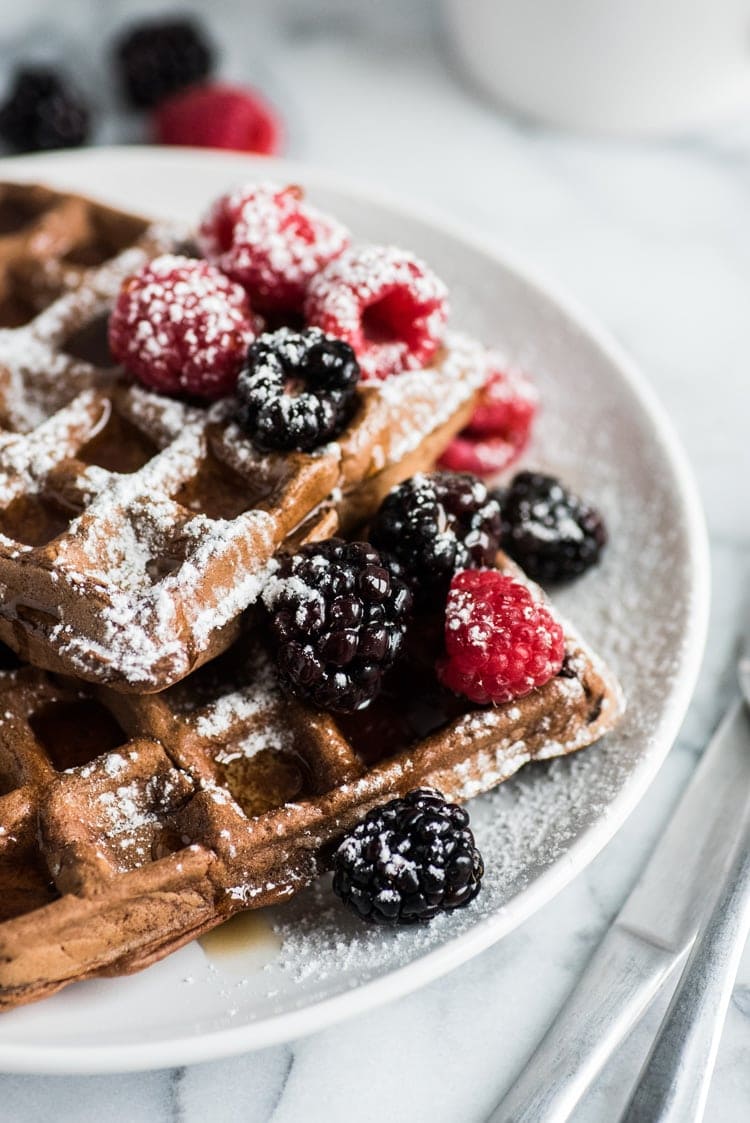 If you're on a diet, look away from the screen! These Chili Chocolate Waffles are way too tempting to look stare at, especially if you're trying to stay away from carbs and sweets.
As you can probably tell, I am not. ?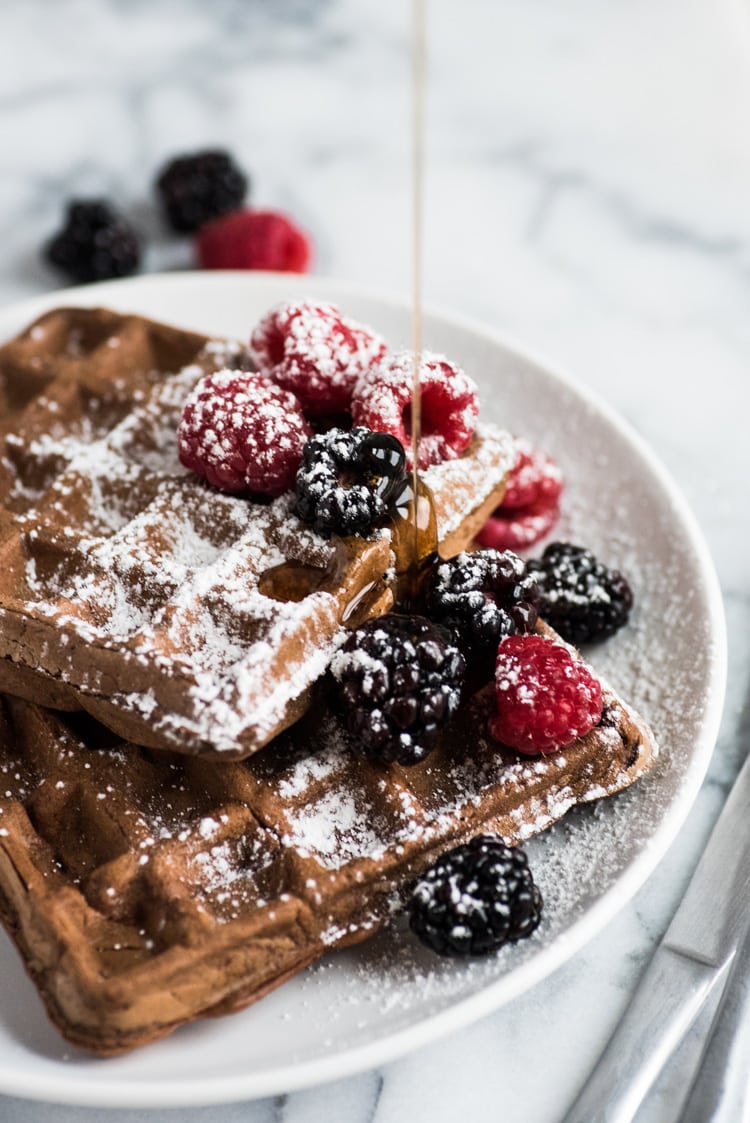 I'm an everything in moderation type of person. I know that vegetables and protein are extremely important for health reasons, so I try to make them the cornerstone of my day-to-day diet, but beyond that I'm not into placing rules and restrictions around food.
I've been down that road and it just doesn't work for me. (You can read more about my past food struggles here and here.)
As soon as I tell myself I'm not allowed to have something, especially if it's tied to any physical body goal or transformation, my brain won't stop thinking about it. So instead of saying no to the waffles, feeling deprived, thinking about them all day and running the risk of binging on something later, here's what I tell myself:
Just eat the damn waffles.
That being said, everyone is different. John, for example, needs rules and structure around his diet in order to thrive. Rules don't leave him feeling feeling deprived and he doesn't constantly think about food if he decides to limit it. For him, having guidelines in place are like setting up blinders – he's able to focus on what he wants to eat and that's it.
Whatever your personality, the most important thing I know is that you shouldn't beat yourself up for eating anything. Period. Feeling shame and guilt around food only hurts your relationship to food, your body and your self.
Food is meant to be pleasurable, nourishing, comforting and life-giving! Life is too short to not enjoy it while you can.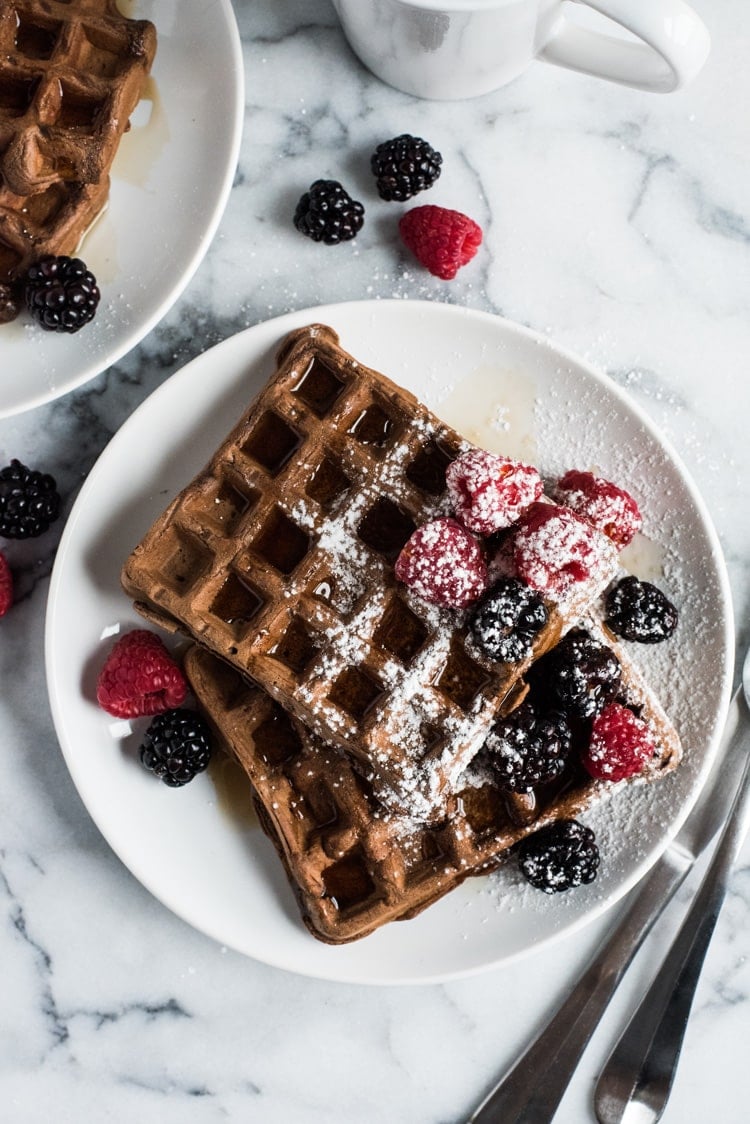 Now that my little rant is over (I have no idea where that came from, haha), let's talk more about these waffles! ?
So I'm actually not a huge sweets for breakfast type of person, but this past weekend I was really craving some waffles topped with maple syrup. So of course I decided to go all in and do it right. Chili Chocolate Waffles with fresh berries, powdered sugar, 100% maple syrup, the works! All that was missing was some whipped cream, which I later remembered that I had in the fridge. How could I forget the whipped cream?!
Now you may be thinking, "Adobo chili powder in waffles?"
Yes!
I promise you it's not weird at all. The cinnamon, chili powder and unsweetened cocoa powder give the batter a rich and decadent flavor without actually weighing it down. The chili power doesn't make the waffles spicy at all, so it's totally family-friendly and perfect for the kiddos.
If you're looking for it to be super decadent, I recommend adding in some chocolate chips. Because when in doubt, chocolate chips are the answer. You can't go wrong!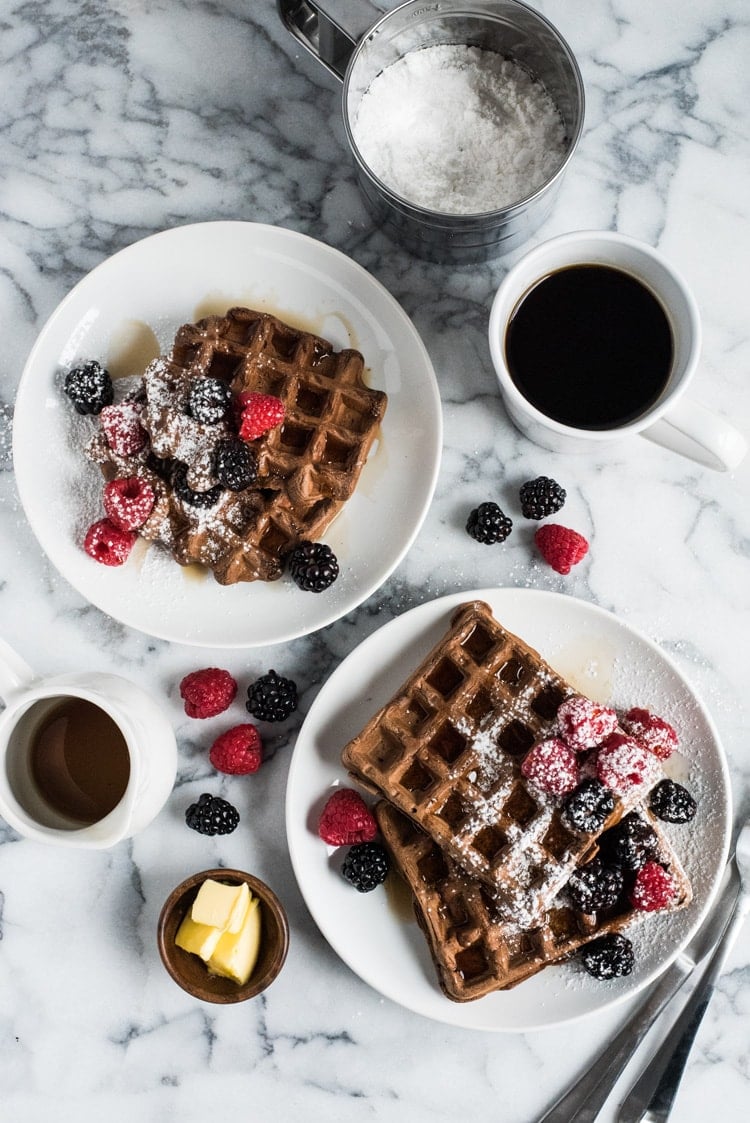 I don't know what it is, but waffles are just so fun to eat. They're a cool shape, toasty and crisp on the outside, fluffy on the inside and the little square indentations are the perfect vessel to hold maple syrup. Seriously the best.
The only thing that's kind of a pain in the butt is that you need an entirely different kitchen appliance – a waffle maker – to make them at home. And if you're like me, you probably don't have any more space to store your kitchen appliances.
Luckily, I've been able to find a waffle maker that's relatively small and compact compared to a lot of the ones I've seen online. Here's the waffle maker I have and I love it. It fits perfectly in my pantry and is super easy to clean up! Highly recommend if you're looking to purchase one.
However, if you have a bigger family (more than 3 people), you'll probably want to get something a little bigger like this waffle maker. It's just more efficient and a big time saver, especially if you're making big batches at a time. Kids love their waffles!
Who am I kidding? So do adults!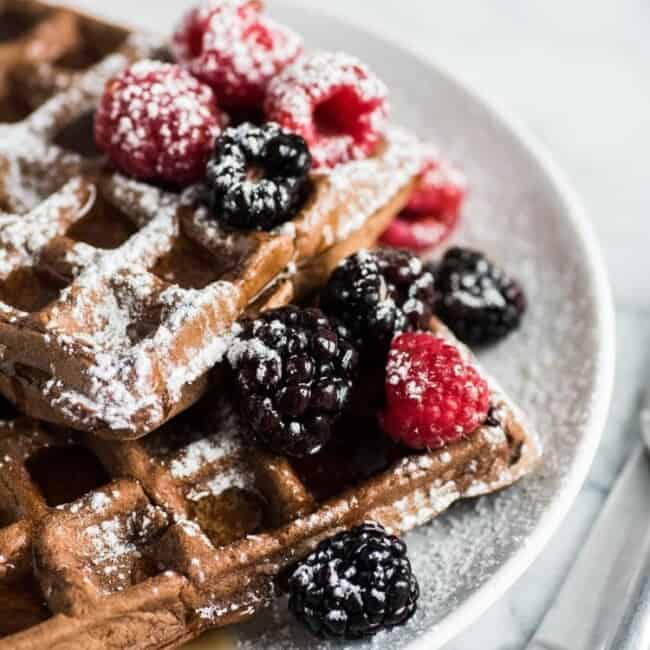 Prep: 5 minutes
Cook: 20 minutes
Total : 25 minutes
Made with a hint of cinnamon and adobo chili powder, these Chili Chocolate Waffles topped with fresh berries, powdered sugar and maple syrup are a brunch delight!
Ingredients
For topping (optional)
fresh berries, powdered sugar, maple syrup, whipped cream
Instructions
Preheat waffle iron. In a large bowl combine the flour, cocoa powder, sugar, baking powder, chili powder, cinnamon and salt. Whisk together to combine.

In a separate small bowl, whisk together the eggs, milk, melted butter and vanilla extract. Pour the wet ingredients into the dry ingredients and then whisk together until a smooth batter is formed. You can also use a stand or handheld mixer if desired.

Grease the waffle iron with olive oil and pour the batter in. Cook until the waffles are crisp and cooked through. Serve immediately!
Isabel's Tips:
Waffles can be stored in the freezer in an airtight freezer bag. To reheat the waffles, place them in the toaster right out of the freezer and cook until heated through.
Nutrition Information
Serving: 1waffle Calories: 180kcal (9%) Carbohydrates: 27g (9%) Protein: 7g (14%) Fat: 7g (11%) Potassium: 217mg (6%) Fiber: 3g (12%) Vitamin A: 350IU (7%) Calcium: 130mg (13%) Iron: 0.9mg (5%)