Jump to Recipe
This Easy Lime Avocado Hummus made with avocados and chickpeas is the perfect healthy snack that requires no tahini! (gluten free, vegetarian, vegan)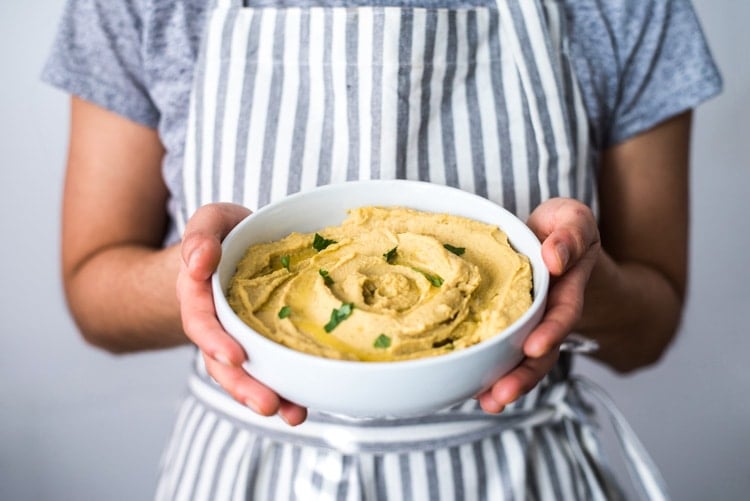 This post has been sponsored by La Preferida. Thanks for supporting the brands I love!
Do you know those moments in your day when you're not hungry enough to want a full meal but you need a little something to tide you over until it's time to eat? The daily hunt for a snack is a real struggle, especially if you're looking for something healthy and filling that isn't a total sugar bomb.
If you're like me, the snack cravings usually hit about an hour or so before lunchtime, in the early evening around 4:00 or 5:00 o'clock or really anytime on the weekends when you're snuggled up on the couch watching a movie. While it's so tempting to grab a bag of chips or candy of some sort (you're looking at the chip queen!), I try not to because I know it's won't curb my hunger like I hope it will. What I truly need is simple – just real satisfying food.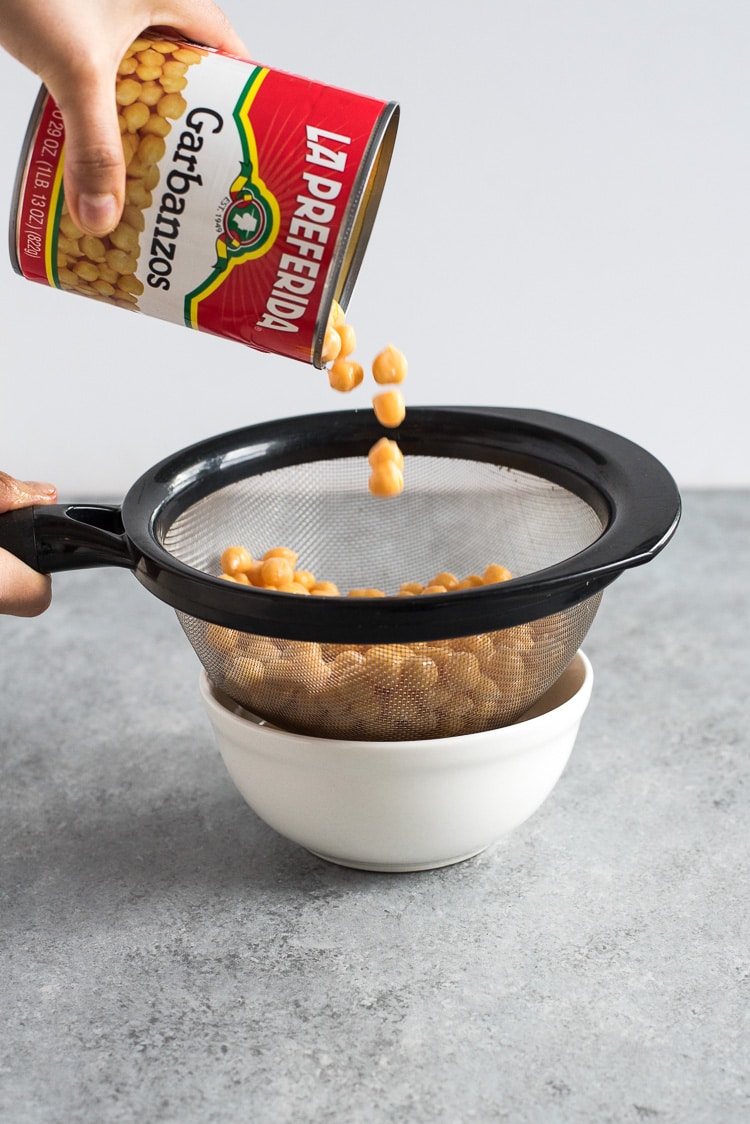 Avocado hummus to the rescue!
I'm so excited to be partnering with La Preferida to bring you this insanely delicious Easy Lime Avocado Hummus recipe. Made with chickpeas, avocados, olive oil, lime juice and a handful of other simple ingredients, this Mexican-inspired hummus has seriously changed the way I think about snacking.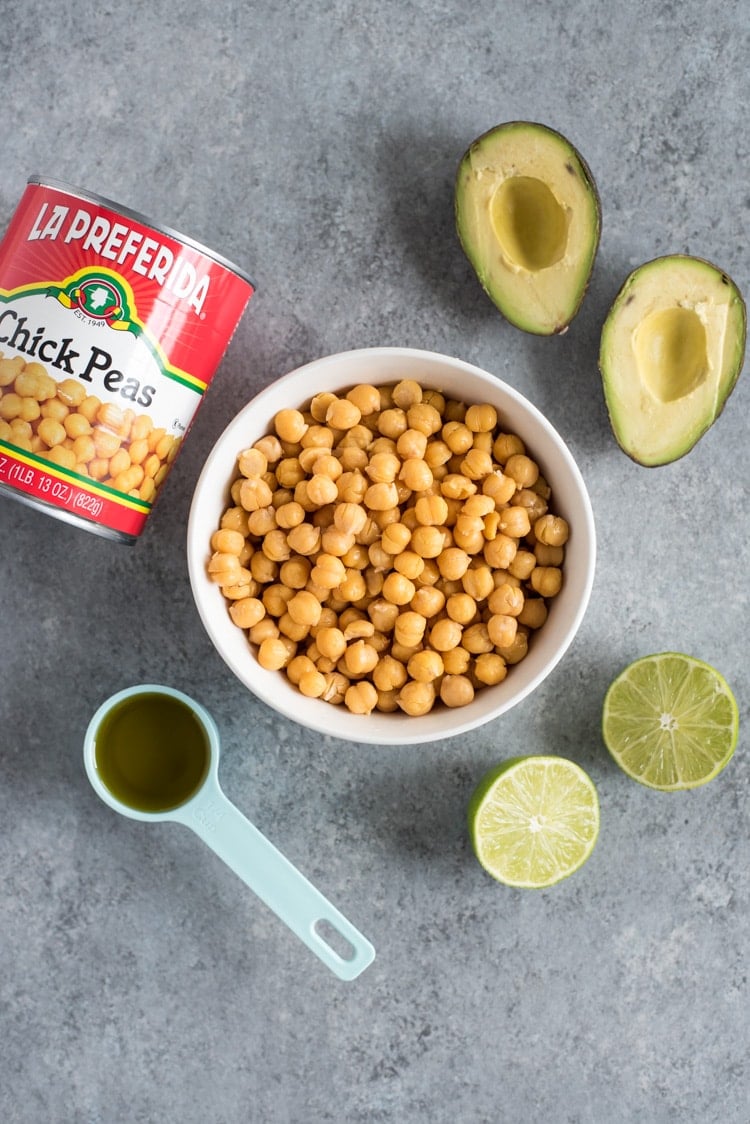 Before I go any further and tell you just how easy this is to make, I've got to confess a little something – this is my first time ever making hummus.
Does that make me a bad food blogger? (#oops)
It's not that I haven't thought about making it before because I've actually thought about it multiple times, but there was always one little ingredient holding me back – tahini.
I've never purchased tahini, I've never used tahini and I've never tasted tahini in my life. Sure, I've tried it in hummus because that's what's usually used to make it, but other than that, I haven't really had much exposure to it. So when I learned that I could make hummus without it and add in some of my favorite things like avocados and lime juice, I couldn't resist.
Mexican-inspired avocado hummus for the win!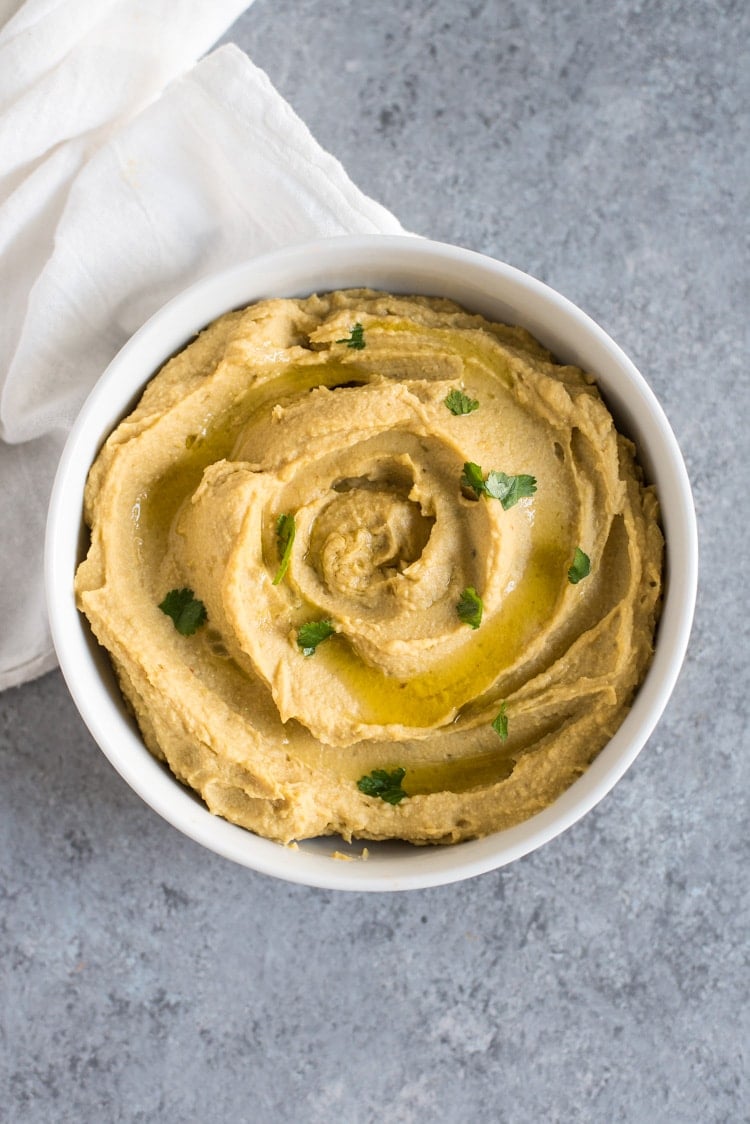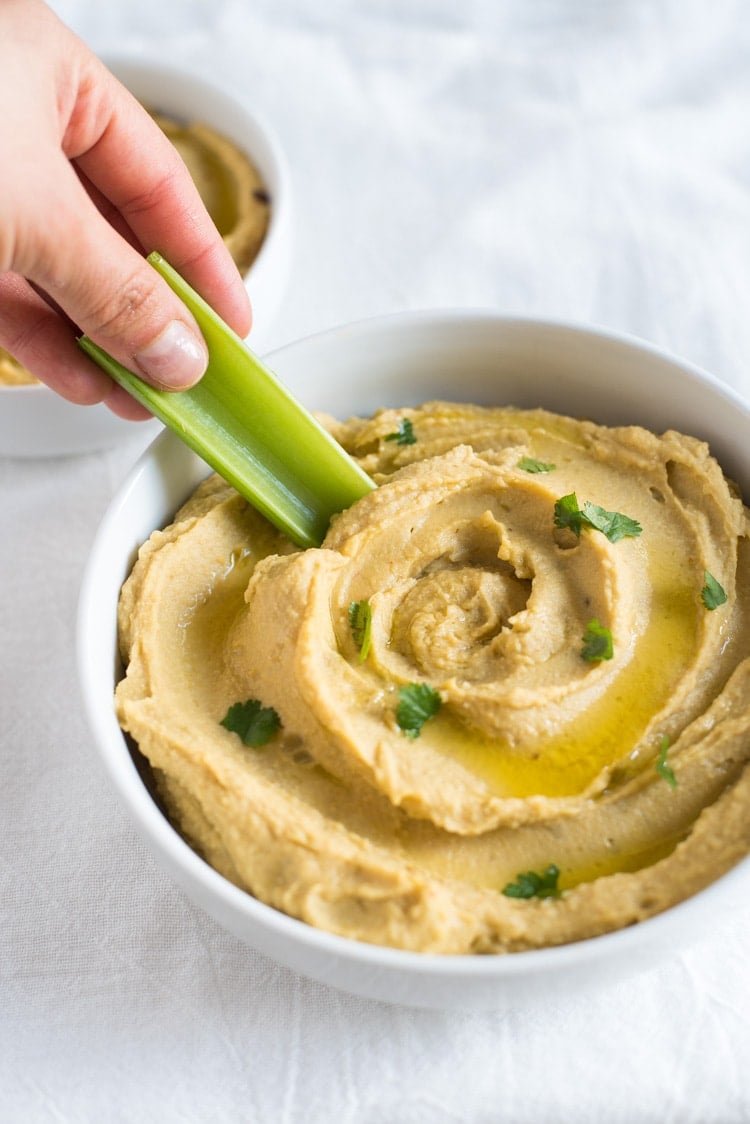 To make it, all you have to do is literally dump the ingredients into a blender or food processor and blend it until it's smooth and creamy. For easier cleanup, I actually mixed all the ingredients in a bowl using my immersion blender and it worked out beautifully!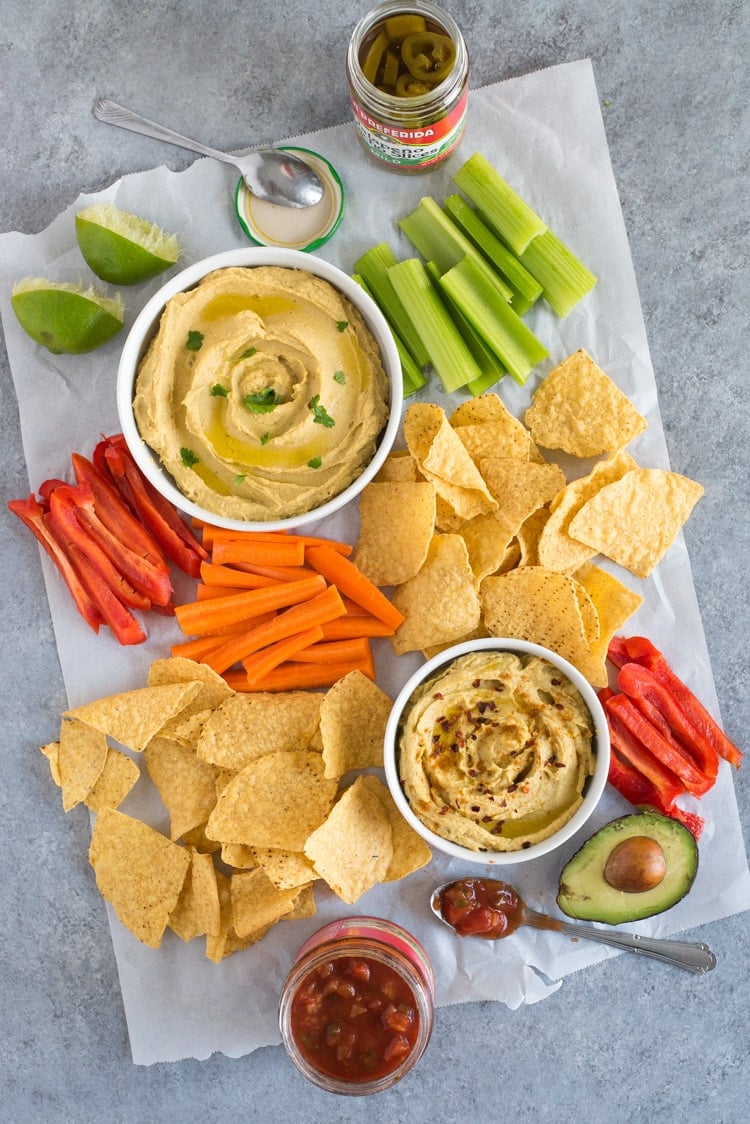 To serve it, I transferred the hummus to two bowls and drizzled some olive oil on top. At this point, you can eat it as is or top it with some of your favorite garnishes. I used some cilantro leaves for one bowl and some red pepper flakes and cayenne for another. The best part is that it's totally customizable and up to you! Here are just a few ideas of what you could top your hummus with.
chopped olives
diced avocados
diced jalapeños
salsa
whole chickpeas
parsley
paprika
Serve it up with some chips, veggies or pita and you're in snack heaven!
Looking for more appetizers?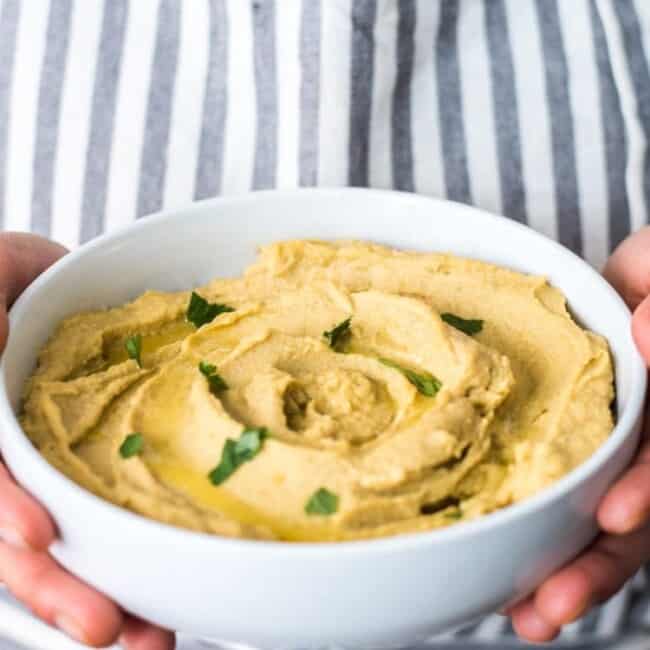 Prep: 10 minutes
Total : 10 minutes
This Easy Lime Avocado Hummus made with avocados and chickpeas is the perfect healthy snack that requires no tahini! (gluten free, vegetarian, vegan)
Instructions
Remove outer layer of chick peas by lightly pinching them between your thumb and index fingers.

In a large blender or food processor, combine de-shelled chick peas, avocados, and olive oil. Pulse in 5 second increments, until mostly combined, about 30 seconds total.

Add remaining ingredients and blend until smooth.

Add additional jalapeños and juice for more zest if desired. Enjoy!
Nutrition Information
Serving: 1/6th of recipe Calories: 241kcal (12%) Carbohydrates: 26g (9%) Protein: 8g (16%) Fat: 15g (23%) Saturated Fat: 2g (10%) Sodium: 559mg (23%) Potassium: 125mg (4%) Fiber: 10g (40%) Vitamin A: 250IU (5%) Vitamin C: 6.6mg (8%) Calcium: 50mg (5%) Iron: 5.4mg (30%)
This post has been sponsored by La Preferida, whose authentic Mexican products I love and use regularly in my kitchen. Thank you for supporting the brands who help make this site possible!