Jump to Recipe
These Fluffy Whole Wheat Pancakes with Blood Orange Compote and whipped butter are perfect for breakfast or weekend brunch!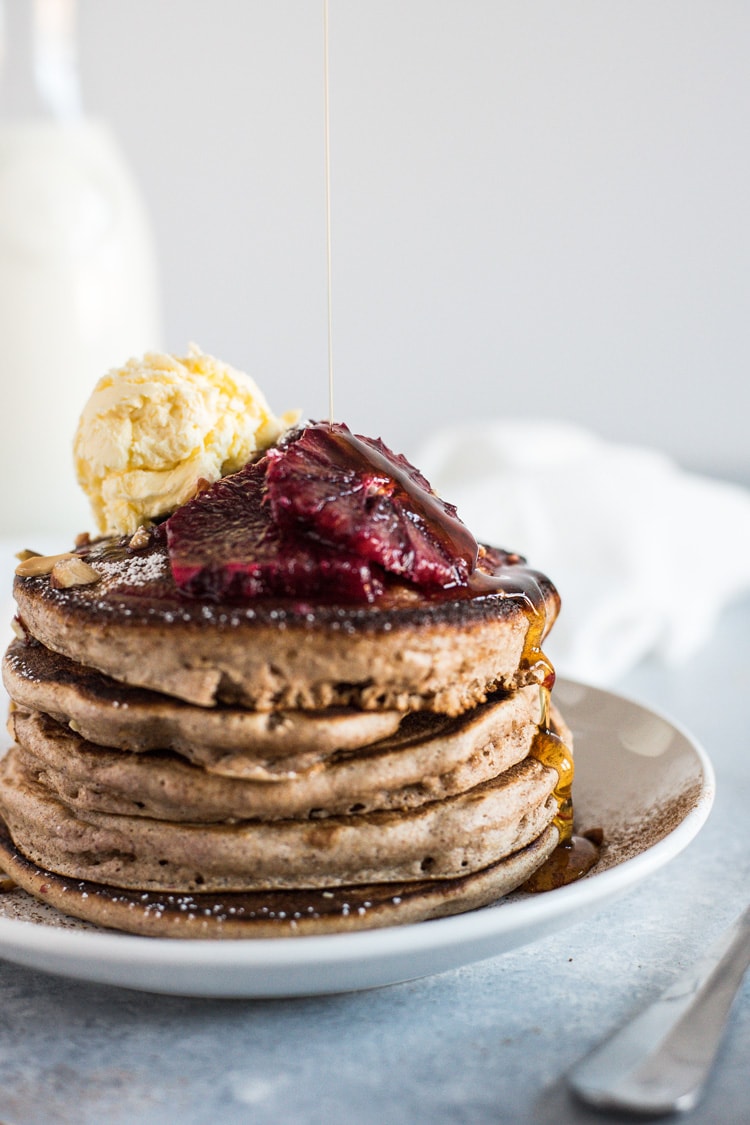 Happy Monday! Who's in the mood for some pancakes?
I'm so evil for posting this at the beginning of the week, but I just couldn't resist sharing these whole wheat pancakes topped with a tangy blood orange compote and a big 'ol scoop of whipped butter. You read that right – it's butter, not vanilla ice cream. Doesn't it look like ice cream? That would actually be amazing if it was.
I admit that I probably went a teeny bit overboard on the amount of butter I put on the stack, but once I scooped it, there was no turning back. It just looked too good.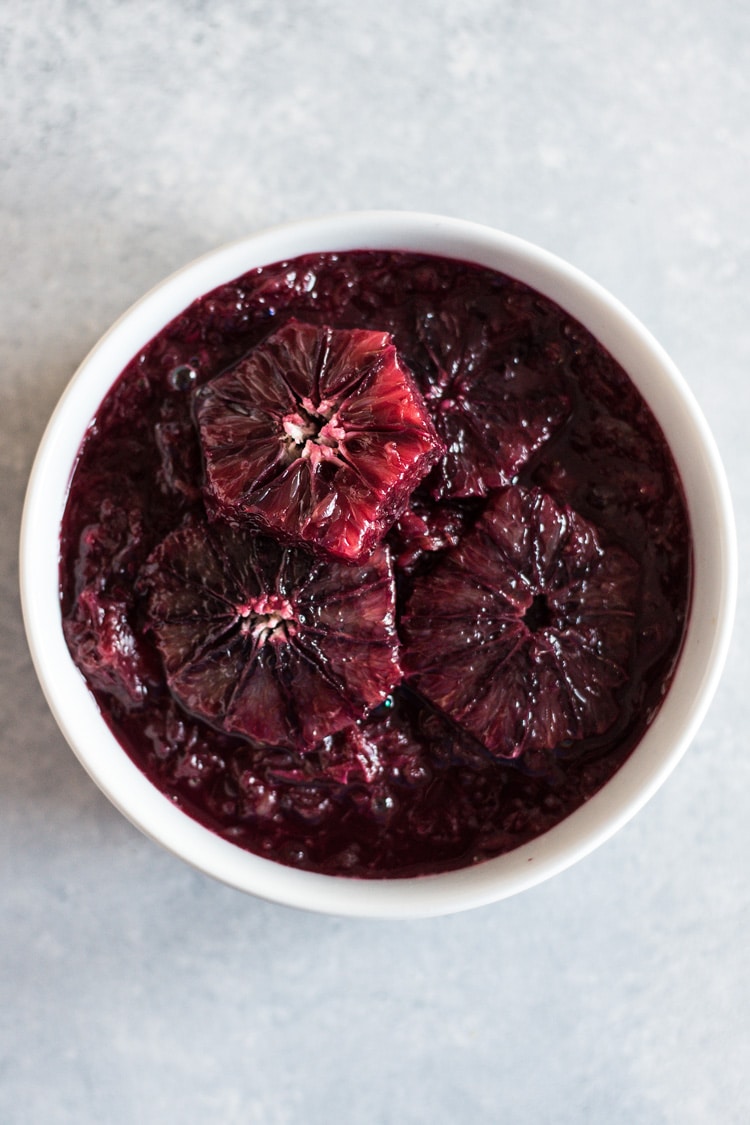 Let's talk about the blood oranges for a second.
This was my first time ever buying and tasting blood oranges. I've seen them all over food blogs and on Instagram because their deep red, almost plum color is absolutely gorgeous. I'd never seen them at my local grocery store before, so when I randomly spotted them near the regular oranges one day, I just couldn't pass them up.
They taste pretty much like regular navel oranges to me, so if you can't find blood oranges at your local grocery store, I recommend using any type of ripe oranges that you can get. They might not have as striking of a color, but the final product will still be delicious.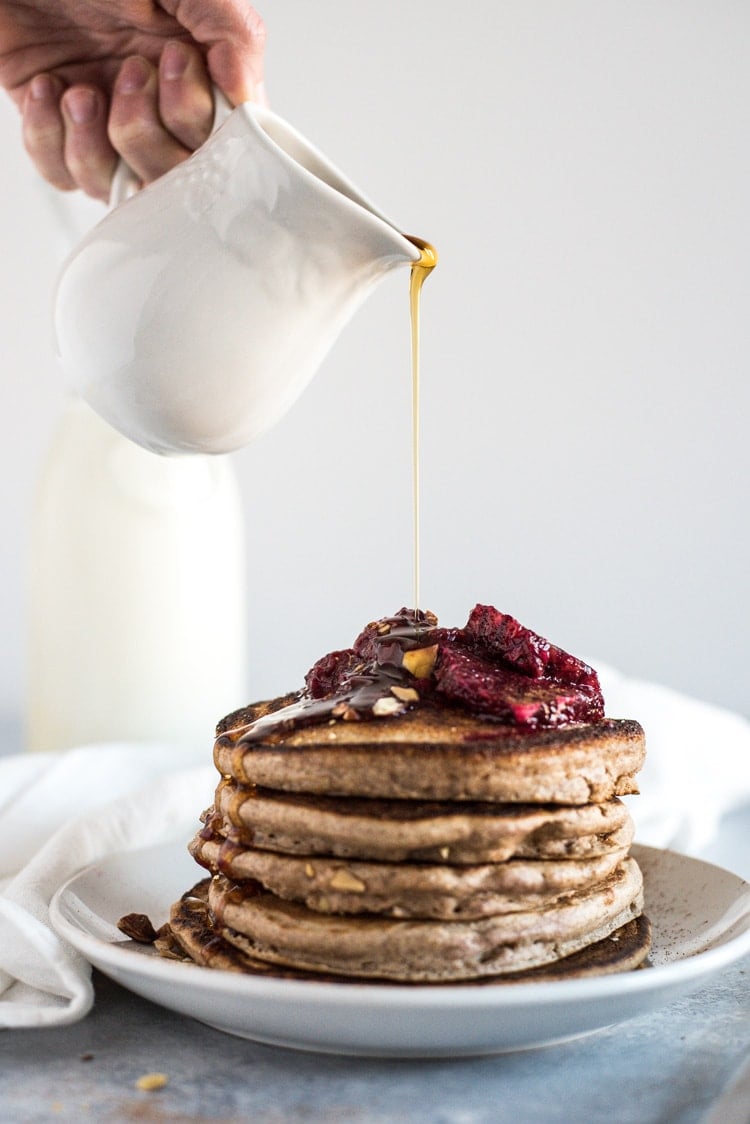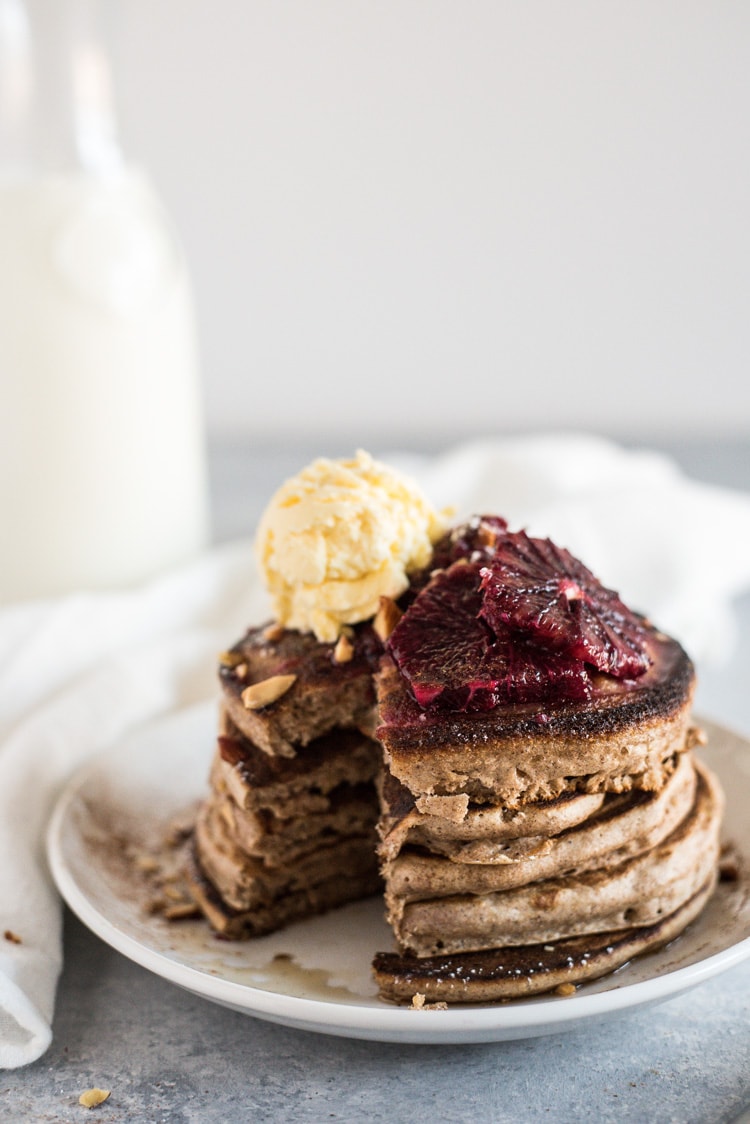 One last thing – did I mention the whipped butter?
Let me say that again. Whipped. Butter. ?
All you need is two ingredients – butter and a splash of milk. It will literally change your life.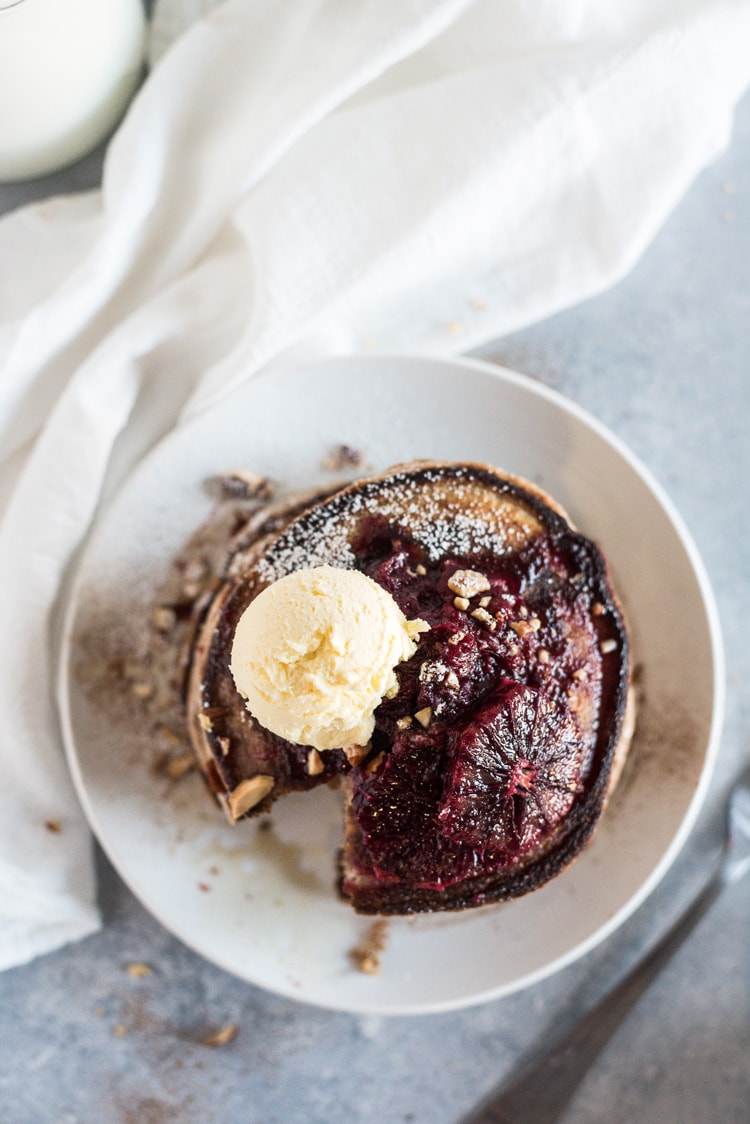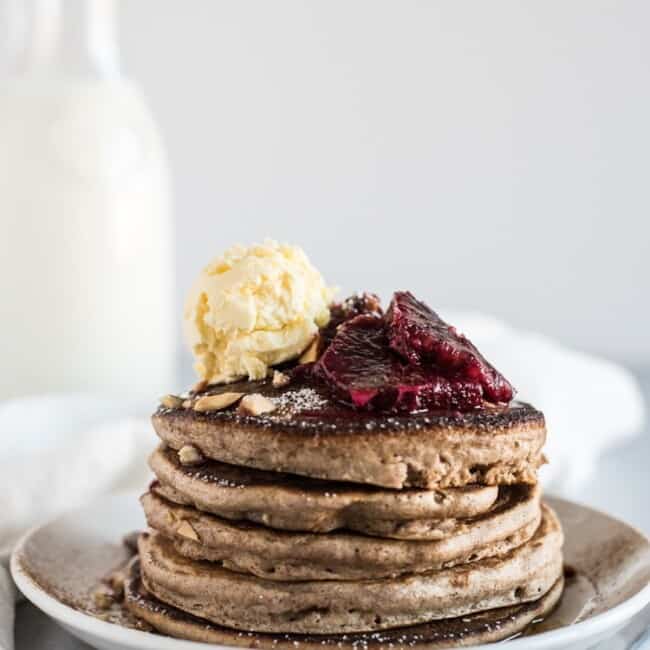 Prep: 10 minutes
Cook: 20 minutes
Total : 30 minutes
These Fluffy Whole Wheat Pancakes with Blood Orange Compote and whipped butter are perfect for breakfast or weekend brunch!
Ingredients
For the pancakes
2 cups whole wheat flour
4 1/2 teaspoons baking powder
2 teaspoon sugar
2 teaspoon ground cinnamon
1/2 teaspoon allspice
1/2 teaspoon nutmeg
1/2 teaspoon salt
2 large eggs
2 cups skim milk, + 2 tablespoons
2 teaspoons vanilla extract
cooking spray or olive oil for greasing pan
For the compote
6 blood oranges, peeled and seeded
1/4 cup water
1 tablespoon sugar
1/2 teaspoon vanilla extract
1/8 teaspoon cinnamon
For the whipped butter
1/2 cup butter, softened (about 1 stick)
2 tablespoons milk
Instructions
For the pancakes
In a large bowl, add the whole wheat flour, baking powder, sugar, cinnamon, allspice, nutmeg and salt. Mix together.

In another large bowl, add the eggs, milk and vanilla extract. Whisk together.

Add the wet ingredients into the dry ingredients and mix with a fork until fully combined.

Heat a large skillet over medium heat. Lightly spray cooking oil to coat skillet and pour 1/4 cup of pancake batter. When the edges of the pancake set and can lift easily off the pan, flip the pancake. Repeat with the remainder of the batter. Makes 12 to 14 pancakes.
For the compote
In a small pot over heat, add blood oranges, water, sugar, vanilla extract and cinnamon. Bring to a boil and reduce heat to medium. Simmer mixture for 10 to 15 minutes until liquid become syrupy.

Remove from heat and partially blend compote with an immersion blender or stand blender.
For the whipped butter
Add softened butter and milk into a large bowl. Mix with a handheld mixer for about 5 minutes until light and fluffy.
Nutrition Information
Serving: 1pancake Calories: 108kcal (5%) Carbohydrates: 17g (6%) Protein: 5g (10%) Fat: 2g (3%) Cholesterol: 32mg (11%) Sodium: 150mg (6%) Potassium: 152mg (4%) Fiber: 2g (8%) Sugar: 3g (3%) Vitamin A: 150IU (3%) Vitamin C: 0.8mg (1%) Calcium: 70mg (7%) Iron: 0.9mg (5%)