What's better than gluten-free pumpkin waffles topped with maple syrup, sliced strawberries and a dab of butter on a chilly morning?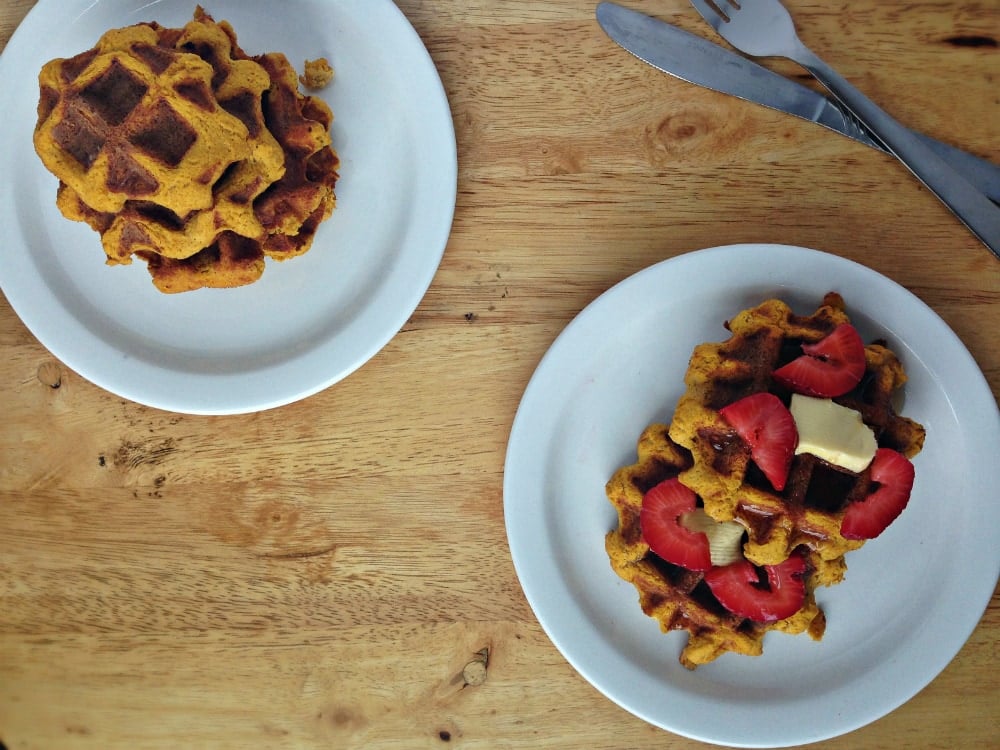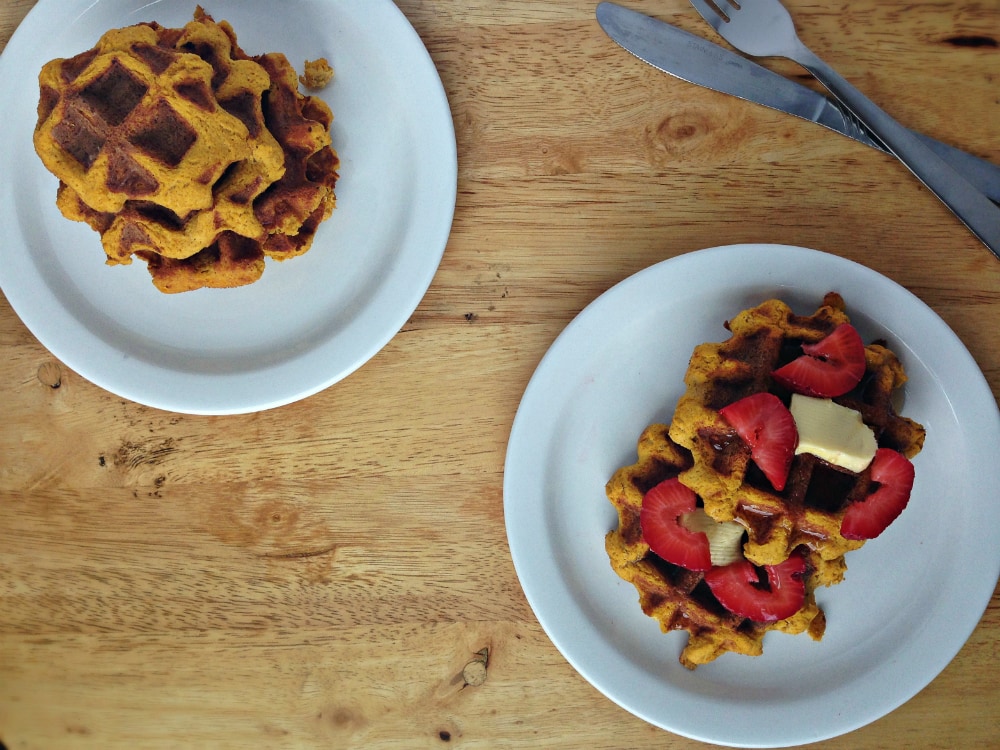 It's getting to be that time of year again when everyone starts going crazy over pumpkin-flavored drinks, desserts, soups and anything you can think of made out of pumpkin. And you know what? I am completely okay with it because I love pumpkin. It's probably my favorite kind of pie. Not probably. It IS my favorite pie. Well that settles it – I'm making a pie soon. But today, I'm not bringing you a pie recipe, I'm bringing you the next best thing – a recipe for gluten-free pumpkin waffles that's perfect for breakfast, brunch or brinner. Yeah, you know, breakfast for dinner – brinner.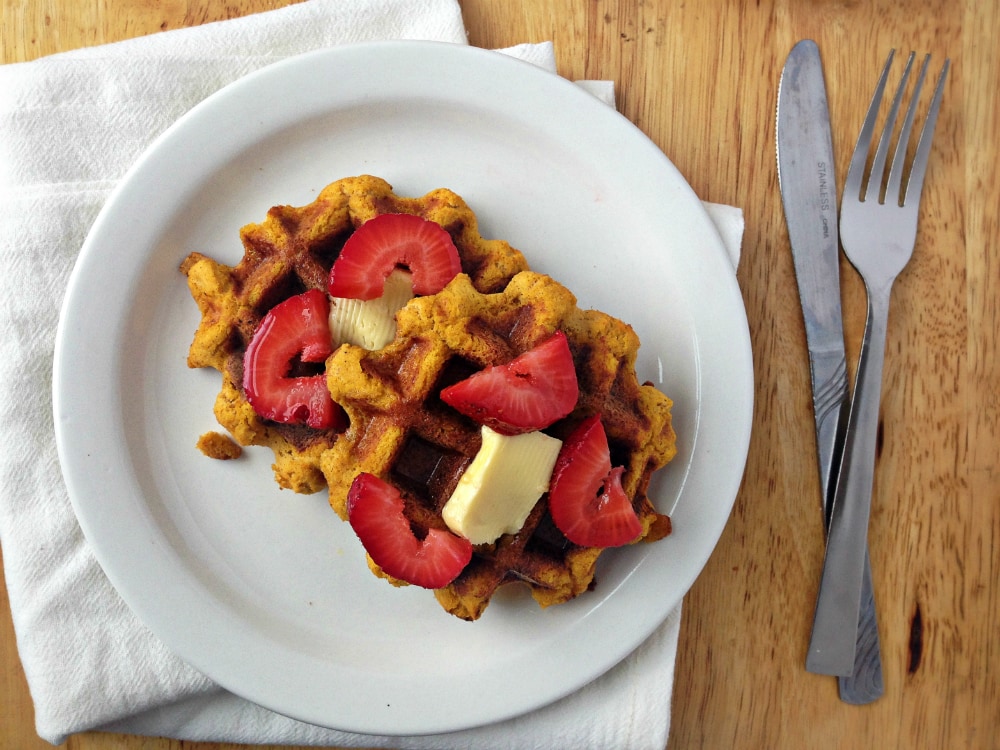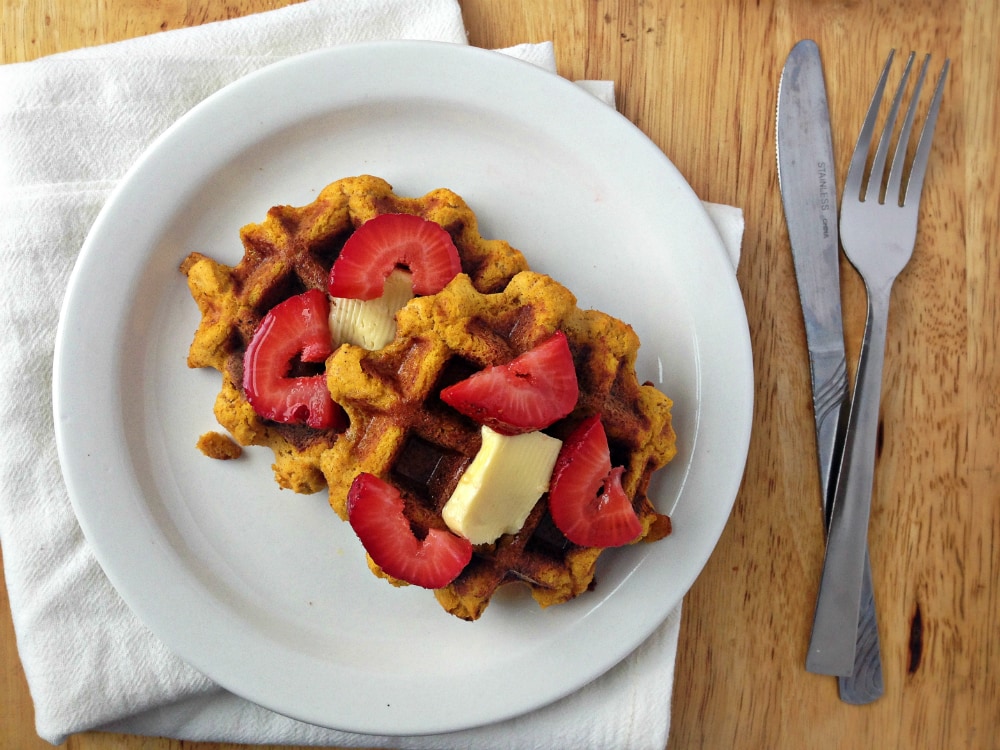 What's better than pumpkin waffles topped with maple syrup, sliced strawberries and a dab of butter on a chilly morning? Nothing. Except maybe winning the lottery, but that's highly unlikely. This, on the other hand, can easily be accomplished if you have a waffle iron. I say easily with some hesitation because having some experience with actually using a waffle iron is helpful. Believe me, I learned the hard way. Just take a look at this picture I posted on Instagram of my first failed attempt at making waffles. But don't worry, I'm sure that won't happen to you! Not only was that my first time using a waffle maker, that was also my first version of the recipe and it was just a bit too runny. I made some tweaks to the ingredients the second time around and voila! These pumpkin waffles formed perfectly and tasted amazing.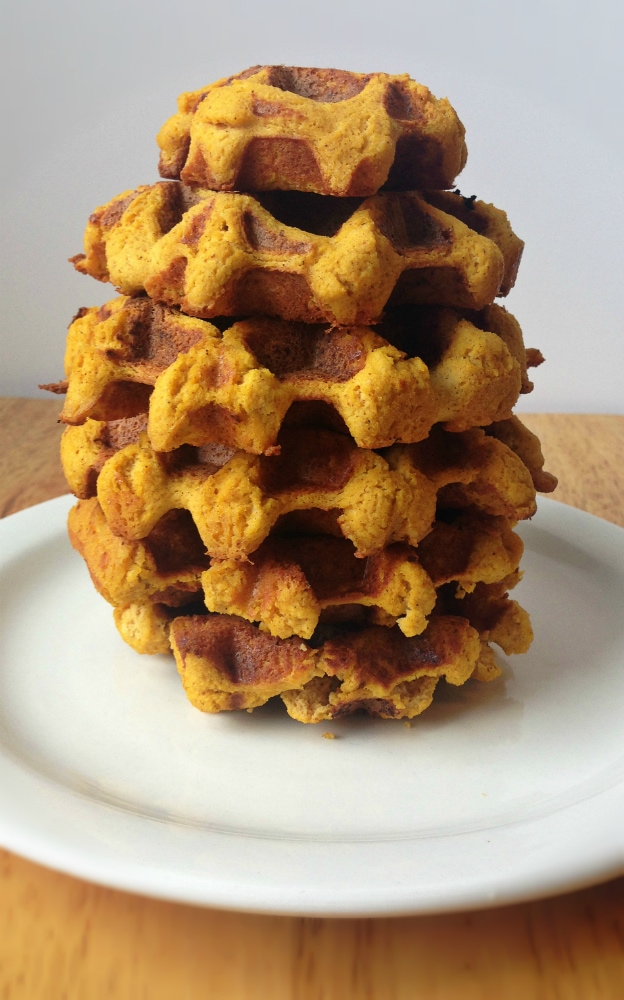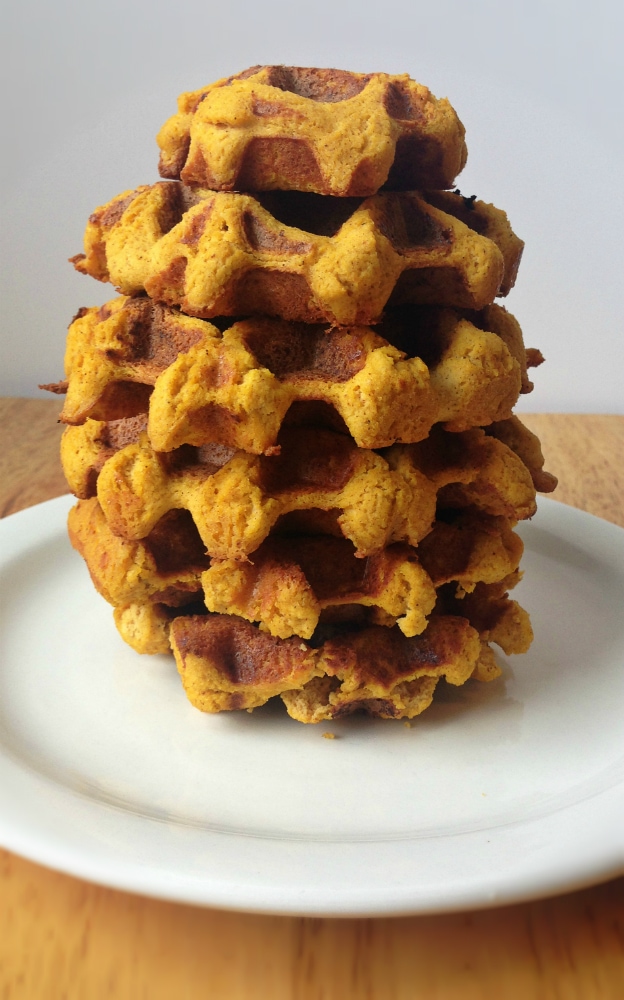 These waffles are such a great addition to my weekend breakfasts, especially when I'm in the mood for something sweet. Oddly enough, that isn't very often, at least for my first meal of the day. I'd much rather have something sweet at the end of my day, after dinner. Give me a scoop of strawberry ice cream any day (preferably in a cone). But in the mornings, I'm a big scrambled eggs/omelet girl, especially when going out to a restaurant for brunch. There's just something about a restaurant omelet that makes it so much better than any omelet I've ever made – the ratio of filling to egg, the size of the pan/griddle they use, the thickness of the omelet, everything! Oh well, all that means is that I need to work on my omelet-making skills. No big deal.
Do you like to eat something on the sweeter side in the mornings or are you a savory type of person? Have you ever tried pumpkin waffles? Are you ALL ABOUT THE PUMPKIN this Fall season?
This post was featured by my blogging friend, Emily, on her blog That's What I Eat. I encourage you to check out her blog for more real food recipes!
Ingredients
1/2

cup

pumpkin puree

1

cup

almond flour

2

large

eggs

1/2

cup

cashew milk

1/2

tsp

cinnamon

1/4

tsp

vanilla extract

1/2

tsp

baking powder

Coconut oil for greasing waffle iron
Instructions
Plug in and preheat waffle iron on low setting. Put all ingredients in blender and blend until smooth.

Liberally grease the top and bottom plates of the waffle iron with coconut oil.

Ladle 1/3 cup of blended batter (or amount specified by your waffle iron instructions) into the center of the waffle plate.

Close the waffle iron and let cook about 7 minutes. If the waffle iron is still steaming, let cook longer.

Open waffle iron, remove waffles with rubber spatula and eat up!
Isabel's Tips
If you don't have cashew milk, feel free to substitute it with any kind of milk you have.
Did you make this recipe?
Leave a comment below and tag @isabeleats on social media!