Jump to Recipe
Covered in a red enchilada sauce, these Mexican Ground Beef Enchiladas with Lime Jicama Slaw are great for dinner and make tasty leftovers that everyone will be excited to eat!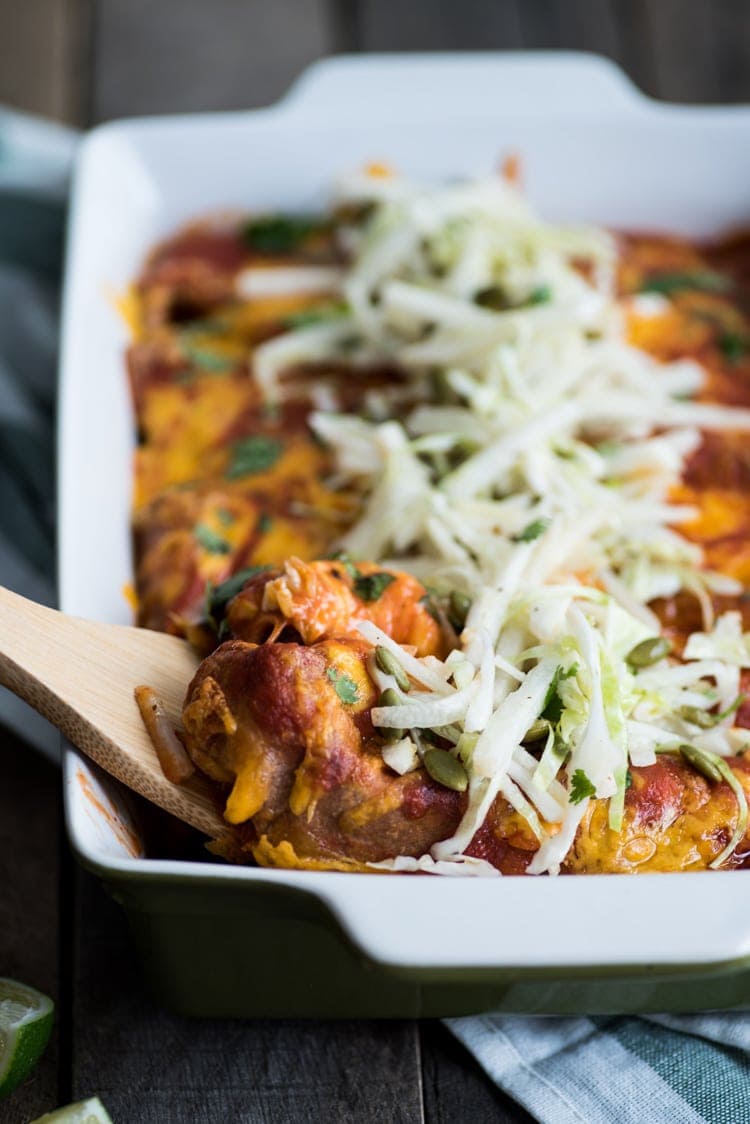 This post has been sponsored by La Preferida. Thanks for supporting the brands I love!
Happy almost Cinco de Mayo, friends! Let's celebrate with some delicious Mexican food!
While my family never personally celebrated Cinco de Mayo (we celebrated Mexico's Independence Day instead, which is on September 16th), I've always embraced the day and made the most of it. It's a great reason to get together with friends, talk about Mexican culture and enjoy some great food.
Any excuse to enjoy more Mexican food is a-okay with me!
One of my favorite Mexican dishes is enchiladas. There are so many different variations you can make just by changing the filling, the type of tortilla, the sauce, whether they're baked or fried, the spice/heat level and how they're served.
Since I've already shared two of my favorite enchilada recipes on the blog (Salsa Verde Chicken Enchiladas and vegetarian Spinach, Mushroom & Onion Red Enchiladas), I think it's time I share a classic tex-mex variation that you're likely to find at many Mexican restaurants: Ground Beef Enchiladas made with flour tortillas.
For the Ground Beef Enchiladas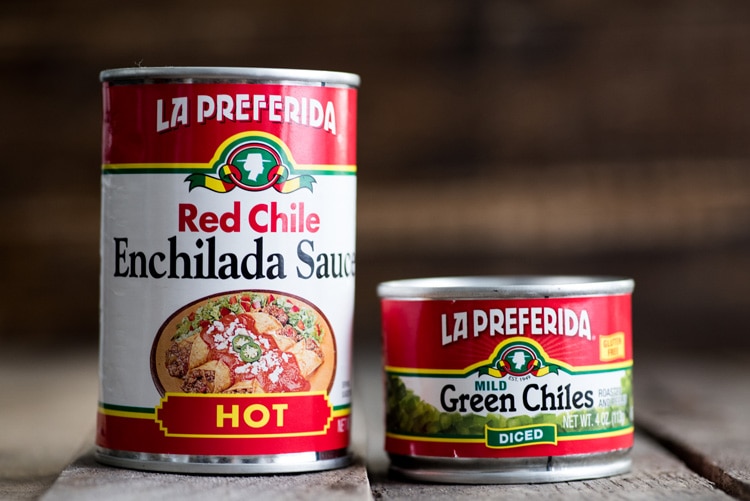 For these enchiladas, I kept the filling simple: just ground beef seasoned with La Preferida Taco Seasoning, diced onions and La Preferida Diced Green Chiles. Easy and delicious.
I used flour tortillas instead of corn tortillas (though you can use corn tortillas to make the recipe gluten free) and topped everything with La Preferida Red Chile Enchilada Sauce.
Sprinkle lots of shredded cheddar cheese on top and bake!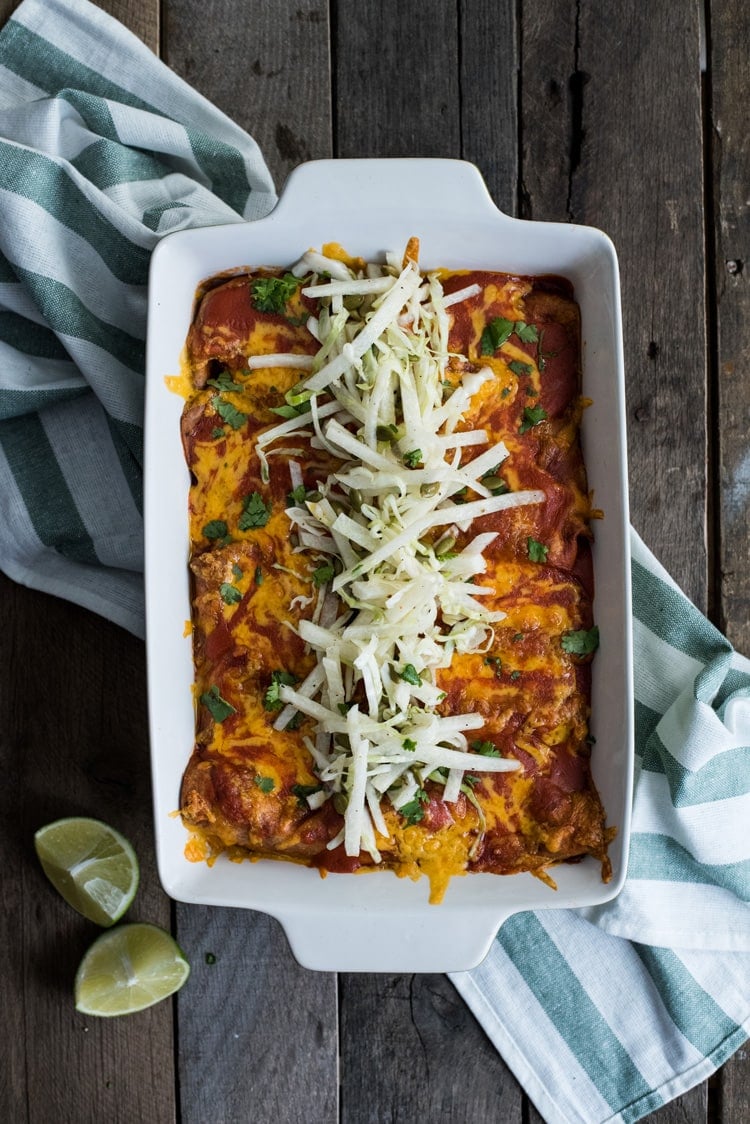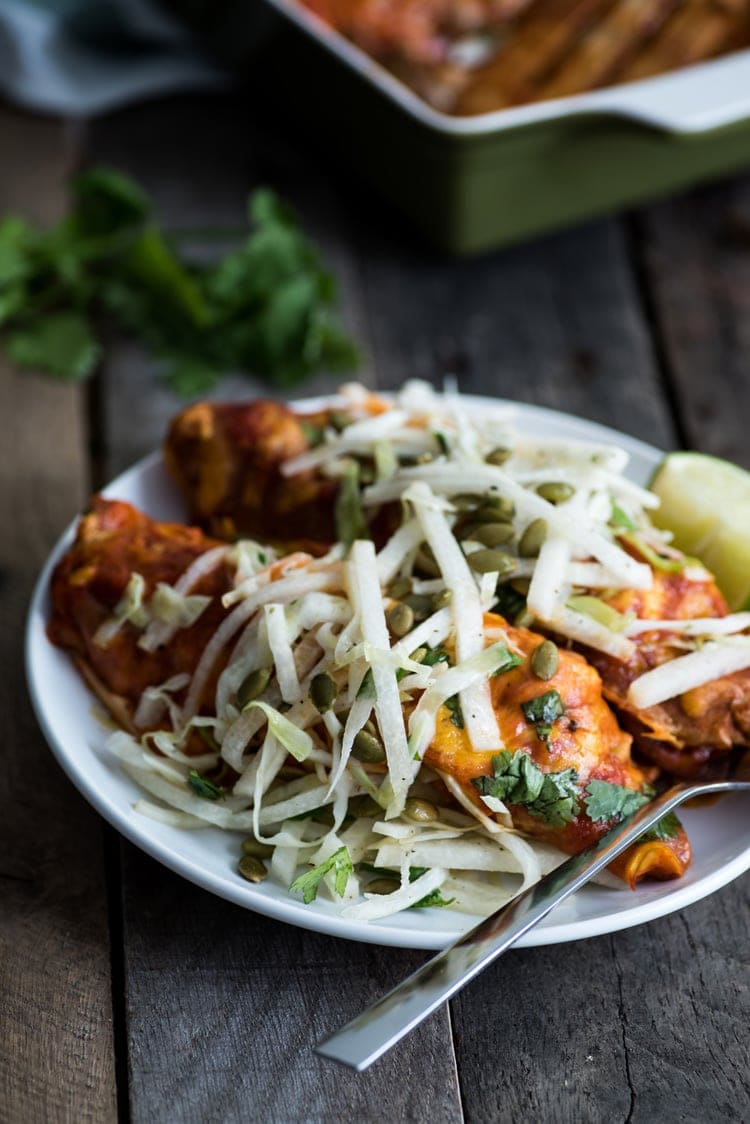 To complement the rich and bold flavors of the beef enchiladas, I made a quick and easy Lime Jicama Slaw while the enchiladas were baking. Here's what you'll need.
For the Lime Jicama Slaw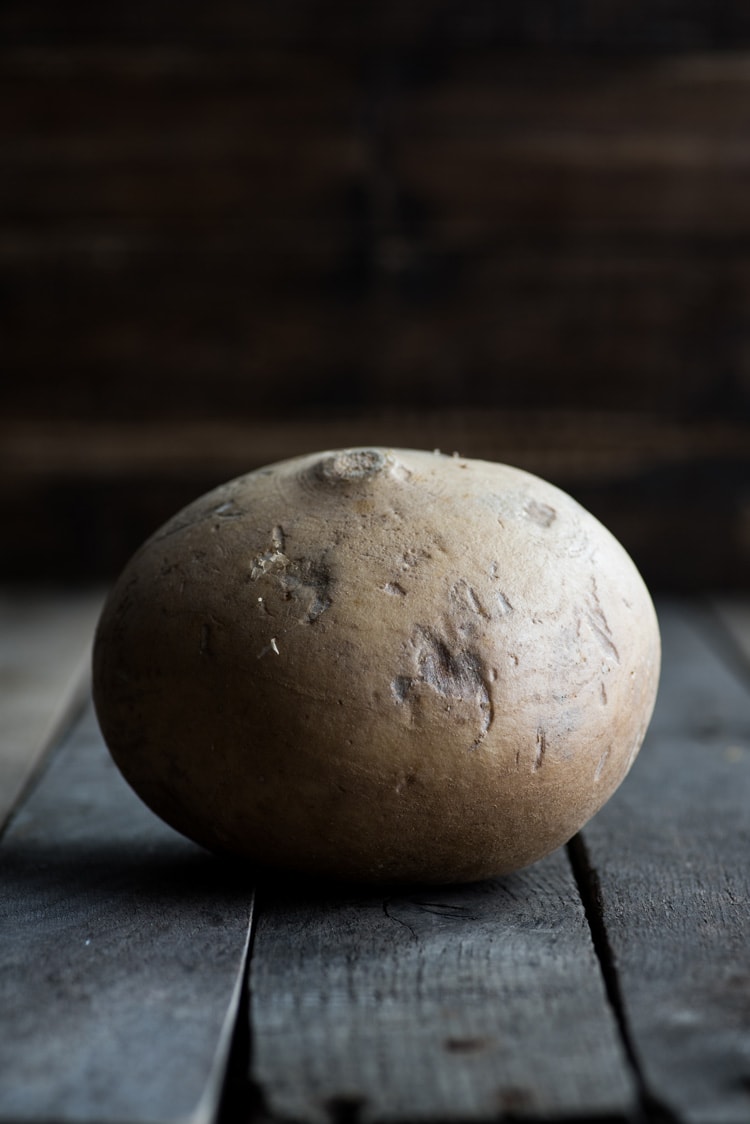 To make the slaw, you'll need one large jicama.
If you've never eaten jicama before, get ready to have your mind blown. From the outside, jicamas look like giant potatoes. They're heavy, have a bark-like brown skin and are a root vegetable. But on the inside, they're crunchy, juicy and taste like an unsweetened apple. They're usually eaten raw, have tons of fiber and make a great snack.
The first time I tried some jicama, I was completely taken by surprise. I wasn't expecting it to be as crunchy and juicy as it was! If someone would have told me to try it with my eyes closed, I would have guessed it was some sort of juicy apple. There's just something about the dull and brown exterior that makes the fresh and crunchy interior completely amazing.
When combined with shredded cabbage, toasted pepitas, cilantro and lime juice, the jicama makes for a refreshing and addictive slaw that's perfect for serving alongside enchiladas, on top of tacos or on summer salad.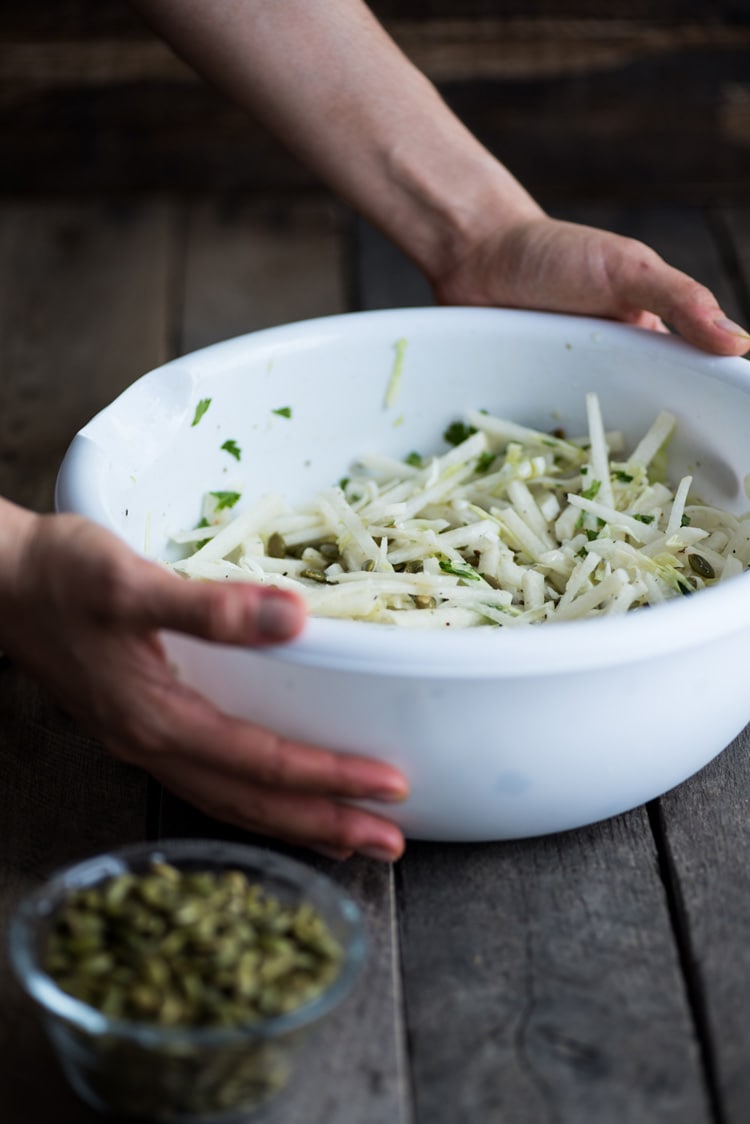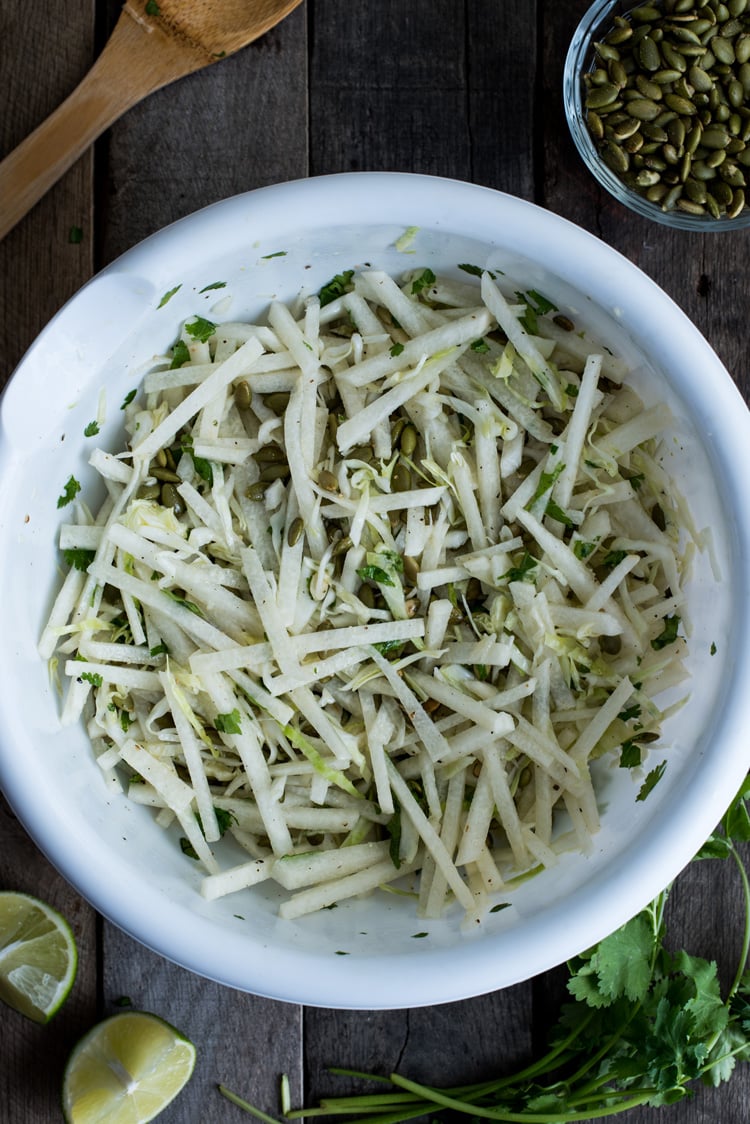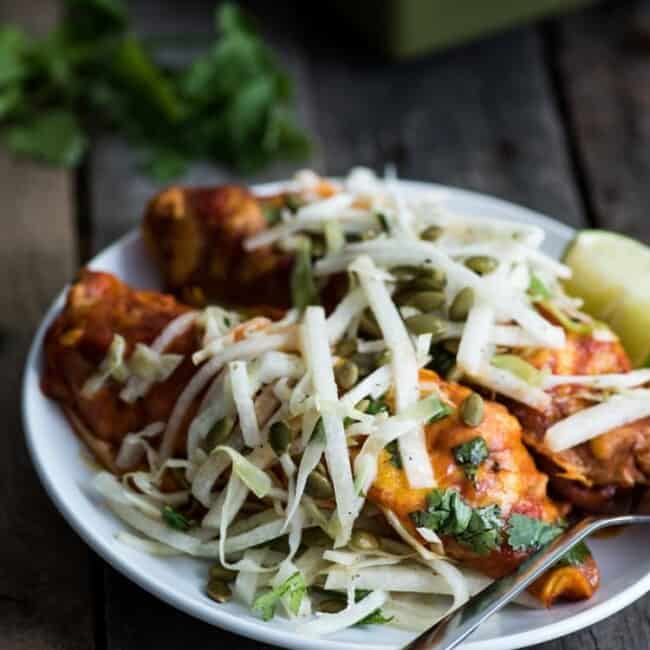 Prep: 20 minutes
Cook: 40 minutes
Total : 1 hour
Covered in a red enchilada sauce, these Mexican Ground Beef Enchiladas with Lime Jicama Slaw are great for dinner and make tasty leftovers that everyone will be excited to eat!
Ingredients
For the jicama slaw
1 large jicama, rinsed
1 cup shredded green cabbage
1/2 cup toasted pepitas (pumpkin seeds)
1 tablespoon chopped cilantro
1/4 cup olive oil
1 ounce lime juice (about 4 limes)
1 teaspoon salt
1 teaspoon black pepper
Instructions
For the ground beef enchiladas
In a skillet over medium-high, add ground beef and break and cook until browned, about 8 minutes.

Add La Preferida Taco Seasoning packet and 3/4 cup of water. Mix to stir and fully combine. Bring to a boil, then reduce heat and simmer for 15 minutes, stirring occasionally. Set aside.

Preheat oven to 350 degrees. Pour La Preferida Enchilada Sauce into a large bowl or skillet, big enough to fit a tortilla. Set aside.

While oven is preheating, heat oil in a medium skillet over medium-high heat. Using tongs, dip each tortilla in heated oil until soft and pliable (a few seconds each side). Drain excess oil from tortilla on a paper towel.

Dip tortilla in La Preferida Enchilada Sauce to cover both sides. Fill tortilla with seasoned ground beef, diced onions, green chilies and roll. Repeat process for all tortillas.

Place rolled tortillas in large baking dish, seam-side down. Top with remaining La Preferida Enchilada Sauce and shredded cheddar cheese. Bake 15-20 minutes, until cheese on top is bubbly. While enchiladas are baking, prepare the slaw.
For the jicama slaw
Peel the large jicama and cut off bottom so it lays flat. Cut into 1/4-inch slices or thinner and then lay them flat. Stack the slices together and cut them into matchsticks.

Add jicama sticks, shredded cabbage, toasted pepitas and cilantro to large bowl.

In a small bowl, whisk together olive oil, lime juice, salt and pepper. Pour onto slaw and toss together to coat.

Serve with enchiladas and enjoy!

Isabel's Tips:
To lighten up this recipe, microwave tortillas for about 30 seconds to 1 minute until soft and pliable instead of lightly frying them.   To make this recipe gluten free, use corn tortillas instead of flour tortillas.
This post has been sponsored by La Preferida, whose authentic Mexican products I love and use regularly in my kitchen. Thank you for supporting the brands who help make this site possible!