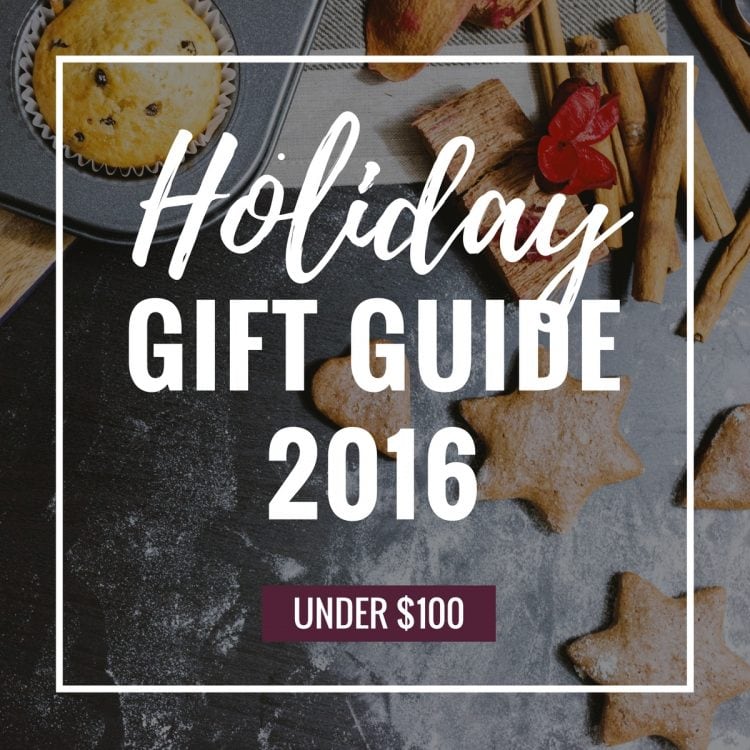 This post contains affiliate links.
Whew! I survived Thanksgiving, Black Friday and Cyber Monday. And I'm still alive and well. That deserves a pat on the back.
I think it's safe to say that I'm officially in the Christmas mood. John and I spent all day Sunday listening to Christmas music, putting up the Christmas tree and coming up with a defense strategy for when the cats inevitably start to chew and/or climb the tree. We tried to spray a bitter-tasting deterrent spray but it didn't work. We eventually settled on a spray bottle filled with water that we shoot at the cat. It seems to be doing the trick. As long as we're there to monitor the area, of course. Damn cats.
So in light of all the holiday cheer that I'm feeling, I've decided to put together a handy little gift guide instead of sharing my usual Tuesday Things post. Being the youngest of six and having over 10 nieces and nephews, I know how expensive the holidays can get. That's why all of the products in this guide are under $100. And better yet, most of them are under $50!
Whether you're looking for a gift for your tech-loving dad or a present for your annual office secret santa/white elephant exchange, it's all right here. A few of the products are from Etsy (one of my favorite stores online, but most of the products are from Amazon. Which means if you've got a Prime membership, you get unlimited free 2-day shipping! Woo hoo! If you don't have Amazon Prime, go here to get a free 30-day trial. Totally. Worth. It.
Now onto the gifts!
Gifts for foodies
My fave
: the
KitchenAid Immersion Blender
. It is SOO useful when making soups and whipped/mashed potatoes. I've used my immersion blender for this 
Roasted Butternut Squash Soup with Toasted Pumpkin Seeds
 recipe as well as my 
Butternut Squash Sweet Potato Casserole
. It makes blending and pureeing things so much easier. You just stick the blender into the pot and press the start button. It's a kitchen must-have.
Gifts for book lovers
My fave
:
Me Talk Pretty One Day by David Sedaris
. When I'm not browsing the cookbook section at my local bookstore, I'm usually in the short stories/essays section or in the self-help section. I consider David Sedaris to fall into both categories because he makes me laugh. And laughter is the best medicine. 😉 I've read every book by David Sedaris and Me Talk Pretty One Day is one of my favorites. And because they're short stories, you can read one, set the book down and not feel lost when you pick it up a few days later.
Gifts for home bodies
My fave
:
Ultrasonic Super-Quiet Humidifier
. It's definitely that time of year when I'm constantly putting lotion on because my skin is SOOO dry. This baby helps with that. It adds moisture to the air that helps relieve dry skin and can even help with that dry throat feeling you get when you think you may be getting sick. I've got one of these in my bedroom and I love it.
Gifts for techies
My fave
:
Wooden Kitchen Stand for Tablet or Phone
. If you've got a tiny kitchen like I do, this is a lifesaver. It's a stylish holder for your phone or tablet that you can mount on your kitchen cabinet so that you can go hands free and save some counter space when you're cooking in the kitchen. Comes in handy when you're following a recipe you found online. You know, like one of mine.
Gifts for secret santa / white elephant exchange
My fave
:
I Don't Want To Taco Bout It T-Shirt
. Duh. I want anything that has to do with tacos. This shirt is available in an XS unisex adult size up to XXL unisex adult. Perfect for the whole family.
This post contains affiliate links. If you make a purchase after clicking one of my links, I may receive a small commission. The price of the item stays the same and any money I make goes to supporting this blog. I only endorse products that I absolutely love. Thanks for your support!
10 Recipes That Will Rock Your Year
Here are the most viewed Isabel Eats recipes of 2016. All in one place. Download the free ebook now!