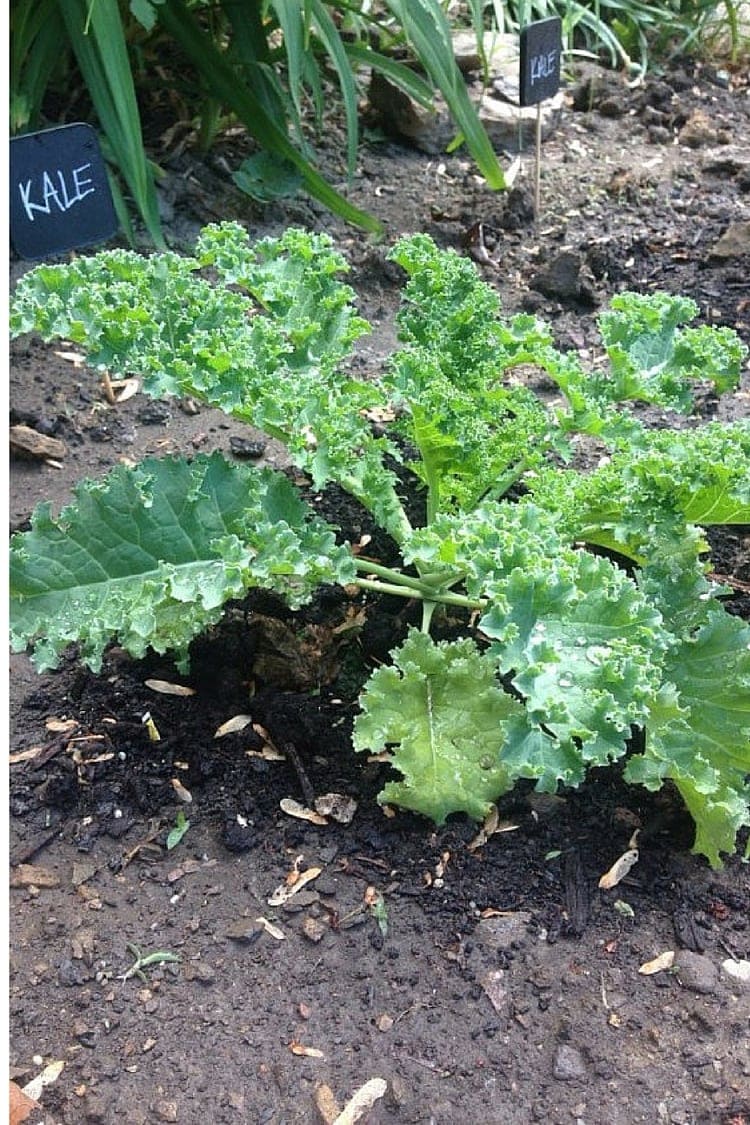 Kale is all the rage these days. It's been called a superfood and it seems to be getting more popular by the minute. It's so popular, I even made a YouTube video showing you how I harvest kale in my garden (see below). Whether the Kale Popularity Trend (KPT for short, at least that's what I'm calling it) keeps rising or not, it's definitely making at least a weekly appearance in my diet these days. Why so much kale, you ask? Because I'm growing three kale plants in my garden. And let me tell you, three kale plants for a two-person household is A LOT of kale. Note to self: don't plant so much kale next time. Lucky for me, I love the stuff. Kale is delicious in salads, in a smoothie, braised or sautéed and even as crunchy kale chips.
Kale plants are a cool-season crop that thrive in the spring and fall seasons. I transplanted my three kale plants in the early Spring and they are growing strong into the beginning of Summer. Kale is simple to grow and maintain. I would even go as far to say that it has been one of the easiest vegetables I've ever grown. I haven't had to deal with any kale pest issues (knock on wood) and the plants have produced oodles of large, green leaves. Best of all, harvesting kale is a piece of cake.
How to Harvest Kale
Before you begin, you'll need to make sure that your kale plant is ready to harvest. You'll know when it's ready when it's about 12 inches tall and the leaves are the size of your hand or bigger. Leaves that are the size of your palm are younger and more tender whereas the bigger leaves will be older and a bit tougher. Rest assured, both are delicious. It's also important that you harvest kale from the bottom up. Pruning the top leaves can accidentally stunt the growth of your kale plant. You certainly don't want that to happen. Feel free to cut off any yellowing leaves as well to help your plant really focus it's energy on growing the other healthy leaves.
Tools that you will need include some pruning shears or a pruning knife and a large bowl or bucket.
Step 1: Grasp a kale leaf and cut it at the base of the stem with a clean cut using your pruning shears.
Step 2: Put cut leaves in bucket.
Step 3: Wash freshly cut leaves.
Step 4: Eat kale.
Guess what, folks? That's IT! That's literally all you have to do. Done.
Sounds simple enough, right? But, if you're like me, you'll still have plenty of questions after reading those instructions. But where exactly do you cut it? How do you know which leaves to cut when they all look good? We're the kind of people that need to watch someone actually harvest a vegetable in order to really feel comfortable doing it. Not to worry, I've got you covered. Check out the YouTube video I made showing you exactly how I harvest my kale.
Have any questions or comments about kale, my garden or the books that are behind me at the beginning of my YouTube video (they're mostly my boyfriend's)? Let me know in the comments below!
This page contains affiliate links. If you make a purchase on Amazon after clicking one of my links, I may receive a small commission. The price of the item stays the same and any money I make goes to supporting this blog. I only endorse products and services that I fully believe in.