Jump to Recipe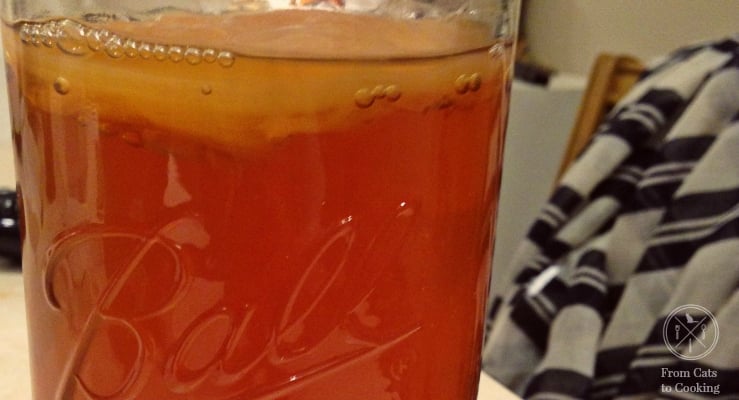 About a month ago, I jumped on the fermented foods and probiotics bandwagon. After reading about the benefits of fermented foods and how tasty they were, I was eager and excited to try as many new foods as possible. Sure, I'd eaten sauerkraut before, but only the kind served on a hot dog at a baseball game. Yogurt? Yep, I've had plenty of that in my life. But sadly, it was mostly the low-fat kind full of artificial sweeteners and additives. Pickles? Well, I've always loved pickles. So much so that I would eat them instead of popcorn when I went to the movie theater (in Oklahoma, they sell individual pickles in bags). But homemade fermented pickles? I can't honestly say I'd ever had any.
So where did I begin? I first started by purchasing a couple bottles of flavored kombucha. I wasn't quite sure what to expect but after about two sips, I was hooked. It was fizzy, somewhat sweet and tart at the same time and best of all, it reminded me of soda, which I hadn't consumed in over three months. I was really hankering for a carbonated fix and mineral water just wasn't my thing.  After three weeks of spending way too much money on store bought kombucha, I realized it was time to make it myself. Not only would it be more affordable but it would be fun! Keep in mind, I'm weird and like that sort of thing.
I did my research and quickly found out that I needed a SCOBY. Surprise, surprise – turns out SCOBYs aren't sold at your local supermarket. Thus, I decided to grow my own. While waiting two weeks for my SCOBY to grow, I realized I could use that time wisely and decided to make my own sauerkraut. I know, I'm an overachiever. To learn how to make your own sauerkraut, read my blog post How to Make Sauerkraut. I also discovered a wonderful resource in my neighborhood – Red Star Kombucha, a local kombucha brewery! Not only is their kombucha delicious, but when I contacted them and asked them questions regarding making my own kombucha, they were extremely nice and helpful. Am I lucky to have so many kombucha lovers around me or what? To learn more about growing your own SCOBY and kombucha and fermented foods in general, check out Jill Ciciarelli's wonderful blog First Comes Health and her book Fermented.
After two weeks of waiting, my SCOBY and I were finally ready to make kombucha. Here's how to do it.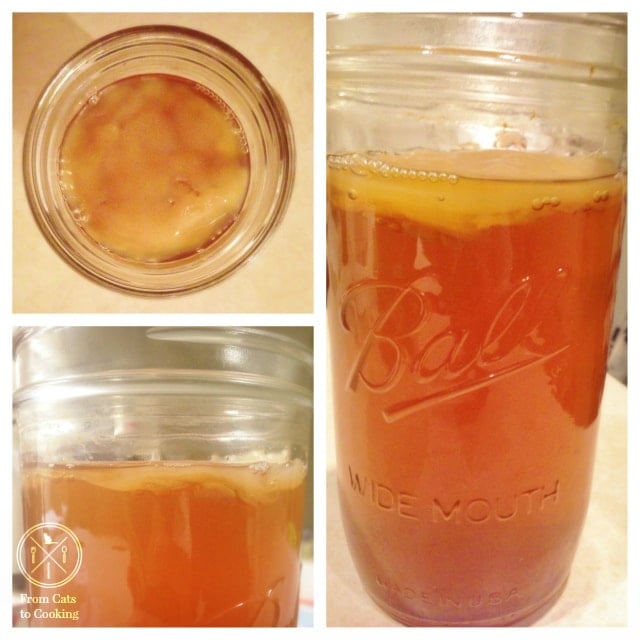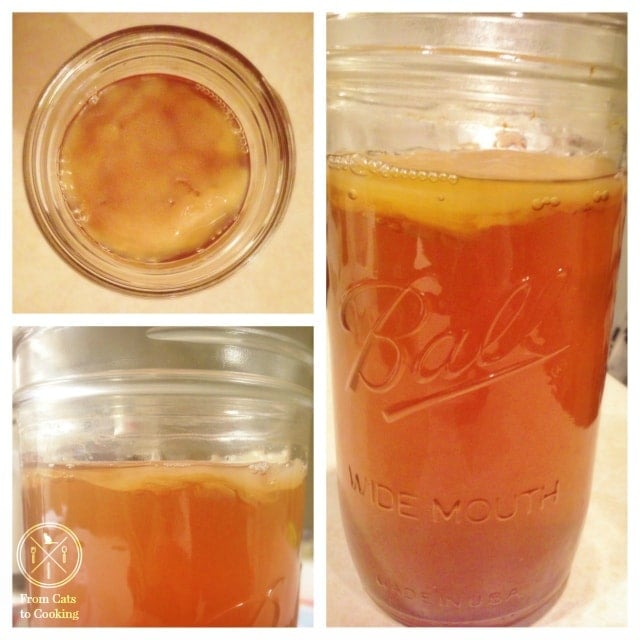 Ingredients
7 black tea bags
1 cup granulated sugar
1 SCOBY
1 cups to 2 of starter tea
3.5 quarts water 14 cups
1- gallon glass container
1 large pot
1 long wooden or plastic spoon
1 coffee filter
1 rubber band
Instructions
Heat about 3.5 quarts (14 cups) of water in a large pot until it boils. Remove pot from heat.

Add tea bags and allow to brew for about 5-10 minutes, depending on how strong you like your tea.

Remove tea bags and stir in 1 cup of sugar until it dissolves.

Let sweetened tea sit until it reaches room temperature.

Once cooled, pour sweetened tea into the 1-gallon glass container.

Add the starter tea.

Add the SCOBY.

Cover container with a coffee filter and secure with a rubber band.

Place container in a dark and slightly warm area.

Wait one week. You should see a new SCOBY beginning to form. That's good! Use a straw to taste test your kombucha. If it's not to your liking, wait a few more days and taste again. Once you like the taste, it's done and ready to bottle or add flavorings!
Ready to start flavoring your kombucha? Check out my post on How to Flavor Homemade Kombucha with Fruit.
LIKE THIS RECIPE? LET ME KNOW IN THE COMMENTS BELOW!
This page contains affiliate links. If you make a purchase on Amazon after clicking one of my links, I may receive a small commission. The price of the item stays the same and any money I make goes to supporting this blog. I only endorse products and services that I fully believe in.