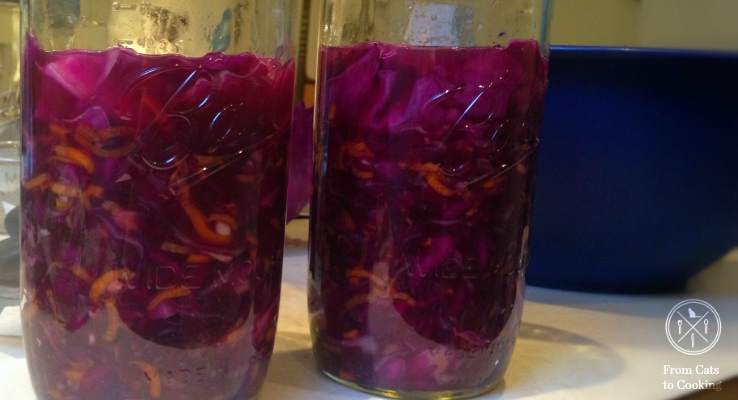 I don't know about you, but when I sit down to watch my weekly dose of favorite reality TV shows – Worst Cooks in America, Inkmaster and Face Off to name a few – the number of yogurt commercials I catch glimpses of is way too many to count. Thanks to my DVR, fast forwarding is usually an option. With so many celebrity endorsements and food labels touting the benefits of probiotics in their products (apparently, yogurt makes you dance like Shakira), you'd think that yogurt, often laden with chemicals and artificial sweeteners, was the only place to find such beneficial and healthy bacteria. Well, have I got news for you.
Probiotics refer to the good bacteria that live inside our digestive system. These little organisms help promote a healthy gut by helping to reduce the growth of harmful bacteria we may come in contact with everyday. Probiotics also help with the digestion and absorption of food and nutrients, keep us regular, and support our immune system. What more could you ask for?! If you want to learn more about probiotics and fermented foods, check out some of these great resources: Cultures of Health, Cultured Food Life and First Comes Health.
Here are some probiotic-rich foods that can easily be incorporated into your daily routine.
Sauerkraut (must be refrigerated and labeled as containing live and active cultures, otherwise it has been heat-treated, which is no bueno)
Pickles
High-quality dark chocolate
Kombucha
Kefir
Kimchi (must also be refrigerated)
And tons of other fermented foods!
This past weekend, I had a sudden urge to do some fermenting of my own. And so it began. Sauerkraut. I followed the instructions outlined in Practical Paleo but tweaked the recipe just a bit, omitting the jalapeños and a few other ingredients.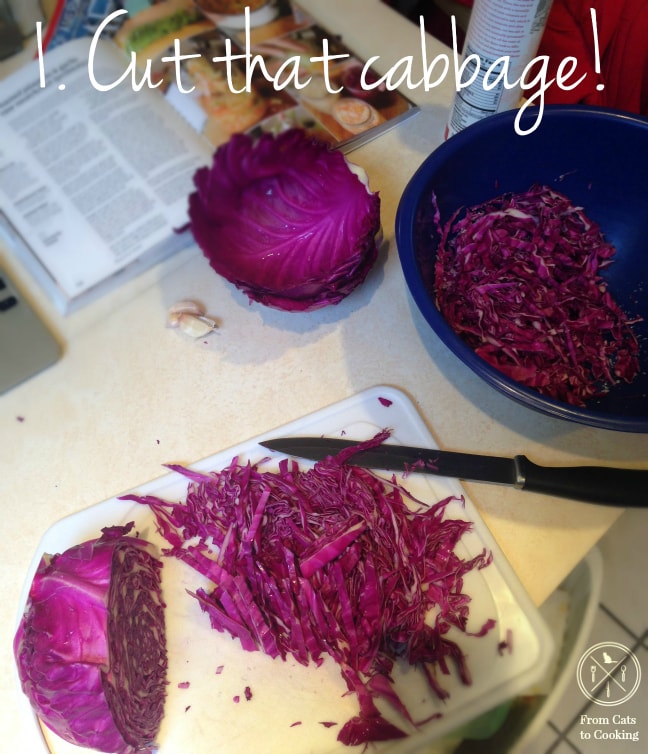 I chose red cabbage simply because I think it's prettier. No other reason. Green cabbage would do just fine if you prefer.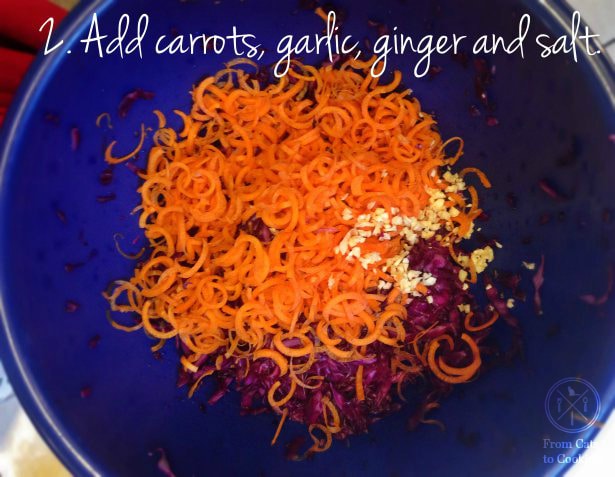 I used my neat little spiralizer and shredded four carrots, chopped some garlic, ginger, and added about 1.5 tbsp coarse sea salt.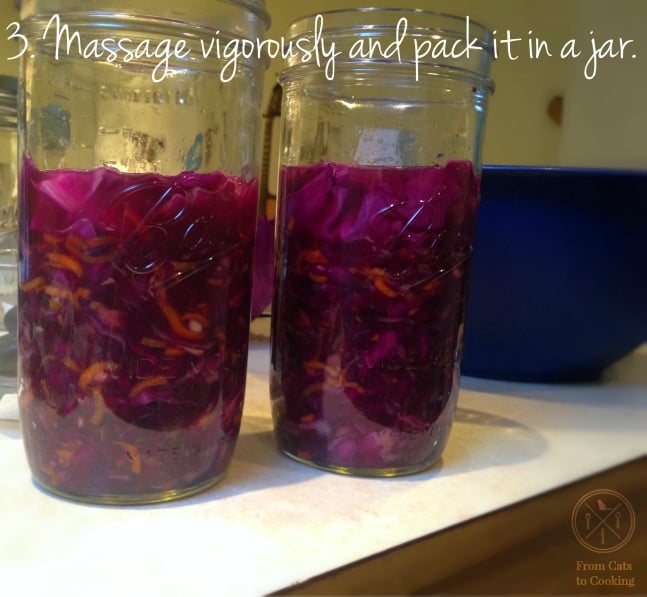 Massage and squeeze the mixture with your hands until a good amount of liquid is released and the cabbage feels limp. It may take a few minutes so don't get discouraged. Once you think it's released all the possible liquid, put the mixture in a glass jar(s), making sure to pack it in there tightly so that the liquid from the mixture covers all of the vegetables. The fermentation process happens in the liquid, so if you see any little pieces of cabbage or carrots poking out, push them back underneath. It may be helpful to get two small containers (shot glasses, anyone?) and put them on top of the mixture to act like a sort of paperweight. Once the veggies are securely under water, cover the top of the jar(s) with a coffee filter or paper towel and a rubber band.
Now comes the hardest part – waiting. Put your jar(s) in a dark, semi-cool place and let sit for two weeks. Be sure to check on your sauerkraut daily or every other day to make sure that the mixture is still fully submerged under the water. After two weeks, take a bite! If it's not to your liking, let it sit a few more days. I've heard three weeks is usually the sweet spot.
I'm about one week in. I can see a little glimmer of light at the end of the tunnel.
Interested in other fermented, probiotic-rich foods? In addition to making sauerkraut last week, I started growing my own kombucha SCOBY. For more about making your own kombucha, check out my post, How to Make Kombucha – At Home!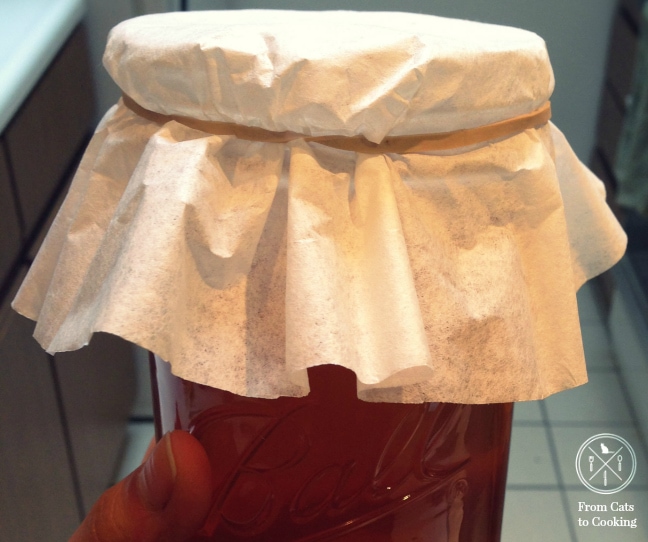 LIKE THIS POST? LET ME KNOW IN THE COMMENTS BELOW!
This page contains affiliate links. If you make a purchase on Amazon after clicking one of my links, I may receive a small commission. The price of the item stays the same and any money I make goes to supporting this blog. I only endorse products and services that I fully believe in.