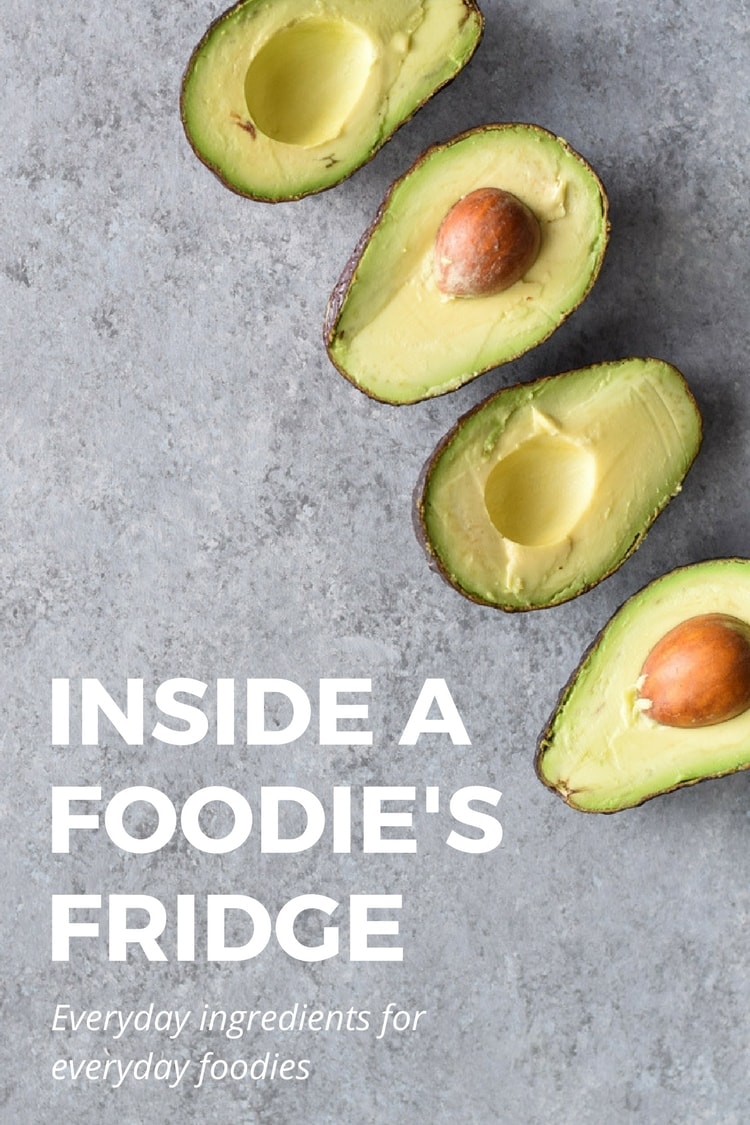 A good friend of mine and I were recently talking about our grocery shopping habits – where we shop, what we buy and how much we spend. While I consider us to be very similar people who share many of the same interests including our love of food, it was interesting to hear how our experiences differed and how they were the same.
I'd love to know what's in your fridge, especially since you have a food blog. Like a little behind-the-scenes in your kitchen showing people what you really buy.
And magically, the idea for this 'Inside a Foodie's Fridge' post was born.
Some people may think that what I keep stocked in my fridge as a food blogger isn't what the average home cook buys. But it's actually quite the opposite.
This blog doesn't showcase recipes from a trained culinary chef – I've actually never taken a single cooking class in my life! Wait – does watching every single season of Top Chef and Masterchef count? If so, then I'm a total pro.
Nor does this blog represent 100% authentic Mexican cuisine – I've never lived in Mexico and I was born and raised in Oklahoma City, far from my parents' hometown in Zacatecas. Sure, I grew up eating my parent's Mexican cooking, but I also grew up eating insane amounts of Hot Cheetos, pickles in a bag (Van Holten's brand is the sh**!) and pizza. I was a strange kid.
Isabel Eats is really all about recipes that home cooks can make, because that's what I am.
I like trying and experimenting with different ingredients and brands to find what I like the best, which is why some months you'll see a certain brand in my fridge, and other months something totally different. You'll see that 99% of what I use are everyday ingredients that I've found at my local grocery store. Nothing crazy. If I buy something from a specialty/natural grocer like Whole Foods or Trader Joe's, I'll be sure to point that out.
So without further ado, in the spirit of sharing, experimenting and curiosity, here's what's in my fridge this month!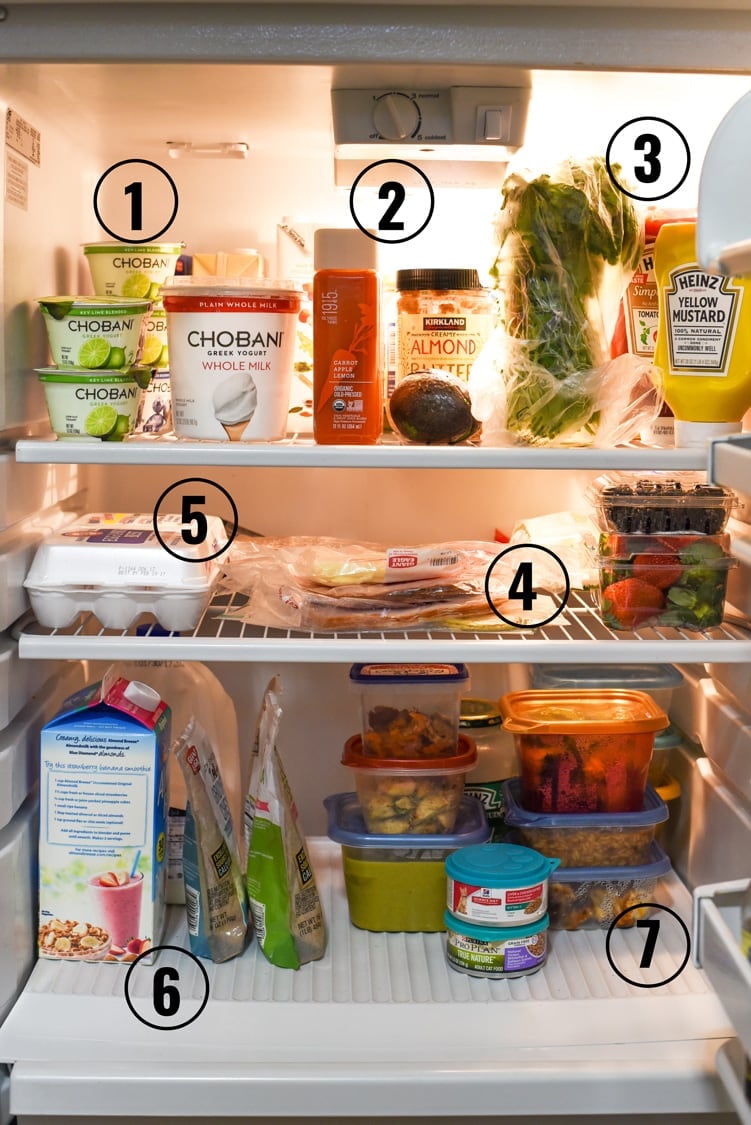 1. Chobani yogurt. 3 open cartons of stock (vegetable, beef and chicken).
I'm a huge fan of Chobani's key lime Greek yogurt flavor. It literally tastes like a key lime pie and I love eating it after lunch since it's sweet and tastes like dessert. Super satisfying.
I also always have a large container of plain Greek yogurt in the fridge. I mainly use it as a substitute for sour cream, but I've also used it in many recipes to thicken some sauces. See Healthy Chicken Fajita Pasta, Salsa Verde Yogurt Sauce, Chipotle Lime Crema.
Why do I have 3 containers of stock in my fridge? I have no idea. I guess I made soup at some point and used some broth, but I don't remember how long ago that was. I should probably check the expiration date.
2. 1915 Bolthouse Farms cold-pressed juice. Almond butter.
I love the 1915 organic juices. They're super tasty, come in a variety of flavors and the only ingredients in them are fruits and veggies. No added sugar.
I love my almond butter. This brand I have is from Costco (I'm a big Costco shopper) and I like it because the only ingredient is almonds. When you buy it, you have to stir it really well since the oil from the almonds can sometimes separate, but the flavor of natural almond butter is the best. I used to be addicted, but I think I've finally calmed down a bit. I currently use it to make desserts like these Salted Chocolate-Covered Almond Butter Bites, I sometimes have a spoonful or two as a snack or add a dollop of it in my morning smoothie or oatmeal.
3. Cilantro. Always cilantro.
4. Homemade corn tortillas. Deli meat.
There's always deli meat in the fridge for the days that John and I don't feel like cooking and just want to make a sandwich.
Corn tortillas are a staple. Sometimes they're homemade, sometimes they're store bought. But we ALWAYS have corn tortillas.
5. Eggs.
6. Almond milk. Cheese.
If there's a recipe I make that I feel needs some milk, I usually add almond milk in the place of regular cow's milk depending on the recipe. I feel like so many people online are looking for dairy-free recipes and almond milk is such an easy substitute. I don't mind the flavor at all, so why not use it. However, if I've got some cookies or something I want dunked in milk, I go with cow's milk.
The cheese stash in this photo is actually really sad. I've usually got at least 5 different kinds of cheese in the fridge. This is just mozzarella and gruyere. There's often a Mexican cheese in there, an extra sharp cheddar and something fun.
7. So many leftovers. Cans of cat food for Charlie and Lucy.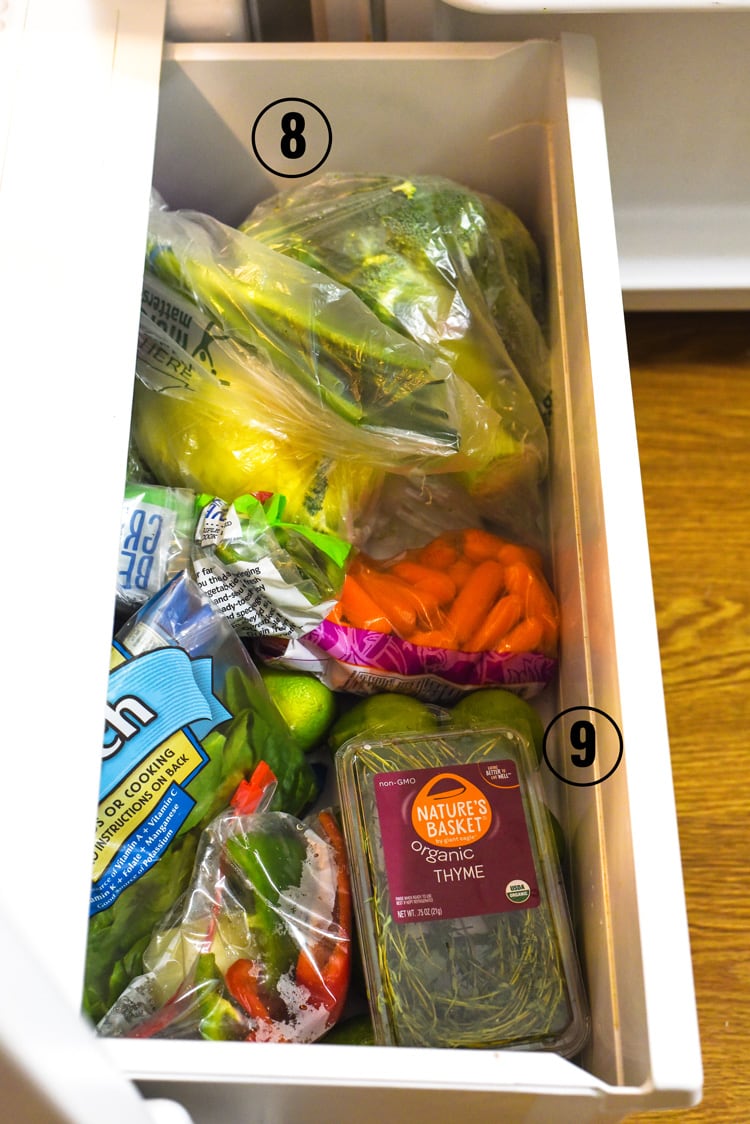 8. Broccoli. Green onions. A head of romaine lettuce.
9. Fresh thyme. Limes.
John loves making steak, so when he cooks steak in the cast iron, he not only seasons the meat with fresh thyme, but he also fries a few sprigs in the oil to help further infuse some of the flavor. A trick he picked up from youtube videos of Chef Gordon Ramsey.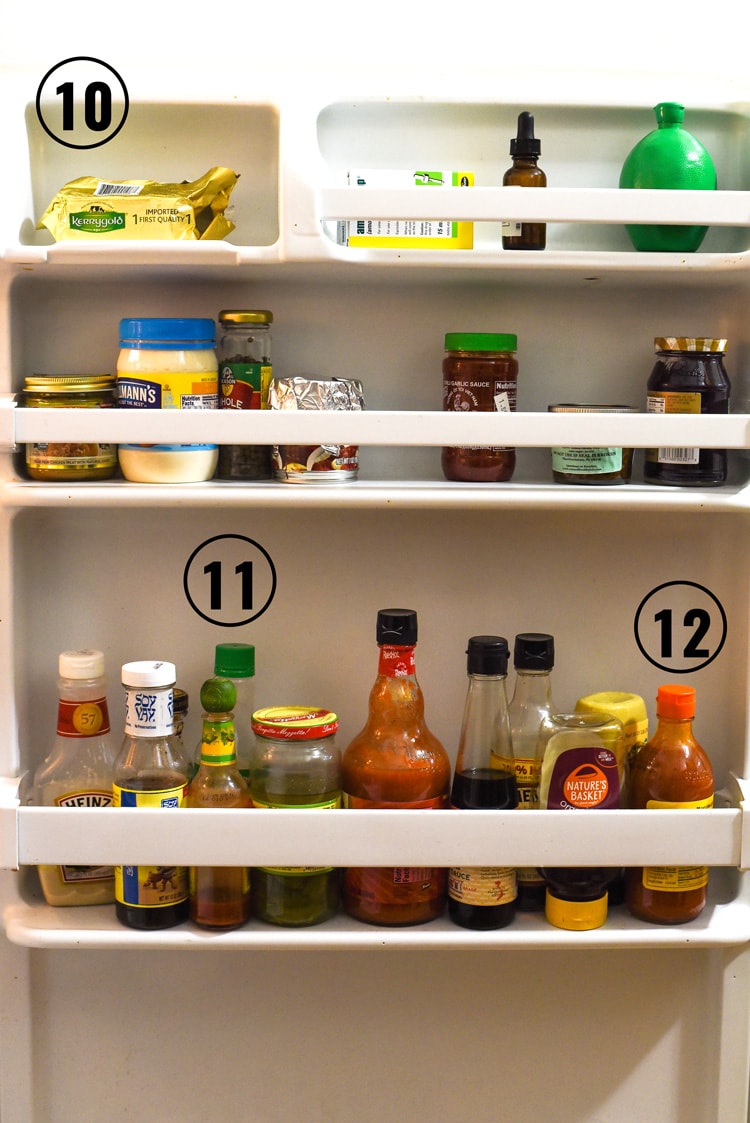 10. Kerrygold butter.
High quality butter made from grass-fed cow's milk. The only butter I buy.
11. Cholula Chili-lime hot sauce. Low-sodium soy sauce. Pickled jalapeno slices.
12. Valentina hot sauce. Honey. Dijon mustard.
Some pantry items not shown: canned chipotle peppers, canned diced green chiles, almonds, walnuts, cashews, dried cranberries, dates, 10 bajillion types of flour (all-purpose, whole wheat, bread, almond, tapioca, coconut, potato), various grains (rice, quinoa, farro).
Some freezer items not shown: frozen spinach (it's been in there for years), frozen strawberries and bananas, extra sticks of butter (Costco shopper, remember?), chicken thighs, flank steak, boneless ribs, ground turkey, ground beef.
That's it! That's my little fridge. If there's anything you see in the photos that you're curious about, leave me a comment. I'm more than happy to talk about all of it!
{This post is not sponsored and all of these products were purchased by me. I'm not affiliated with any of the companies above. I just love talking about what I like! There are a few Amazon affiliate links above. If you make a purchase after clicking one of them, I may receive a small commission. The price of the item stays the same and any money I make goes to supporting this blog. Thanks so much for being here!}