Jump to Recipe
Juicy Italian Turkey Meatballs Recipe that are paleo-friendly, gluten-free, and low carb.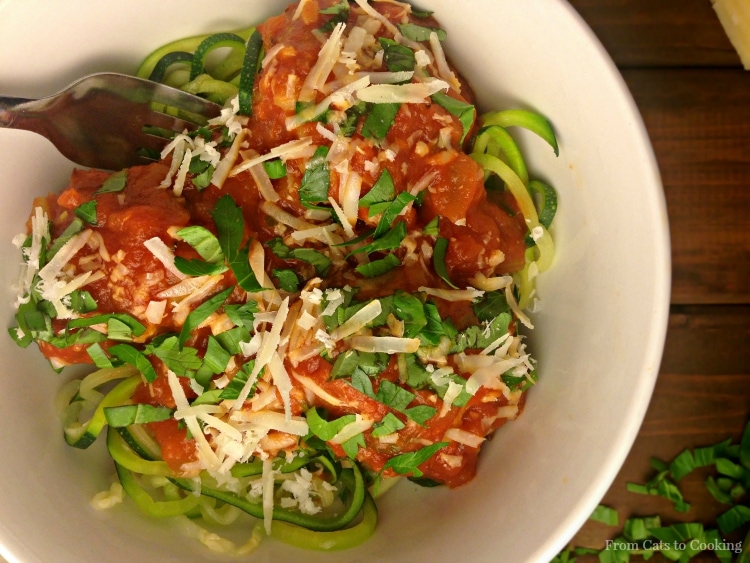 Remember that Spicy Italian Arrabbiata Sauce recipe I posted last week?! I hope you made it because it goes hand-in-hand with these Juicy Italian Turkey Meatballs I'm throwing at ya today. Don't they look delicious? Seriously. I know. Keep reading for the recipe!
Now I've got to be honest with you. I'm not a big fan of Italian food. At least Americanized Italian food. And even then, whether its authentic or not, pizza is usually my go-to. It's strange when I really think about it because I like the different individual ingredients of Italian cuisine – local meats, delicious cheeses, fresh vegetables and chopped herbs. In theory that all sounds wonderful. Give me a meat and cheese plate and I'm a happy girl. It's the pasta, the lasagna and the fried eggplant/chicken Parmesan dishes that just don't appeal to me.** Sure, I'll eat them if there's nothing else around. But they're not my first choice. That's why I made it my goal to make an Italian-inspired dish I love.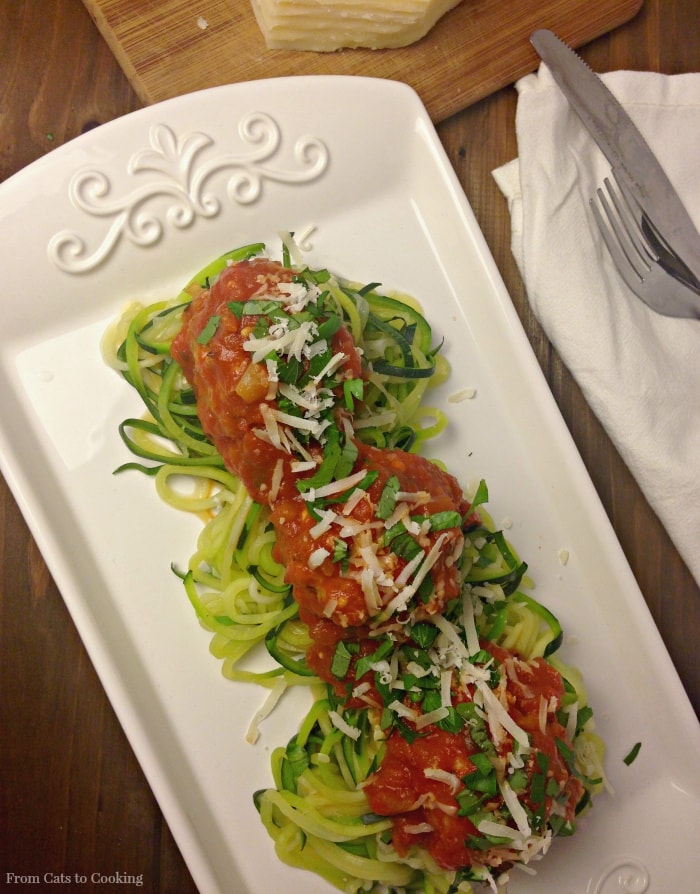 I was largely inspired to make these meatballs because I had so many fresh herbs growing in pots on my porch that needed to be put to good use as well as two HUGE zucchini. If you follow me on Instagram, you may have seen pictures – and if you don't, go check them out right now. You have to see it to believe it.
I used zucchini noodles (or as I like to call them, zoodles) instead of pasta. If you've never made zoodles before, you're missing out! It's such a great way to get more veggies in and it's just kinda cool, ya know? Here is a link to the spiralizer kitchen tool I have that I use to make my zoodles. It's great because it has three different blades that can be used to give the vegetable different shapes. I'm telling you, it's fun. I don't have kids but if I did, I feel like they would love zoodles.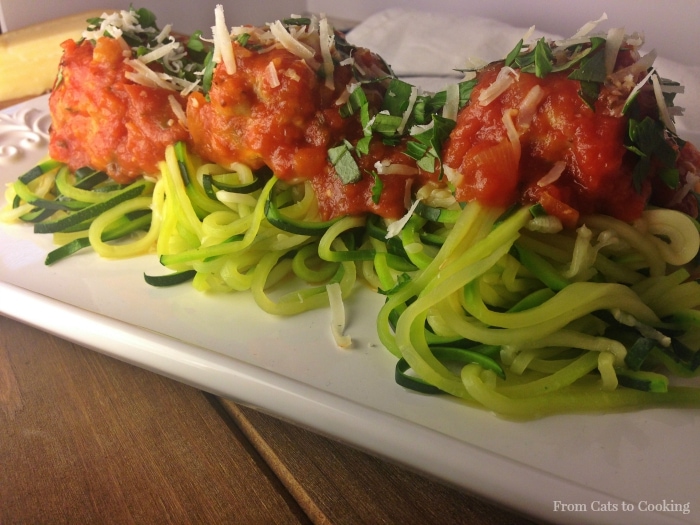 John, the BF, also actually really likes zoodles, too, so it works out great. But this dish can also easily be served over spaghetti squash, rice, sans noodles, or with regular pasta.
Are you a big fan of Italian food? Do you love zoodles as much as John does? What's your favorite way to eat meatballs – with zoodles, spaghetti squash, no noodles at all? Let me know in the comments below! I would love to know what you think.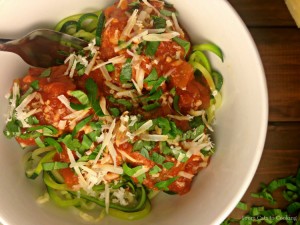 Prep: 5 minutes
Cook: 15 minutes
Total : 20 minutes
Juicy Italian Turkey Meatballs Recipe that are paleo-friendly, gluten-free, and low carb.
Ingredients
1 lb ground turkey
1 egg
1 small onion diced
1/3 cup plain Greek yogurt
1/4 cup fresh chopped parsley plus more for garnish (optional)
2 cloves garlic minced
1 1/2 tbsp tapioca starch
2 tsp fresh chopped basil
1 1/2 tsp salt
1 tsp dried oregano
1/2 tsp black pepper
Instructions
Heat oven to 425 degrees.

Mix all ingredients in a bowl.

Form mixture into meatballs using a 1/4 cup measuring tool or large ice cream scoop.

Place formed meatballs onto two baking sheets lined with parchment paper.

Bake for 15 minutes or until internal temperature reaches 165 degrees.

Serve with spicy Italian arrabbiata sauce and zucchini noodles.

Eat up!
**I often think that if the pasta was made from scratch, it may change my mind. So I'm on a mission to make some of my own! I don't have a pasta maker or anything like that so it could get interesting. Stay tuned for a post about pasta in the coming weeks!