What I've been up to this last month – lots of recipes, planning my honeymoon and jumping into portrait photography!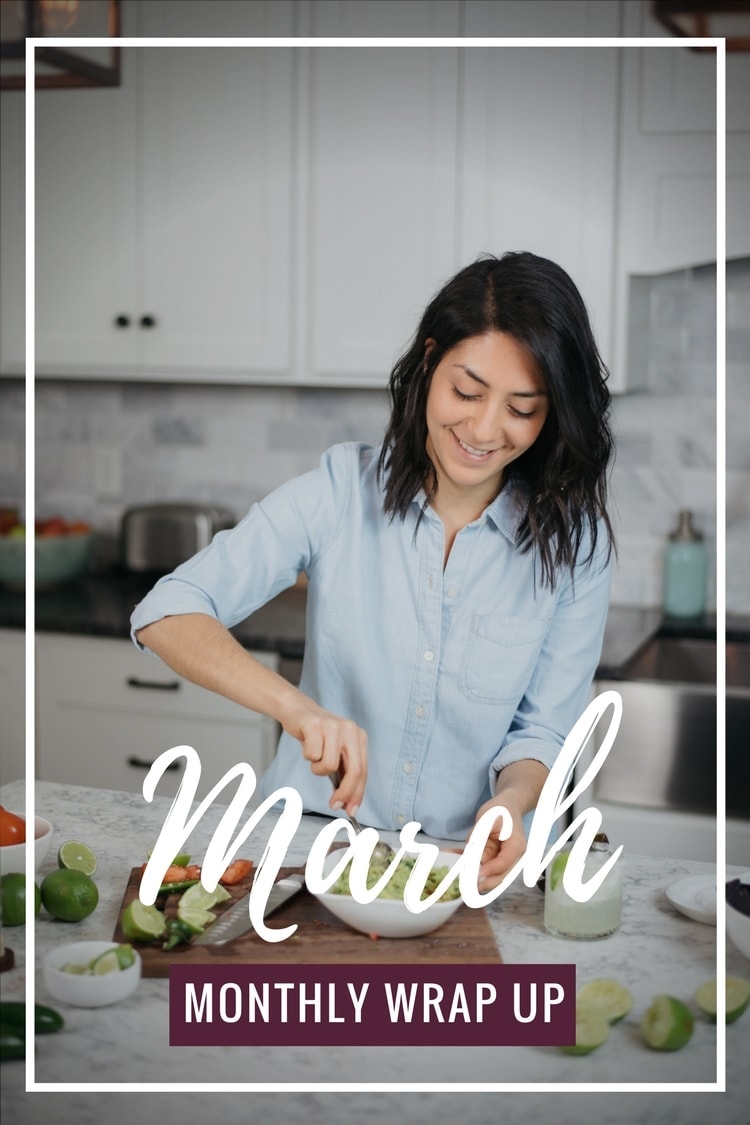 Here we are again, a brand new month (my birthday month actually!) and a chance to reflect on how March went.
All in all, I must say that March was a pretty damn good month. At first thought, I was tempted not to even write a monthly wrap up since not much has happened, but once I actually sat down and really reflected on what's been going on, I realized that there's actually quite a few things. I have a tendency to focus on the things that need improving without really acknowledging and celebrating the good. So for this post, I've decided to turn that around and focus on all my wins!
Here's what I've been up to in the last month.
Recipes, recipes and more Mexican recipes!
I posted a total of 9 recipes in the month of March. 5 of those recipes were also made into recipe videos. When I think about how much work I put into researching, making (and remaking a few times), photographing, shooting, editing, writing and promoting all of that content, my head starts to spin! And that doesn't include any of the freelance photography/recipe video work I'm doing for one of my favorite bloggers, Cassie from Wholefully, and one of my favorite Mexican brands, La Preferida.
I struggle with comparison from time to time, and sometimes I can't help but think that I could be doing more. I see other people in my industry that I look up to posting 4, even 5 recipes a week and it blows my mind. I know how much work goes into creating a single recipe post, how on earth do they have all that time?
But then I remember that every person, every business, every situation is unique. It's not always an apples to apples comparison.  Some people have been at the whole blogging thing wayyy longer than I have and have more experience and connections. Some people have lots of help – people who go into their homes and actually help them throughout the cooking and shooting process, business managers who help them get sponsored work to help pay the bills. And some people are just crazy superstars who do it all themselves and are freakishly good at it!
Whatever the situation, the only fair comparison is with myself, reflecting on how I've grown and evolved and changed over time. And as long as it's in an overall positive direction, that's all that matters.
So those 9 recipes and 5 recipe videos I did in March? I'm really proud of them! They're recipes that I love and that I think you'll love, too. 🙂 In case you missed them, here's a quick list.
We're going on a honeymoon!
When John and I got married last May, we decided not to go on a honeymoon right away for financial reasons. Since we were paying for 90% of the wedding, we simply didn't have the money to do what we wanted to do and travel together. So we made the decision to postpone the honeymoon for a year and do it on our one-year wedding anniversary instead.
Well friends, we've kept our promise and we're going on a California road trip for 2 whole weeks! We bought our plane tickets over Easter weekend and I'm so excited. We're starting in San Diego, renting a car and exploring the coast all the way up to San Francisco. We've got a huge Google spreadsheet full of things to do, it's hard to pick! If you live in the area or have been there, let me know what places you think we should definitely visit! Keep in mind we like beer, wine and food. 🙂
I'm taking photos of people now, too!
When I started this food blog, it was just a hobby. I remember spending my weekends learning about how to use my new camera, practicing my food photography and just learning more about food photography in general. I didn't have any intention of turning it into my full time job like it is today. But now that it is, all of those tasks that were once hobbies are now part of my normal day-to-day to dos. I still LOVE and fully enjoy doing them, the difference is that they now carry some added pressure and stress.
So slowly over the last few months, I realized that I wanted to get into a new hobby. Something that interests me, that challenges me and that doesn't have the added pressure of paying the bills like food photography does. That new hobby? Portrait and lifestyle photography!
Creatively, I find that taking photos of people is sooooo different that taking photos of food. And the editing process? 100 percent different, at least for me. I've immersed myself in learning and reading more about portrait photography on the weekends and it's just been so much fun. The one thing that has been a bit of a challenge is actually finding someone to photograph and just practicing as much as possible. It's not like food photography where I can prepare a plate a food and practice whenever I feel like it. With people, first I have to find someone who is willing to let me photograph them, schedule a shoot for a day that works for them and then go out and do it. I don't have any studio space, so I've mainly been taking photos outside and it's been fun and challenging in so many different ways.
If you're in the Pittsburgh or Oklahoma City area and are willing to spend an hour or two with me for some photos in return, let me know! Here's a few examples of some portraits I've taken of friends of family.
—
That's all I've got for now, friends. Make this month a great one!