Topped with a green chile cilantro sauce, this Mexican Baked Salmon in Foil recipe is easy to make, takes 35 minutes from start to finish and is perfect for lunch and dinner.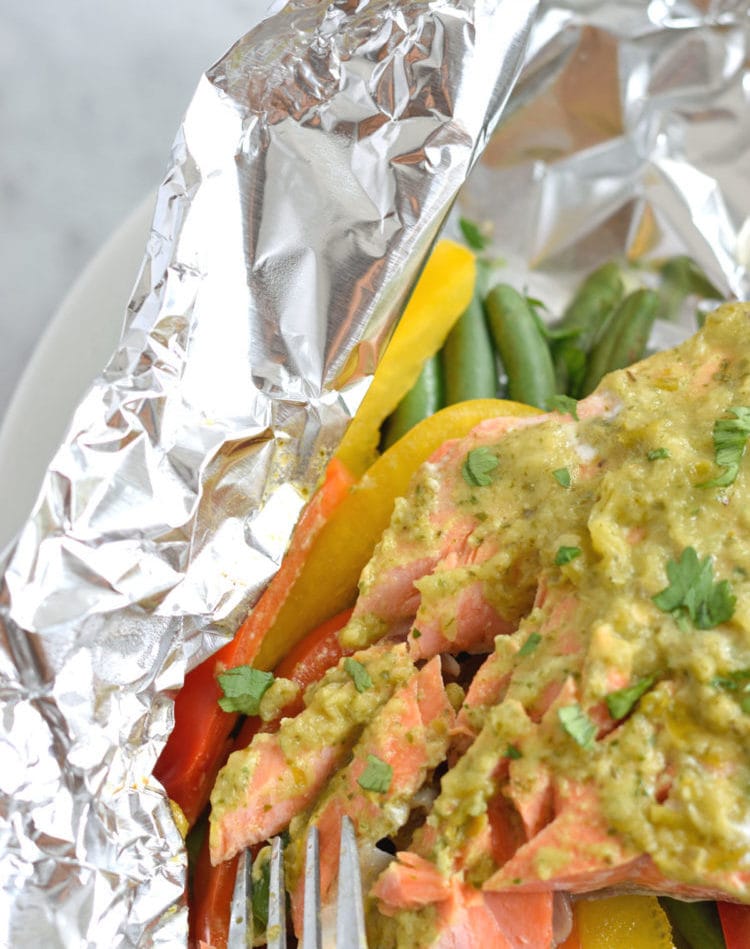 Topped with a green chile cilantro sauce, this Mexican Baked Salmon in Foil recipe is easy to make, takes 35 minutes from start to finish and is perfect for lunch and dinner. And the best part? If you eat it right out of the foil packet, you can save yourself from dirtying some dishes!
Woo woo! That deserves some dancing.
Now before you scroll any further and your mouth starts to water, I want to get a little heartfelt for a second.
I love Mexican food.
My family is Mexican, both of my parents were born in Mexico and my mom and dad cooked for our family all the time. I literally grew up eating Mexican food every day.
(I had a pretty sweet gig as a kid.)
But it wasn't until I moved away to go to college when I realized how amazing my home cooked meals really were. Fast forward 10 years and now I'm here, working on this blog in my little bitty corner of the internet. I'm truly having so much fun but recently, there has been a little voice in the back of my head telling me to do what brings me joy, puts a smile on my face and makes me happy.
And you know what that thing is?
Cooking, photographing, eating and writing about Mexican-inspired food. And sharing it with you, of course. That's really where my cooking passion lies. So get ready – Isabel Eats is shifting from talking about ALL the food to focusing a bit more on what I love – Mexican-inspired recipes.
And if you like my non-recipe posts as well, don't worry! Those aren't going away. You can find those using the navigation bar at the top of the page by clicking on Out of the Kitchen.
Now let's get back to this Mexican Baked Salmon.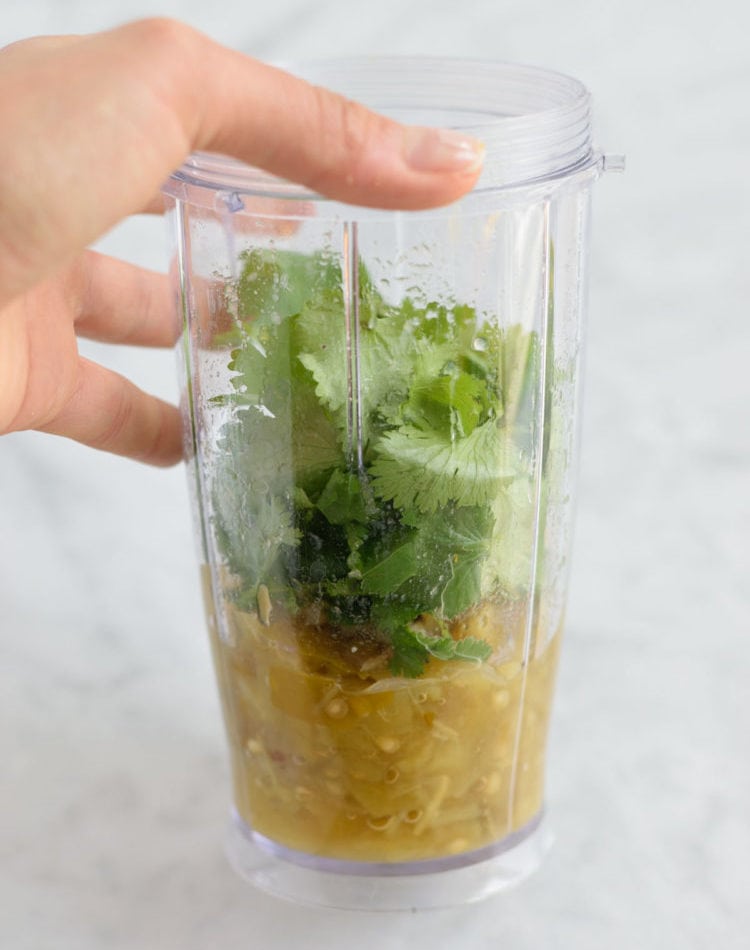 I think I'm addicted to cilantro. If you've taken at look at my past few recipes, cilantro is probably an ingredient in them. I'm also growing some cilantro in my garden and I also bought a huge bunch of it at the grocery store last weekend.
Like I said – addicted.
So when I was brainstorming what ingredients I could use to give this baked salmon recipe a little bit of a Mexican flare, cilantro naturally popped into my head. Mix it up with some diced green chiles, oregano, garlic, onion powder and lime juice and you've got a tasty, bright sauce!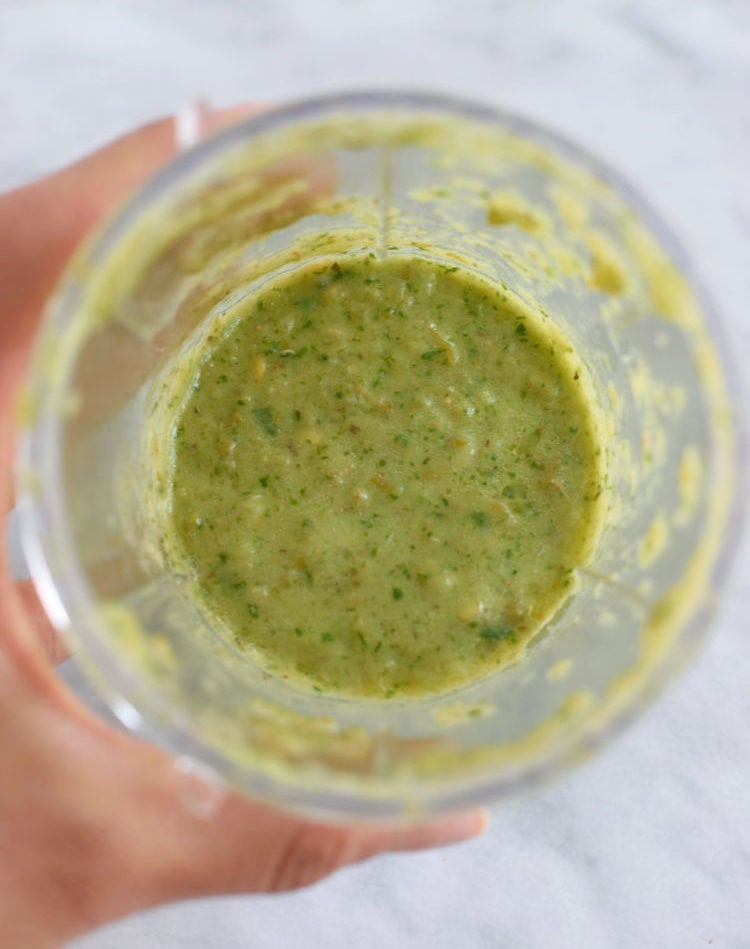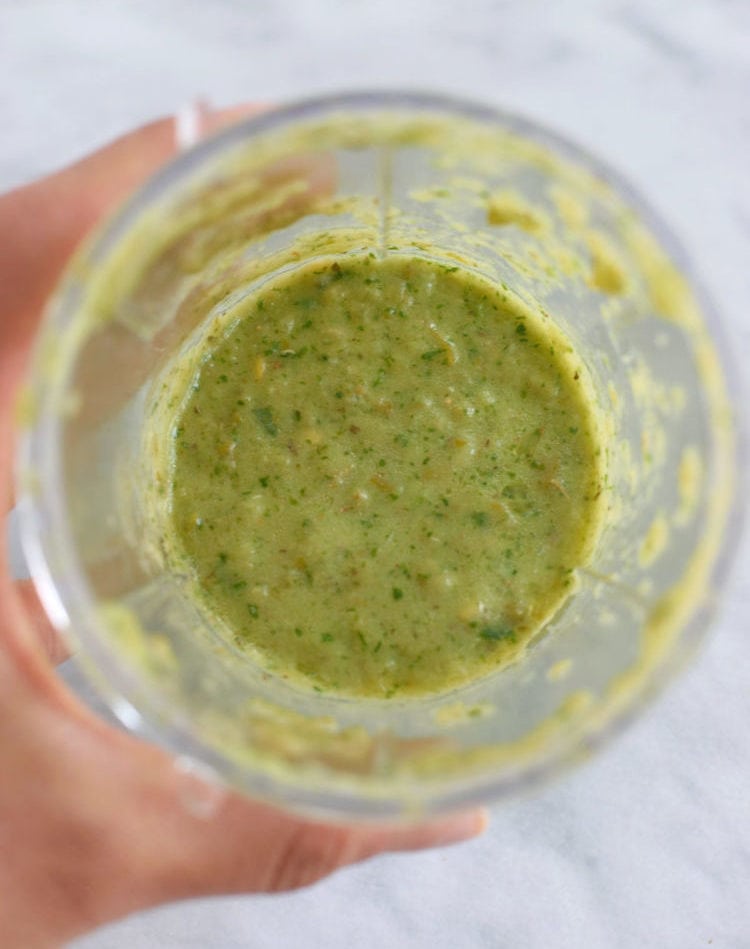 Now I must admit – this was my first time ever making salmon in a foil packet. So sad, I know! How could I have gone this long without baking salmon this way? It's insanely easy and the salmon came out PERFECTLY COOKED every time. This is definitely how I'm baking my salmon from now on.
Top your fillet with a little green chile cilantro sauce, fold together the foil pack and bake in the oven for 25 minutes.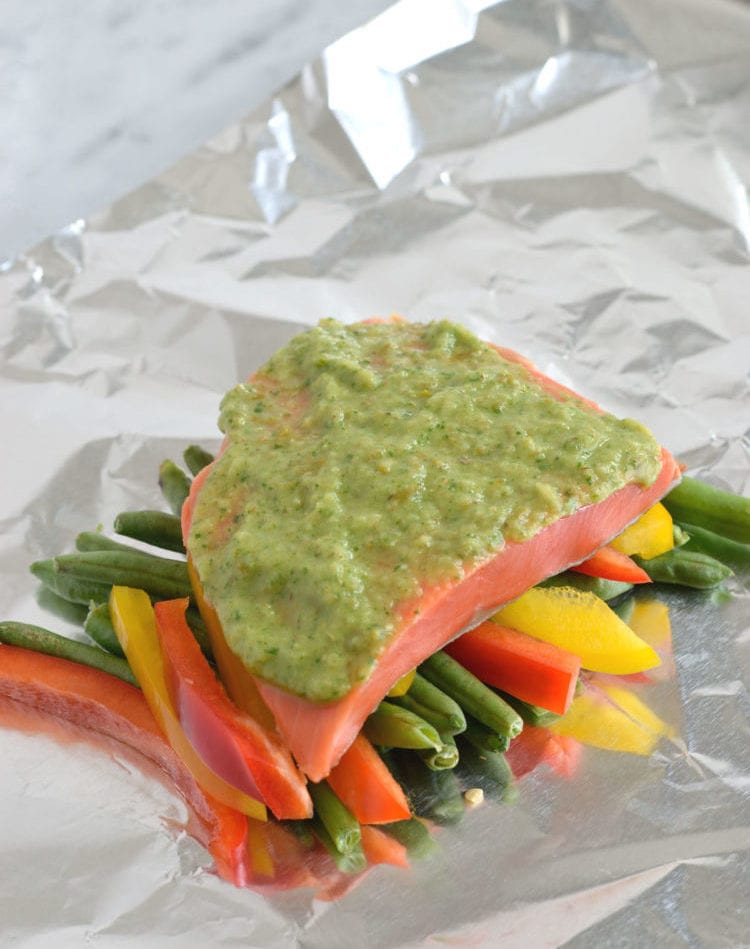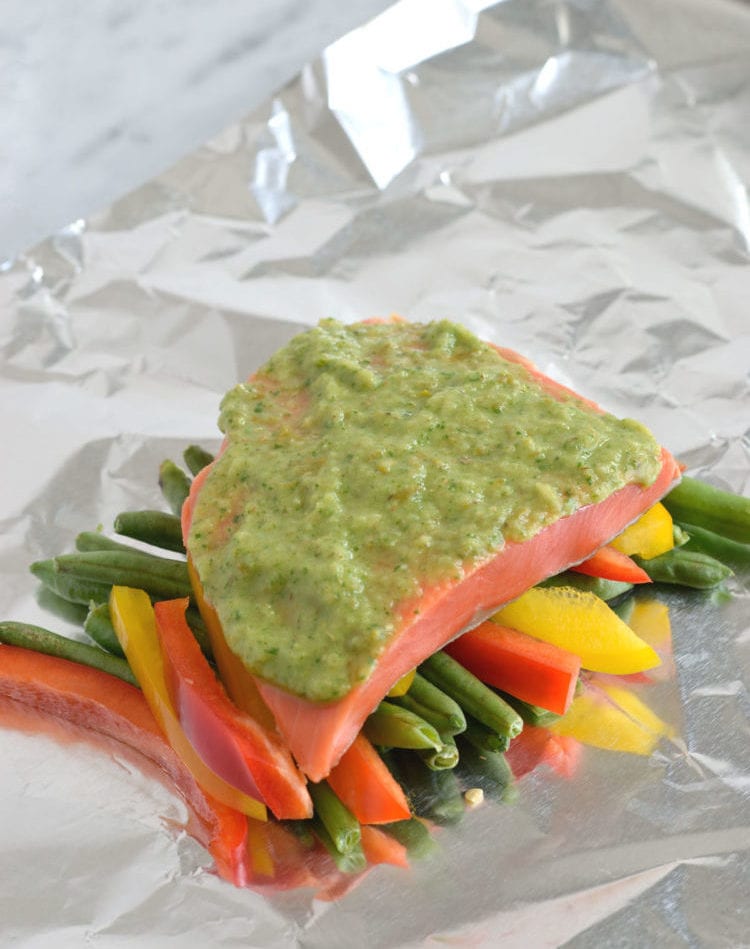 BAM. Done.
And you don't even need to use a plate.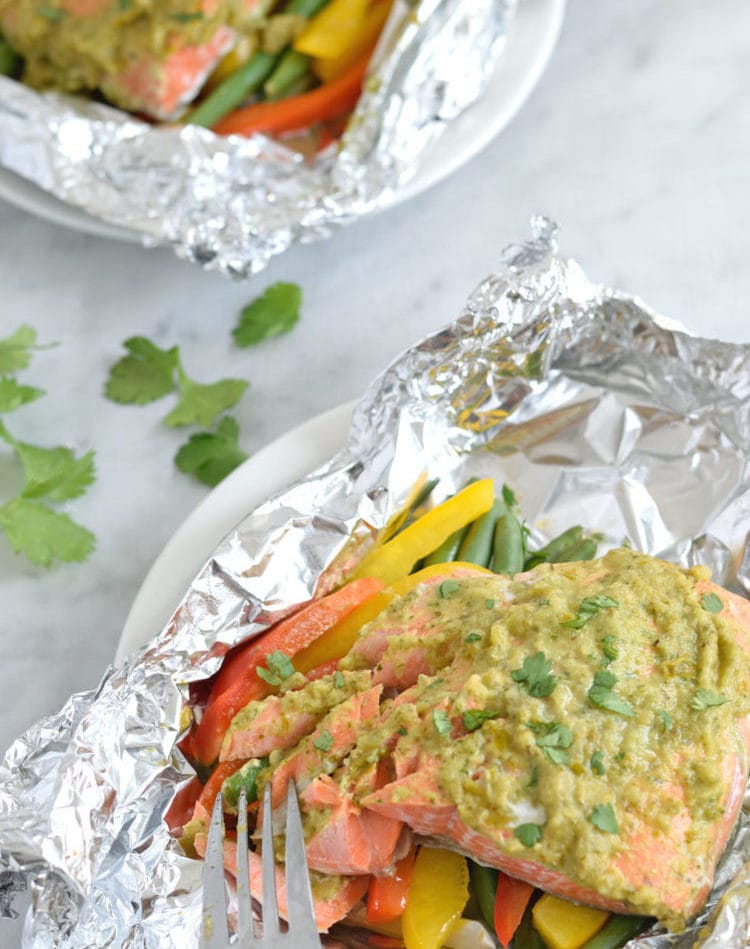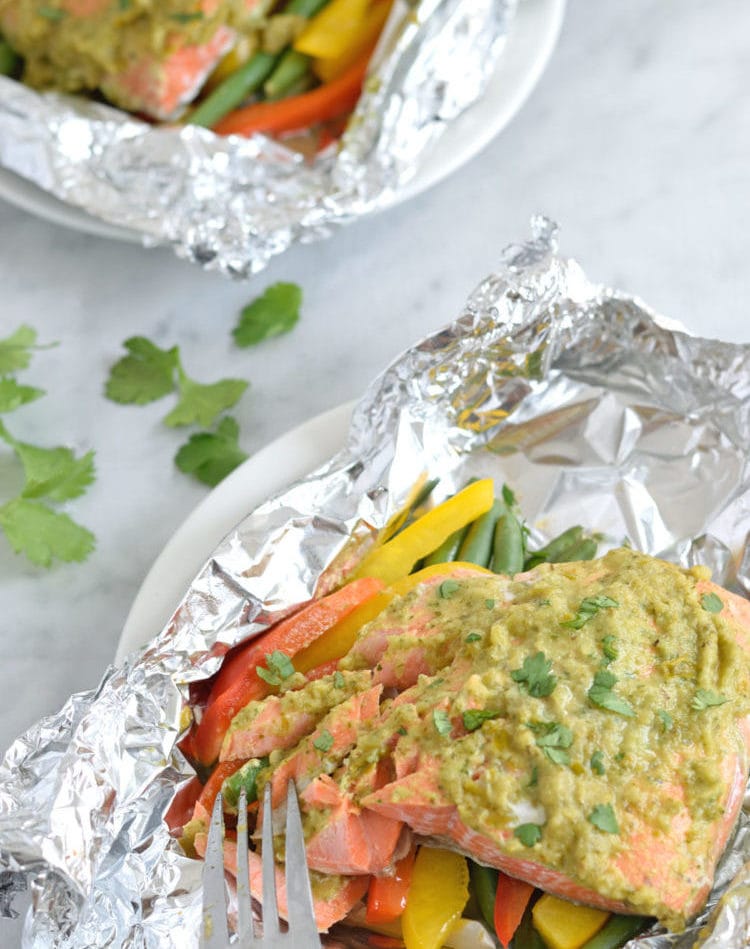 INGREDIENTS
1

large red bell pepper

1

large yellow bell pepper

12

oz

fresh green beans

4

ounces

salmon fillets

4-6 each

4

oz

can diced green chiles

mild

1/4

cup

packed cilantro leaves

1

tbsp

olive oil

1

tsp

coarse sea salt

1/2

tsp

dried oregano

1/2

tsp

minced garlic

1/2

tsp

onion powder

Juice of 1/4 lime
INSTRUCTIONS
Preheat oven to 400 degrees. Tear off four large sheets of foil and set aside.

In a blender, blend green chiles, cilantro leaves, olive oil, sea salt, oregano, onion powder and lime juice for 10-20 seconds or until it the sauce reaches a slightly chunky consistency. Set aside.

Slice bell peppers into thin strips, fajita-style.

On a sheet of foil, layer 1/4 of the green beans and bell peppers. Season with a pinch of salt and pepper.

Place salmon fillet skin side down on top of the vegetables and top with 1/4 of the green chile cilantro sauce.

Fold all sides of the foil together and place on a baking sheet. Repeat until all the salmon fillets have been sealed.

Bake in over for 25 minutes.

Serve and enjoy!
Did you make this recipe?
Leave a comment below and tag @isabeleats on social media!