This Mexican Chorizo Sweet Potato Hash with Soft Boiled Eggs is a healthy, filling and comforting meal made with sweet potatoes, Mexican chorizo, kale and Granny Smith apples. It's also gluten free and paleo friendly.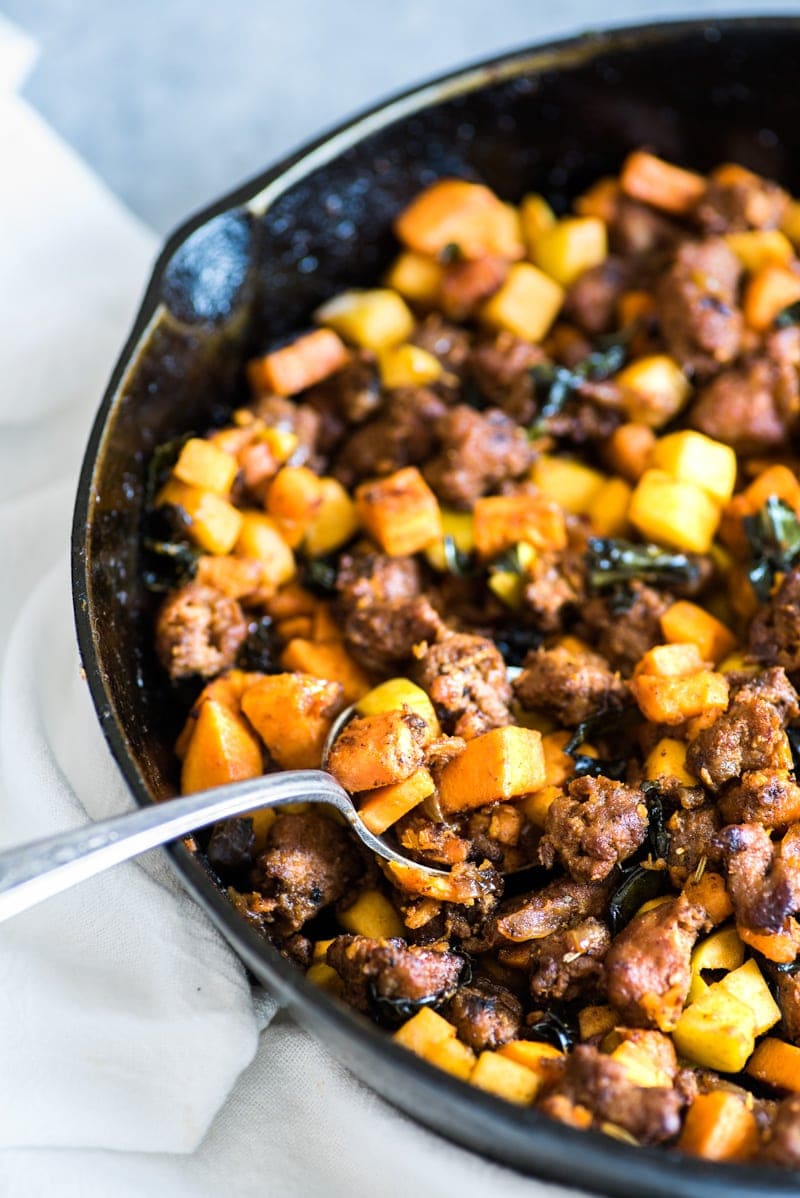 Happy Monday, friends!
With fall only 11 days away, I've decided to get a little head start on sharing some of my favorite fall flavors beginning with this Mexican Chorizo Sweet Potato Hash.
It's a savory and comforting meal that I could eat pretty much any time of day for breakfast, lunch or dinner. It's filled with some of my fall favorites like tart Granny Smith apples, roasted sweet potatoes, caramelized onions and sauteed kale.
I threw in some Mexican chorizo for a little kick and some extra herbs and spices like paprika, rosemary, sage and chili powder to really build flavors.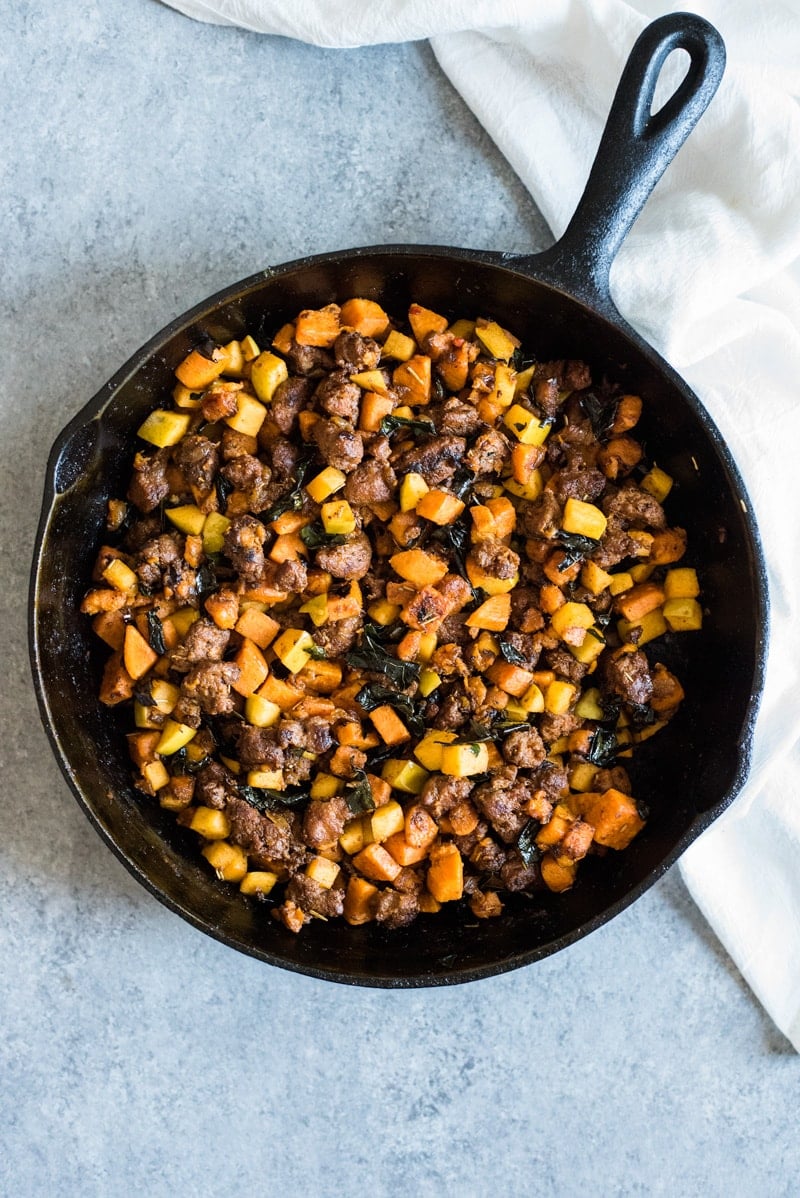 As if that wasn't enough, I decided to top it all off with a soft boiled egg.
SAY WHAT? Yep, you heard that right! One of those fancy eggs that looks like a hard boiled egg, but actually still has a runny yolk. But don't be intimidated – they're actually as easy to make as regular hard boiled eggs.
All you do is bring a pot of water to a boil, place the eggs in a pot in a steamer basket, cover with a lid and reduce the heat to a simmer. Wait 6 minutes and transfer the eggs to a bowl filled with ice water.
That's it. Done.
The hardest part is peeling the eggs, but isn't that always the hardest and most annoying part? After making 3 batches of them, I've found the easiest way to peel them is by gently cracking the entire shell with the back of a spoon (NOT the edge of the spoon) and removing it under running water in the sink.
It can be a messy process, but the final result is soo worth it.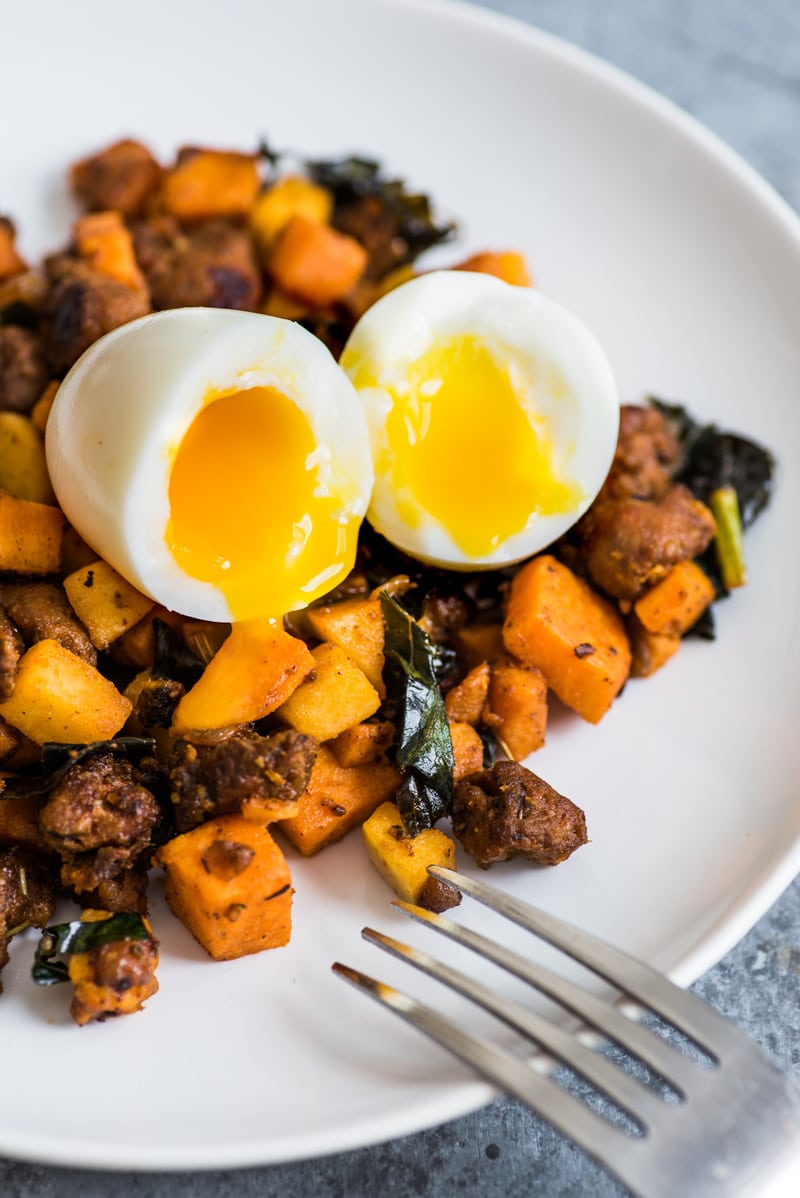 I've got to admit that I am officially ready for fall.
Finally.
Up until last week, I was all about the summer and the warm weather. I wasn't quite ready to put away my tank tops and sandals just yet, but then I began noticing things that started changing my mind. First it was the cool mornings. Then it was the breezy nights.
I started grabbing a light coat anytime I'd walk outside because it's absolutely wonderful in the sun, but a bit chilly in the shade. But you know what the real thing is that put me over the edge?
Putting on my favorite black booties.
It's seriously all I needed to fully welcome the fall season.
So here's what I think – bring on the pumpkin spice lattes, the apple pies, the roasted squash and the comforting soups and stews. I'm ready.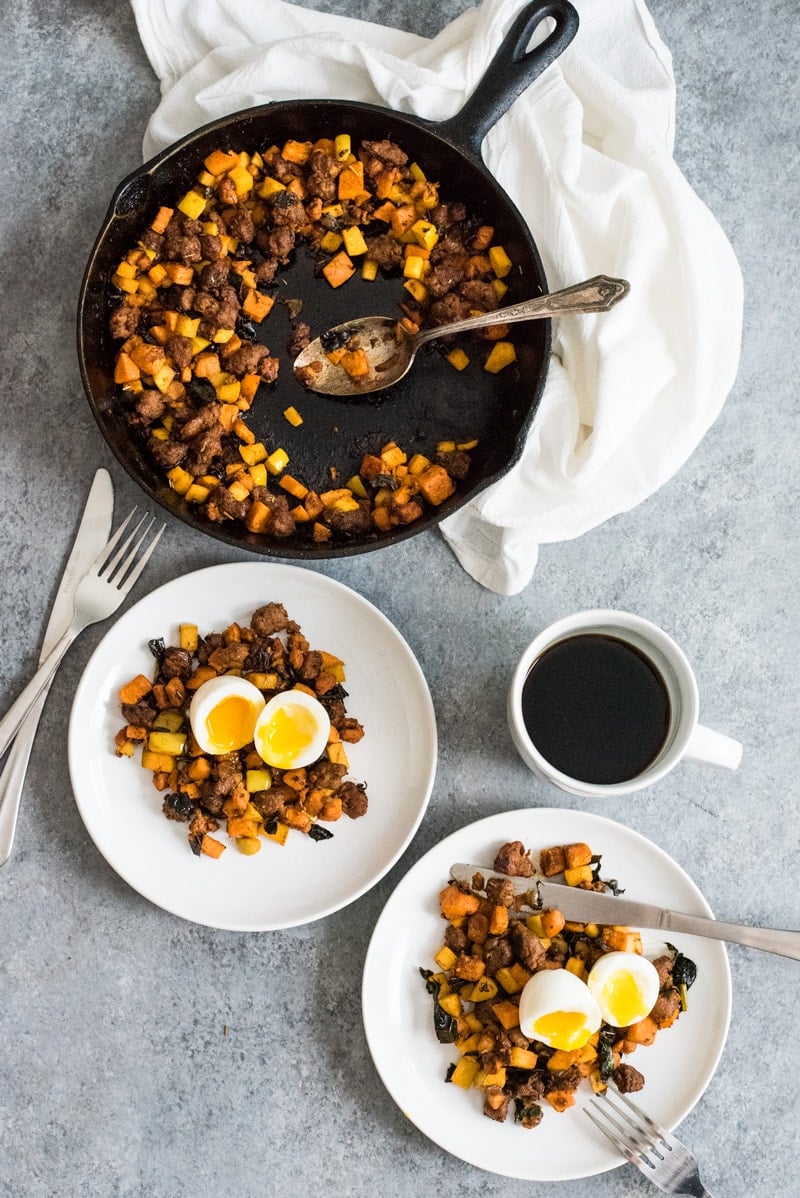 I recently made this dish for an apple themed Pittsburgh blogger potluck hosted by Quelcy from With the Grains and Ashley from My Heart Beets. The potluck was a fun way to get to know other local foodies, talk about blogging and of course eat some amazing food. Here's a look at what some of the other bloggers brought to the potluck!
The potluck was seriously an apple lovers dream. Who knew you could use apples in so many different dishes?!
Ingredients
For the hash
2

tablespoons

olive oil

1/2

large

onion,

diced

2

medium

sweet potatoes,

peeled and diced

1

teaspoon

minced garlic,

about 1 clove

1

teaspoon

paprika

1/2

teaspoon

dried rosemary

1/2

teaspoon

dried sage

1/2

teaspoon

ancho chili powder

1/2

pound

Mexican chorizo

1

cup

chopped kale

1

large

Granny Smith apple,

diced

salt and pepper,

to taste
For the eggs
4

eggs

(or more, depending on how many eggs each person wants)

water

(enough to place the steamer basket in)
Instructions
In a large skillet over medium-high heat, add olive oil, onions, sweet potatoes, garlic, rosemary, sage and chili powder. Cook for 12 minutes, stirring occasionally.

Add chorizo and kale. Cook for another 12 minutes, until chorizo is fully cooked.

Add apples and cook for 2 minutes. Taste and season with salt and pepper as needed. Remove from heat and serve with soft boiled eggs.
For the soft boiled eggs
In a large pot, bring water to a boil. Place the steamer basket in the pot followed by the eggs. Cover and reduce heat to simmer.

Cook for exactly 6 minutes. While eggs are cooking, fill a large bowl with ice water. Remove eggs with a spoon and place in the ice water.

Let the eggs cool slightly before peeling, about 1 to 2 minutes. Peel by gently cracking the entire shell with the back of a spoon (NOT the edge of the spoon) and removing the shell under running water in the sink.
Nutrition
Serving:
1
/4 of recipe
Calories:
390
kcal
Carbohydrates:
29
g
Protein:
17
g
Fat:
24
g
Saturated Fat:
7
g
Cholesterol:
274
mg
Sodium:
592
mg
Potassium:
514
mg
Fiber:
5
g
Sugar:
10
g
Vitamin A:
13100
IU
Vitamin C:
49.5
mg
Calcium:
120
mg
Iron:
3.2
mg
Did you make this recipe?
Leave a comment below and tag @isabeleats on social media!