Jump to Recipe
This No Churn Coconut Ice Cream is smooth, creamy and made with only 2 ingredients. Served with ponche spiced roasted pineapples, this dessert is perfect for a hot summer day.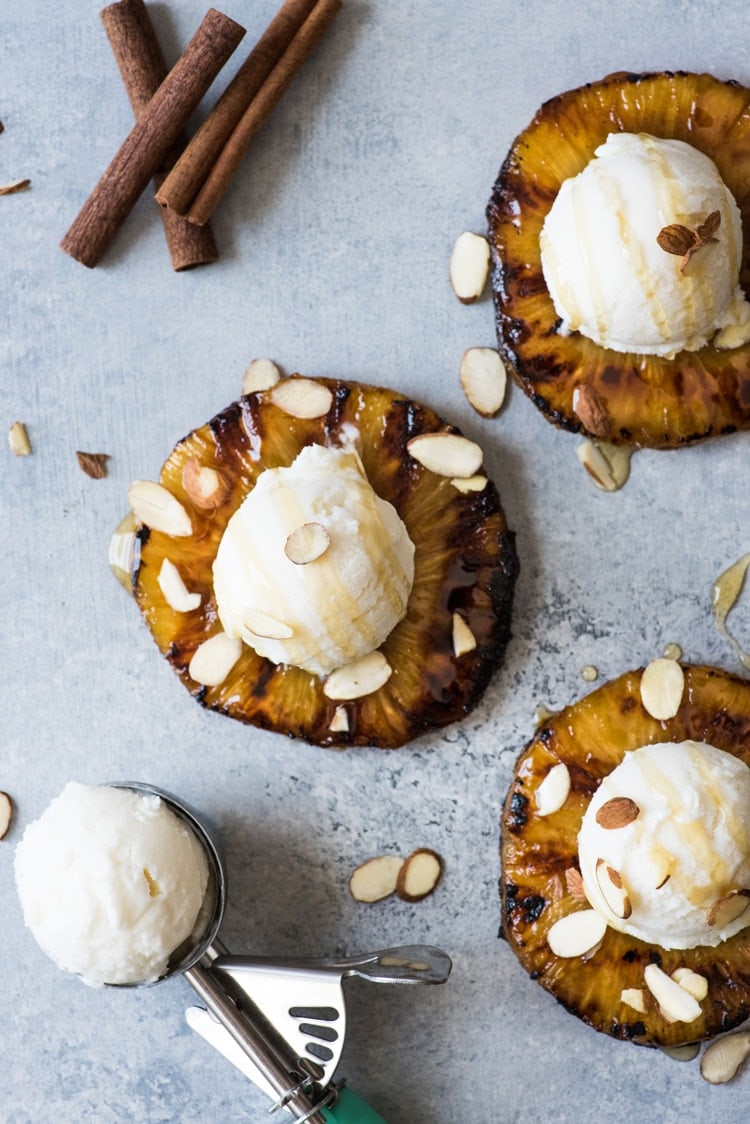 This post has been sponsored by La Preferida. Thanks for supporting the brands I love!
Hello, friends! I'm back after a short break from the blog and I'm so excited to get in the kitchen with you today! But before we get down and dirty, let me fill you in on a little something something. If you've been following my Instagram, Facebook or read any of my Outside the Kitchen posts, you probably know what's up. But if not…
I just got married!
It was an amazing, beautiful and emotional day. I can't wait to share all the details and show you all the photos, but for now, let's focus about what Isabel Eats is all about. Really good food!
I'm not exaggerating when I say this No Churn Coconut Ice Cream with Roasted Pineapples is the best dessert dish I've ever made.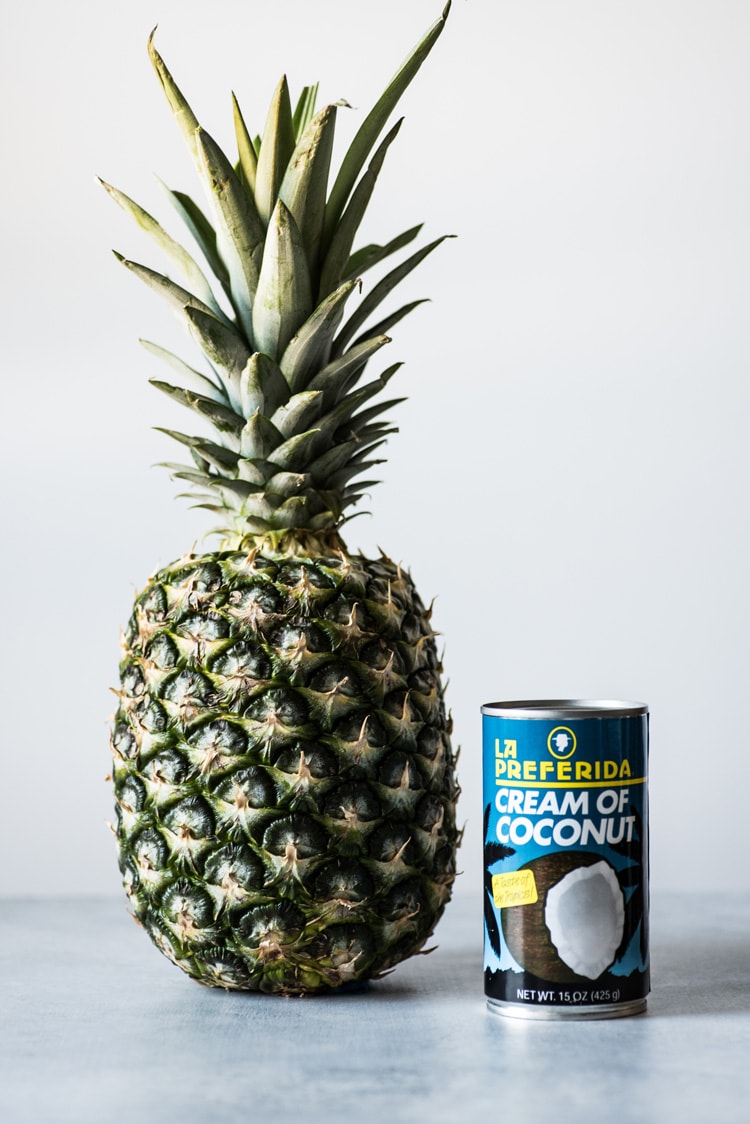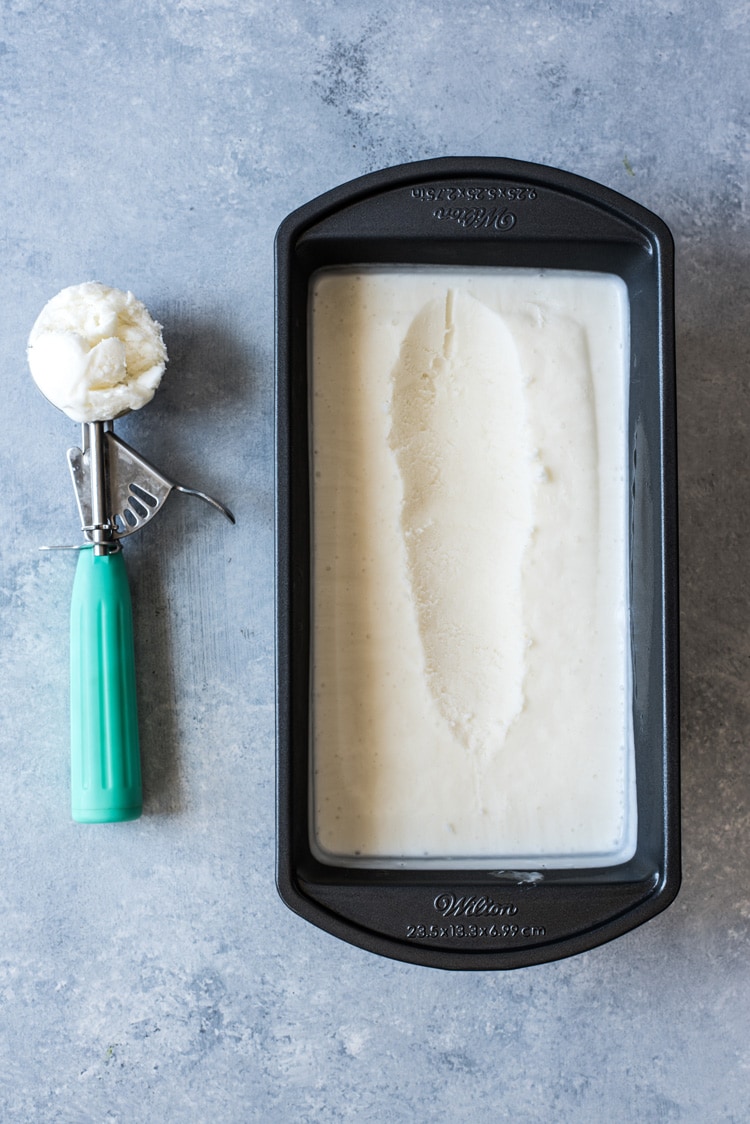 Smooth, creamy and satisfying ice cream made with only TWO ingredients? Yes! It's totally possible. And you don't even need an ice cream maker to whip up a batch – just a mixer and a freezer-safe container. Get ready to have your mind blown. Here's what you'll need.
That's it. No, seriously, that's it. Pretty crazy, right?!
All you do is mix the two ingredients together, pour it in a container and wait for it to freeze. Since this is my first ever ice cream recipe on the blog, I was a little skeptical at how it would turn out, but I've gotta say, this ice cream is absolutely amazing. It's not "icy" at all, it's super creamy, and it's got a little tang from the Greek yogurt that gives it an almost citrusy flavor. It's so good that John absolutely devoured this ice cream, and he's not exactly the biggest coconut fan.
That's saying something, friends.
But this dessert doesn't stop there. To take it to the next level, I roasted some pineapple slices in a ponche-style mixture of orange juice, brown sugar, cinnamon, cloves and honey.
What exactly is ponche? It's a traditional Mexican punch that's served during Christmastime and sometimes spiked with a bit of rum. It's flavored with cinnamon sticks, cloves, brown sugar (often Mexican piloncillo) and lots of fresh fruit that's then simmered until super fragrant and delicious.
The roasted pineapple slices absorb all the rich, citrusy flavors of the ponche-mixture, adding depth and decadence to an already amazing juicy piece of fruit. Of course, I've got to serve it with a scoop of No Churn Coconut Ice Cream. Duh.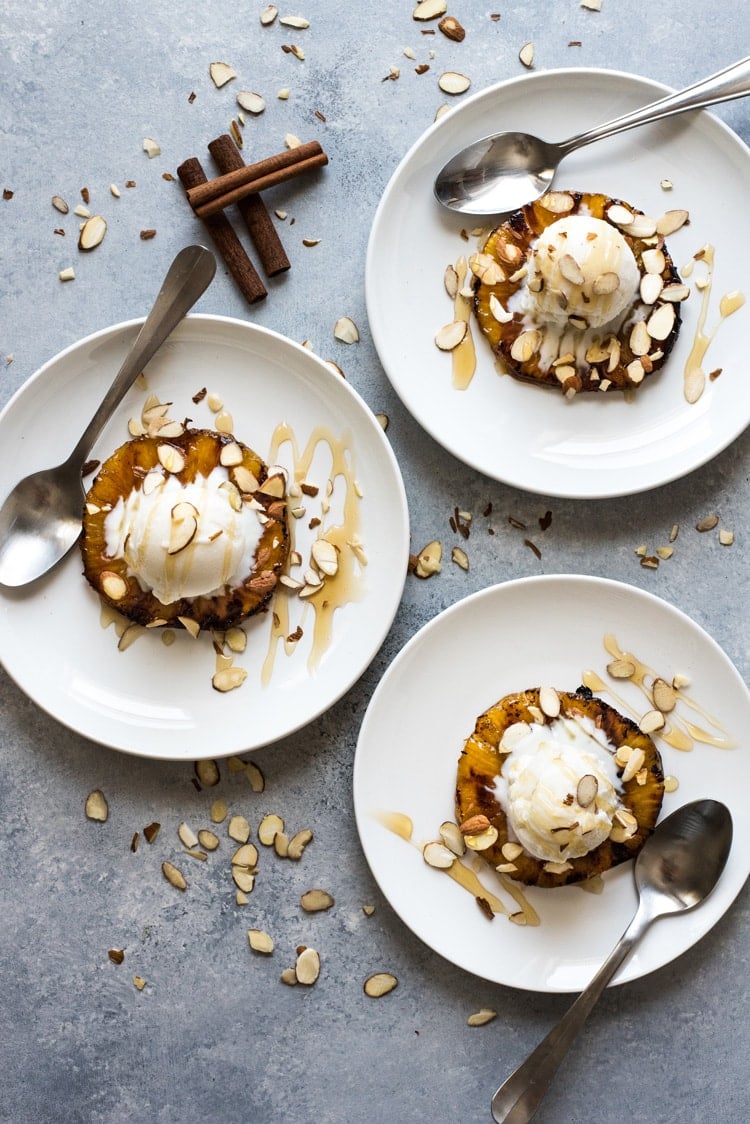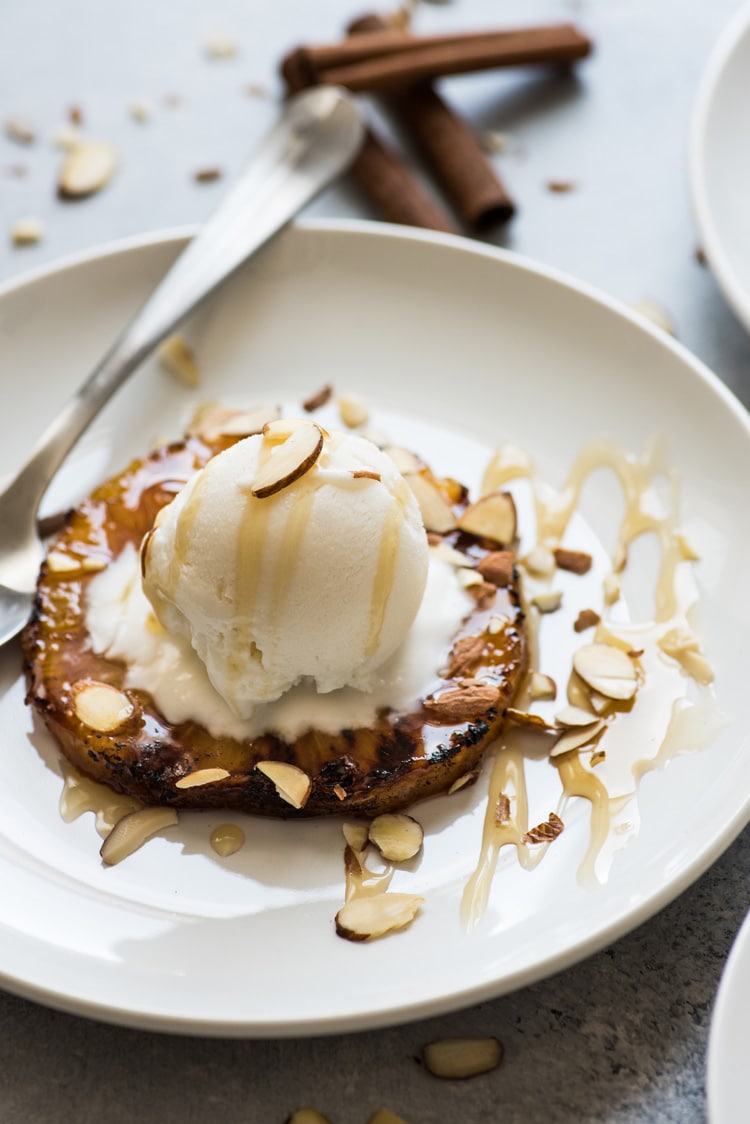 Tropical heaven.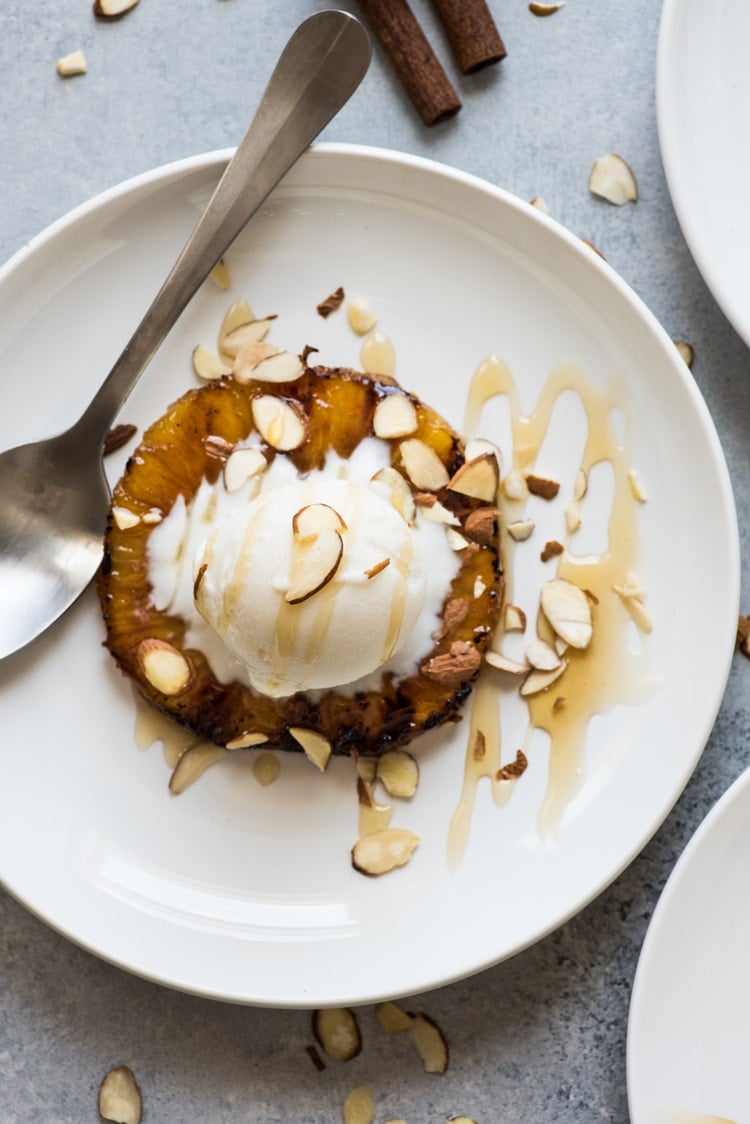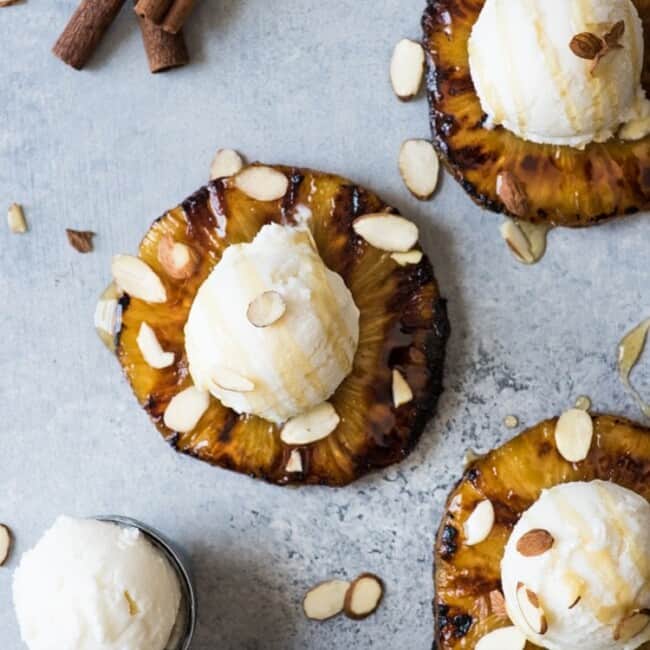 Prep: 15 minutes
Cook: 30 minutes
Total : 6 hours
This No Churn Coconut Ice Cream is smooth, creamy and made with only 2 ingredients! Served with ponche roasted pineapples, it's perfect for hot summer days.
Ingredients
For the no churn coconut ice cream
For the roasted pineapples
1/2 cup dark brown sugar, packed
3/4 cup orange juice
3 tablespoons honey
3 cloves
1 cinnamon stick
1 medium ripe pineapple, peeled, cored and cut into 8 slices
Instructions
For the no churn coconut ice cream
Using a handheld or stand mixer, blend La Preferida Cream of Coconut and Greek yogurt until well combined, about 3 minutes.

Pour ice cream mixture into a 2-quart freezer safe container and freeze for 6 hours or until firm. Freezing overnight is best. Store in the freezer for up to 4 weeks.
For the roasted pineapples
In a small pot over medium-high heat, combine dark brown sugar, orange juice, honey, cloves and a cinnamon stick. Stir and bring to a simmer. Remove from heat and allow to sit for 5 minutes.

In a large bowl, add pineapple slices and glaze. Toss to coat and let marinate for 10 minutes, tossing occasionally.

While pineapple is marinating, preheat oven to 450 degrees F. Line a baking sheet with parchment paper.

Place marinated pineapple slices on baking sheet and roast in oven for 15 minutes, making sure to reserve the marinade. Flip pineapple slices over, brush tops with more marinade and roast for 15 more minutes, until tender and caramelized.

Drizzle remaining marinade and let cool slightly.
Isabel's Tips:
Cream of coconut should not be confused with coconut cream. Cream of coconut is sweetened and is what is needed in order to make this ice cream. Coconut cream is usually used for savory dishes like curry and is not sweetened. They cannot be used interchangeably.
This post has been sponsored by La Preferida, whose authentic Mexican products I love and use regularly in my kitchen. Thank you for supporting the brands who help make this site possible!