This Oven Roasted Chicken with Winter Vegetables recipe is the perfect one-skillet meal for those cold winter nights when all you want to do is snuggle up under a warm blanket on the couch.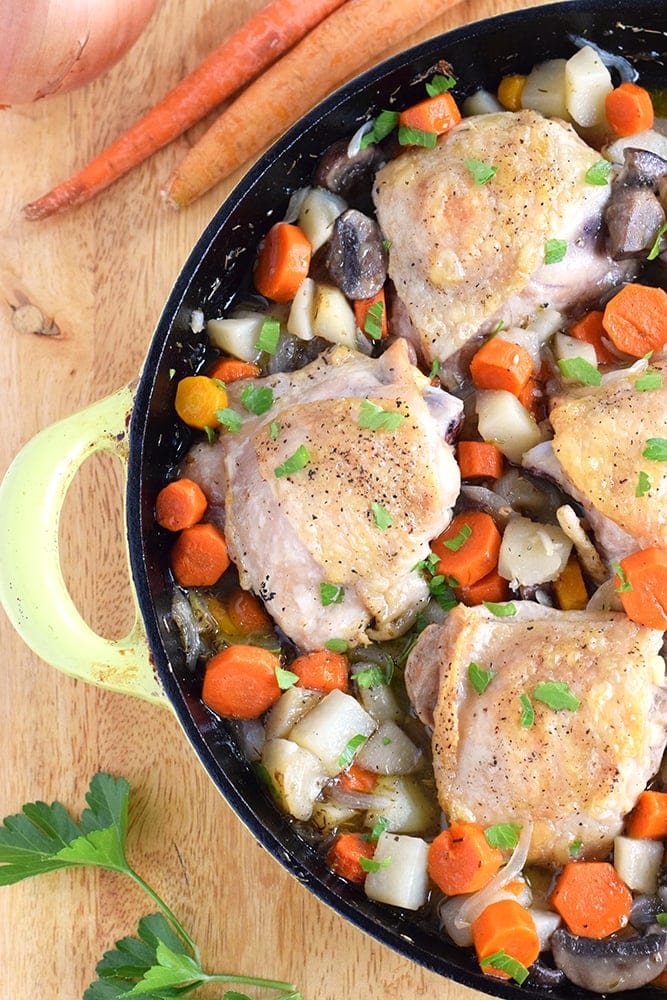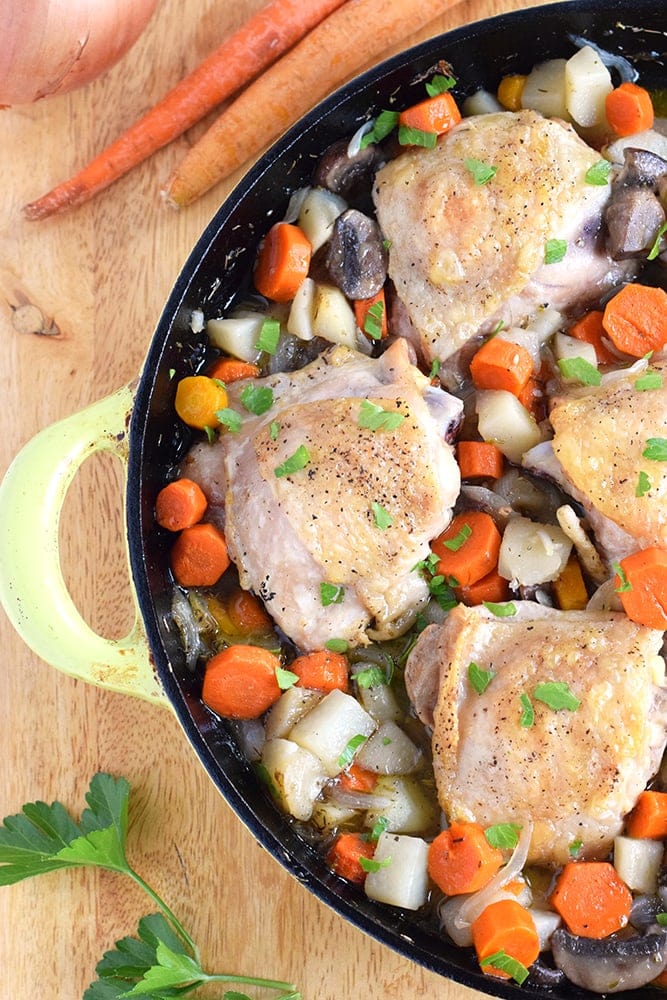 This Oven Roasted Chicken with Winter Vegetables is the perfect one-skillet meal for those cold winter nights when all you want to do is snuggle up under a warm blanket on the couch. Oh wait – that's pretty much what I want to do every night, while watching Top Chef or Jessica Jones or Dr. Who or any of the many shows in my DVR and Netflix queue. So basically, this is a great go-to meal any night of the week. Can't beat that.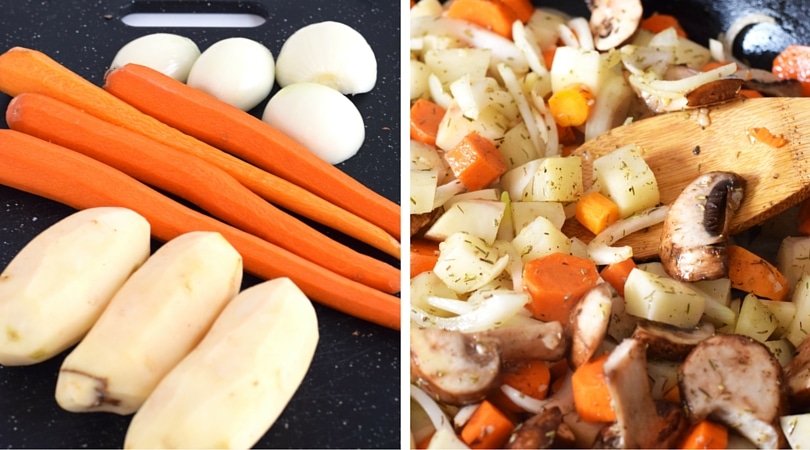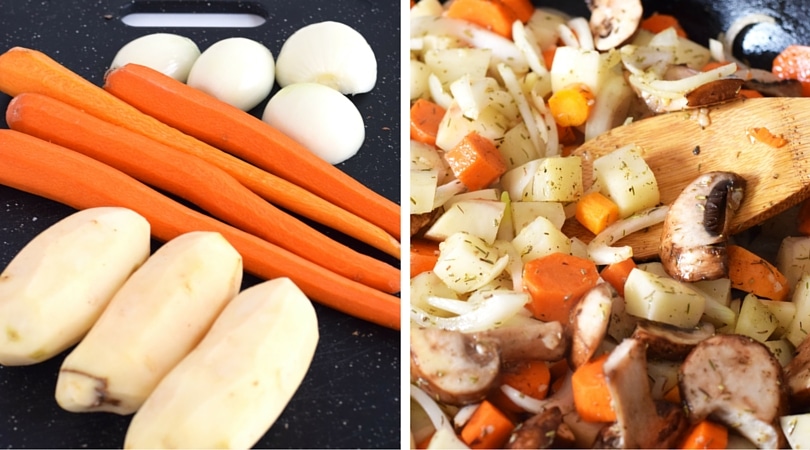 It's been quite warm here in Pittsburgh for this time of year. So much so that I took a walk the other day WITHOUT a coat on. In the middle of December. Yep, I'd say that's pretty rare for me.
Sadly, I have a feeling that means winter will be longer and colder than usual. Which is why I'm getting a head start on creating a few recipes that will warm me up from the inside out when those frigid temperatures decide to creep in.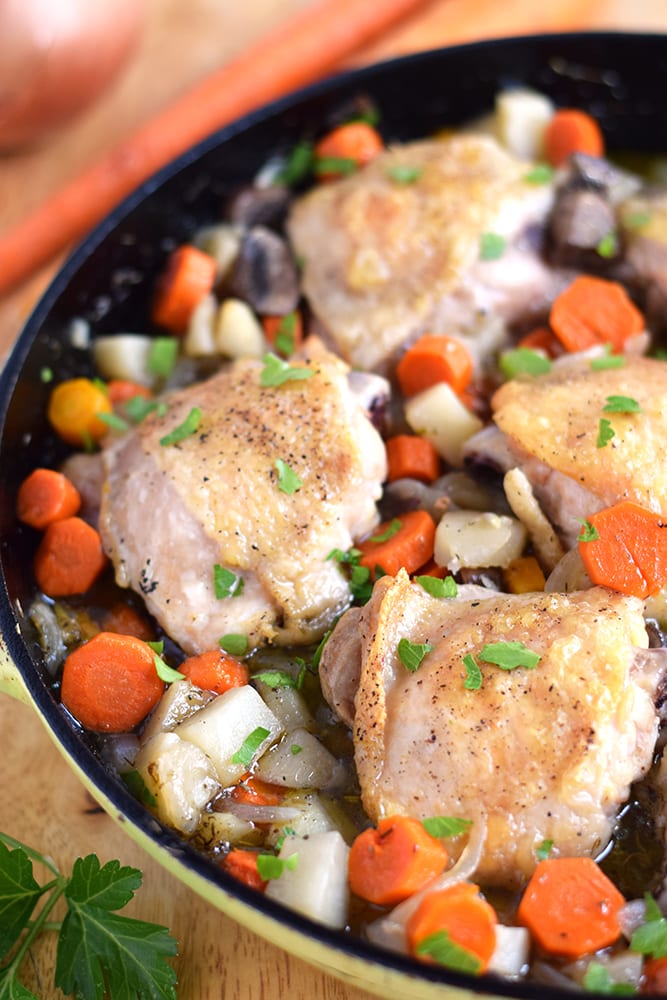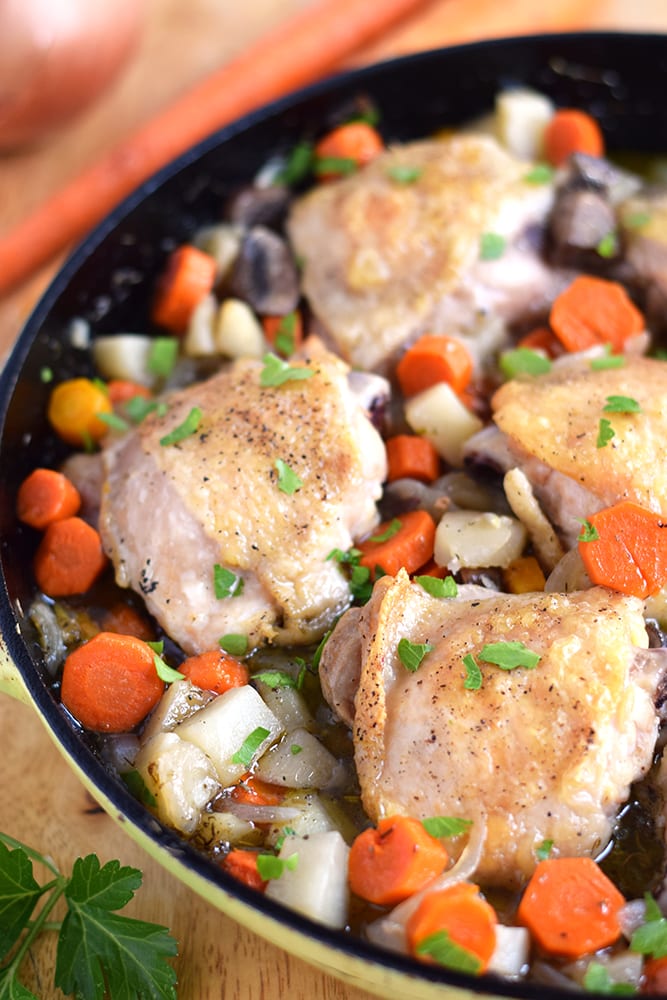 Do you know that feeling you get when you eat a warm, comforting meal – like you're getting one big hug when you sit down to eat, especially after spending some time outside in the cold? For some people, hot chocolate gives them that feeling. For others, chicken noodle soup. For me, it's root vegetables. Good old carrots and potatoes. But what makes them even cozier ingredients are the herbs I used – parsley, sage, rosemary and thyme. (Like that Simon & Garfunkel song – Scarborough Fair. They're so wise.)
What makes this meal even better is that you only need one oven-safe skillet. I used my large cast iron skillet and I highly recommend you get one if you don't own one. It's drastically changed the way I cook meat. I used a large cast-iron skillet like this one from Amazon but you can find them at stores like Target and Bed, Bath & Beyond.
If you don't have something that you can transfer from the stove top to the oven, no need to worry – you can still make this! However, it will require an extra dish. Just follow the instructions below as normal and place the ingredients in a baking dish when ready to go in the oven. One more dish to wash is certainly a bummer, but this meal will make up for it.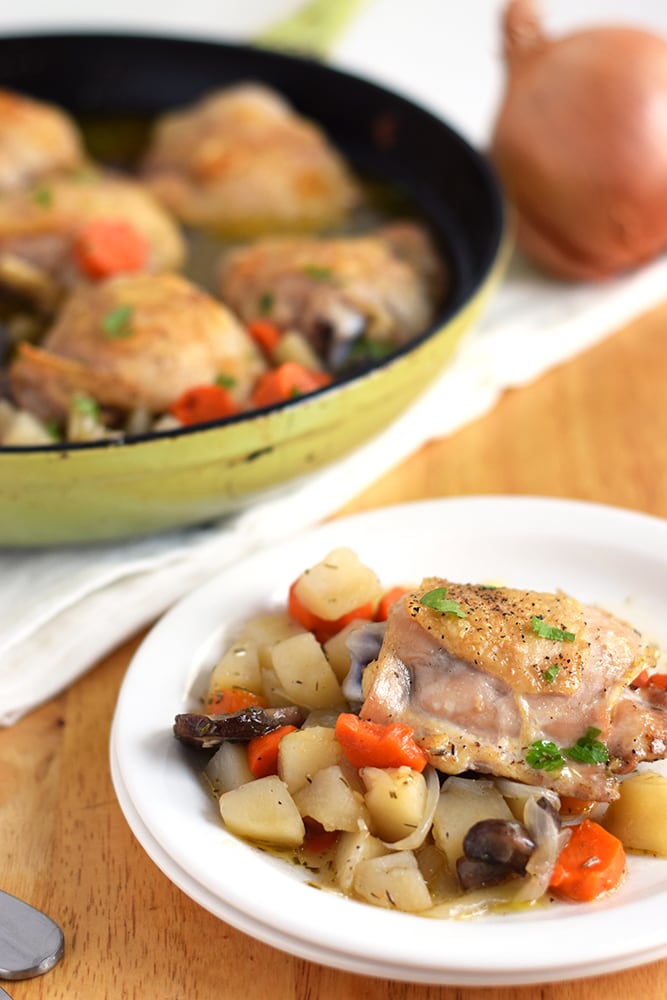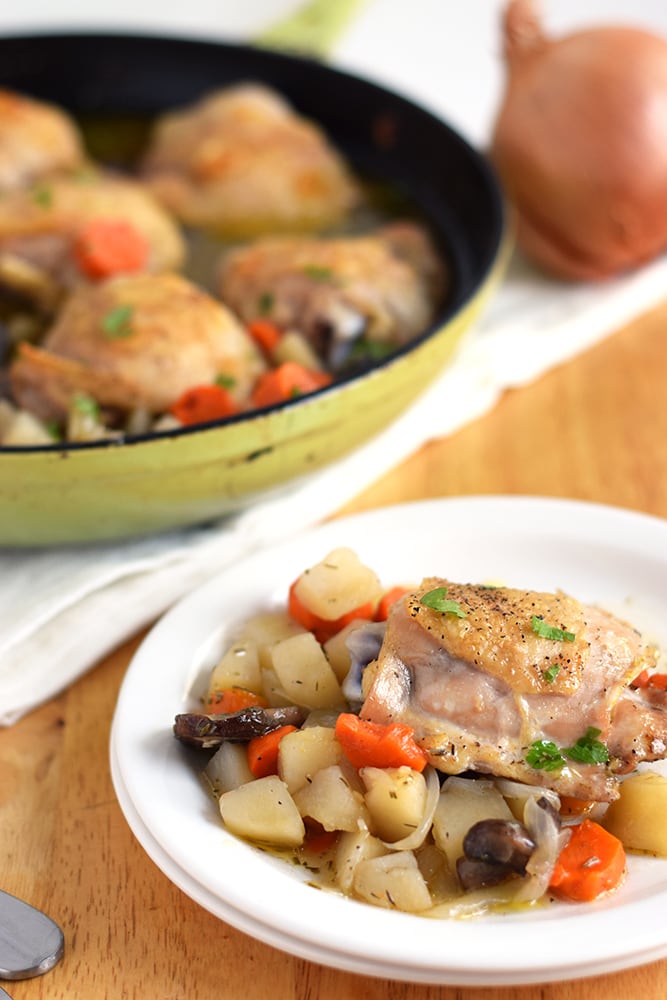 What are some of your favorite winter meals? Do they involve root vegetables like carrots and potatoes? Let me know in the comments below!
INGREDIENTS
2 1/2 - 3

lbs

bone-in chicken thighs

1

tbsp

coconut oil

or other cooking fat

4

large carrots

peeled and sliced

3

medium potatoes

peeled and diced

4

oz

sliced mushrooms

1

medium onion

diced

1

tsp

thyme

1

tsp

rubbed sage

1

tsp

rosemary

2

tsp

garlic

minced

1

tsp

salt

1

cup

chicken stock

2

tbsp

tapioca flour

or regular white flour

Chopped parsley

for garnish
INSTRUCTIONS
Preheat oven to 350 degrees.

Liberally season chicken with salt and pepper on both sides.

Heat coconut oil in a large oven-safe skillet over medium-high heat.

Place chicken skin-side down and cook for 2 minutes on each side.

Transfer chicken to plate and set aside.

Add carrots, potatoes, mushrooms, onions, salt, garlic and all herbs to skillet. Cook, stirring occasionally, for 10 minutes.

Add chicken stock and stir to deglaze the pan.

Add tapioca flour and stir to combine, making sure there are no clumps of flour. Bring to a boil, about 5 minutes.

Add chicken to skillet skin-side up, placing on top of vegetables.

Place skillet in the oven and cook for 20-25 minutes, until chicken is thoroughly cooked through.

Remove from oven, serve and enjoy!
Did you make this recipe?
Leave a comment below and tag @isabeleats on social media!
This page contains affiliate links. If you make a purchase on Amazon after clicking one of my links, I may receive a small commission. The price of the item stays the same and any money I make goes to supporting this blog. I only endorse products and services that I fully believe in.