Topped with an easy homemade honey lemon vinaigrette, this Roasted Sweet Potato and Kale Salad with Candied Pecans and Cranberries is perfect for the holiday season.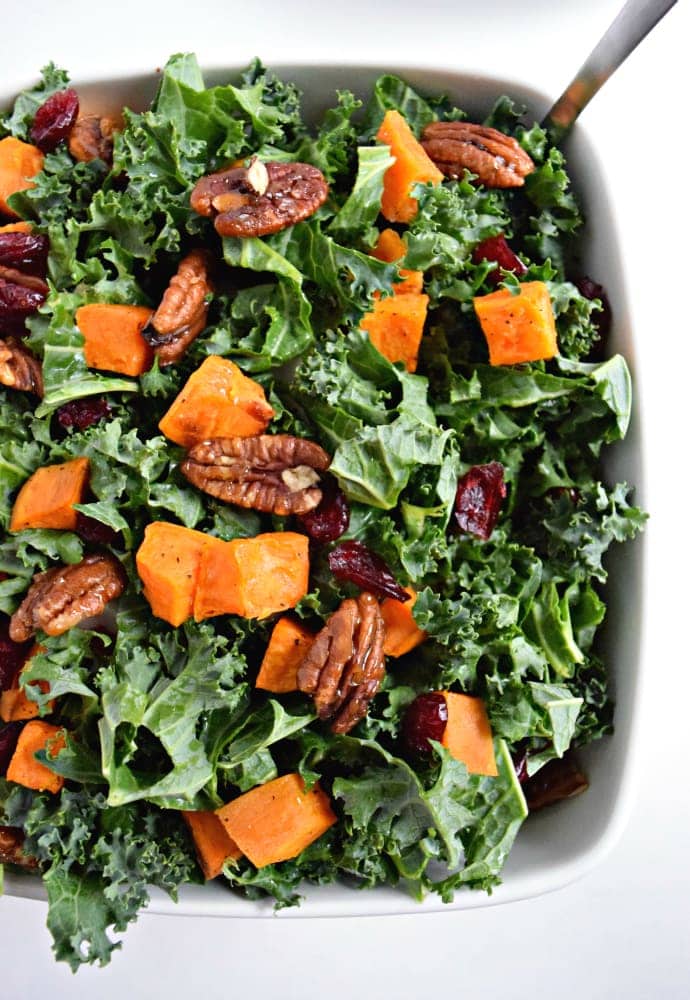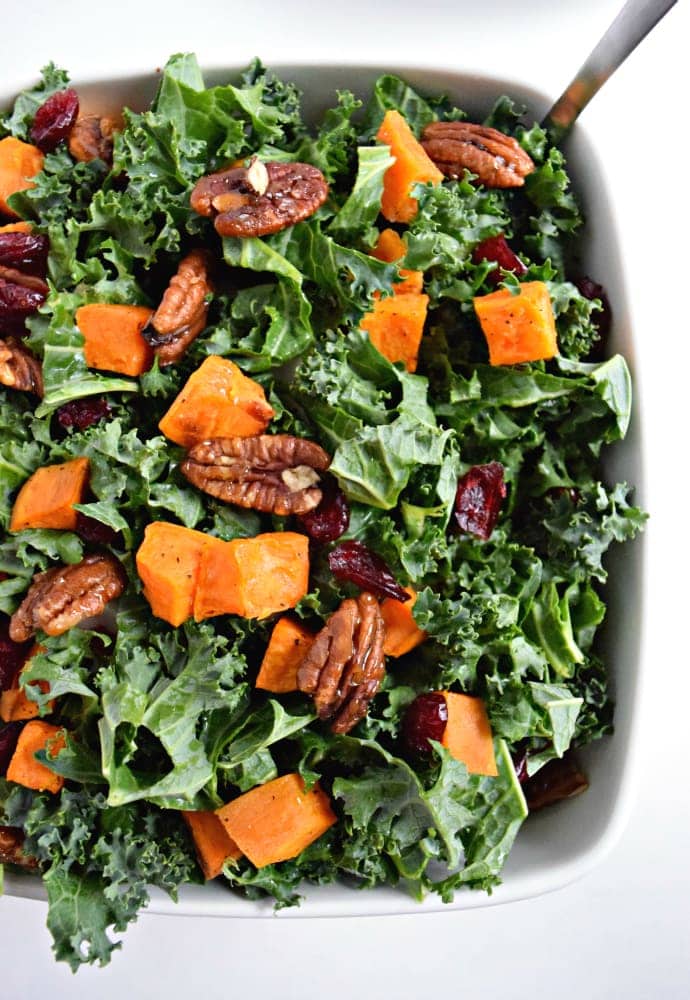 Topped with an easy homemade honey lemon vinaigrette, this roasted sweet potato and kale salad with candied pecans and cranberries is perfect for the holiday season. Served warm or cool, this big bowl of delicious fall flavors is the perfect side dish to any meal and will make even the biggest salad hater into a believer.


Salads don't have to be boring.
Believe me, I know what boring salads are like. I've been there done that. Nothing but iceberg lettuce, some shredded cheese, some grilled chicken and Italian dressing. YAWN. Sure, that can make for a super quick meal if you've got nothing in the fridge, but it certainly doesn't make my taste buds dance.
The secret is in the toppings.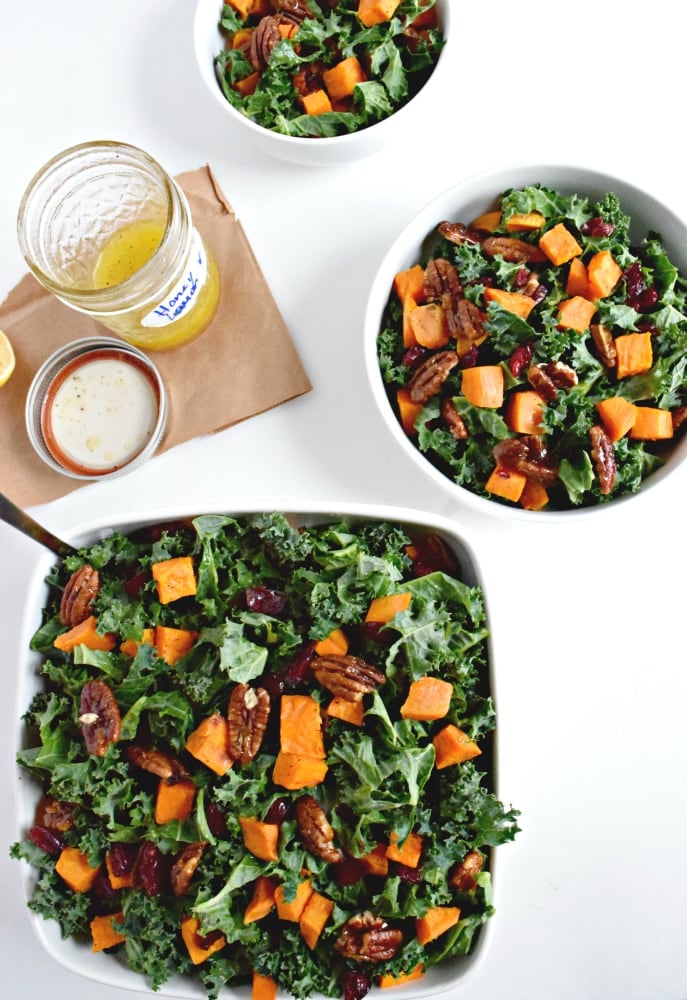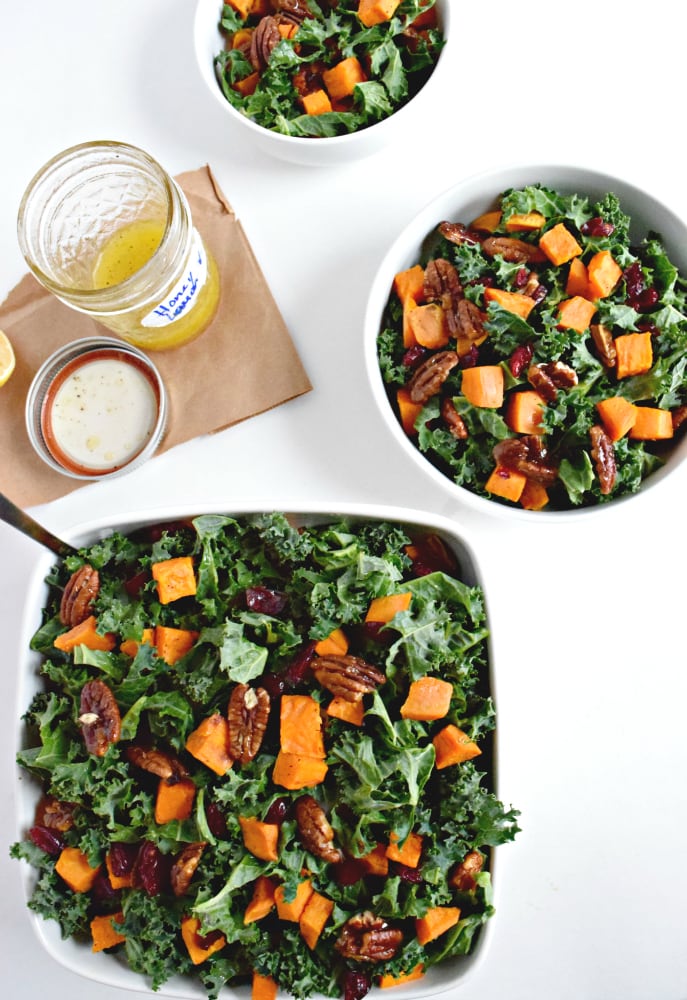 When putting together a salad, think about the type of flavors you're combining. In this roasted sweet potato and kale salad recipe, I thought about the foods that remind me of the fall and winter seasons, the holidays and most importantly what I have in my kitchen.
Nuts? Check. Sweet potatoes? Check. Dried cranberries? Yep. Kale? SO much kale. I still have one plant in the garden going strong!
To jazz things up a bit, I decided to candy the pecans (which is insanely easy to do) and stir together a simple honey lemon vinaigrette with ingredients I already had like olive oil and honey.
Throw everything together and BOOM! You've got a healthy salad that you can eat as a side dish or top with some roasted chicken or turkey any night of the week.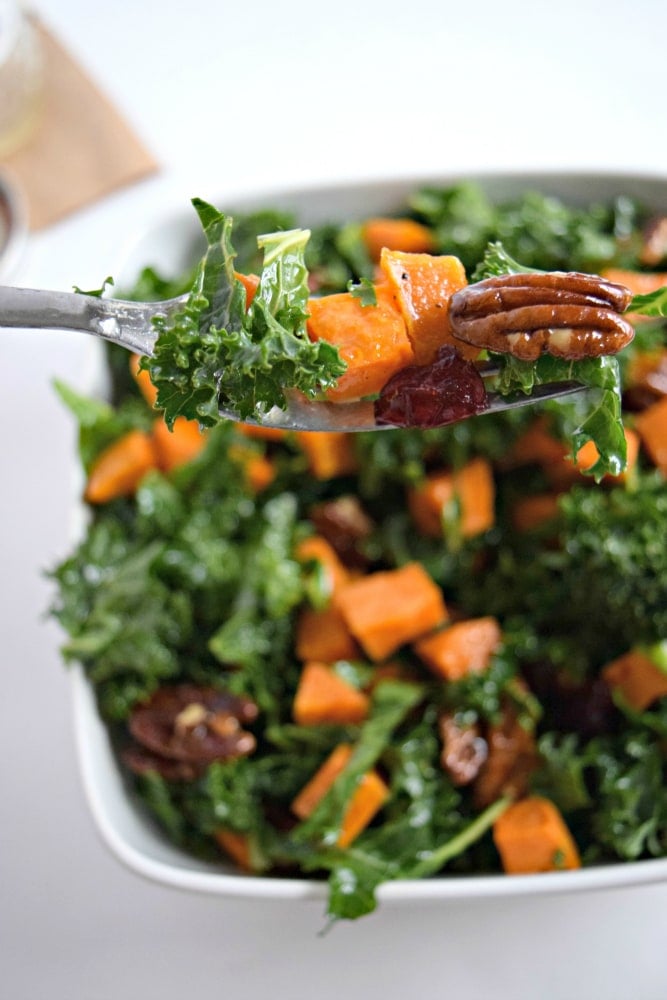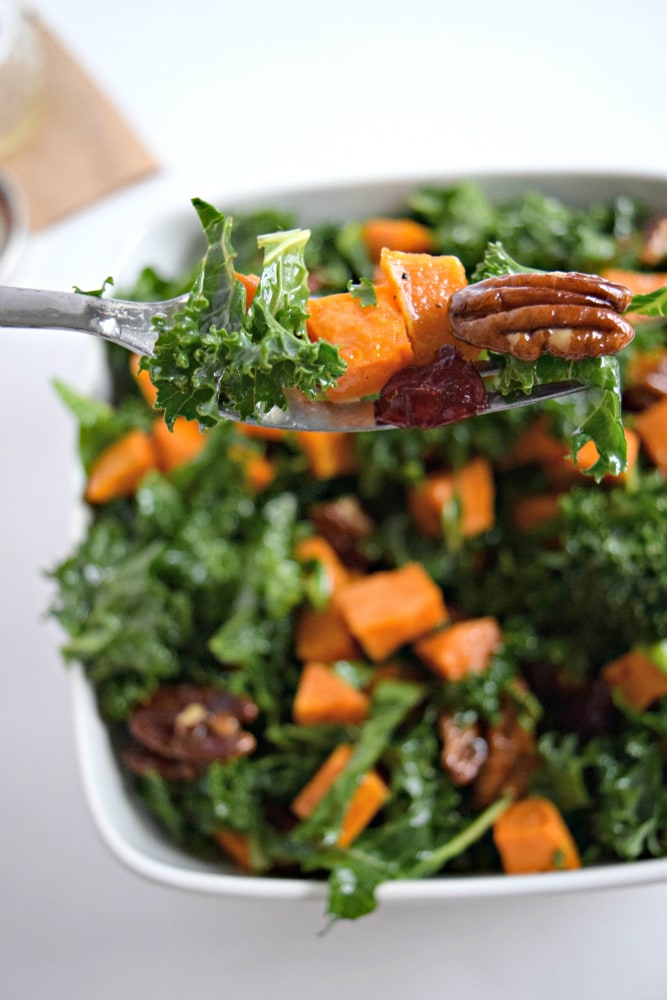 Making a salad at home doesn't have to be complicated. You don't even have to make an extra trip to the grocery store if you don't have a certain ingredient. Don't have pecans? Use walnuts, cashews or almonds. And don't forget to candy them – it's a nice little treat. 🙂 Don't have dried cranberries? Use raisins, currants or other dried fruits. Just have fun with it. It's way easier to eat your greens when they're mixed in with colorful and tasty toppings.
Do you love salads or is it something you have to force yourself to eat everyday? Let me know in the comments below!
INGREDIENTS
6

cups

chopped kale

2

tbsp

dried cranberries
For the sweet potatoes
1

large sweet potato

peeled & diced

1

tbsp

olive oil

Pinch of salt and pepper
For the candied pecans
1/2

cup

pecan halves

2

tbsp

cane sugar

1/2

tbsp

butter
For the honey-lemon vinaigrette
2

tbsp

olive oil

1

tbsp

honey

1

tbsp

lemon juice

1

tsp

apple cider vinegar

Salt and pepper to taste
INSTRUCTIONS
Preheat oven to 400 degrees.

Peel and dice sweet potatoes into small cubes.

Toss in olive oil and season with a pinch of salt and pepper.

Place evenly on a baking sheet lined with parchment paper and roast in the oven for 40 minutes, flipping the potatoes over when 20 minutes have passed.

While sweet potatoes are roasting, combine butter, pecan halves and cane sugar in a medium-sized skillet over medium-high heat.

Cook for 3-5 minutes, stirring frequently, until the sugar has melted and the nuts are fully coated.

Transfer nuts to a baking sheet (or large plate) lined with parchment paper and set aside to cool for 5 minutes.

While the pecans are cooling, combine olive oil, honey, lemon juice, apple cider vinegar and salt and pepper to taste in a small mason jar or bowl. Shake or stir to combine the honey lemon vinaigrette.

While waiting for the sweet potatoes to finish roasting, chop kale and place in a large bowl.

When sweet potatoes are done, add candied pecans, cranberries, sweet potatoes and the honey-lemon vinaigrette to the large bowl and toss to combine.

Serve and enjoy!*
ISABEL'S TIPS
*If you prefer your salad cool, you can place the bowl in the fridge for 5 minutes and then serve.
Did you make this recipe?
Leave a comment below and tag @isabeleats on social media!