A deliciously simple and seasonal Sausage, Onion & Kale Stuffed Acorn Squash recipe that's perfect for the cold months of winter.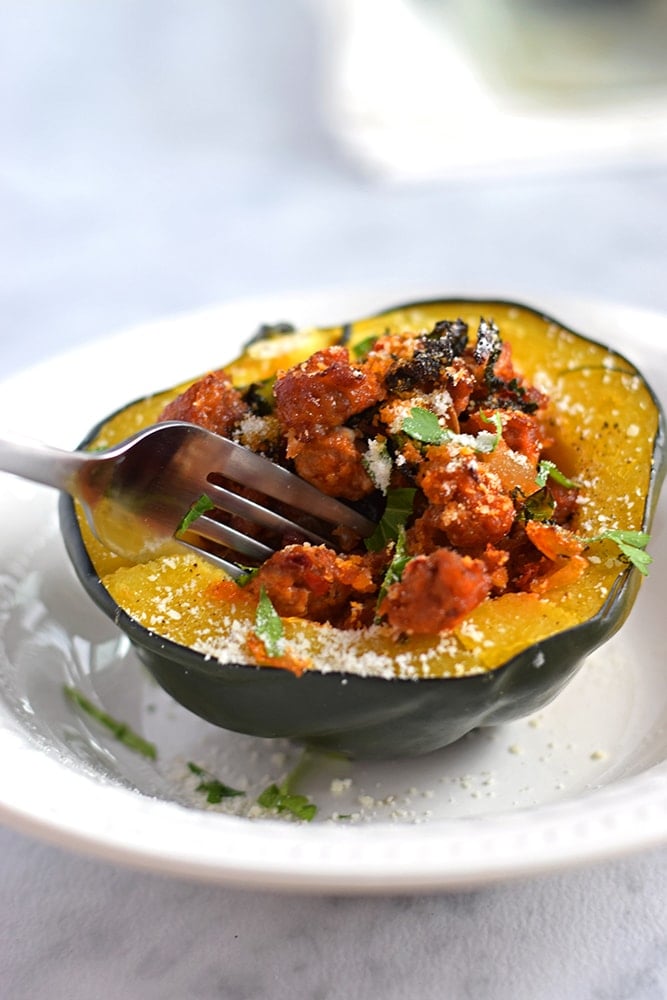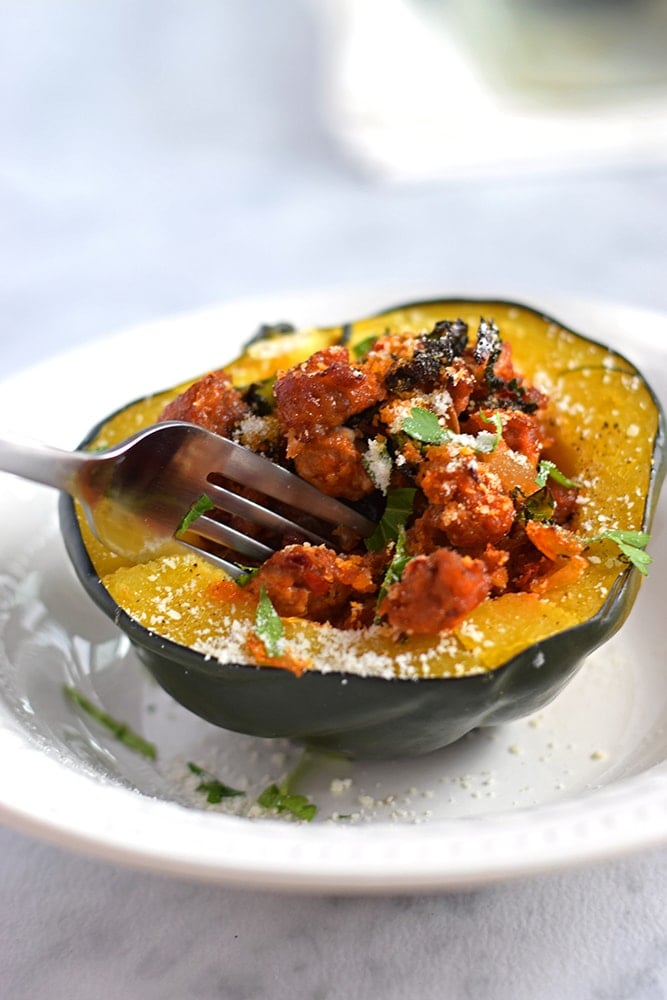 Yummy, yummy, yummy – I've got squash in my tummy and it's oh so delicious, yum. That's me singing. I just made that up on the spot, can you tell? Okay, maybe you can tell, but I just couldn't help myself. And it's all because of this deliciously simple and seasonal Sausage, Onion & Kale Stuffed Acorn Squash recipe that's perfect for the cold months of winter. Luckily, it's still been pretty warm here in Pittsburgh for this time of year, but I know I'll eventually have to take out my snow boots at some point so I'm just preparing myself.


I originally bought these acorn squash with the intention of using them as inexpensive home decor pieces this winter. But after carrying a bag of these guys quite a few blocks from the grocery store to my apartment and still not having the slightest idea how and where I wanted to display them, I said to myself, "Hey. These are actual edible squash. Maybe I'll eat them." Good thing I did because that very same day, I picked up a pumpkin I placed in the apartment as a Halloween decoration only to find the bottom starting to rot. So that's where the weird smell was coming from…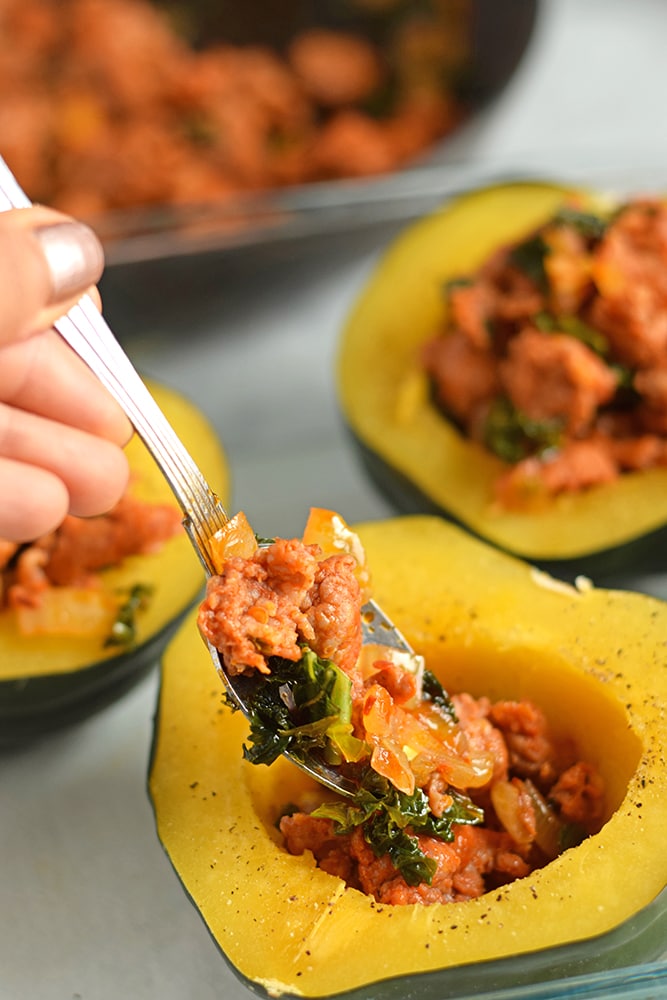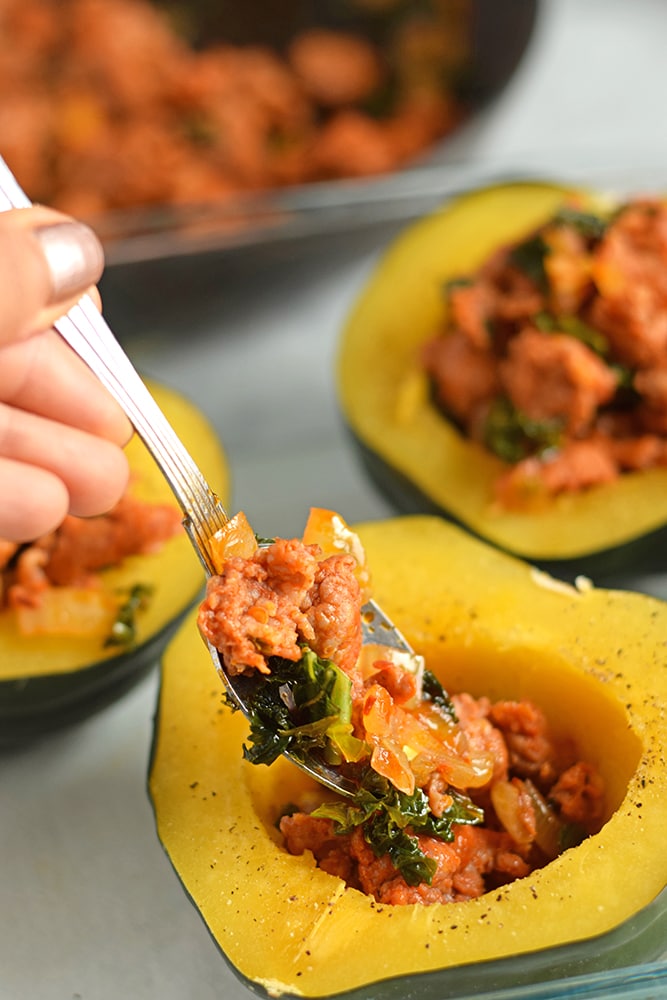 So now that I know it's best for me to actually eat food rather than just have it on display, let me tell you about how easy this recipe is. Bake the squash in the oven. While that's happening, cook some ground sausage, onions and kale in a skillet. Stuff the baked squash. Bake for a little longer. And done.
Sounds super simple, right? Sounds like it shouldn't even be a recipe, right? I know. I feel sort of guilty even calling this a recipe! But if looking at one of these photos or glancing at the ingredients below makes you want to eat some acorn squash this winter, I call that a win.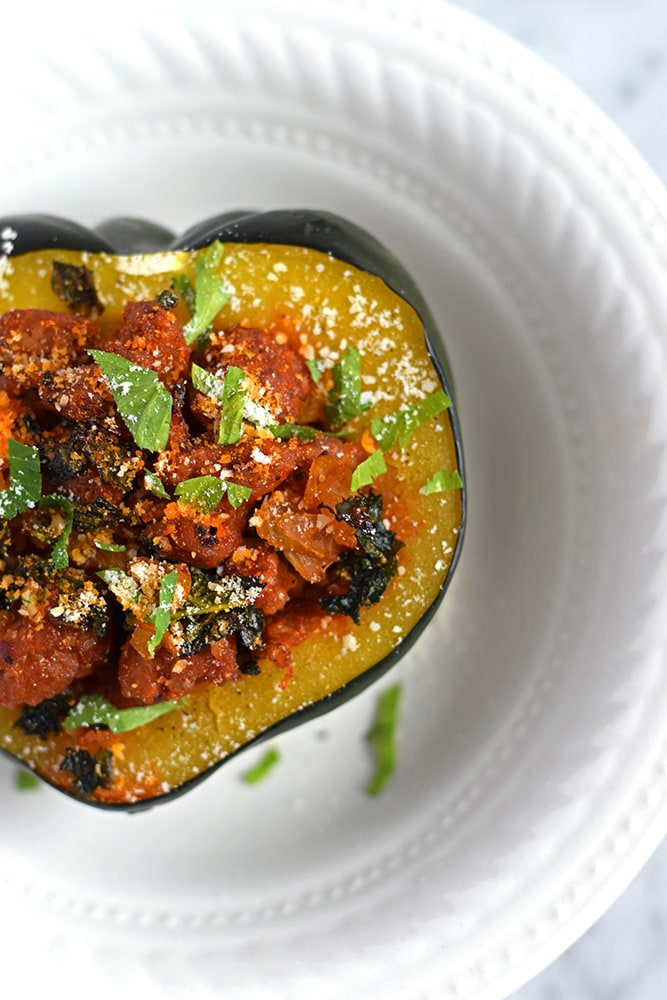 The sausage, onion and kale stuffing can really be used to fill any type of winter squash. But one advantage to using acorn squash is its very thin skin. So thin that you can actually eat it. How cool is that? Just make sure to wash the outside really well before baking.
If ground sausage isn't your thing, you can definitely play around with the filling. You can substitute the ground sausage for any other type of ground meat. Or, if you're looking to keep this meat-free, you can substitute the meat for rice, quinoa, mushrooms or anything that sounds delicious!
INGREDIENTS
2

in

acorn squash

cut half with seeds scooped out

1/2

cup

extra large onion

diced (about 1 )

2 1/2

cups

kale

finely chopped

1

lb

ground spicy Italian sausage

1/2

tsp

coconut oil

Salt to taste

Pepper to taste
INSTRUCTIONS
Preheat oven to 375 degrees.

Place acorn squash halves skin-side up in a large glass baking dish filled with 2 cups of water.

Bake in over for 40-50 minutes, until skin is soft and can be poked with a fork.

While squash is cooking, heat coconut oil in medium-sized skillet over medium-high heat.

Add kale and onions and cook for 5 minutes, stirring frequently, until onions start to soften.

Add ground sausage and cook for about 10 minutes. Season with salt and pepper to taste.

Set aside until squash is ready.

When squash is fully cooked, carefully pour out the remaining hot water from the baking dish. Turn over the squash and place skin side down. Liberally season the inside of the squash with salt and pepper.

Fill squash halves with filling.

Place back in oven for 20 minutes until squash begins to brown slightly around the edges.

Top with Parmesan cheese, parsley and enjoy!
Did you make this recipe?
Leave a comment below and tag @isabeleats on social media!