Jump to Recipe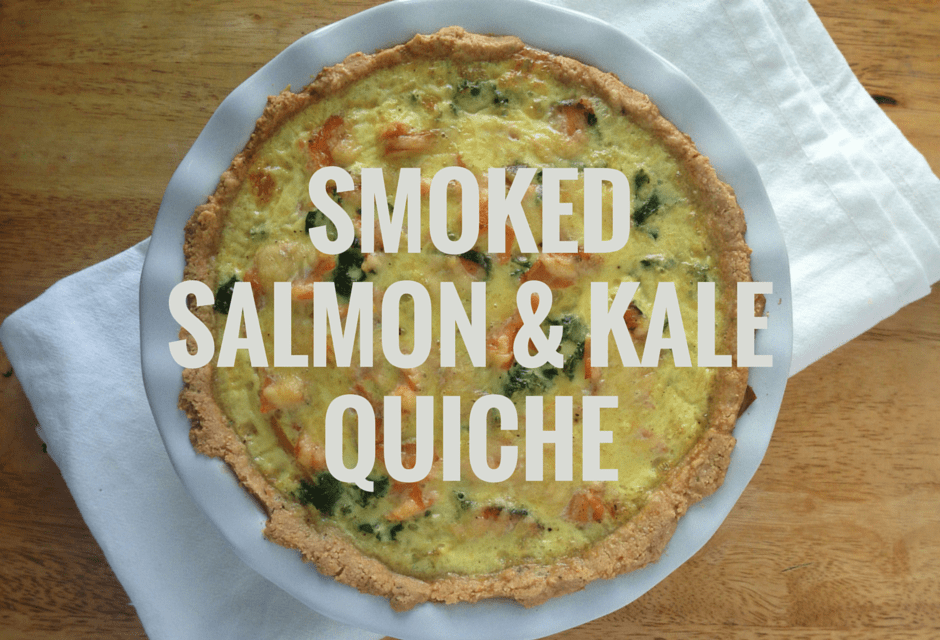 It's Friday and all I can think about is weekend brunch. I can't help it. It's my favorite meal of the week! Just imagine – it's Saturday morning, you slept in and feel refreshed, you're sipping on a delicious fresh cup of coffee and you don't have anything to do until 4:00 pm. The only thing missing from your life right now is some tasty breakfast food – the kind of food that permeates the house with mouthwatering smells that even make your neighbors jealous. What's that you're cooking? It's quiche.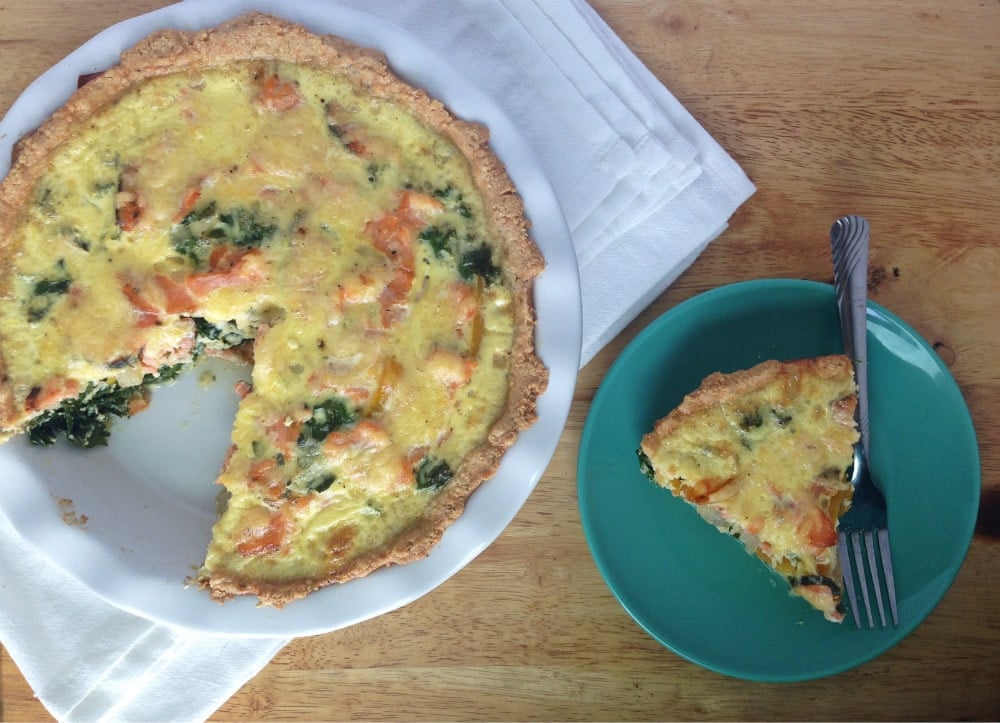 Finally, my first breakfast recipe on the blog! And let me tell you, it's a good one.
Quiches are somewhat new to me – it's only been about a year since I first tried a slice. I was used to making omelets and scrambled eggs on the weekends because they were easy. Plus, if I tried to make an omelet and had trouble flipping it, I could just give up, mix up the ingredients in the pan and nobody would ever know I wasn't try to make scrambled eggs! The whole "weird egg pie quiche thing" just looked so foreign to me – I mean, an egg pie? But after deciding to branch out and try something new one Saturday morning, I began researching quiche recipes and came up with my own. And guess what I learned? They're absolutely delicious.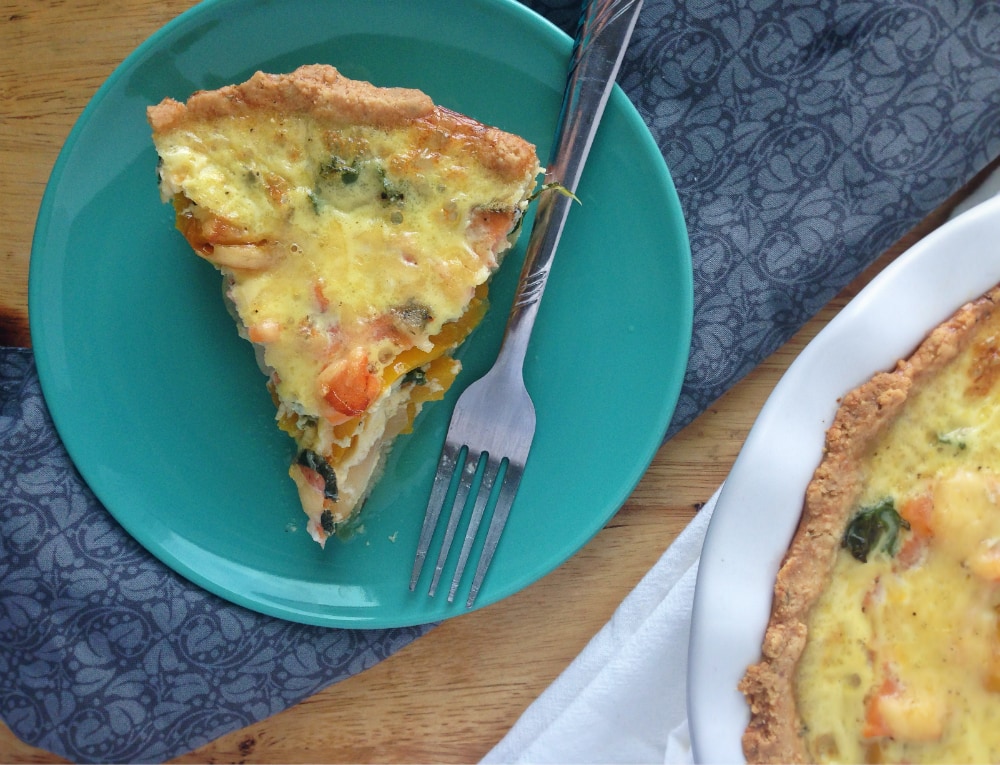 Now, they don't take much effort if you don't want them to – they can easily be made using a frozen or refrigerated pie crust. But if you feel like going all-out and making everything from scratch, welcome to my world.
I decided to test out my baking skills and whipped up a savory gluten-free pie crust. I don't solely eat gluten-free but I really enjoy experimenting with different ingredients. My pantry is full of all kinds of gluten-free flours, some that have found a permanent spot in my baking rotation and some that have never been opened but that I hope to use one day. Here are a few links to some of my favorite gluten-free flours that I use on a regular basis.
For the filling, I used some kale and bell peppers from the garden as well as some smoked salmon and gouda cheese. I served it with fresh fruit and some more slices of gouda cheese. I can't hide it – I'm a cheese addict.
If you can't eat dairy or simply prefer not to have it, this recipe can still work for you. Unlike most quiche recipes that use heavy cream or cow's milk in the filling, I used a mixture of coconut and almond milk.
I'm extremely proud of this recipe and hope you love it as much as I do.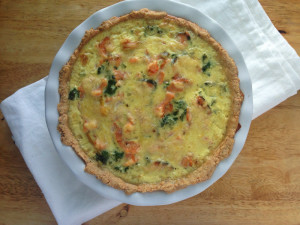 Prep: 20 minutes
Cook: 50 minutes
Total : 1 hour 10 minutes
This smoked salmon and kale quiche is gluten free and paleo!
Ingredients
For the Crust
1 tsp sea salt
1/4 tsp thyme
1/4 tsp rosemary
1/8 tsp ground sage
1/4 cup coconut oil
1 1/4 cup almond flour
1/3 cup + 2tbsp tapioca flour
1 egg
For the Filling
1 tsp coconut oil
1 medium yellow bell pepper, diced
1 small onion, diced
5 cups kale, chopped
3/4 cup lite coconut milk the kind found in a can
1/2 cup almond milk
4 large eggs
1 tsp coarse sea salt
1/2 tsp black pepper
4 oz sliced smoked salmon
1/2 cup shredded Gouda cheese
Instructions
For the Crust
Preheat oven to 350 degrees.

In a large bowl, thoroughly mix the salt, thyme, rosemary, sage, almond flour and tapioca flour.

Add the coconut oil and egg to the bowl.

Mix ingredients together with a fork or your hands (my preferred method) until there are no clumps.

Scoop the dough out of the bowl and spread out onto your pie or quiche pan using your fingers as best you can. Try to spread it out as evenly as possible, remembering to press the dough onto the sides of the pan for a nice, beautiful crust.

Poke a few holes in the bottom of the crust using a fork to make sure the the crust doesn't form any huge bubbles.

Lay a large piece of parchment or wax paper over the crust.

Gently cover the crust with some dry beans or pie weights (if you're fancy) to help the crust cook evenly. (If you don't have any dry beans or pie weights, it's okay. Go ahead and skip steps 7 and 8. It'll be fine.)

Put the crust in the middle rack in the oven.

Bake for 8 minutes.

Take the crust out of the oven and remove the beans/pie weight and parchment paper.

Return the crust to the oven and bake for another 4 minutes.

Remove the crust from the oven and let cool slightly (about 10 minutes) before filling it with deliciousness.
For the Filling
While your crust is cooling, preheat the oven to 375 degrees.

In a medium skillet, heat coconut oil over medium heat.

When hot, add onions, bell peppers and kale.

Cook, stirring occasionally, until peppers have softened, about 8 minutes.

Set aside to cool.

In a large bowl, mix together the coconut milk, almond milk, eggs, salt and black pepper.

Evenly fill the pre-baked crust with the onions, bell peppers and kale mixture.

Place the sliced smoked salmon on top of the mixture as evenly as possible so that every bite has some salmon in it.

Pour the milk and egg mixture into the crust.

Sprinkle the top of the quiche with the shredded Gouda cheese.

Bake in the over for 50-55 minutes, until the quiche is solid but only slightly jiggly.

Cool on cooling rack for 10 minutes (important).

Now the fun part - EAT!

This page contains affiliate links. If you make a purchase on Amazon after clicking one of my links, I may receive a small commission. The price of the item stays the same and any money I make goes to supporting this blog. I only endorse products and services that I fully believe in.