Jump to Recipe
These Sriracha Potato and Egg Breakfast Tacos are the perfect breakfast and brunch dish that everyone can enjoy.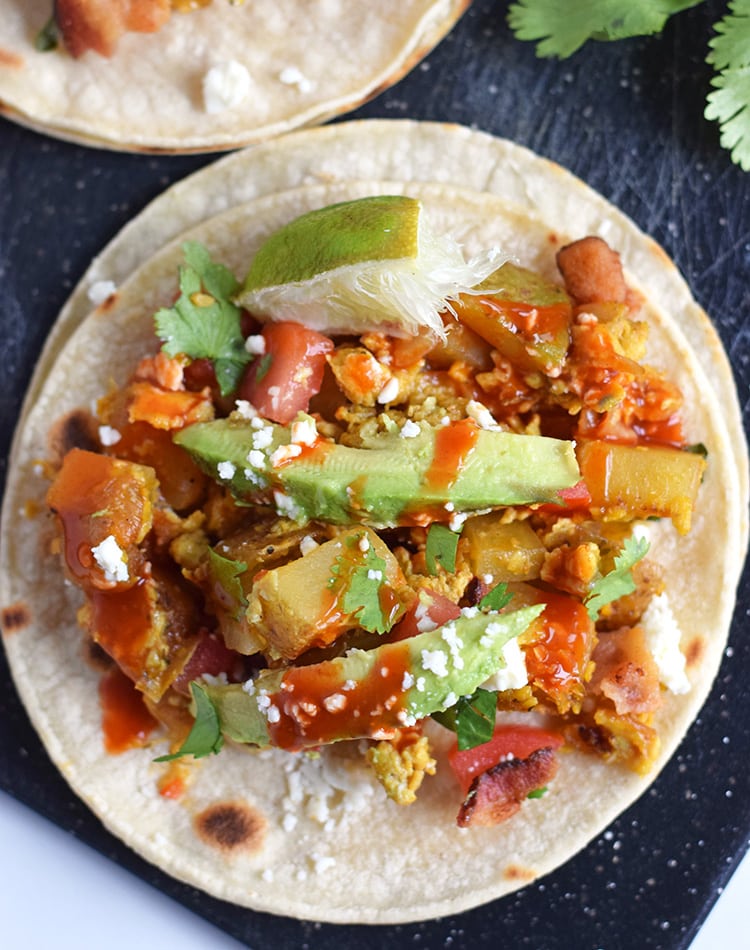 I had a tough time categorizing this recipe. Tacos are Mexican, right? But Sriracha is not. So if someone were to ask me what cuisine these Sriracha Potato & Egg Breakfast Tacos are, I'm not quite sure what I'd say. It's definitely Mexican-inspired, but with a little Thai flare. Ooh, maybe it's Thai-Mex fusion!
I've got an idea – I should totally open a Thai-Mex restaurant. Though I'm sure that exists somewhere already, right? Probably on the west coast. Those kids have everything.
If you enjoy hot sauce, you've probably had Sriracha at one point or another. But if you've never had any, you need to >get your hands on a bottle asap. It's a super delicious hot sauce made from chili peppers, vinegar, garlic, sugar and salt. So simple yet so tasty.
Also, if you're one of the few who has never tasted it, I need to know where you live because that stuff is everywhere in Pittsburgh! I literally can't go to a casual restaurant anymore without seeing sriracha sauce somewhere. In fact, it's so popular and has such a big (dare I say 'cult') following that my old roommate actually wore a Sriracha costume for Halloween one year.
Granted, she's kind of a hot sauce fanatic, but you understand what I mean.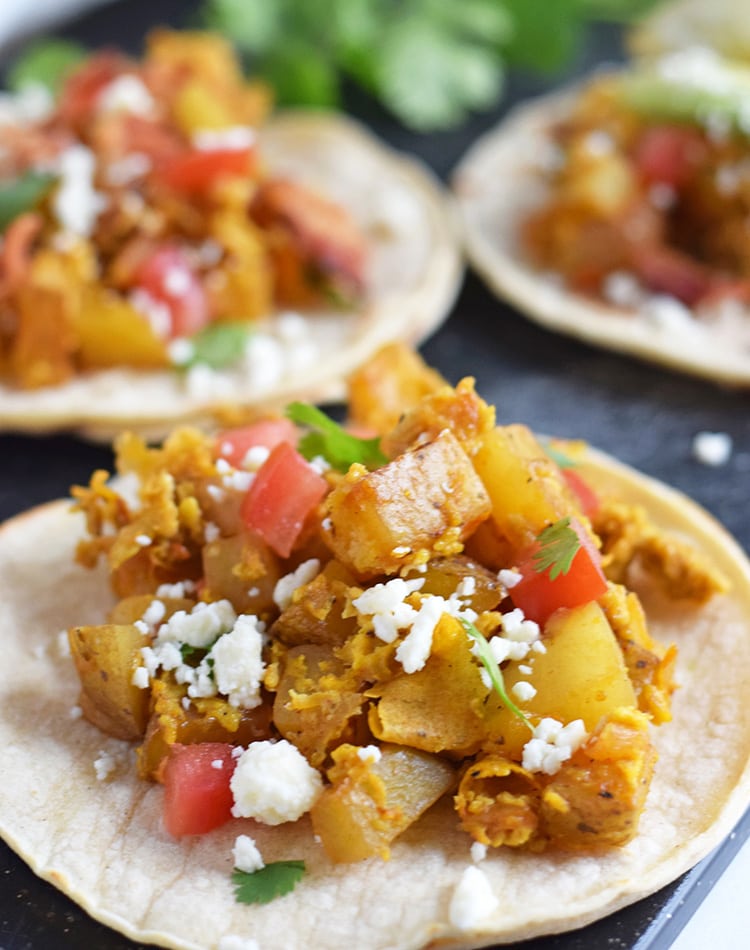 Now these Sriracha Potato & Egg Breakfast tacos have somewhat of an unexpected ingredient. I'm sure you anticipate there to be sriracha in the recipe, but it's probably not in the form you're used to seeing it.
There's no hot sauce in this recipe (unless you choose to top your taco with a little bit, which I highly recommend). There's not even sriracha chili paste in it. Instead, I'm using McCormick's Sriracha Seasoning which I just discovered about a month or two ago. I found it at my local grocery store, but if stores near you don't carry it, you can order it here on Amazon. You guys, it's pretty amazing. 🙂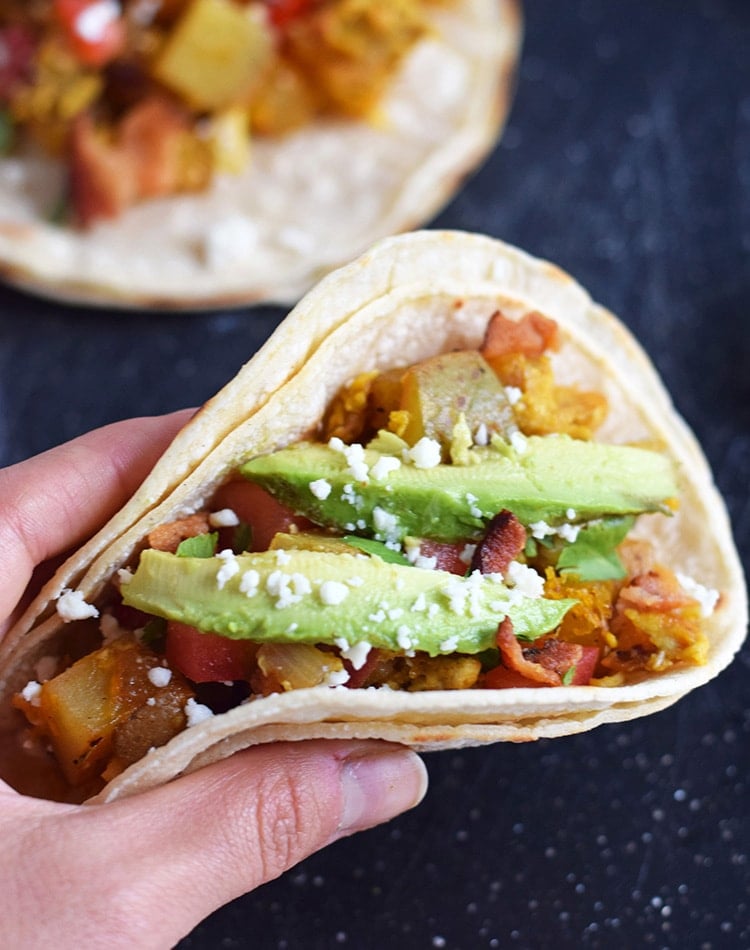 The seasoning is definitely spicy and packs a punch, so a little goes a long way. For this recipe which serves 4-6, I added a tablespoon of the seasoning. That amount added a nice little backdrop of heat but I personally wouldn't call it spicy. If you're looking for it to be spicy enough to warrant an extra-large glass of ice water next to you, I recommend adding more. Maybe 1 1/2 to 2 tablespoons of the stuff. Go for it!
These Sriracha Potato & Egg Breakfast tacos are super versatile and can please almost everyone. If you're vegetarian, add some crumbled cheese and freshly picked cilantro. If you like your taco a little adventurous but not too crazy, add some crispy bacon bits. And if you're like me and like your taco to have ALL the toppings, add some bacon bits, sliced avocado, a squeeze of lime and a nice dose of hot sauce.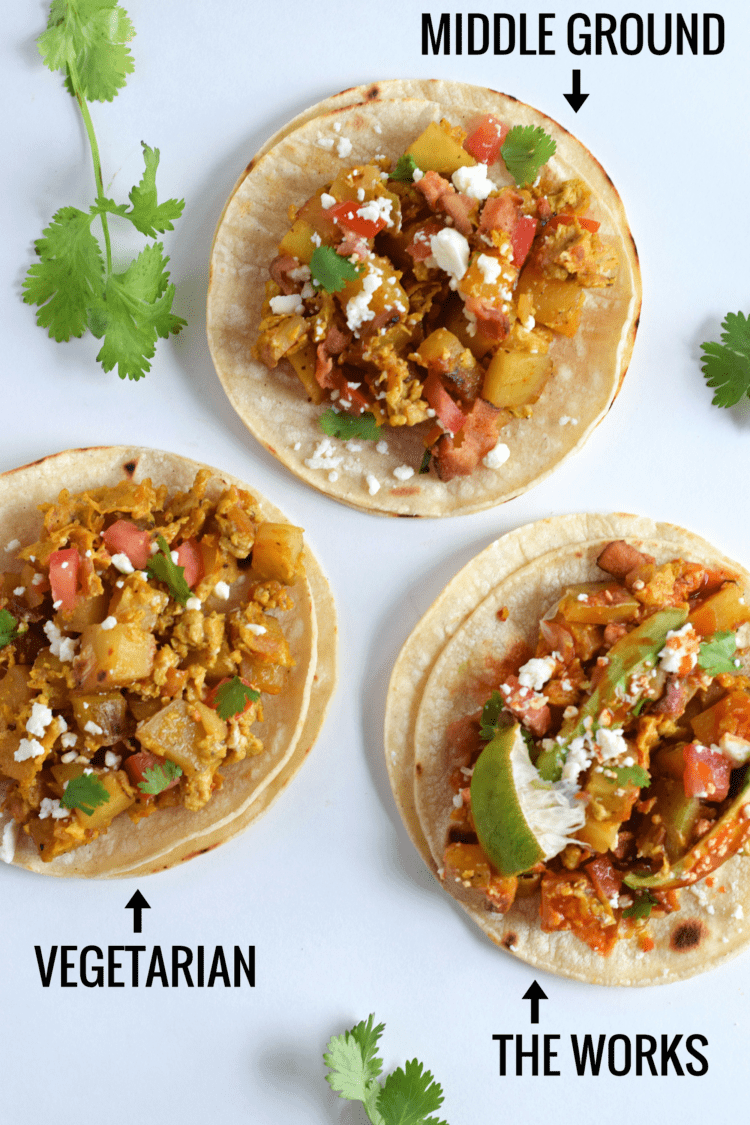 Tools used to make this recipe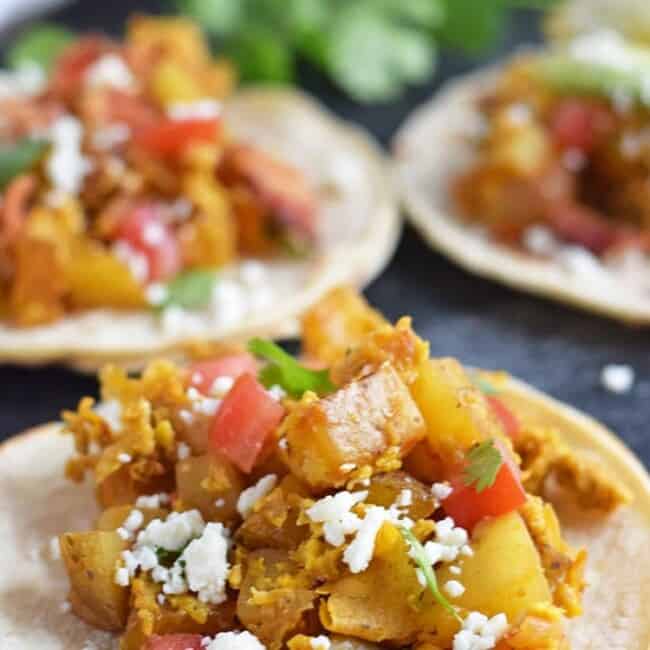 Prep: 5 minutes
Cook: 30 minutes
Total : 35 minutes
These Sriracha Potato and Egg Breakfast Tacos are the perfect breakfast and brunch dish that everyone can enjoy.
Ingredients
2 large Yukon Gold potatoes
1/2 cup large yellow onion about 1 diced
2 tbsp olive oil
1 tbsp McCormick's Sriracha Seasoning
1/2 tsp dried oregano
1/2 tsp paprika
1 tsp salt
1/4 tsp black pepper
4 slices of bacon
6 eggs
12 corn tortillas
Additional Recommended Toppings
Feta or Cotija cheese
Cilantro
Avocado
Limes
Hot sauce
Instructions
Heat olive oil in large frying pan over medium high heat.

Dice yellow onion and set side.

Dice potatoes into small cubes and place them in a large bowl.

Add sriracha powder, dried oregano, paprika, salt and black pepper. Mix until potatoes are fully coated with seasoning.

Transfer yellow onions to hot pan and cook for about 2 minutes or until the onions start to become translucent.

Add in seasoned potatoes and cook, mixing occasionally, for 25 minutes or until the potatoes are fully cooked.

Meanwhile, in a large skillet over medium-high heat, cook the bacon slices until crispy.

Place the cooked bacon on thick paper towel to soak up any excess fat and let cool down.

In a medium bowl, crack the eggs and beat with a whisk or fork until well combined.

When the potatoes are fully cooked, add in eggs and cook, mixing occasionally for 3-5 minutes or until the scrambled eggs are cooked to your liking.

Remove pan from heat, crumble the crispy bacon on top and serve on warm corn tortillas.
This page contains affiliate links. If you make a purchase on Amazon after clicking one of my links, I may receive a small commission. The price of the item stays the same and any money I make goes to supporting this blog. I only endorse products and services that I fully believe in.