Jump to Recipe
An easy, quick and tasty on-the-go breakfast smoothie or post-workout drink filled with fruit, greens and Greek yogurt.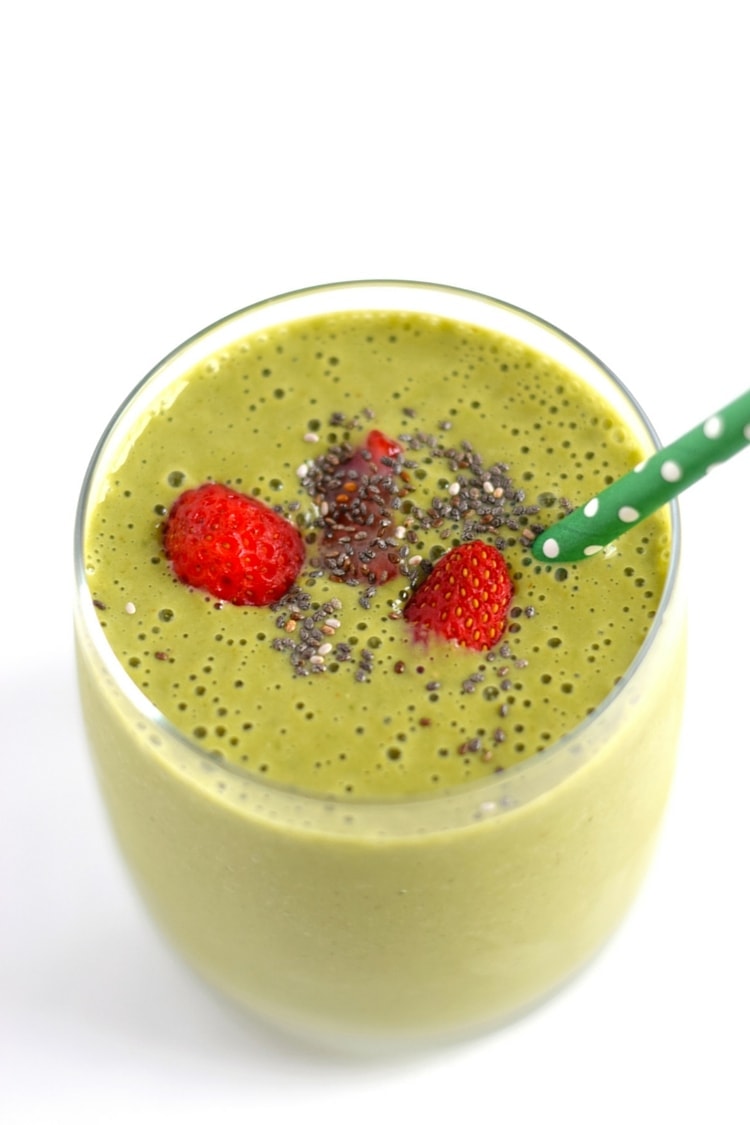 I am not a morning person.
Sure, I can get out of bed early if necessary and not be a grumpy zombie, but only if I get some personal space, a cup of coffee and about 30 minutes to fully set my intentions for the day.
I'm also not one of those people who can't sleep in on the weekends. Definitely not a problem I have. Just ask John – he usually gets in a solid two to three hours of comic book reading on the iPad while I'm snoozing.
But while I'm okay spending a few extra hours dreaming on Saturday and Sunday mornings, I've started to wonder what it would be like to wake up an hour earlier Monday through Friday. Could I be more productive? Maybe I could write in my gratitude journal in the mornings instead of before bed. Maybe I could pick up that book I've been meaning to read. Or maybe nothing would change.
Whatever happened, I knew I needed some motivation to get my butt out of bed.
Not going to lie – I was partially motivated to wake up an hour earlier by the idea of making a smoothie.
Let me just say that I've never considered myself a smoothie kind of person. I like breakfast. I like a big, hearty, savory breakfast. By far my favorite meal of the day.
Unfortunately, it's not always feasible to have that type of breakfast when I've only got 30 minutes to get out the door in the mornings. And I don't want to spend my extra hour in the kitchen. So after being inspired by a podcast episode, I thought I'd give a smoothie in the morning a shot.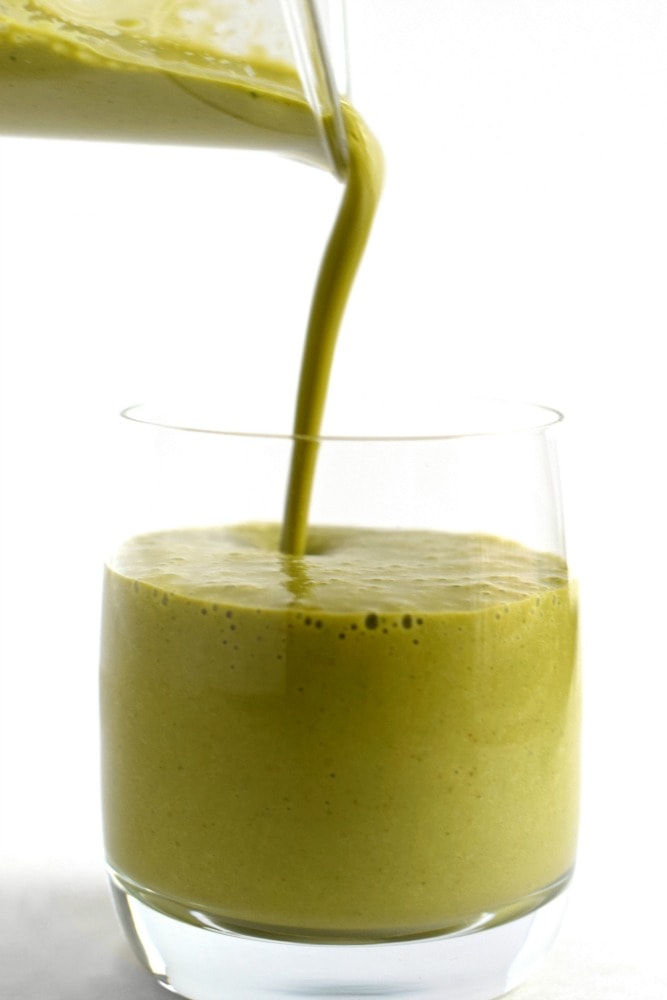 And guess what? I'm hooked!
There's two cups of greens in this baby and I can't even taste it. Pretty nice, right?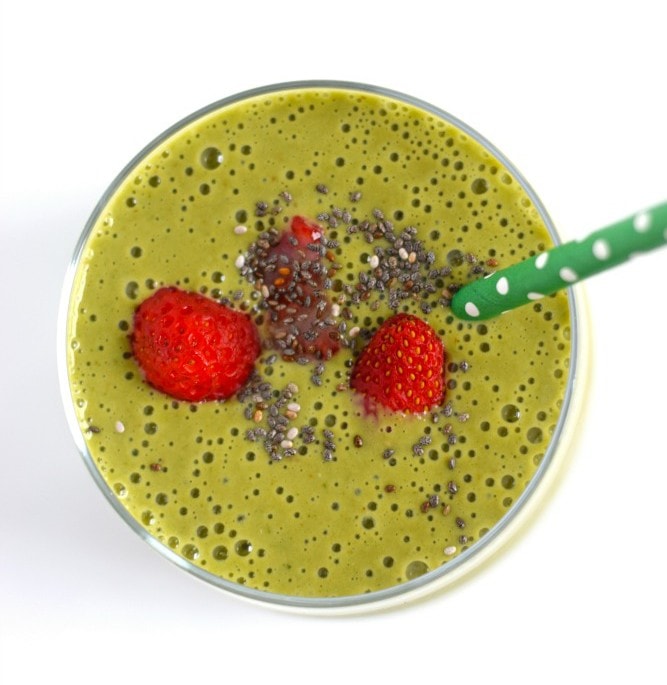 This, a couple of hard boiled eggs and I'm good to go.
Because this takes less than 5 minutes to make, I have plenty of time left in my extra morning hour. So far, I haven't done anything spectacular with my additional time. And I may have accidentally slept in one day. But it's a start.
Tools used to make this recipe:
If you like this recipe, be sure to check out this guest post I wrote for Lynzy & Co. where I shared ANOTHER breakfast smoothie recipe. Guys, I'm on a roll.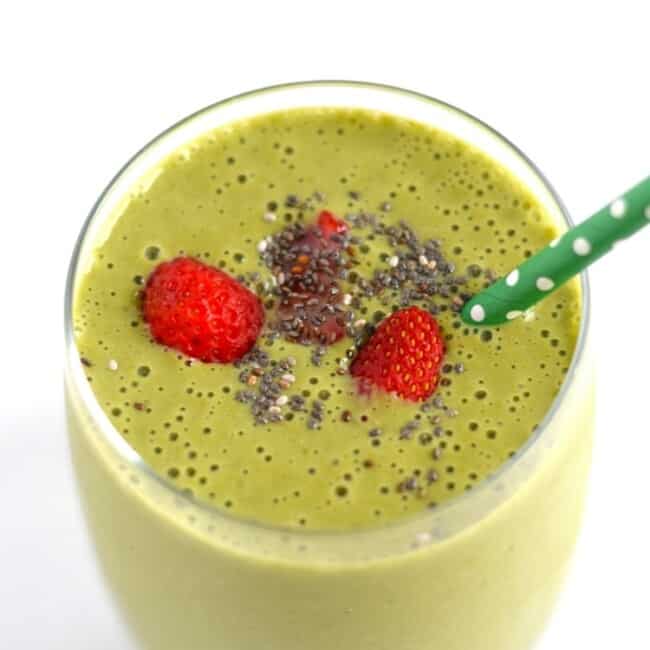 Prep: 5 minutes
Total : 5 minutes
An easy, quick and tasty on-the-go breakfast smoothie or post-workout drink filled with fruit, greens and Greek yogurt. Can easily be made dairy free.
Ingredients
1/2 cup almond milk or other type of milk
1/2 cup plain Greek yogurt or other type of yogurt
1 banana peeled and frozen
1/4 cup strawberries fresh or frozen
1/4 cup mango fresh or frozen
2 cups packed leafy greens (I used a mix of spinach kale and chard)
Dash of chia seeds optional
Instructions
Add all ingredients to blender and blend on high until completely smooth.

Top with a dash of chia seeds and enjoy!