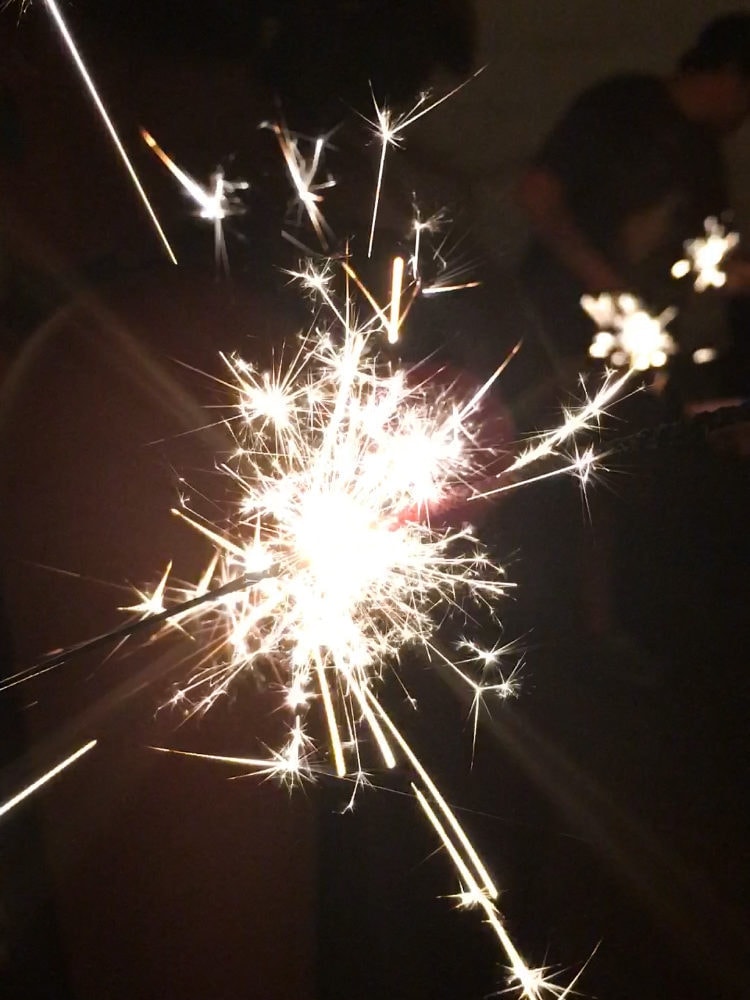 1.  I went to a party at a friend's house over the weekend, and I brought two things: two batches of my Mexican Black Bean Blender Brownies and some leftover sparklers from the 4th of July. Isn't it great how sparklers just instantly turn you into a little kid again? They only last like about 30 seconds or so, but for that short period of time, I found myself flailing my arms up and down and yelling "Woo!" I just couldn't help myself. Maybe I just need more sparklers in my everyday life.
2.  Helped some friends move into a new apartment a few days ago. It was insanely hot outside and by the time we were done, everyone was exhausted and totally drenched in sweat. Shortly thereafter, we refueled with some gatorade and lots of pizza, and all was right in the world. Note to self: hire a moving company next time I decide to move.
3.  I made the best dinner last night – this Rosemary Crusted Pork Tenderloin from Real Simple's damn website. I say "damn" because that website is a freakin' monolith. And it sucked me in. When I look for a recipe to make (that isn't for the blog), I try to find something from smaller blogs so I can show my support. But last night, this was one of the first search results that popped up, so I just went with it. And it was so damn good.
4.  I attempted to make some ice cream the other day and while it was tasty, the texture was awful. 🙁 Don't you just hate it when a recipe doesn't turn out how you want it to? Such a let down.
5.  I read this awesome piece by Virgie Tovar with the MOST AMAZING TITLE EVER. Here's a little taste. — "Diet culture is the voice in your head that tells you not to eat that cookie with an urgency that feels life-threatening. It's the reason you shared that piece of cheesecake with not one, but four of your closest friends—and why you guys still left the last bite. It's why grown women lie on the fitting room floor with bloodied finger tips attempting to zip up a pair of jeans. Diet culture is the reason weight loss is at the top of everyone's New Year's resolutions lists. Everyone hates dieting, but we still feel this thrill when we eat a carrot or get our dressing on the side. And even though we pay our bills, own cars, hold jobs, have children, and manage relationships, every day we allow diet culture to treat us like we're five-year-olds who can't make decisions about when or how much to eat."
6.  Along the same vein, I also read this article on Buzzfeed about getting rid of clothes that don't fit and actually buying things that do fit, things that make you feel good right NOW, not when you get the body that you want. There's also a video at the end that's good that basically summarizes the article.
7.  I can't stop laughing at this. Some people take their coffee VERY seriously. I think what gets me is when I think it can't possibly get any more complicated, another step is introduced. It just kept going and going. Hey man, to each his own. I'm sure many people would laugh at the intricacies of my photo editing process for the blog. I've shown John two photos side-by-side – one original and one edited – and half the time, he says they look the same.