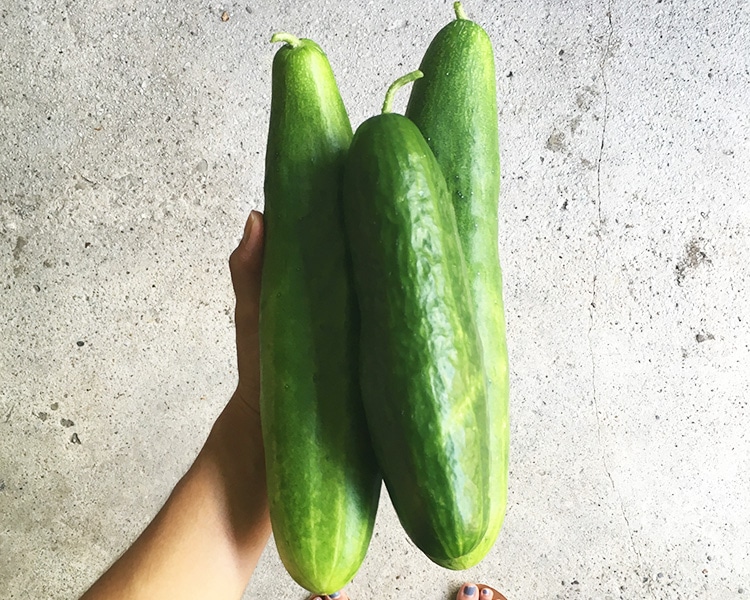 1.  I went wedding dress shopping for the first time last week. It was a good experience and I ended up liking a dress that was NOTHING like what I envisioned wearing. I haven't purchased anything yet, but I'm doing some more shopping later this week and my fingers are crossed that I'll find something I love!
2.  OBSESSED with competition shows (especially cooking related). Basically anything with Gordon Ramsey. Here are some of the shows on my DVR. Food Network Star. Master Chef. Top Chef. Project Runway. Hell's Kitchen. All-Star Academy. Worst Cooks in America. Ink Master. Face Off. Last Comic Standing. America's Got Talent. Hotel Hell. I swear John and I are keeping the competition show genre alive. #sorrynotsorry
3.  My garden is great this year. Just look at those cucumbers. I'm growing them for the first time and they're huge! I've been looking for various recipes to use them in. First successful recipe I made with them was this simple but delicious Cucumber Greek Salad from Belle of the Kitchen. Any cucumber recipes you recommend?
4.  My phone says I've got 7 unread emails yet I can't seem to find any of them! They've all been opened. Where are all the unread emails hiding?! I want to remove that annoying little red notification dot.
5.  Oh my goodness! I can't stop watching this. I want it.
6.  One day, when I have my own house, I'm totally making this. DIY for the win!
7.  A list full of ways to use chronic procrastination to my advantage? Oh, this article was made for me.
8.  Started a new workout routine about 2 weeks ago that has got me SORE like no other. Other than foam rolling, do you have any tips on dealing with the soreness? I feel like I've tried everything – post-workout refueling, supplements, foam rolling, stretching, etc… I always seem to be sorer than John. Maybe my level of soreness is somehow genetic?