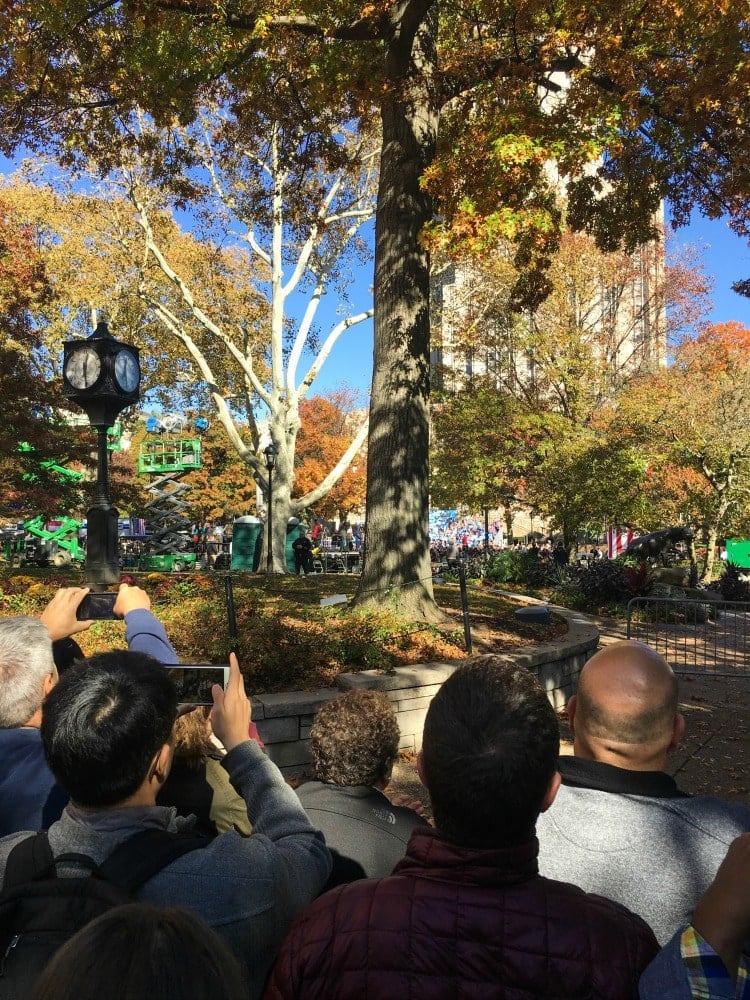 1.  I "saw" Hillary Clinton speak the day before the election at the University of Pittsburgh. "Saw" because I didn't really see her close up. But if you look closely to the right of the tree, that little red speck is her. So technically, yep, I saw her. It was great. Everyone was excited and hopeful and ready for the election to be over. And now that it is, I'm pretty sad. As a first-generation Mexican-American, as a female, as a social worker, this is not normal.
Now let me attempt to lighten the mood.
2.  One of my recipe videos went viral. Say what?! Viral at least for me. This Salsa Verde Queso Dip recipe video I posted on Facebook over the weekend has received over 4,000 views and has reached over 19,000 people. It's pretty amazing since I only have 600 or so fb fans. #famous?
3.  I can cross one more thing off my wedding to-do list. I've finally picked bridesmaids dresses. Now I need to find a wedding photographer…crap.
4.  I need some serious motivation to get working out again. I was doing a daily yoga challenge with myself and I lasted a little over a week. It was actually great and I was loving it. I got this Groupon for a yearly online yoga subscription that I actually really love. The classes are great and I picked out 2 of my favorite yoga teachers to watch. Now I just have to stick with it. Any tips?
5.  It finally happened. I got sick this weekend thanks to John. He was actually sick for about 2 weeks and it was inevitable that he'd pass it along. I felt like death Saturday afternoon and night. My entire body was achy and my head was pounding, so I pretty much did nothing but take tons of medicine and watch tv. Theraflu is where it's at. Love that stuff.
6.  So I've started thinking about Black Friday sales. Just thinking! No research on anything yet. But things on the list? New camera lens. New camera body. Beautiful camera strap. New food background boards. Overhead tripod attachment to make taking recipe videos waayyyy easier. I think there's a pattern here. I should really branch out.
7.  My favorite instagram account at the moment: Dogs of World