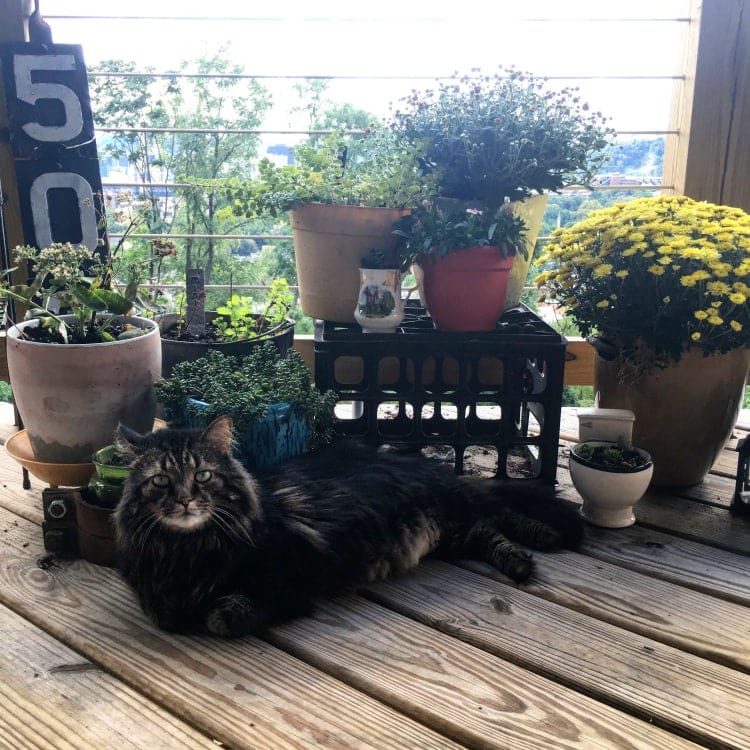 1.  This past Sunday, I went to this event called Yoga in the Park for the 3rd year in a row. It's literally an hour-long yoga class on the baseball field at PNC Park here in Pittsburgh. It's kind of a tradition now for a couple of my friends and I. While getting up at 7:00am on a Sunday to be ACTIVE was a little hard for me to do, afterwards, we spent the morning at my friend's house drinking mimosas and eating muffins. That's her cat, Milo. Isn't he adorable?!
2.  Not only does my friend have the coolest cat, her and her boyfriend also have the best little business. They purchase and collect unique furniture, decor, kitchen items, antiques and everything you can think of, refurbish them if necessary and then sell them. Their apartment has so much style, I told them I'd hire them to decorate my place when I buy a house one day. Check them out on Facebook at Past Pickers 412.
3.  I'm a cat lover. You probably knew that from the name of this website or the cat pictures on my Instagram here, here and here. But lately, I've been thinking about dogs. John really wants a Golden Retriever so I made the mistake of doing a Google image search for them. I mean. I. Just. Can't. They're so cute! I just want to give them a big hug.
4.  I used to be a huge procrastinator in college. But as I've gotten older, I've become a bit better at tricking myself into getting my work done in a reasonable amount of time. Nevertheless, I still have to fight the urge to procrastinate on a daily basis. The struggle is real. This video on how to procrastinate productively is so great. And hilarious. You've got to see it.
5.  Speaking of procrastination, I've been really bad about maintaining my garden this past month…and a half. I have so much kale to harvest, I don't know what to do with it. Do you want any kale?! I've got so much of it, I'll give you as much as you want!
6.  I finished reading The War of Art a few weeks ago (super quick read) and I highlighted so many paragraphs. Here's one of my favorites that hits close to home.
Self-doubt can be an ally. This is because it serves as an indicator of aspiration. It reflects love, love of something we dream of doing, and desire, desire to do it. If you find yourself asking yourself (and your friends), "Am I really a writer? Am I really an artist?" chances are you are.

The counterfeit innovator is wildly self-confident. The real one is scared to death.
7.  Why this is number 7 and not number 1, I don't know, but I was in Oklahoma over Labor Day weekend and I experienced an earthquake! Not some little earthquake, but a 5.6 magnitude earthquake. It woke me up. I had no idea what was going on, all I heard was this loud rumbling and the bed was shaking. So. Freaking. Bizarre.
8.  Currently obsessed with Jessica at How Sweet Eats' Instagram. Her photos are GORGEOUS.
(This page contains affiliate links. If you make a purchase on Amazon after clicking one of my links, I may receive a small commission. The price of the item stays the same and any money I make goes to supporting this blog. I only endorse products and services that I fully believe in. Thanks for your support!)