I've got some news to share: Isabel Eats is hiring and looking for a Communications Assistant to add to our team. Here's everything you need to know!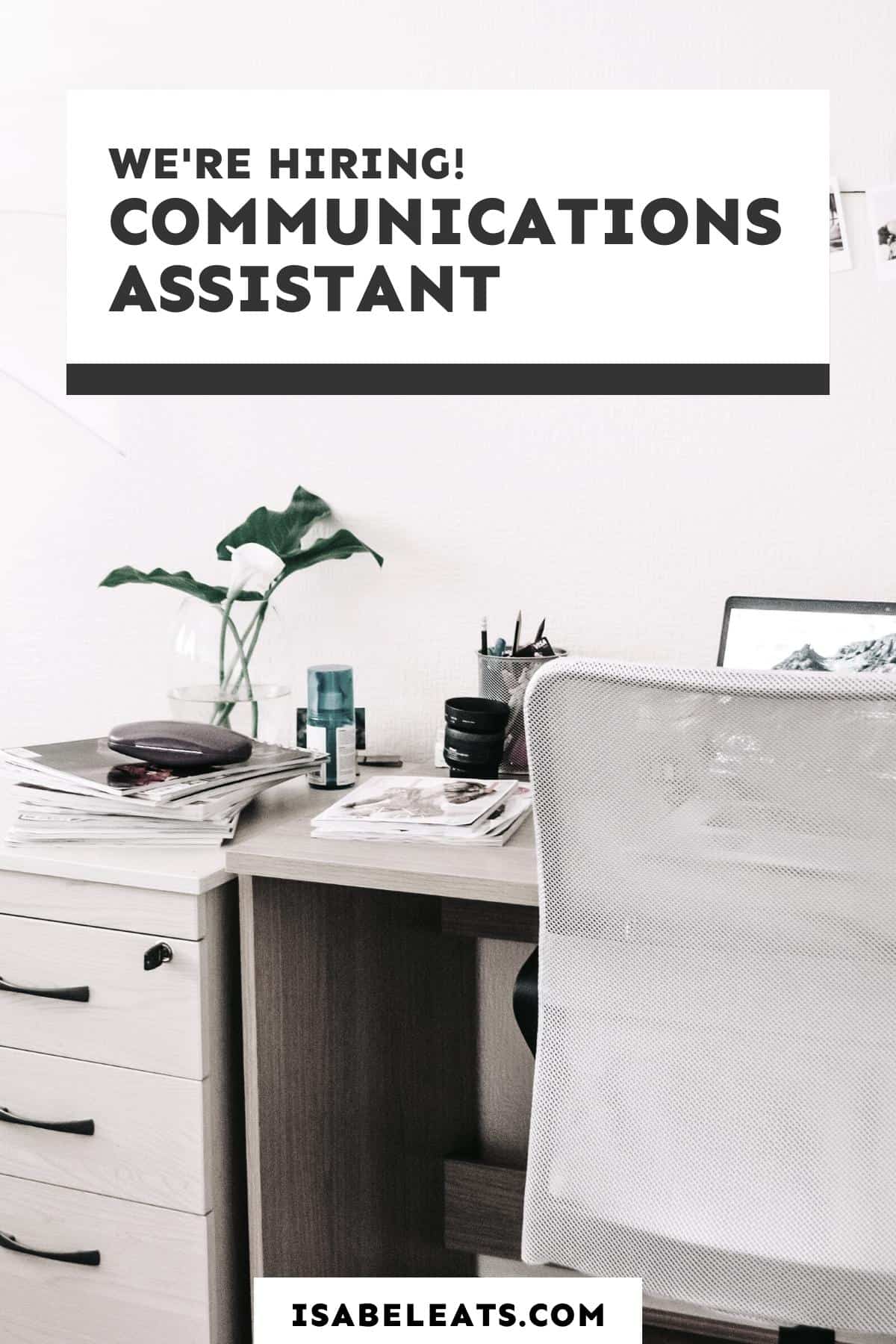 About Isabel Eats
Isabel Eats is a food blog that provides at-home cooks with authentic and flavorful Mexican and Mexican-inspired recipes for everyday life. We love helping readers celebrate the joy of Mexican food in an accessible and non-intimidating way through simple recipes with accompanying high quality photography and videography.
Our small and mighty team is hiring a Communications Assistant to support our site's day-to-day operations and communications!
Our communications assistant is comfortable in a flexible, ever-changing work environment. This person must be well-organized, solutions-oriented, and comfortable communicating with various roles on various platforms. We are a self-made team who loves what we do, and if you bring a proactive and positive attitude, you'll fit right in!
Hours: 40 hrs/week
Compensation: Dependent on qualifications
Status: W-2 employee (must be based in and eligible to work in the United States)
Availability: Daytime availability M-F. Hours are flexible as needed.
Location: Moore, Oklahoma. However, this position is mostly remote and only requires 1-2 days a week in the office.
Benefits: Paid time off and sick leave. We do not offer health or retirement benefits at this time.
Primary duties include:
Assist in the editorial process for blog posts.

Tasks include researching and outlining posts on specific topics, formatting and scheduling posts in WordPress, and updating and maintaining blog content as needed.

Assist in the editorial process for an upcoming cookbook.

Tasks include basic formatting and quality review (grammar, spelling, etc.).
Potential for book credit based on the quality and amount of work completed.

Maintain an organized file system within Google Drive.
Maintain an organized redundancy file system.
Maintain an organized blog post database within AirTable.
Create spreadsheets as needed to organize data.
Various communications projects as needed.
Growth opportunities include:
Social media management.
Email communications.
Supporting business process improvement initiatives.
Gathering data and analytics for our growth and social media teams.
Create performance reports for sponsored content campaigns.
SEO reporting for blog posts as-needed.
You are a confident communicator, both interpersonally and in the written word.
You are solutions-oriented. We can do this!
You take initiative and are resourceful – you're willing to do your best to find answers and bring options to the table for discussion when that's not possible.
You are organized and consistent.
You can handle multiple concurrent workstreams and remain organized and productive.
You are creative and excited about helping us find new ways to improve our business through discovery and data analysis.
You can handle curveballs with grace and adjust to an occasionally "on the fly" work environment when the situation arises.
You enjoy cooking or are interested in learning more about how to cook. It's what Isabel Eats is all about!
Bonus: You have a background in virtual or administrative assisting.
Double Bonus: You enjoy authentic Mexican food!
We will train on the necessary software as some are very specific to blogging.
WordPress
Slack
AirTable
Google Workspace (Google Drive, Google Docs, Google Sheets, etc.)
Social Media (Facebook, Instagram, Pinterest, TikTok)
SmarterQueue
Tailwind
ConvertKit
Required: Bachelor's degree.
Preferred: Familiarity with blogging and SEO is a huge plus!
How To Apply
Click here to apply.
Applications must be submitted by Monday, March 13 by 11:59 PM CST for consideration.
We are a company that highly values diversity, equity, and inclusion. People of all ethnicities, nationalities, genders, races, and sexual identities are encouraged to apply.