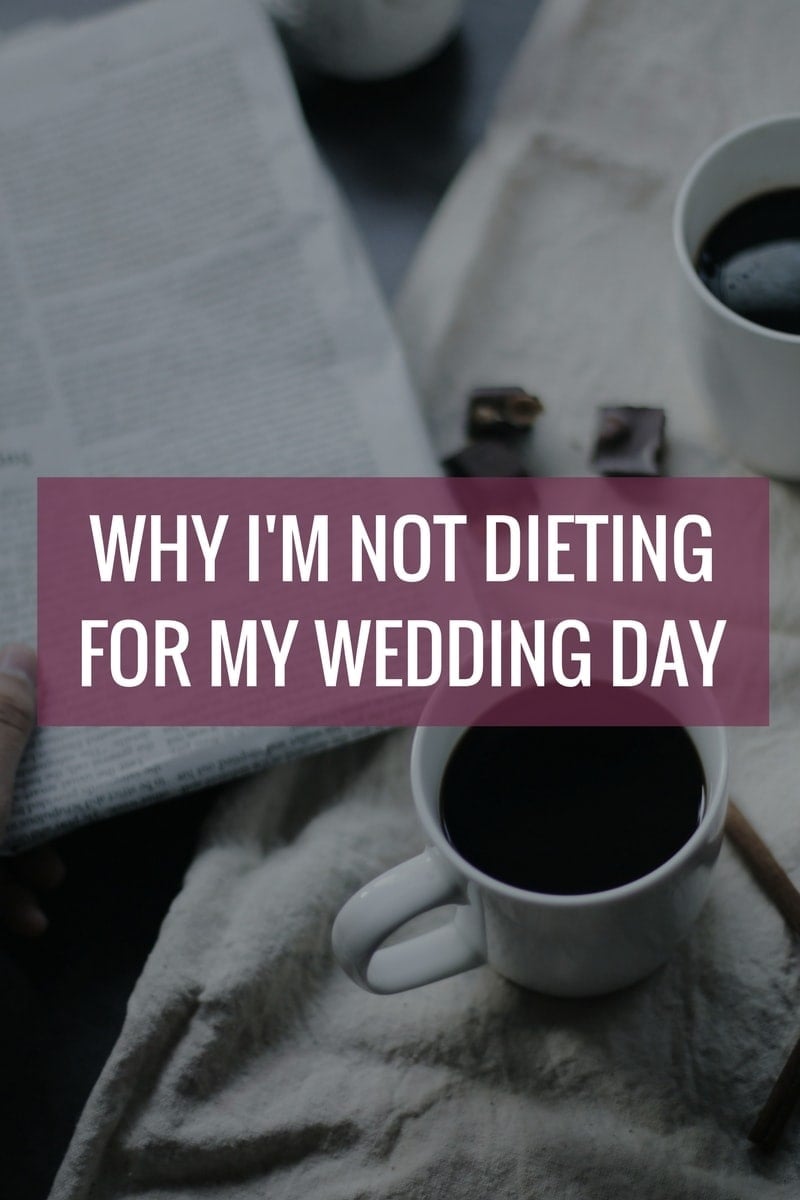 Many people find the motivation to achieve their desired aesthetic goals by looking forward to a big event. Bikini season, a big vacation, a school reunion or, in my case, a wedding.
About one month, three weeks and a few days ago (but who's counting?), I got engaged.
It was such an exciting night filled with so many smiles, happy phone calls and ring selfies. Since then, I've purchased a wedding planning book, made a few private wedding Pinterest boards and have started thinking about what I want my wedding day to look like.
I know I'm going to have to make decisions regarding the venue, décor, food, clothing and a million other things. I'm going to have to choose between casual or semi-casual, white or off-white. I'm even going to have to decide on the cutlery people will have to use. Hint: as long as it's not plastic, I don't care.
But there is one thing I care deeply about that I refuse to let anyone else determine:
I will not let the societal pressure to be picture perfect for my wedding dictate what I believe my body should or shouldn't look like.
Everyone is faced with having to prepare for some big event and as most women know, part of the narrative around the big day says you must look your best – meaning lose weight, lose body fat, gain muscle or do something to manipulate and control what your body looks like.
We're told that certain body types are more desirable, more worthy of love than other body types. We're told that in order to be healthy and beautiful, we must be thin and that doing everything we possibly can to change our appearance and conform to that standard of beauty will somehow magically make us happier and solve all our problems.
I'm here to tell you that's a lie.
As someone who's had their fair share of struggles with disordered eating, I can tell you from personal experience that:
The weight on the scale, the amount of food you eat and the calories you burn have absolutely nothing to do with true happiness.
Dieting, losing a dress size or getting abs isn't going to bring you happiness.
Happiness is loving yourself as you are right now. It's treating yourself as you would a best friend. It's honoring yourself by really listening to your mind, body and soul and giving it what it's asking for without judgement, whether that be a bowl of ice cream, a big salad, a good workout or a rest day. Our bodies and souls are wise, but somewhere along the way, we've stopped trusting them and put our faith in the dieting industry.
I've spent way too much of my life letting a number on the scale, the size of my jeans and the food on my plate determine my self-worth.
So instead of focusing on my body in preparation for my wedding day, I choose to focus on strengthening the relationship with my fiance, spending quality time with friends and family and being involved in activities that bring me joy.
The day before my wedding, I hope to be eating whatever I want. I hope to see the happiness and excitement I will surely be feeling when I look in the mirror. I hope to greet friends and family with confidence and love.
But most importantly, on the big day, I hope to not be thinking about any of this at all.
**Update – I'm officially MARRIED!**
Like this post? You may also like these!