Jump to Recipe
This easy, light and refreshing Mexican Ceviche Rice Bowl is the perfect summer meal made from citrus marinated shrimp, tomatoes, onions, jalapenos and cilantro.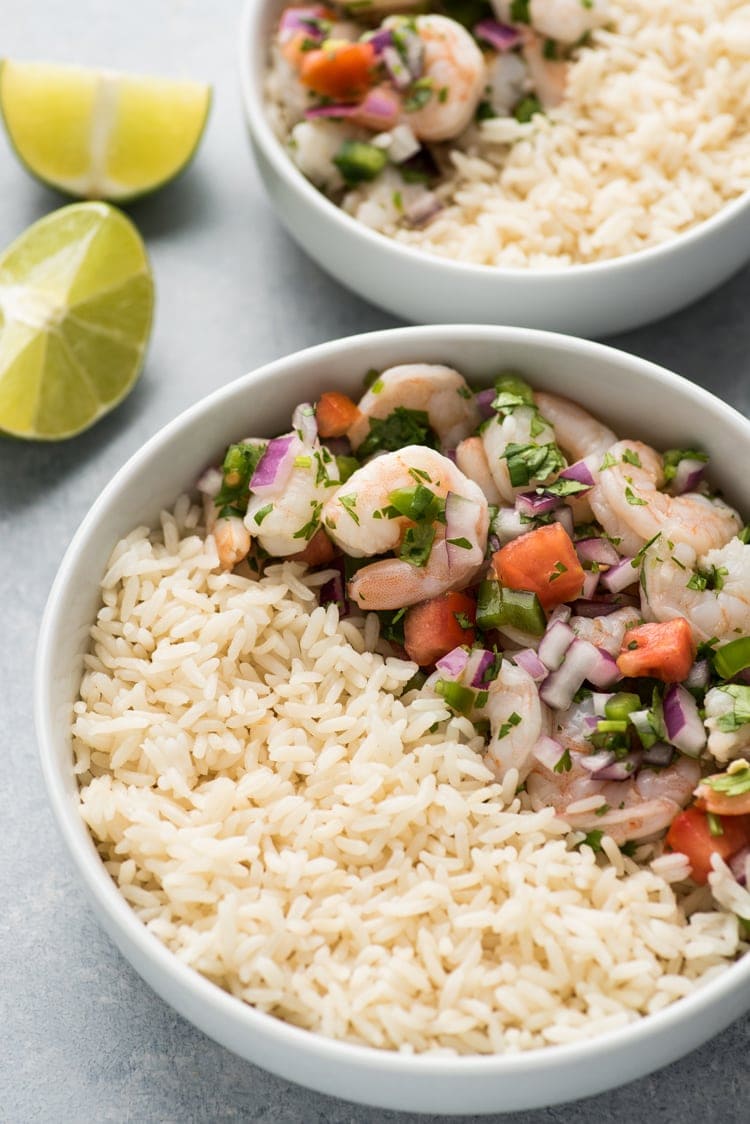 Summer is in full force, friends! Which means it's time to get in the kitchen, turn on the oven and get ready for a few hours of serious baking!
Juuuust kidding.
Don't do that. In fact, I invite you to join me in doing the exact opposite of that. As a busy wife (I'm a wife now!) and mom of two kitties who has a full-time job and is also pretty active in this whole food blog space, I don't always have as much time to cook during the week as I'd like to. Can I just have an extra hour in my day, please?!
If you're like me and want to have a delicious wholesome meal on the dinner table with minimal effort, then this recipe is for you. I'm so excited to be partnering with Minute® Ready to Serve Family Bowls today to bring you this quick and easy Mexican Ceviche Rice Bowl that's ready in under 30 minutes, start to finish, and doesn't require any cooking. That's right. No. Cooking. Required. ?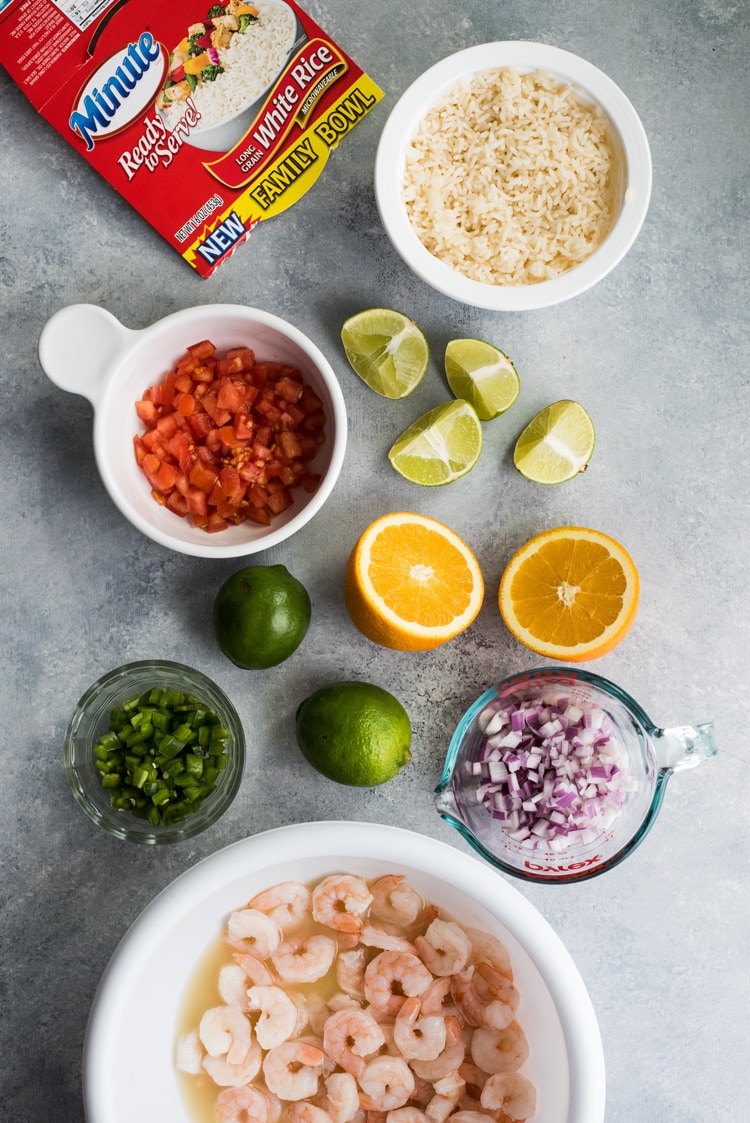 Okay, so you want to hear more about this no cooking thing. Totally get it. First, let's talk about the first critical component in these Mexican Ceviche Rice Bowl – the ceviche.
Ceviche is a Latin American dish that's made from fish marinated in different citrus juices and mixed together with other fresh and bright ingredients. Originally, ceviche is made from raw fish that is marinated in lime juice for an hour or two essentially "cooking" the fish making the ceviche a no-cook favorite.
But making ceviche at home from completely raw fish is a little scary for me. Food-borne illnesses are a real thing! So I opted for the rather safe than sorry route on this one and used cooked shrimp instead. Don't worry, it's still as good as raw! And even better, you don't have to let it marinate as long as the raw version.
To make things super easy, I recommend purchasing a pound of medium cooked shrimp at your local seafood counter. It's fresher than buying frozen shrimp and it's pretty much ready to go!
Once you've got your shrimp, just mix it together with chopped red onions, tomatoes, cilantro, jalapenos and a pinch of salt and pepper. Let it sit in the fridge for about 25 to 30 minutes and that's it. Done.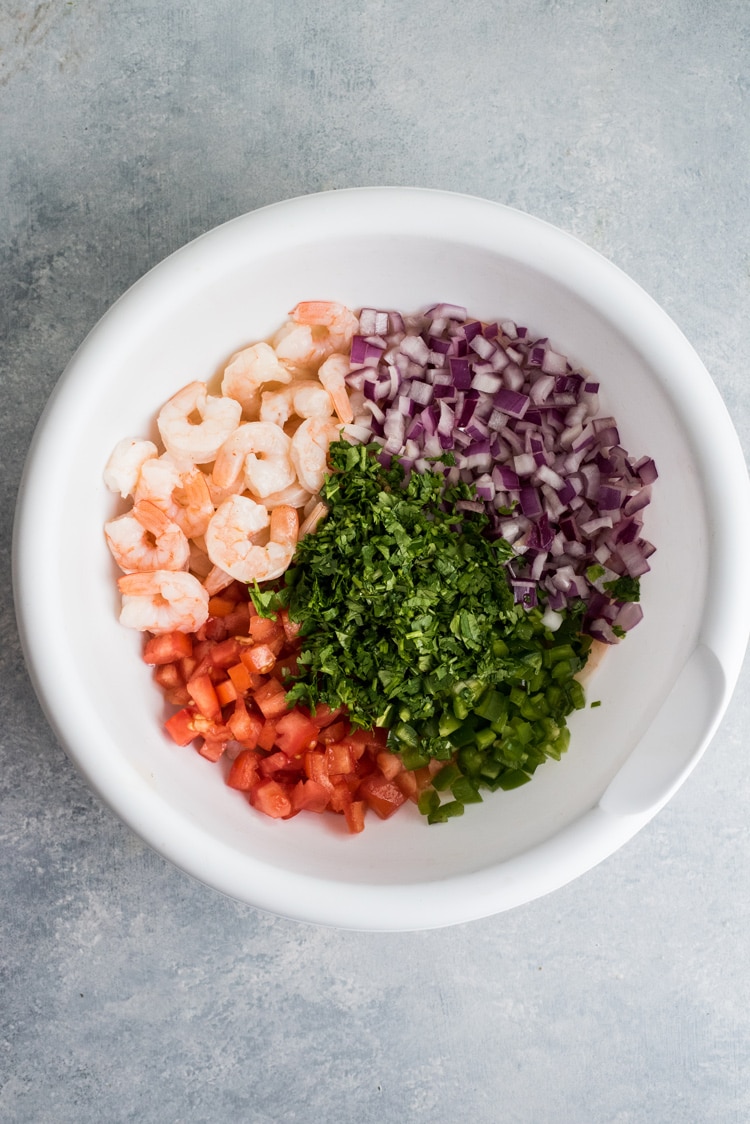 Next, let's talk about the other critical component in these Mexican Ceviche Rice Bowls – the rice!
I've said this before in previous blog posts and I'm going to say it again: making rice is not my strong suit. I either end up burning the bottom of the pan or it takes me forever to cook it. It's a super frustrating process and I usually end up telling John to do it if he's around.
So instead of getting all worked up about completely making it from scratch, I've decided to take a chill pill, save some much needed time and energy and use the Minute Ready to Serve rice bowls. It's a super simple, no fuss option that comes in either single-serve or 16-ounce family size bowls that are ready to eat in only 2 minutes. They're available in either white rice or brown rice for those looking to get some more fiber and they're naturally gluten free.
It's totally a no brainer for me, especially during the week when I don't feel like cooking. No shame in my game.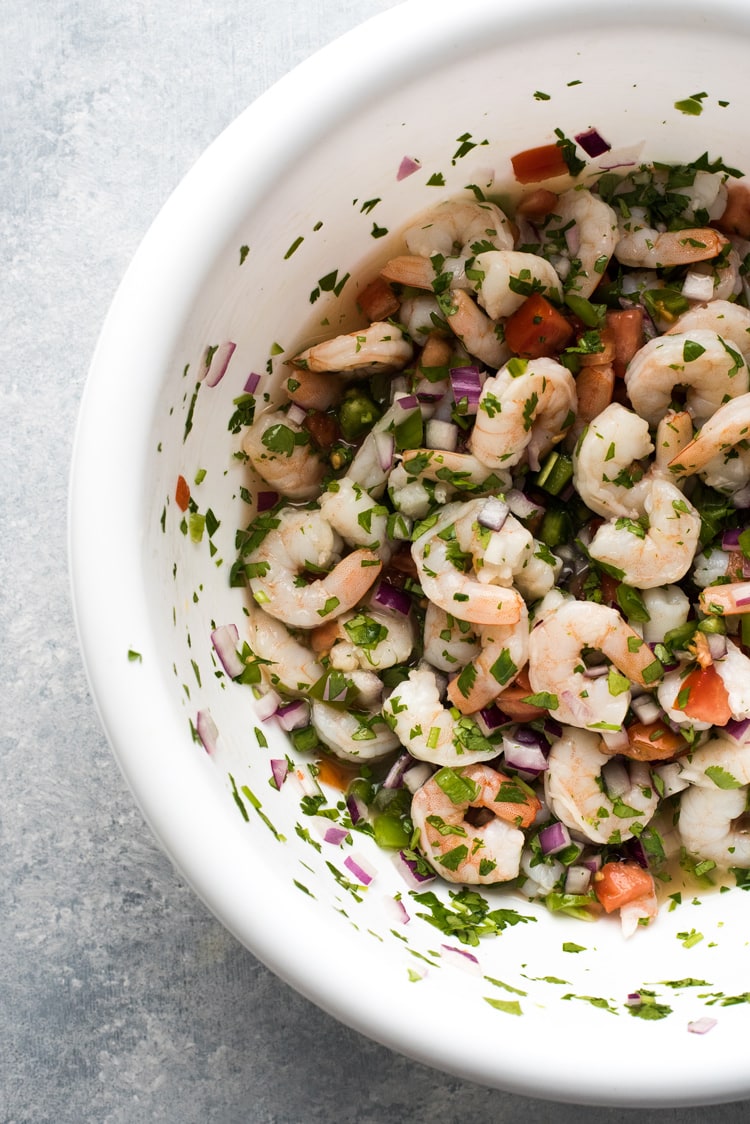 Once I've got the shrimp and rice all ready, just spoon some of each into a bowl and dinner is served. It's incredibly refreshing on hot, summer days is pretty much one of the easiest dinners I've ever made.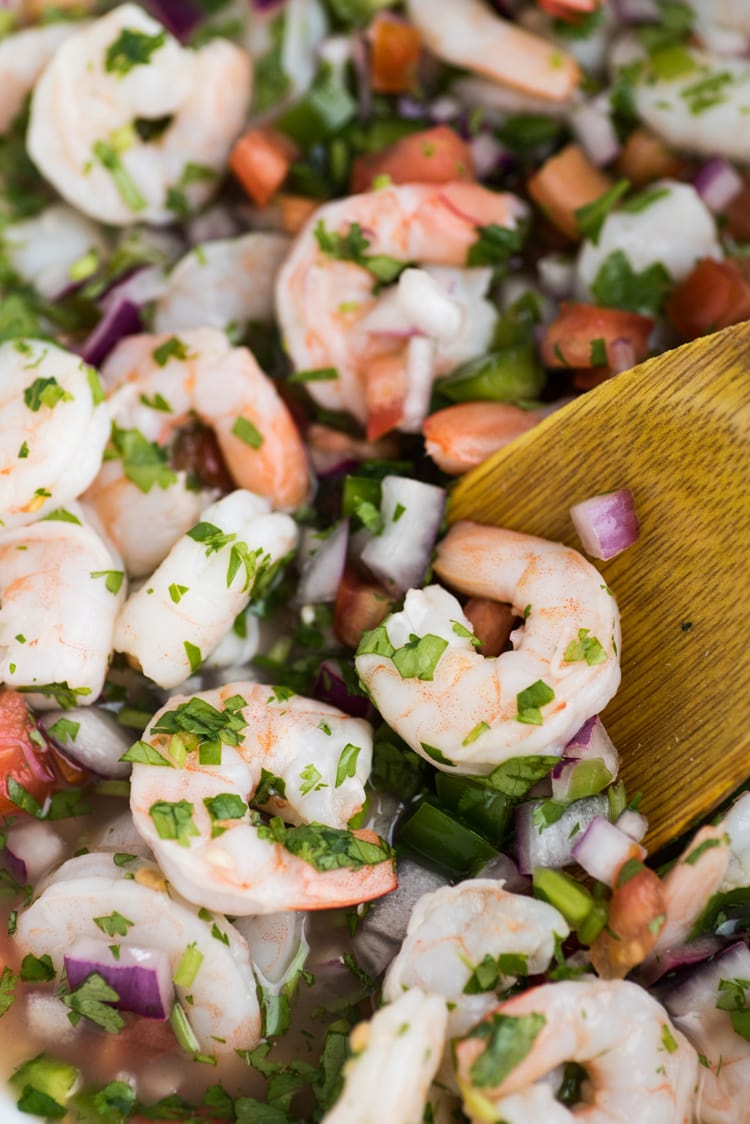 Let's talk about the summer heat for a second. Are you staying cool and dry? I've been trying my best, but have not been successful. It's been so humid lately. My usual short walk from the bus stop to my house has been brutal. So. Much. Sweat. And it's literally only two blocks worth of walking! The worst part about it all? This kind of heat tends to zap my energy.
It's probably not helpful that I don't drink as much water as I should throughout the day. I'm the kind of person who realizes I've only had two cups of water all day at like 8:00pm. So in order to make up for it, I chug half a gallon before bedtime and then have to get up to go to the bathroom two or three times at night because my bladder can't handle it. It's a vicious cycle.
But despite my terrible water drinking habits, the heat just takes it out of me. The minute I get home, I change into the lightest and coolest clothes I own, lay down on the floor to hang out with my cats and just talk about my day with John for a bit.
This dish is perfect for those types of days. Which is pretty much all summer.
But I'm making a pact with myself right now. No more complaining about how hot it is. Time to make the most of it starting with this dish. Who's with me?!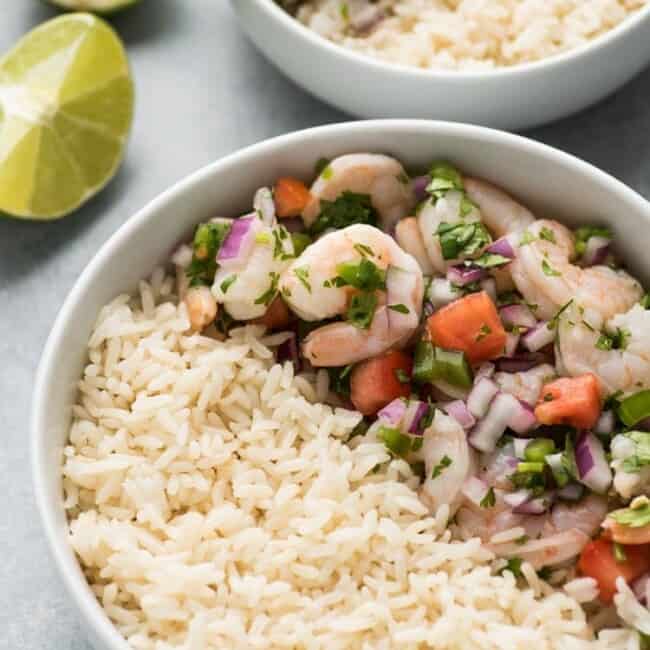 This easy, light and refreshing Mexican Ceviche Rice Bowl is the perfect summer meal made from citrus marinated shrimp, tomatoes, onions, jalapenos and cilantro.
Ingredients
1 pound medium cooked shrimp, peeled, deveined and tails removed
1/2 cup lime juice
2 jalapeño peppers deveined, seeded and diced
1/2 cup chopped cilantro
1 orange, juiced
2 medium tomatoes, diced
1/2 red onion, diced
salt and black pepper, to taste
Instructions
Combine the shrimp, lime juice, jalapenos, cilantro, orange juice, tomatoes and red onion in a large bowl. Cover and marinate in the refrigerator for 25 minutes.

Prepare the Minute rice by removing the top film and heating in the microwave for 2 to 3 minutes.

Remove ceviche from the fridge, mix together and season with salt and pepper to taste.

Serve in a bowl with cooked rice and enjoy!
Nutrition Information
Calories: 317kcal (16%) Carbohydrates: 42g (14%) Protein: 26g (52%) Fat: 5g (8%) Cholesterol: 172mg (57%) Sodium: 402mg (17%) Potassium: 192mg (5%) Fiber: 2g (8%) Vitamin A: 450IU (9%) Vitamin C: 37.1mg (45%) Calcium: 100mg (10%) Iron: 3.2mg (18%)
This post has been sponsored by Minute® Ready to Serve Family Bowls. Thanks for supporting the brands I love!