Jump to Recipe
These Baja fish tacos are some of the best tacos ever! They're filled with tender and crispy beer-battered fish in warm and soft tortillas and are topped with chipotle mayonnaise and creamy cabbage slaw.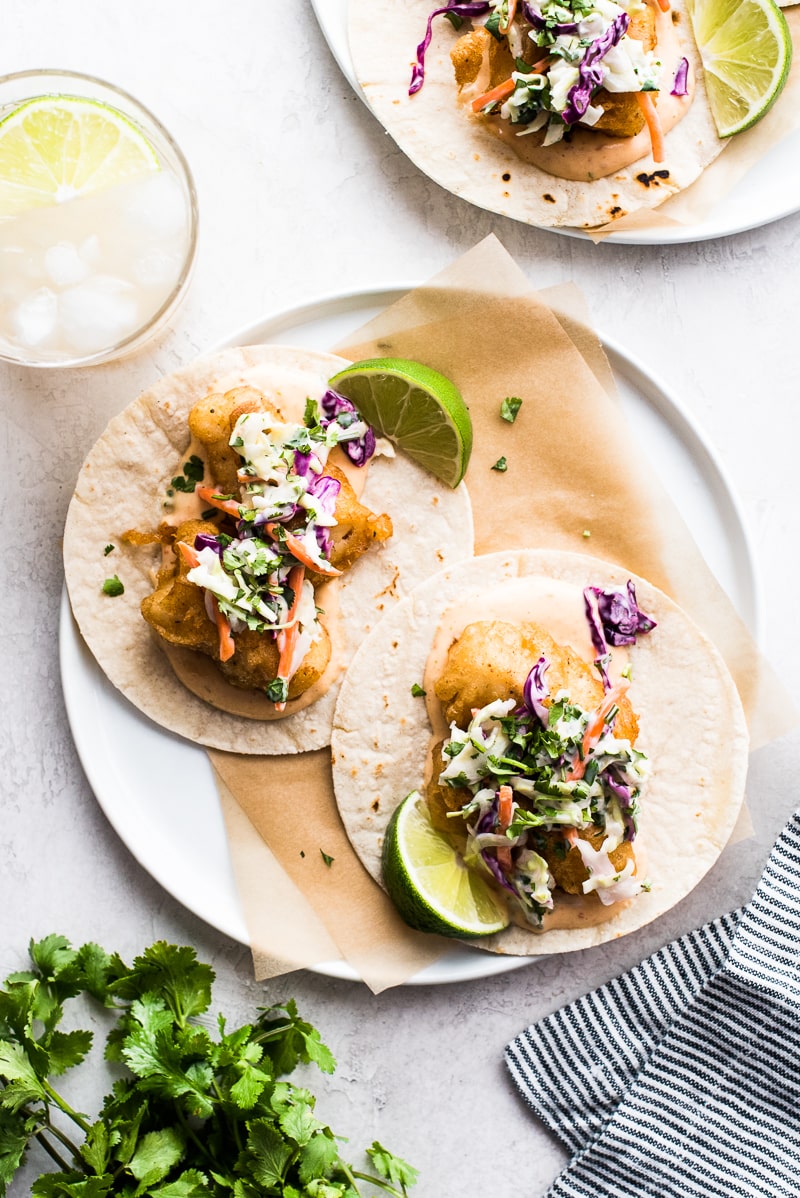 Shop this recipe using the 'Shop Ingredients' button in the recipe card! This post is sponsored by Target.
I'm not exaggerating when I say that these Baja fish tacos are in my personal top 5 recipes that I've ever made. I know it's a big statement, but I'm confident that once you make this recipe, it'll also be in your top 5.
From the chipotle-lime mayo to the beer-battered fish and the creamy slaw, every single component of this recipe is packed with a ton of flavor.
And best of all? Everything is easy to make! While it may seem like there are a lot of steps, don't let that intimidate you. If you can pour and mix ingredients in a bowl, you can make these tacos.
Ingredients
Fish: I used Alaskan Cod, but you can use any firm, mild-flavored fish like halibut or even mahi-mahi.
Beer: Using a Mexican-style beer gives a rich flavor to the batter and helps with the runny texture. You could use a non-alcoholic beer if you prefer.
Seasonings: All of my favorite Mexican seasonings are here to add flavor to the batter, like garlic, chili powder, cumin, and much more.
Tortillas: Pick your favorite – corn or flour tortillas works great in this recipe!
How to Make Baja Fish Tacos
Make the slaw: I kept it super easy by using 8 ounces of store-bought pre-shredded cabbage slaw. Just dump that in a bowl along with some chopped cilantro, mayo, lime juice, and salt. Mix it all up, give it a taste, and add a little more salt or mayo if you prefer. Then cover it and place it in the fridge until it's time to eat.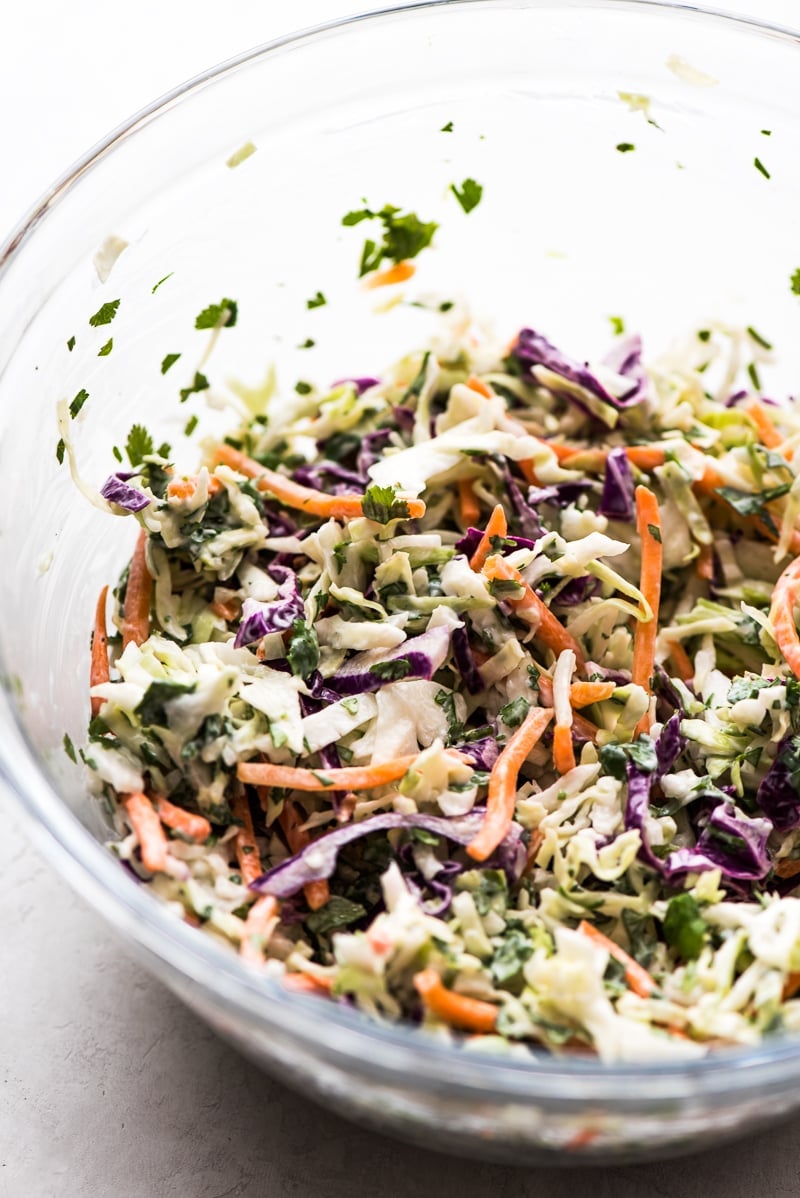 Make the chipotle mayo: Place some mayo, lime zest, lime juice, a chipotle pepper in adobo sauce, and garlic powder in a blender. Pulse until smooth. If you don't want the sauce to be too spicy, I recommend starting with 1/2 a chipotle pepper in adobo sauce, then adding more if you prefer. Cover this and place it in the fridge until it's time to eat.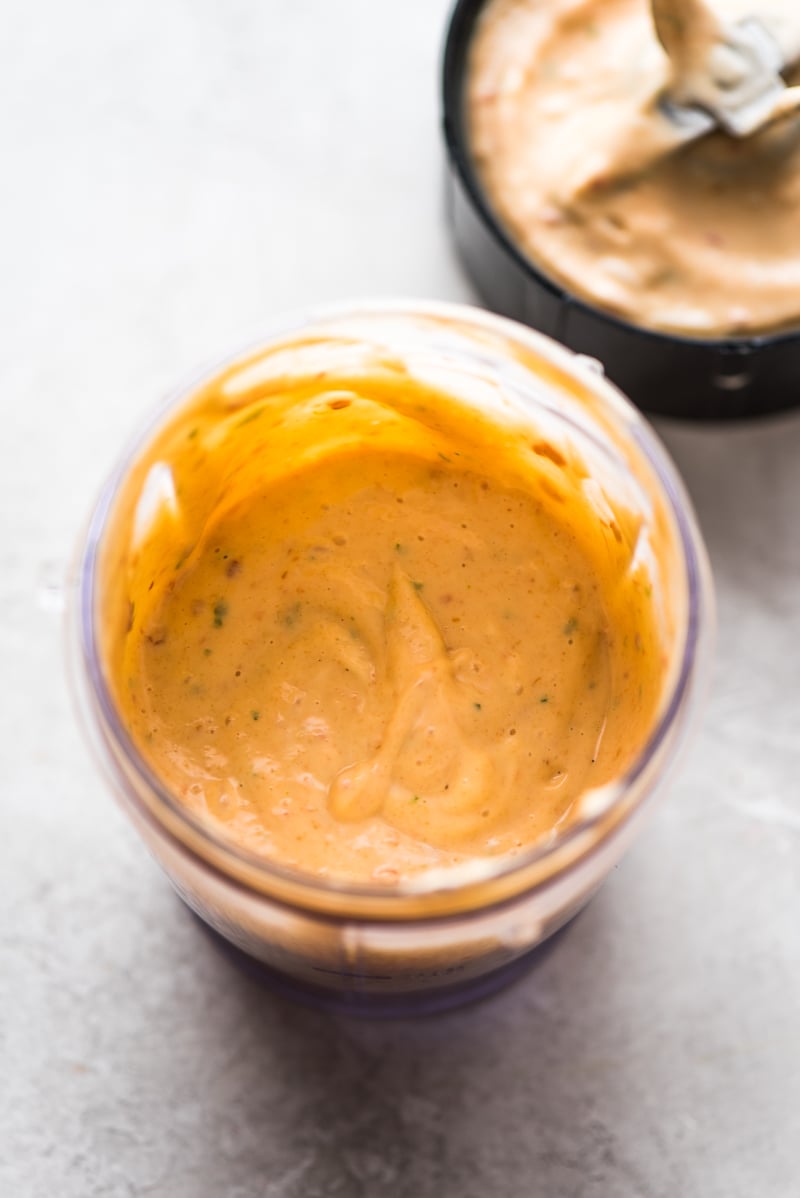 Prepare the fish: To prepare for frying, cut the fish into strips about 1 inch wide and 4 inches long. If you don't want a ruler in your kitchen, roughly the length of your index finger is a good rule of thumb.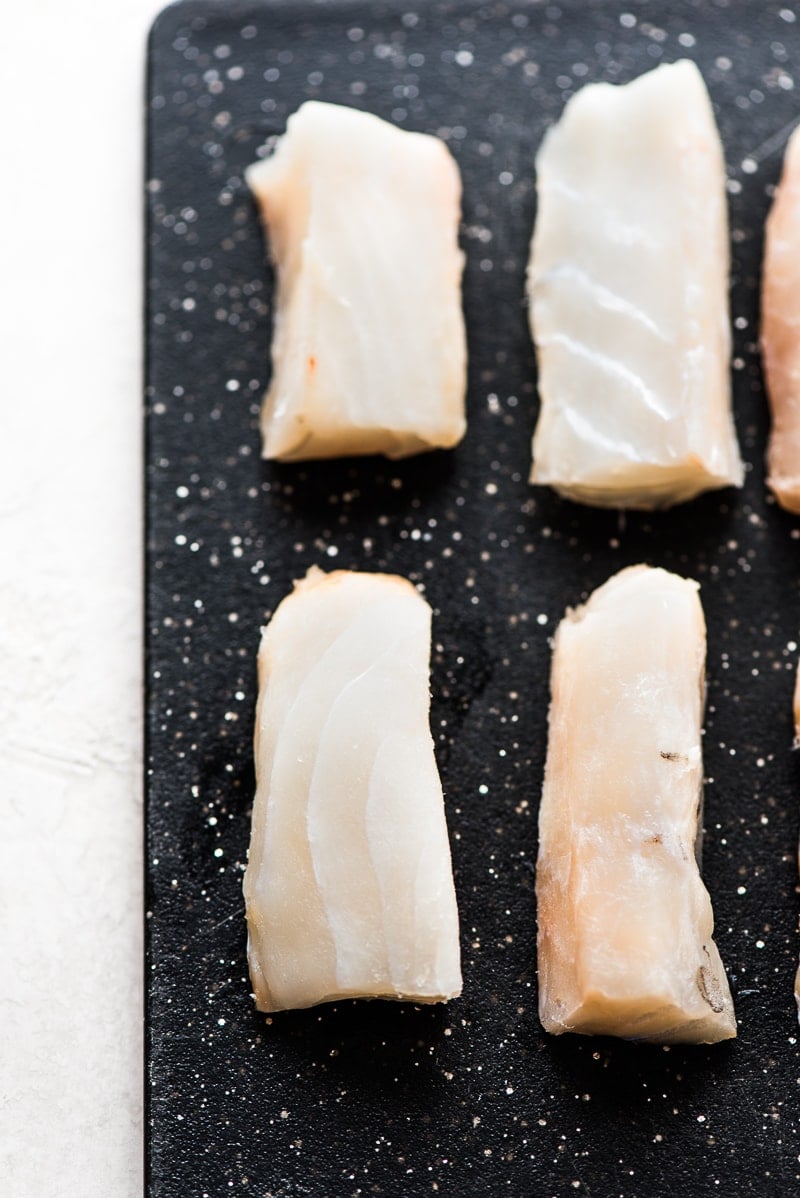 Prepare the frying oil: At this point, I recommend preparing your frying oil and heating it up. You want to oil to be around 350ºF to 360ºF, which you can check with a kitchen thermometer. If you don't have one, I highly recommend you get one! I use my Thermapen almost daily, and it's so worth it. Not only can you get the perfect frying oil temperature when you need it, but no more undercooking meats! It's a lifesaver.
Make the batter and fry: Make the batter by whisking together all the dry ingredients first and then whisking in the beer. Now dip the fish into the batter, shake off any excess, and fry until nice and golden brown. Continue cooking your fish in batches of 4-6 strips, depending on the size of your pan.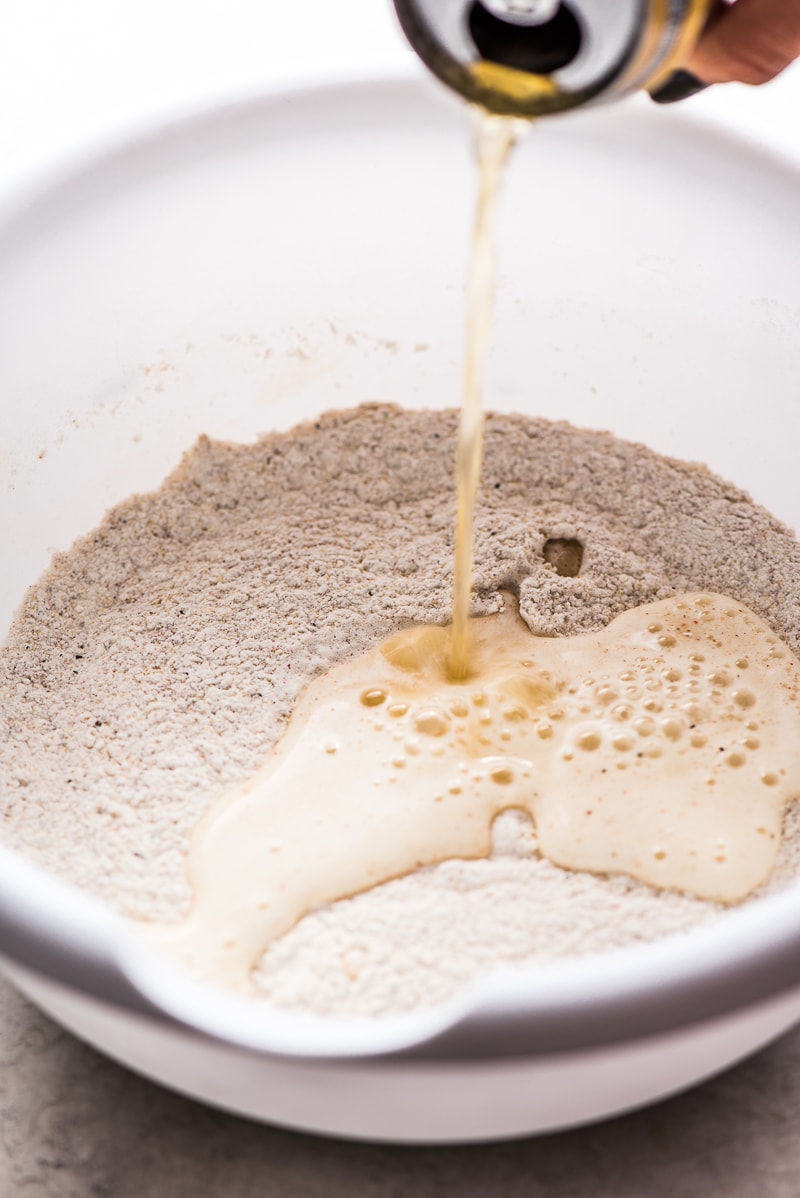 Serve: All that's left to do is assemble the tacos and eat. I like layering the components like this: chipotle mayo on the bottom, fish in the middle, and slaw on top!
Tips
Prepare the beer batter right before you fry the fish. The batter is much lighter and airy this way because the beer is still bubbly and carbonated. The longer the batter sits, the flatter and denser the batter will get.
Use a firm, mild-flavored fish like cod, halibut, or even mahi-mahi. If using frozen fish, make sure to thaw it completely and pat it as dry as you can with some paper towels.
Heat corn tortillas in a skillet or a griddle. I highly recommend heating them in a skillet or a flat griddle over medium-high heat until they develop some toasted brown spots on both sides. Not only does this warm them up, but it also firms them up and helps prevent them from ripping or falling apart.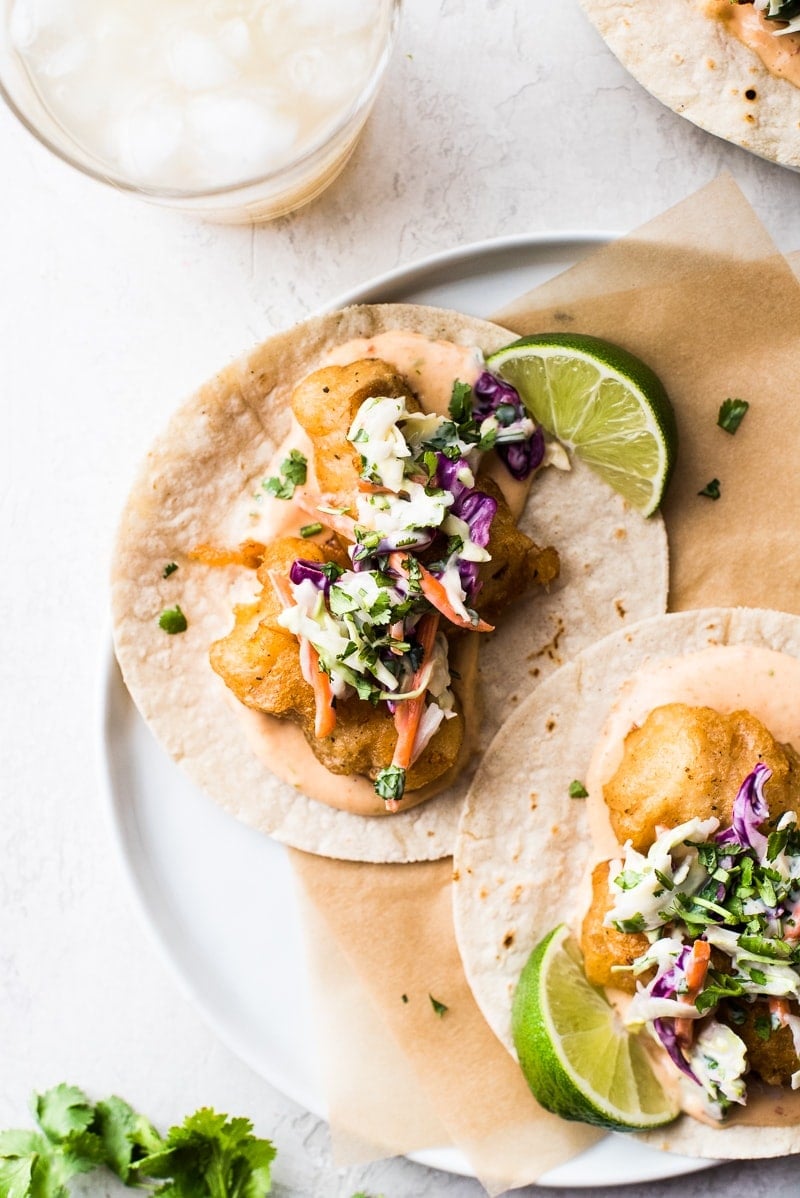 Recommended Tools
Blender: A powerful blender is a must when blending several ingredients to achieve a smooth consistency.
Cast iron skillet: Frying food needs a heavy-duty pan that can hold the heat; this one even has spouts to pour out the oil afterward.
Glass mixing bowl set: Glass bowls are great for storing in the fridge.
Storing and Reheating
To store, place leftover fish in an airtight container in the fridge for up to 4 days.
To reheat, place leftover fish on a baking sheet and heat in a 400ºF oven until hot and crispy, about 5 to 10 minutes.
Easily Shop For Ingredients
I'm always looking for ways to make cooking and preparing food for my family as easy as possible. Some of the things that take up a big chunk of my time are making grocery lists and shopping for recipe ingredients. It can be a lot, especially if you have a big family.
That's why I'm excited to partner with Target to help remove some of that stress by using the new "Shop Ingredients" button that's available on all of my recipe cards, including the one below. Here's a quick screenshot of what that button looks like.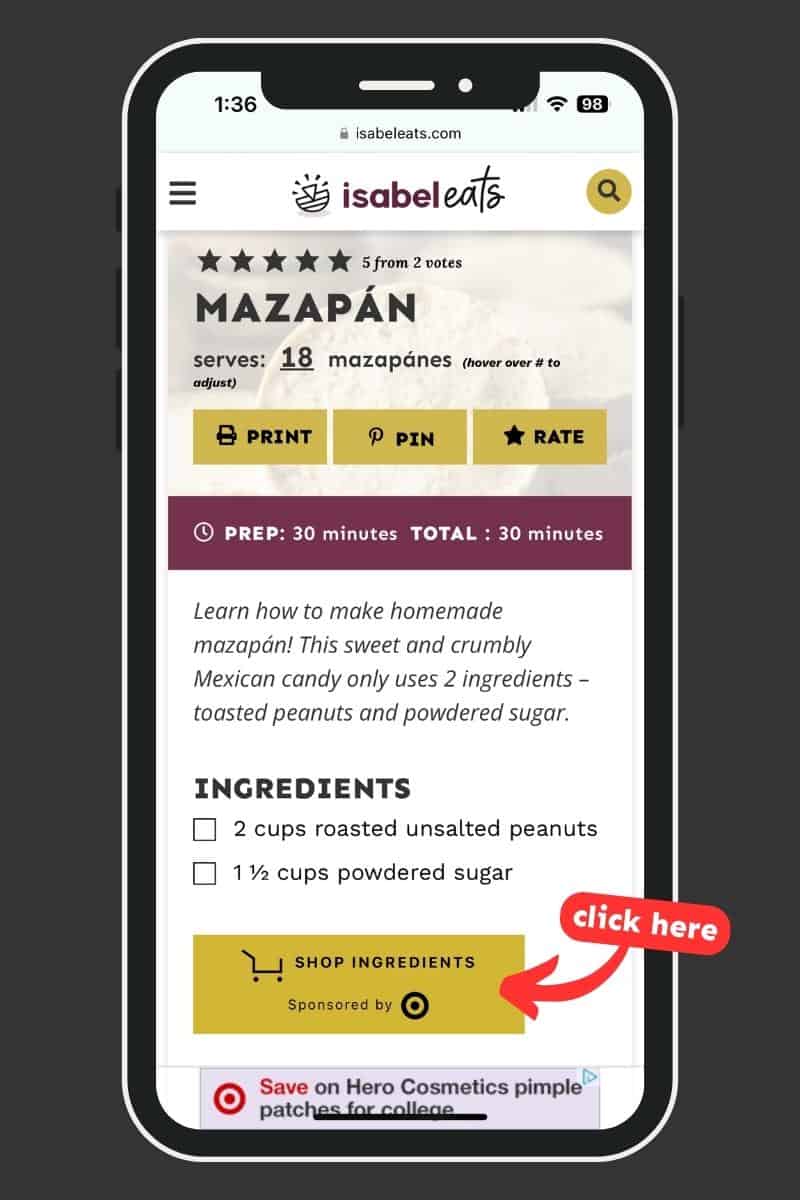 I'm already a big Target shopper (as many of you are), and using this button lets you automatically add the recipe ingredients to your Target shopping cart, where you can order everything for pickup whenever you want.
If you already have some of the recipe ingredients at home, you can easily remove those from your cart or swap specific items if you're looking for a particular brand.
I hope this shoppable recipe feature is as helpful for you as it is for me and my family! If you run into any issues or questions about how to use it, please reach out and send me an email or comment below.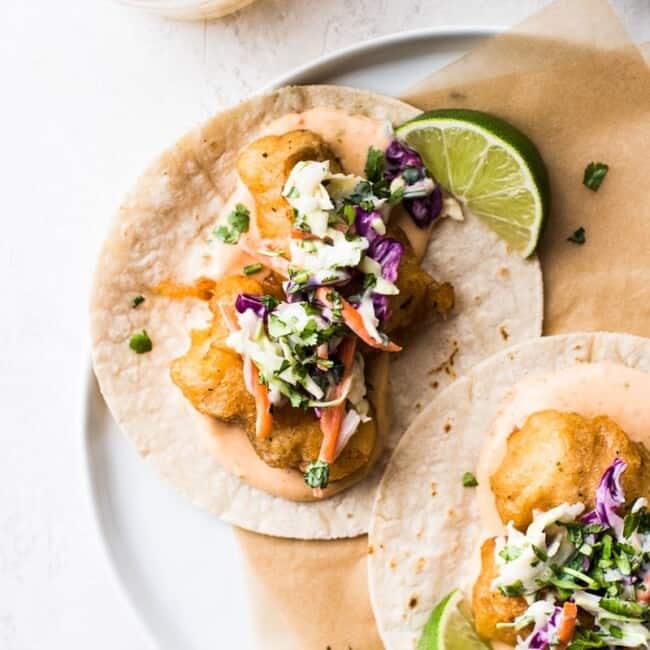 Prep: 35 minutes
Cook: 25 minutes
Total : 1 hour
These Baja fish tacos are filled with tender and crispy fish in warm and soft tortillas with chipotle mayonnaise and creamy cabbage slaw.
Ingredients
Instructions
Add the cabbage slaw, cilantro, mayonnaise, lime juice, and salt in a medium bowl. Toss together until thoroughly mixed. Cover and refrigerate until ready to serve.

Add the mayonnaise, lime zest, lime juice, chipotle pepper in adobe sauce, and garlic powder in a small blender or food processor. Blend until smooth. Cover and refrigerate until ready to serve.

In a large sauté pan or skillet over medium-high heat, add enough oil to reach a depth of ¾-inch. Heat the oil until a thermometer reaches 350ºF.

While the frying oil is heating up, make the batter by adding flour, garlic powder, baking powder, chili powder, salt, cumin, and black pepper in a large bowl. Whisk together to combine. Add beer and whisk together until the batter is smooth.

Working in batches using tongs, dip the strips of fish in the beer batter and coat on both sides. Lightly shake off any excess batter and carefully place it in the hot oil. Fry until golden brown, about 1-2 minutes per side. Transfer to a baking sheet with a rack to drain.

Assemble the tacos by placing a dollop of chipotle mayo on a warm tortilla, followed by a piece or two of fish, then top with cabbage slaw. Serve with lime wedges.
Isabel's Tips:
I prefer using a Mexican-style lager beer, but you can use any beer you have in the fridge, even a non-alcoholic beer. 
Nutrition Information
Serving: 1serving (about 2 tacos) Calories: 672kcal (34%) Carbohydrates: 43g (14%) Protein: 26g (52%) Fat: 44g (68%) Saturated Fat: 5g (25%) Polyunsaturated Fat: 21g Monounsaturated Fat: 16g Trans Fat: 0g Cholesterol: 93mg (31%) Sodium: 791mg (33%) Potassium: 42mg (1%) Fiber: 5g (20%) Sugar: 4g (4%) Vitamin A: 1200IU (24%) Vitamin C: 44.6mg (54%) Calcium: 70mg (7%) Iron: 31.3mg (174%)