This simple and easy guacamole recipe is THE BEST! Ready in only 10 minutes, I serve it with chips, on a salad, in tacos and on toast! (gluten free, dairy free, vegetarian, paleo, vegan)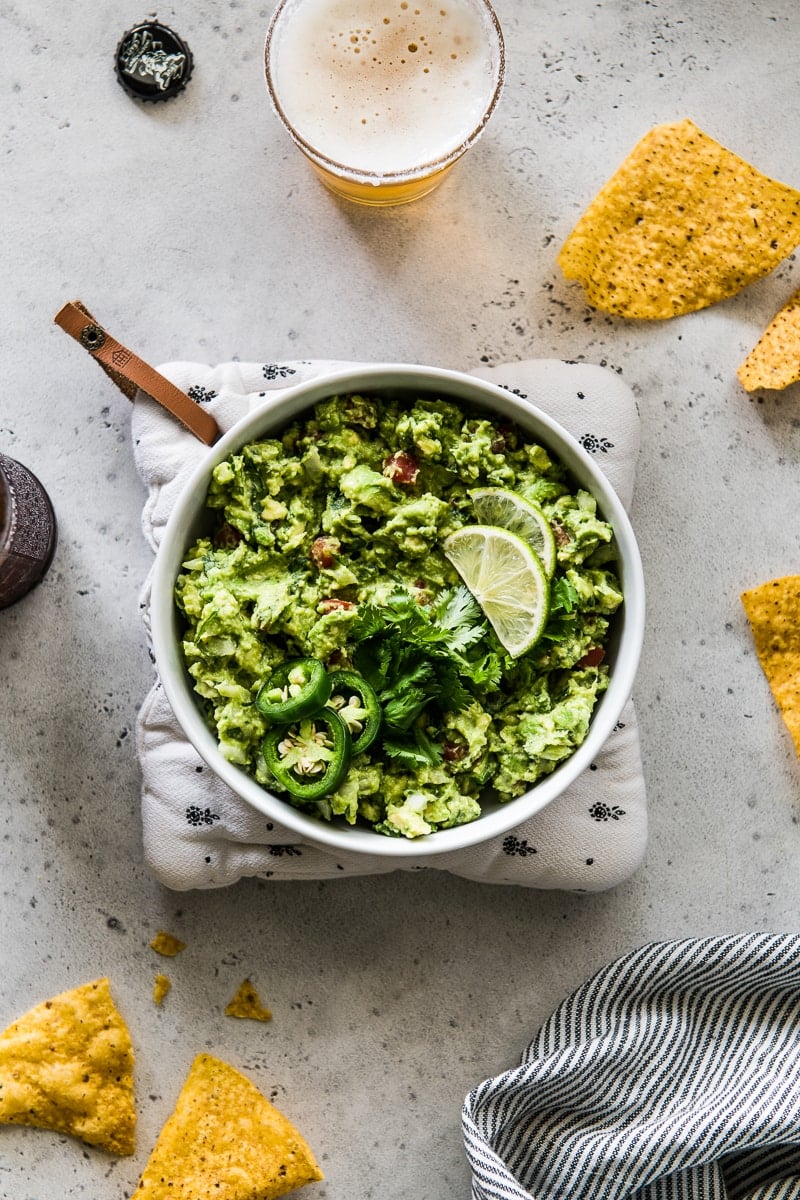 There are so many variations on the simple guacamole recipe, but this one is my personal favorite. Made with the perfect balance of avocados, cilantro, onions, tomatoes, lime juice, salt and jalapeños (if you like it spicy), this guacamole recipe is a must-have in your Mexican cooking arsenal.
From start to finish, this recipe takes 10 minutes to prepare. Maybe even 5 if you have mad chopping and dicing skills.
It can be eaten with so many things, like…
with chips and a margarita (though I say that about a lot of foods)
in tacos and fajitas
on a salad
on toast
on omelets
on a sandwich instead of mayonnaise
with veggies as a dip
And maybe, just maybe, all alone by the spoonful.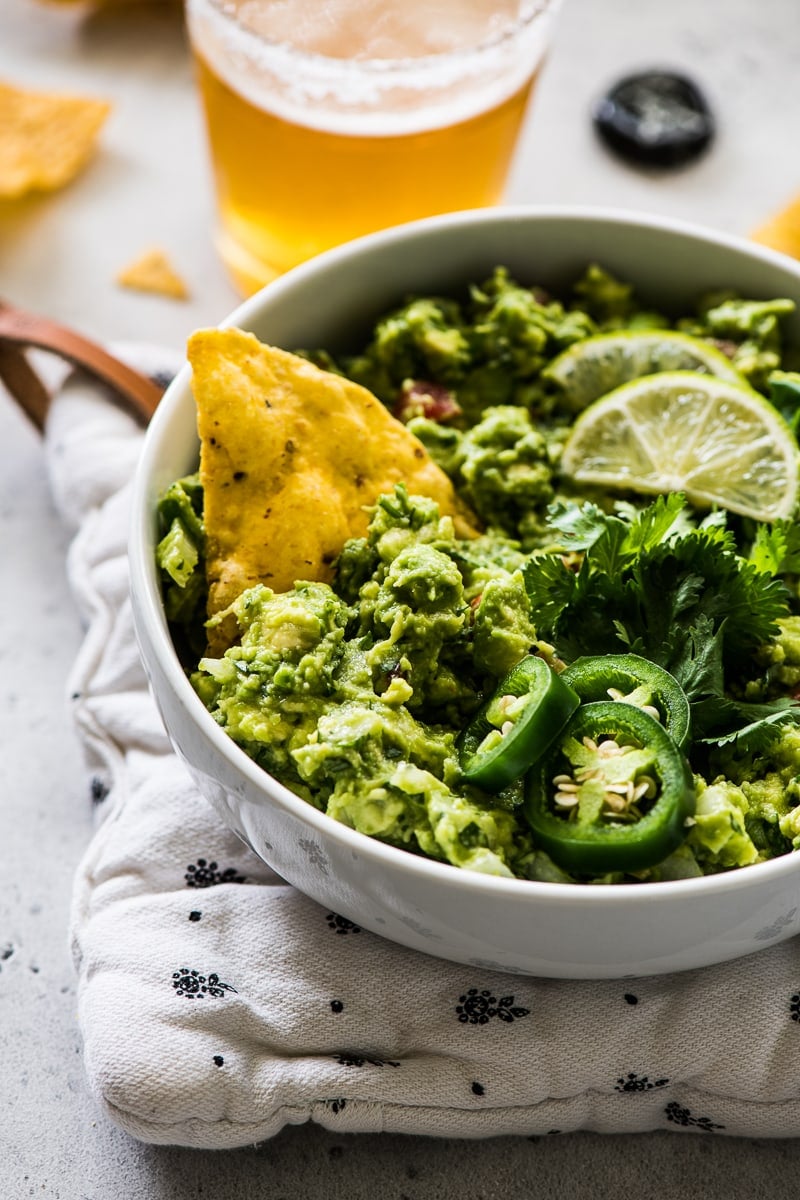 Now let's get to it.
How to make guacamole
Start by cutting the avocados in half and removing the pit with a sharp knife. Then scoop out the fruit using a spoon and put it in a medium mixing bowl.
Next, mash the avocados using a fork or a potato masher like this one. I prefer using a masher because I feel like it's not as messy and gives me a little more control compared to using a fork, but either works just fine.
Last, add in some chopped cilantro, tomatoes, onions, the juice of 1/2 a lime, salt and diced jalapenos if you want it a little spicy. Mix it all together and voila! Done and ready to eat.
Tips for making the best guacamole
Use ripe avocados. Finding perfectly ripe avocados isn't always easy. To make sure your avocado is ripe, it should be a little soft when you give it a squeeze, but still firm. If it's too soft and leaves a big indentation, then it's overripe.
Another way to be sure is to remove the little brown stem at the base. If you're able to remove it easily and the color underneath is green, then there's a good chance it's ripe. If the color underneath is brown, it's likely overripe.
Season generously with salt. Don't be afraid of adding salt. With the creaminess of the avoacdos and the tartness of the lime juice, salt is an absolute must. Start with the suggested amount in the recipe and then taste it to see if it needs more.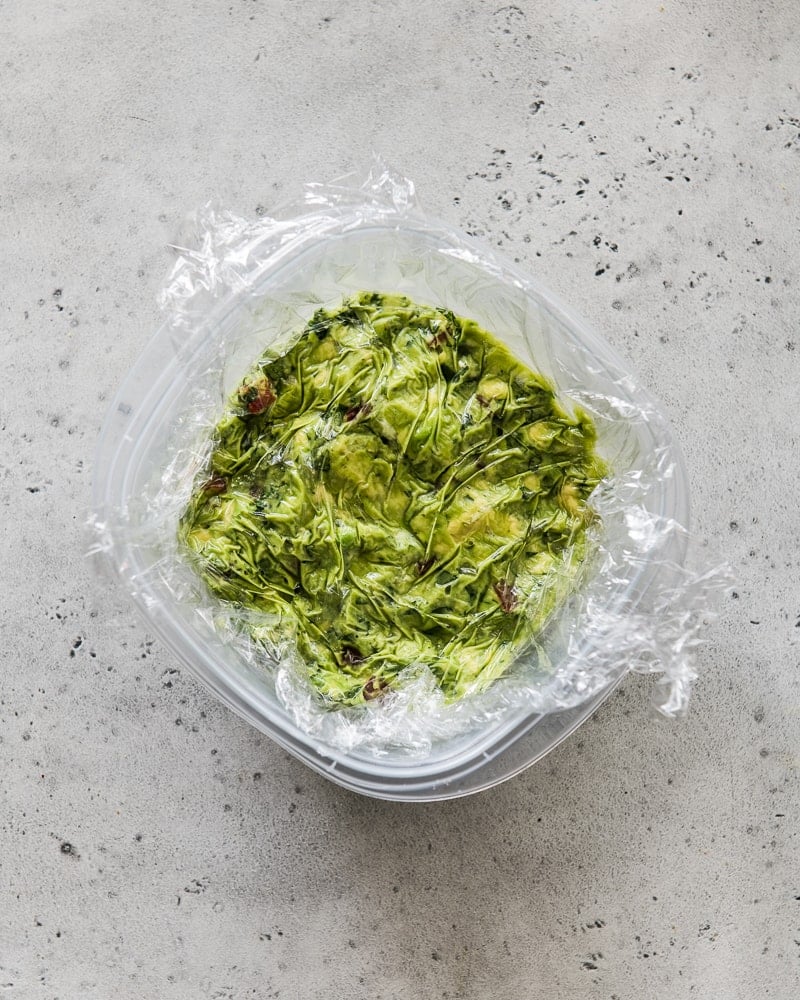 Even though guac is a super easy thing to make, people often have loads of questions. Here are some of the more common ones.
How long will guacamole last in the fridge?
A couple of days, about 2 to 5 depending on how it's being stored.
What's the best way to keep guacamole from browning?
Now this is really the ultimate question. Everyone seems to have their own method, but my personal favorite is to leave the pit in the guacamole, spritz a little more lime juice on top and cover the guac with plastic wrap so that it's actually touching the guacamole and the sides of the storage container. This helps prevent any oxygen from getting in and turning it brown. Then close the container with it's regular top and place it in the fridge.
Kate over at Cookie and Kate has a great tip on how she does it. She recommends placing a large hunk or two of onion over the top of the guac so that it's completely covered. I've also heard of people placing a little bit of olive oil on top and then simply dumping it out when you're ready to eat.
Everyone has their own favorite, so I recommend trying a few different ways and see what works for you!
Can guacamole be frozen?
It depends. I don't recommend freezing guacamole if it contains tomatoes, onions, cilantro and jalapenos. Those ingredients tend to make the guac a little watery when defrosted. No bueno. However, you can successfully freeze it if you leave those things out.
Simply combine the mashed avocados, lime juice and salt with 2 teaspoons of olive oil to help prevent it from browning. Place in a freezer-safe air tight bag and freeze. A day before you're ready to eat it, take it out and let it thaw in the fridge. Then simply mix in the other fresh ingredients to make it tasty!
Like this Mexican recipe? You may also like these!
INGREDIENTS
2

ripe

avocados,

pitted and peeled

1/4

cup

minced cilantro

1/4

cup

diced plum or roma tomatoes

(about 1 large tomato)

1/4

cup

diced white onions

1/2

lime,

juiced

1

teaspoon

salt

1

jalapeno,

seeded and diced (optional)
INSTRUCTIONS
In a medium bowl, add pitted and peeled avocados. Mash using a potato masher or a fork until it's mostly smooth but still has a few chunks.

Add all the remaining ingredients and mix together gently with a spoon.

Taste and season with more salt if necessary.
NOTES
---
Nutrition Facts
Easy Guacamole Recipe
Amount Per Serving (1 /4th of recipe)
Calories 120
Calories from Fat 99
% Daily Value*
Total Fat 11g 17%
Sodium 587mg 24%
Potassium 373mg 11%
Total Carbohydrates 7g 2%
Protein 2g 4%
* Percent Daily Values are based on a 2000 calorie diet.
Did you make this recipe?
Leave a comment below and tag @isabeleats on social media!
This page contains affiliate links. If you make a purchase on Amazon after clicking one of my links, I may receive a small commission. The price of the item stays the same and any money I make goes to supporting this blog. I only endorse products and services that I fully believe in.