Jump to Recipe
This Easy Guacamole Recipe is THE BEST! Ready in only 10 minutes, it's a simple and healthy Mexican classic. Serve it with chips, on a salad, in tacos or on toast! (gluten free, dairy free, vegetarian, paleo, vegan)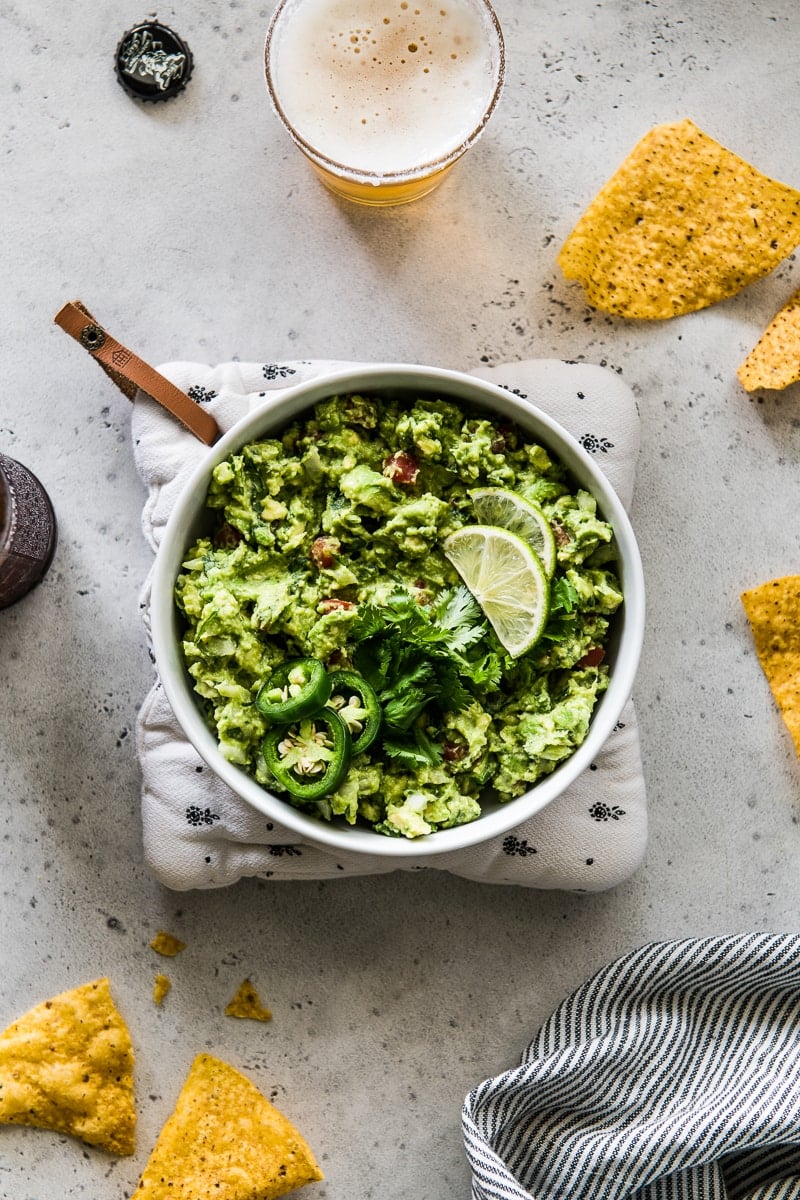 There are so many variations of the simple guacamole recipe, but this one is my personal favorite!
Made with the perfect balance of avocados, cilantro, onions, tomatoes, lime juice, salt and jalapeños (if you like it spicy), this guacamole recipe is a must-have in your Mexican cooking arsenal.
Why this Easy Guacamole Recipe is great
From start to finish, this recipe takes 10 minutes to prepare. Maybe even 5 if you have mad chopping and dicing skills.
It's got classic flavors that are easy to find and come together to make a bright yet creamy dish!
You can eat it with so many things! Like homemade tortilla chips and a classic margarita, in tacos and fajitas, on a salad, on toast, in omelets – the list goes on!
And maybe, if you're like me, you can eat it all alone by the spoonful.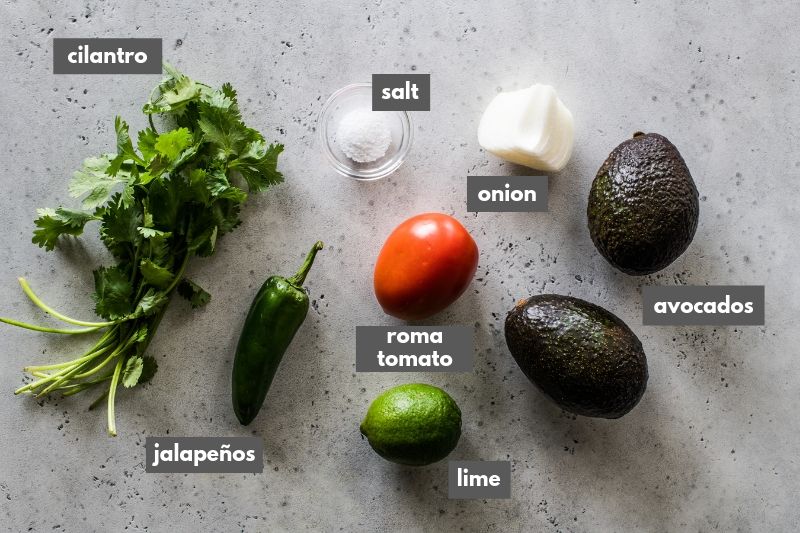 How to make guacamole
Start by cutting the avocados in half and removing the pit with a sharp knife. Then scoop out the fruit using a spoon and put it in a medium mixing bowl.
Next, mash the avocados using a fork or a potato masher like this one. I prefer using a masher because I feel like it's not as messy and gives me a little more control compared to using a fork, but either works just fine.
Last, add in some chopped cilantro, tomatoes, onions, the juice of 1/2 a lime, salt and diced jalapeno peppers if you want it a little spicy. Mix it all together and voila! Done and ready to eat.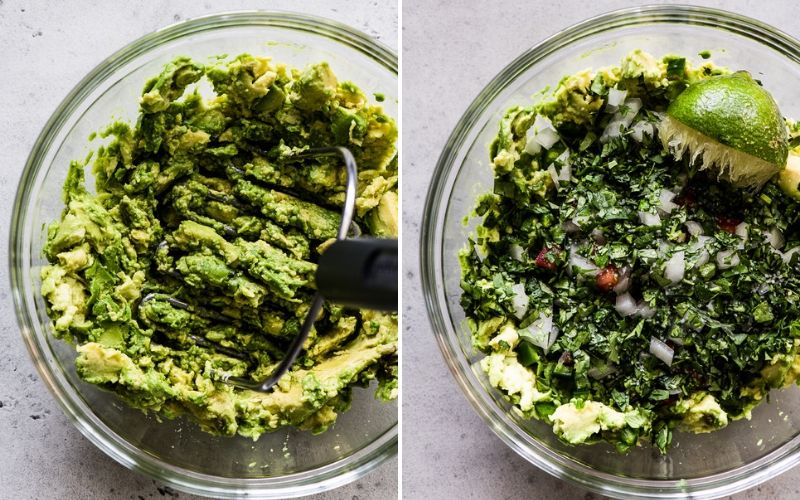 Tips for making the best guacamole
Use ripe avocados. To make sure your avocado is ripe, it should be a little soft when you give it a squeeze, but still firm. If it's too soft and leaves a big indentation, then it's overripe. You can also remove the little brown stem at the base to check. If you're able to remove it easily and the color underneath is green, then there's a good chance it's ripe. If the color underneath is brown, it's likely overripe.
Season generously with salt. Don't be afraid of adding salt. Start with the suggested amount in the recipe and then taste it to see if it needs more.
If you have people who don't like the bite of an onion, use a food processor to finely mince the onion. The flavor will still be there but it will be less pronounced.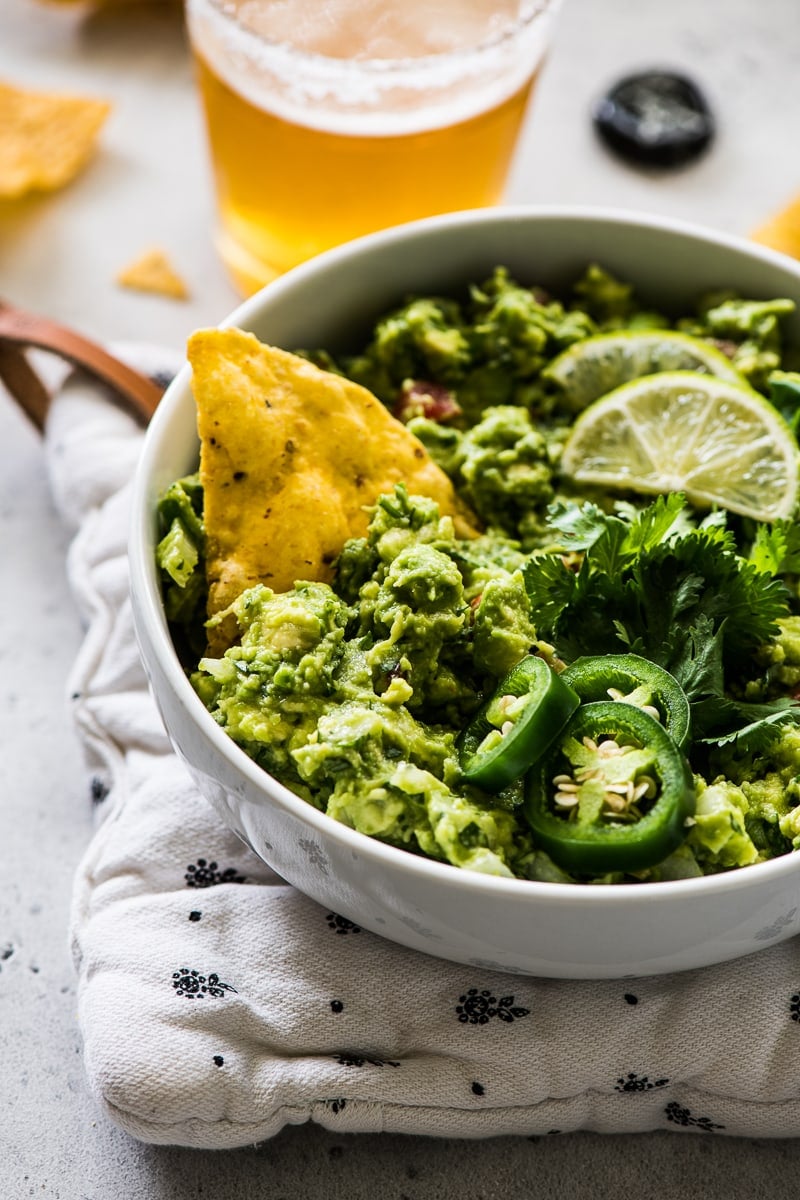 Tasty Guacamole Variations
Top with cotija cheese for a the ultimate delicious salty Mexican bite!
Add a bit of honey (about a tablespoon) to give the guacamole a little hint of sweetness.
Try red onions instead of white to add even more color to the dish.
Use a shallot instead of an onion. Shallots are typically milder than regular onions and lack the bite.
Don't like tomatoes in your guac? That's okay! Some people prefer their guacamole without tomatoes. Simply leave it out.
Frequently Asked Questions
Even though guac is a super easy thing to make, people often have loads of questions. Here are some of the more common ones.
How long will guacamole last in the fridge?
A couple of days, about 2 to 5 depending on how it's being stored.
What's the best way to keep guacamole from browning?
Everyone seems to have their own method, but my personal favorite is to spritz a little more lime juice on top and cover the guac with plastic wrap so that it's touching the guacamole and the sides of the storage container (see photo below). This helps prevent any oxygen from getting in and turning it brown. Then place the lid on the container and place it in the fridge.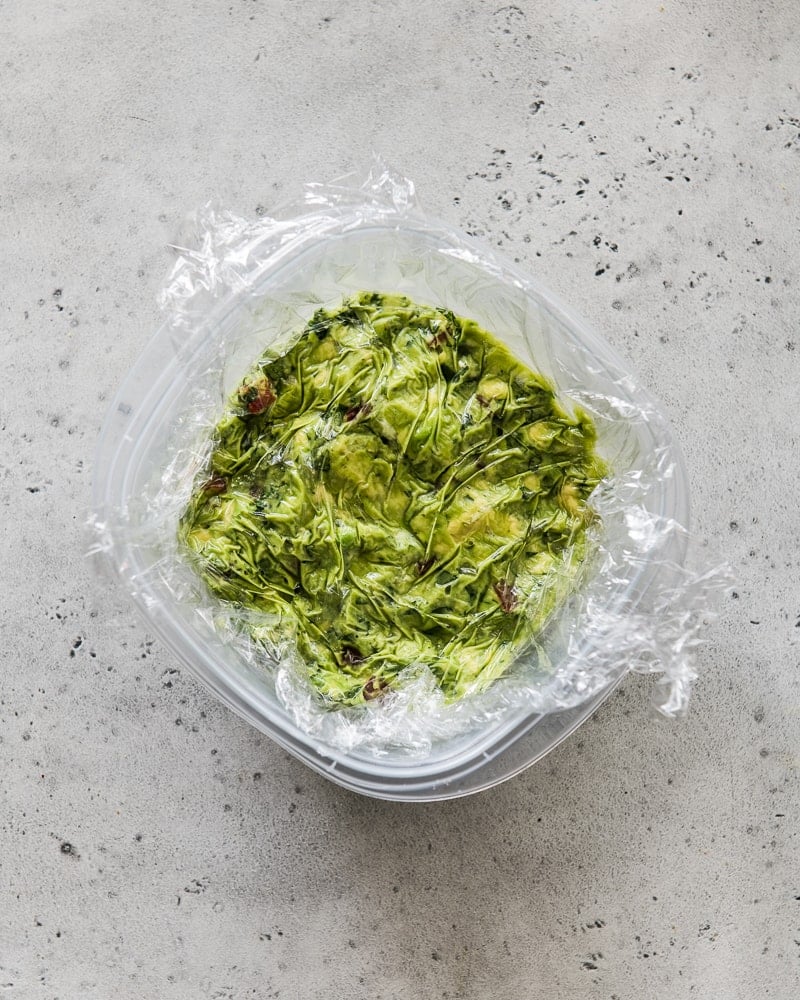 Can guacamole be frozen?
It depends. I don't recommend freezing guacamole if it contains tomatoes, onions, cilantro and jalapenos. Those ingredients tend to make the guac a little watery when defrosted, which is no bueno. However, you can successfully freeze it if you leave those things out.
Simply combine the mashed avocados, lime juice and salt with 2 teaspoons of olive oil to help prevent it from browning. Place in a freezer-safe air tight bag and freeze. A day before you're ready to eat it, take it out and let it thaw in the fridge. Then simply mix in the other fresh ingredients to make it tasty!
More Mexican recipes to try
I hope you love this recipe – be sure to give it a review below! To get more easy Mexican recipes delivered straight to your inbox, sign up for my email newsletter. You can also follow Isabel Eats on Facebook,  Instagram and Pinterest!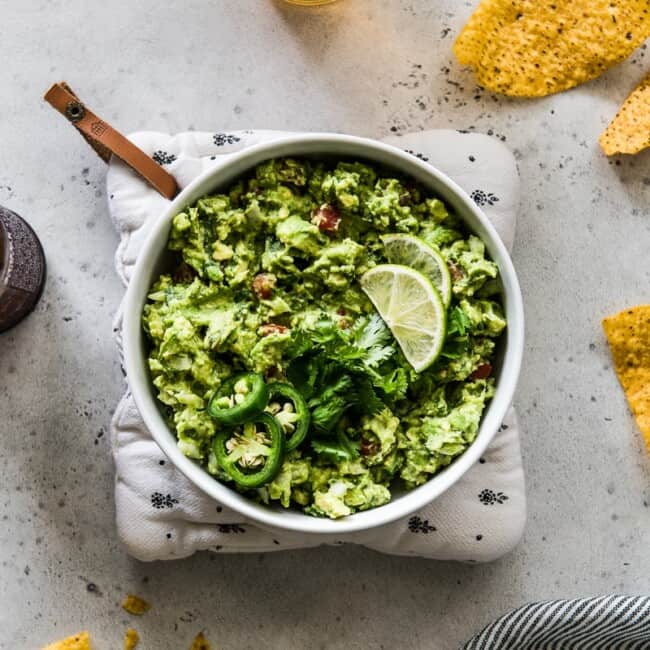 Prep: 10 minutes
Total : 10 minutes
This Easy Guacamole Recipe is THE BEST! Ready in only 10 minutes, it's a simple and healthy Mexican classic. Serve it with chips, on a salad, in tacos or on toast! (gluten free, dairy free, vegetarian, paleo, vegan)
Ingredients
2 ripe avocados, pitted and peeled
1/4 cup minced cilantro
1/4 cup diced roma tomatoes (about 1 large tomato)
1/4 cup diced white onions
1/2 lime, juiced
1 jalapeno, diced (optional)
1 teaspoon salt, plus more to taste
Instructions
In a medium bowl, add avocados. Mash using a potato masher or a fork until it's mostly smooth but still has a few chunks.

Add all the remaining ingredients and mix together gently with a spoon.

Taste and season with more salt if necessary.
Isabel's Tips:
To store and keep the guacamole from browning, transfer the guac to an airtight container with a lid and spritz a little more lime juice on top. Cover the guac with plastic wrap so that it's touching the guacamole and the sides of the storage container (see photo in the blog post for reference). This helps prevent any oxygen from getting in and turning it brown. Then place the lid on the container and place it in the fridge.
Nutrition Information
Serving: 1/4th of recipe Calories: 120kcal (6%) Carbohydrates: 7g (2%) Protein: 2g (4%) Fat: 11g (17%) Saturated Fat: 2g (10%) Polyunsaturated Fat: 1g Monounsaturated Fat: 7g Sodium: 587mg (24%) Potassium: 373mg (11%) Fiber: 5g (20%) Sugar: 1g (1%) Vitamin A: 150IU (3%) Vitamin C: 12.4mg (15%) Calcium: 10mg (1%) Iron: 0.4mg (2%)