Jump to Recipe
Camarones al Mojo de Ajo (Mexican Garlic Shrimp) cooked in a garlic and butter sauce, and seasoned with fresh lime and herbs. Serve over rice, in tacos, or on tostadas for an easy and quick dinner recipe!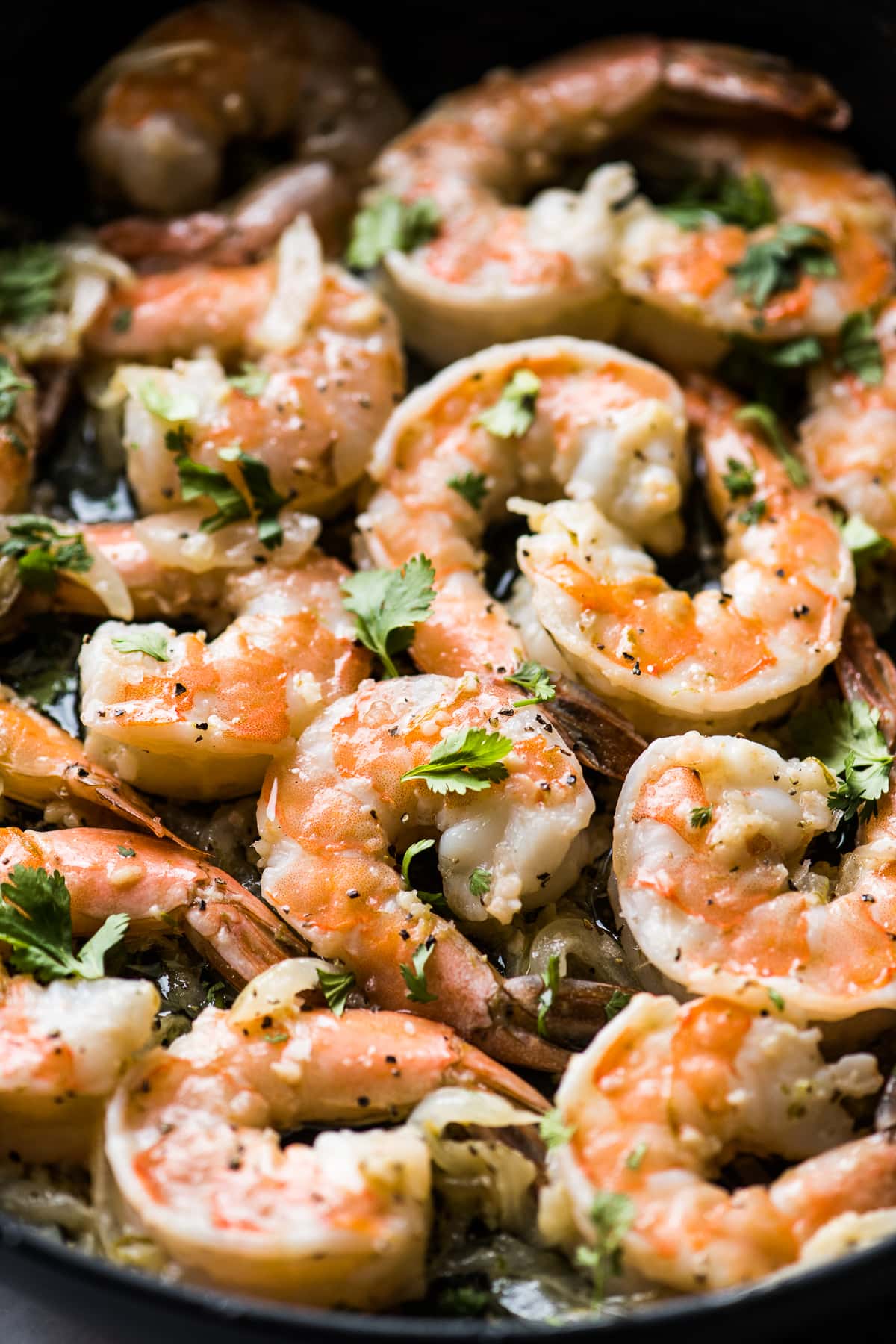 If you're looking to make a quick and easy recipe that's bursting with flavor, then this Camarones al Mojo de Ajo (Mexican Garlic Shrimp) is for you!
The shrimp are cooked in a luxurious garlic and butter sauce that's rich and succulent, yet bright and light thanks to the addition of lime zest and lime juice.
It's ready from start to finish in only 22 minutes, it's made with just 8 simple ingredients and can be served on its own or as a protein in many dishes.
I found myself licking my fingers many times the first time I made this recipe because the sauce is just that good!
What is camarones al mojo de ajo?
Camarones al mojo de ajo translates to "shrimp in garlic sauce" in English. Similar to a shrimp scampi, the fresh shrimp are cooked in a butter and garlic sauce that's brightened with a touch of acid from a lime or lemon. Instead of being served with pasta, camarones al mojo de ajo is typically served with rice, on tostadas, or with fresh tortillas.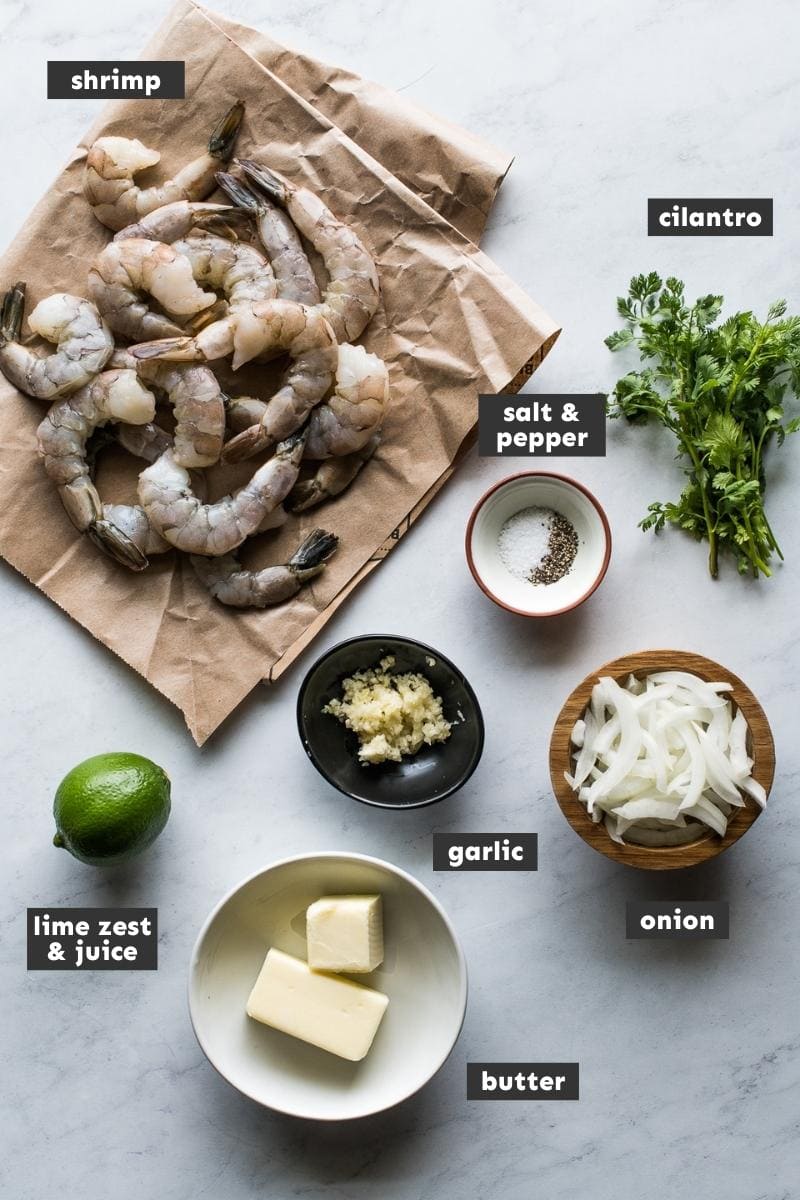 ingredients in Camarones Al Mojo de Ajo
Shrimp – You can use frozen or fresh shrimp for this recipe, but fresh is always best. I prefer jumbo shrimp, but any size will work. Smaller shrimp will cook faster.
Butter – This gives the garlic sauce that rich buttery flavor that makes this dish amazing!
Garlic – One of the stars of this dish! When the sauteed garlic comes together with the butter and lime, you have the most succulent and tender garlic butter shrimp.
Onion – Some thinly sliced onion is cooked in the butter and garlic sauce to add even more depth of flavor. It also soaks in a lot of the sauce during the cooking process, making each bite of onion burst with buttery flavor!
Lime – You'll use the zest and the juice to add a fresh pop of acidity in each bite.
Cilantro – Gives the shrimp a fresh herb taste that cuts through the garlic and butter. Feel free to use parsley here if you prefer.
Salt and black pepper – The two simple ingredients are the only spices you need. They really help the butter and garlic shine.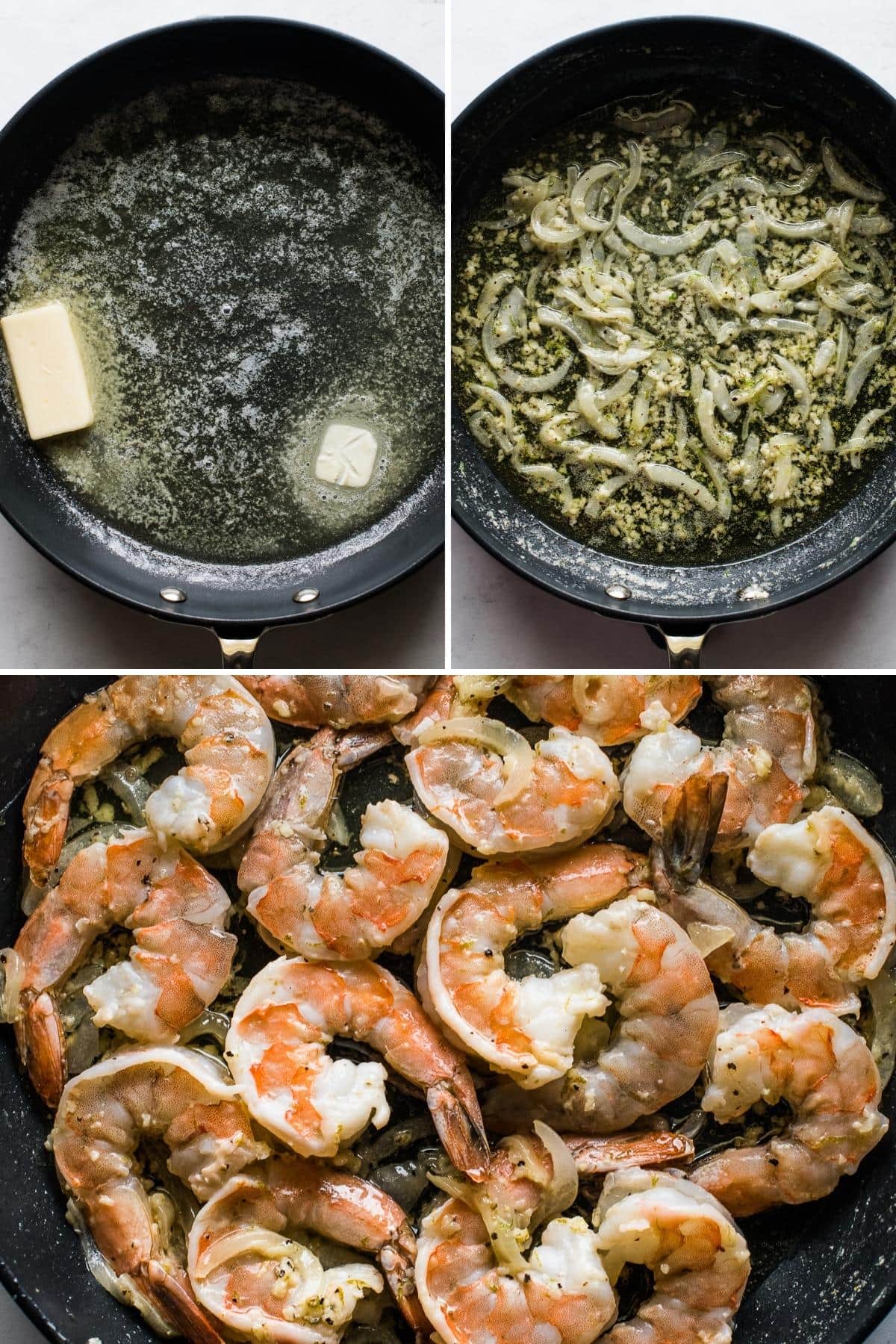 How to make camarones al mojo de ajo
Get your skillet nice and hot over medium heat, then add the butter. Toss in the onion, salt, and pepper and saute for 2 minutes.
Add the garlic and cook until fragrant and the onion is translucent, about 3 more minutes.
Add the lime zest and lime juice, and cook for 2 more minutes to really incorporate those flavors into the butter sauce.
Add the shrimp and saute until they just turn pink on both sides. This should only take about 3 minutes.
Remove the pan from the heat, garnish with cilantro, and serve immediately.
Tips and substitutions
If you're using frozen shrimp, make sure they are completely thawed before using them. I also recommend patting them dry with a few paper towels to remove any excess moisture.
Don't like shrimp? The flavors are still delicious whether you make this recipe with thinly sliced chicken breast or a different kind of seafood like halibut or scallops.
Looking for more spice? Add a pinch of cayenne pepper and paprika to the mix.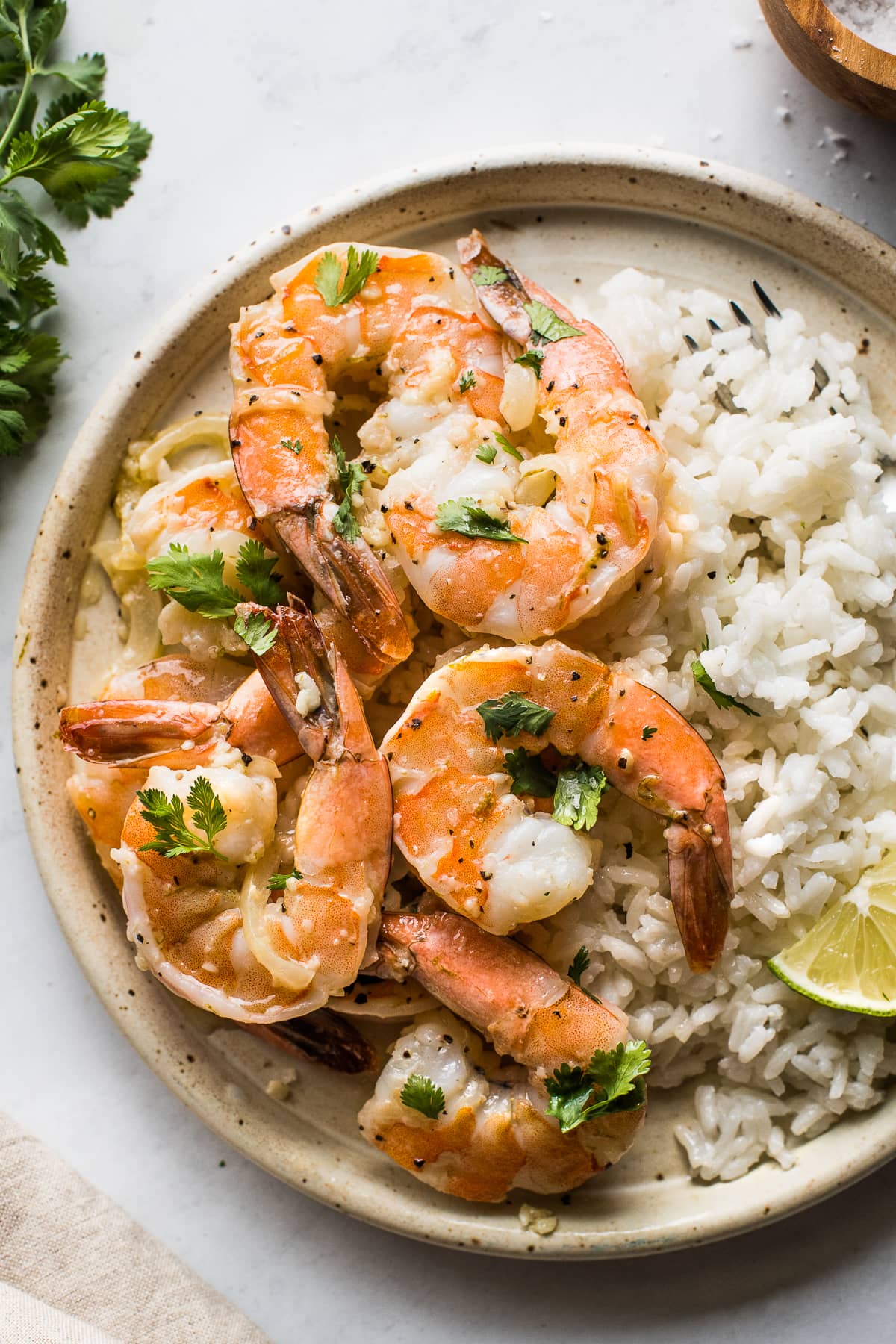 What to serve with Mexican garlic shrimp
This succulent and tender shrimp is delicious over a serving of simple white rice or with some tortilla chips. Here are some more serving suggestions: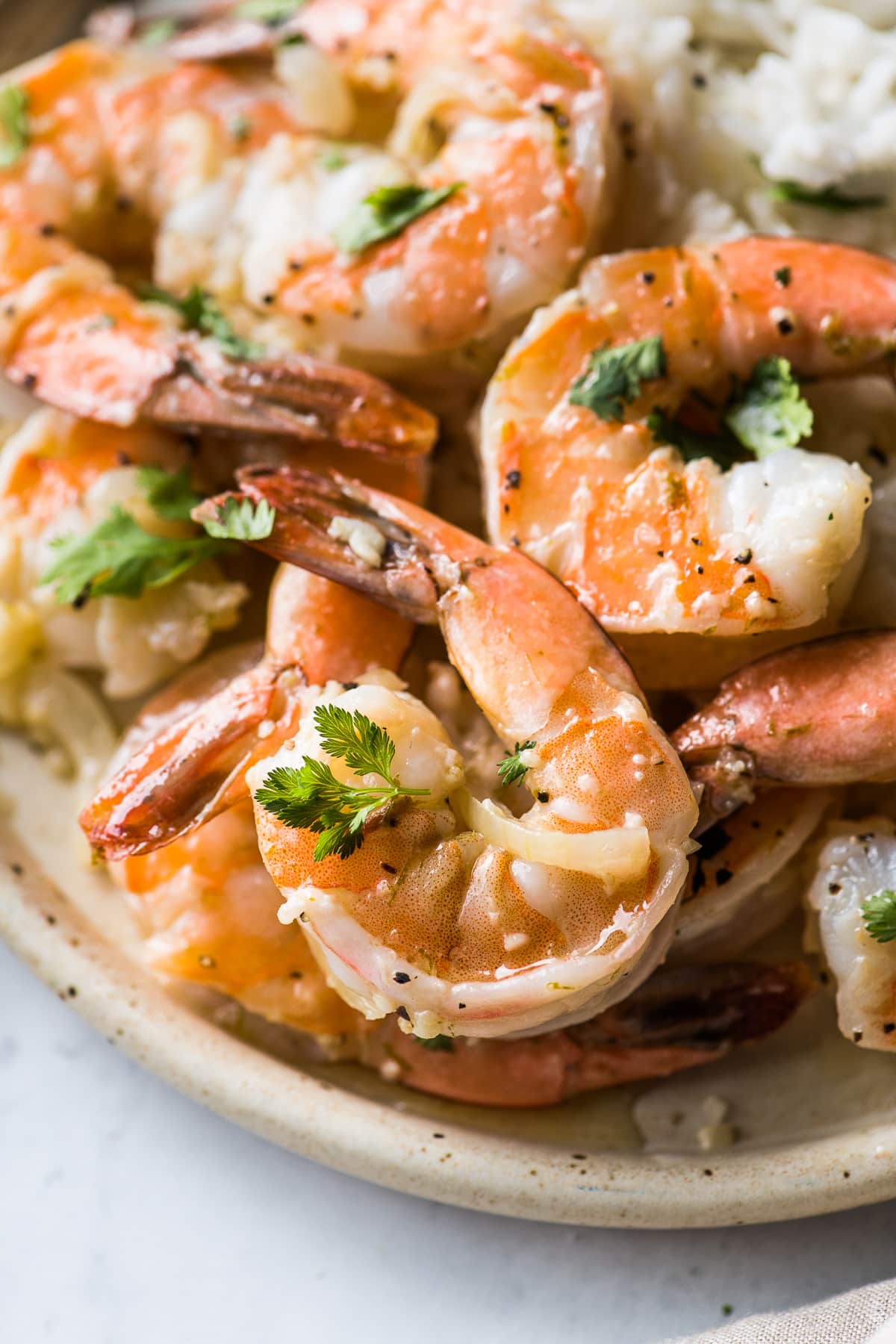 Storage and Reheating
To store, keep the shrimp in a sealed airtight container in the fridge for 1 or 2 days.
This seafood recipe is best when eaten immediately, but if you have some leftovers that need to be reheated, then you can reheat it in the microwave until just heated through, about 1 minute or so. Try not to overheat it or the shrimp may become tough and chewy.
Prep: 10 minutes
Cook: 12 minutes
Total : 22 minutes
Camarones al Mojo de Ajo (Mexican Garlic Shrimp) cooked in garlic butter and seasoned with lime and herbs. An easy and quick dinner recipe!
Ingredients
6 tablespoons unsalted butter
1/4 medium onion, thinly sliced
1/2 teaspoon kosher salt
1/4 teaspoon freshly ground black pepper
6 cloves garlic, minced
1 lime, zested
1/2 lime, juiced
1 pound jumbo shrimp, peeled and deveined
1/2 teaspoon chopped cilantro
Instructions
Heat the butter in a large skillet over medium heat until it fully melts.

Add the onion, salt, and black pepper. Cook for 2 minutes, stirring occasionally.

Add the garlic and cook for 3 more minutes, stirring frequently until the garlic is fragrant and the onion becomes translucent.

Add the lime zest and lime juice. Cook for 2 more minutes, stirring occasionally.

Raise the heat to medium-high and add the shrimp. Cook for 3-4 minutes, flipping the shrimp halfway through, until the shrimp turns pink and is just cooked.

Remove from heat, garnish with cilantro, and serve immediately.
Nutrition Information
Serving: 1serving Calories: 248kcal (12%) Carbohydrates: 6g (2%) Protein: 16g (32%) Fat: 18g (28%) Saturated Fat: 11g (55%) Polyunsaturated Fat: 1g Monounsaturated Fat: 5g Trans Fat: 1g Cholesterol: 188mg (63%) Sodium: 936mg (39%) Potassium: 189mg (5%) Fiber: 1g (4%) Sugar: 1g (1%) Vitamin A: 744IU (15%) Vitamin C: 9mg (11%) Calcium: 85mg (9%) Iron: 1mg (6%)