How to make authentic Mexican corn tortillas with only 3 ingredients! This recipe is easy to make and perfect for taco night!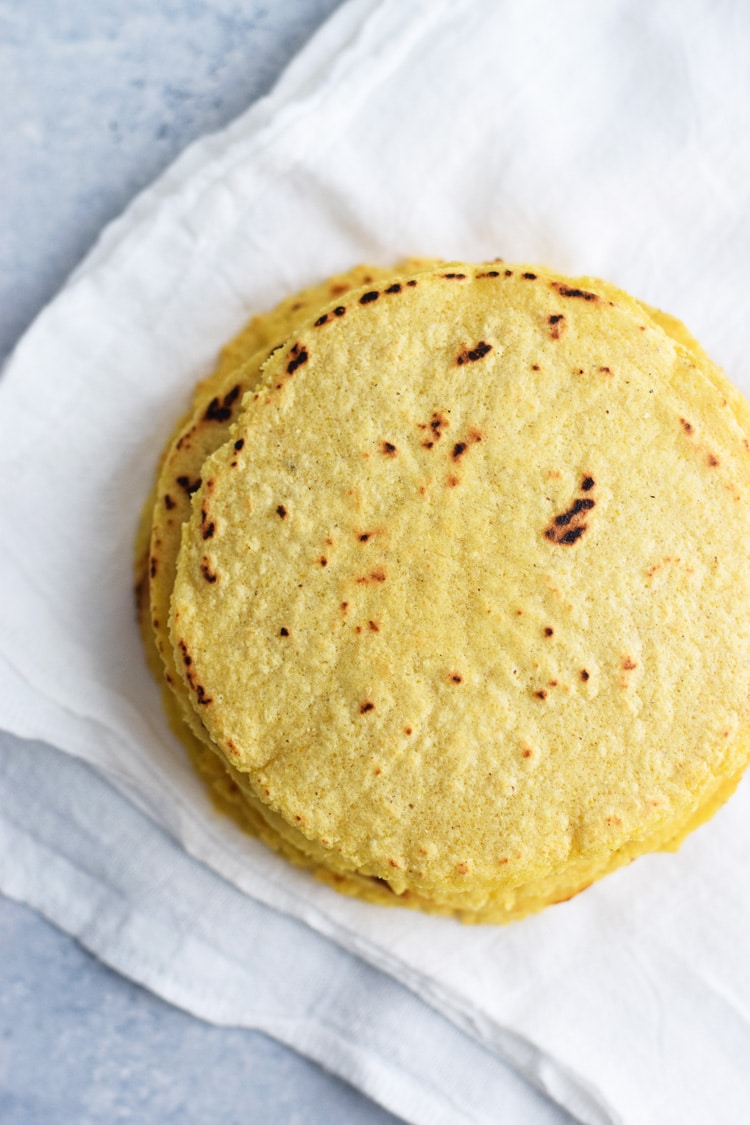 There are a handful of foods that my family eats every. single. day. Beans are one. Peppers are another. And…surprise! Corn tortillas make the list.
Homemade corn tortillas are one of my favorite foods ever. They're extremely versatile and can be eaten in so many different ways – as a taco, a quesadilla, fried or baked to make homemade tortilla chips or a simple side used to soak up delicious saucy dishes like pork chile verde.
They're way better than store bought corn tortillas, are pretty healthy (depending on how many you eat, of course) and are a great gluten-free option for those that can't have flour tortillas.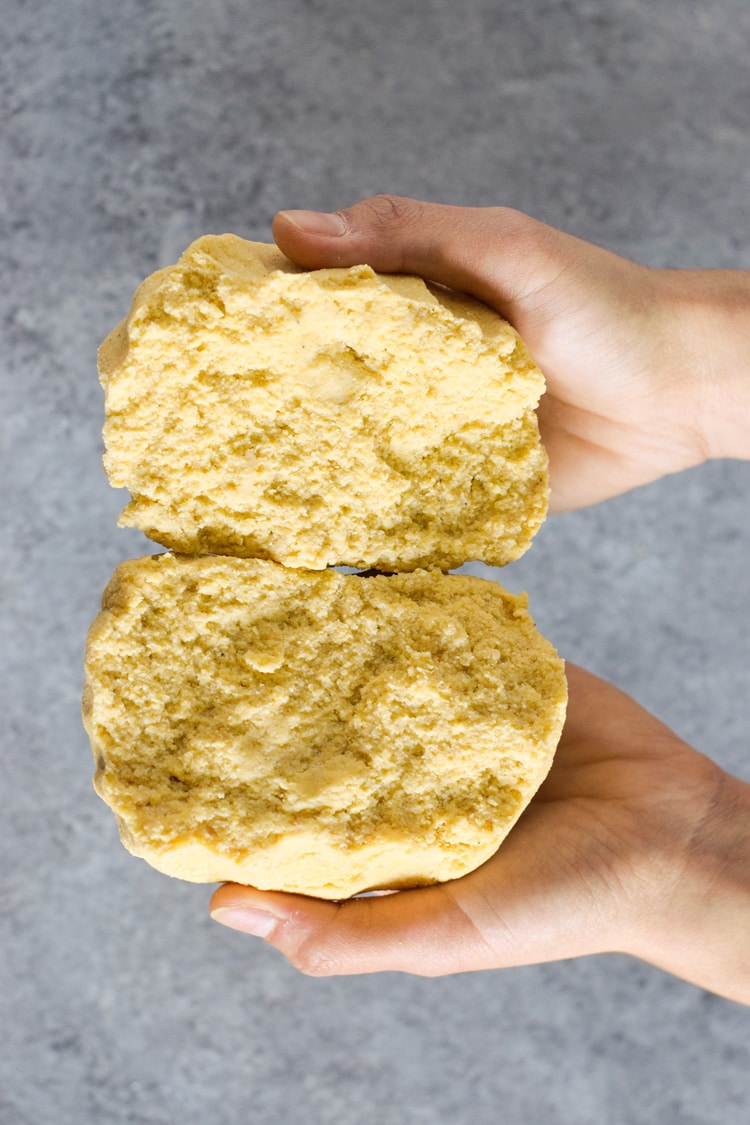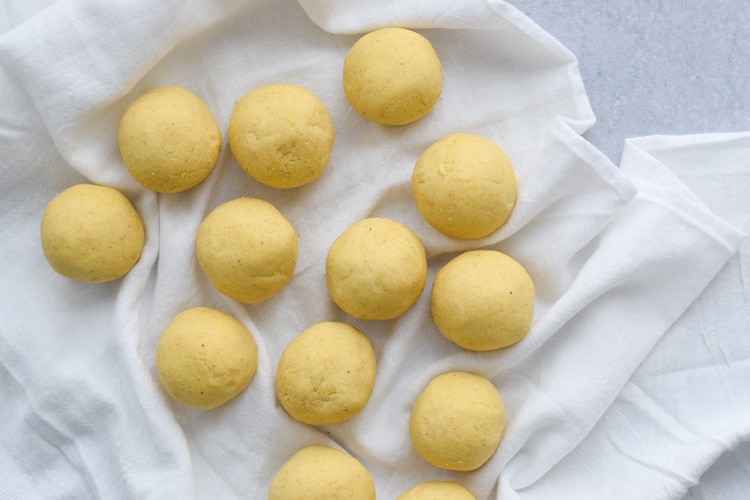 The first thing you need in order to make corn tortillas at home is masa harina.
Masa harina is a special corn flour made up of just two things – ground up corn and lime. Because the corn is treated and processed differently, corn meal or regular corn flour cannot be substituted for masa harina.
Masa harina can be found in the ethnic food aisle of larger grocery stores or sometimes next to all the other flours in the baking aisle. If you can't find it in those areas, you may want to take a look at the gluten-free section of your grocery store.
If all else fails and you simply can't find masa harina in your local area, you can always find it on Amazon. I personally use Bob's Red Mill masa harina because they're a reputable brand that I trust, but there are others out there as well. Larger grocery chains sometimes carry MASECA brand and Quaker even has it's own masa harina.
Once you've got the masa harina, it's time to make the tortillas.




Making corn tortillas is super easy, especially if you have a tortilla press. I found mine online. Here's one I have and recommend from Amazon – IMUSA cast iron tortilla press.
How to use a tortilla press
Place a sheet of plastic wrap, parchment or wax paper over your open tortilla press. (If you don't have any of the above, you can still improvise! In the photos above, I actually used a large gallon-size plastic freezer bag that I cut open. Nifty.)
Place the ball of masa harina into the center of one side of the tortilla press.
Close the tortilla press and flatten the masa harina in between the plastic wrap.
Open the tortilla press and gently remove the tortilla from the plastic wrap.
Cook on a griddle or large frying pan and eat up!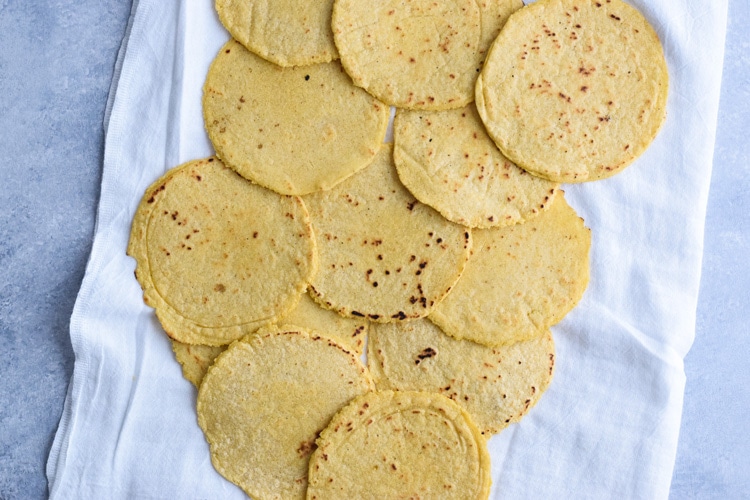 If you don't have a tortilla press, another option is to use a rolling pin like this one. I personally don't like using a rolling pin when making corn tortillas because the dough is much more moist than your normal flour dough. It's a different consistency and can get messy (and frustrating) very quickly. But if it's all you've got, you can try to work with it.
If you use a rolling pin, make sure to roll the masa as evenly as possible in between two sheets of wax or parchment paper. Pay special attention to distributing your weight evenly onto the rolling pin when rolling out the tortillas as they can become too thin on one side and then difficult to peel off of the parchment or wax paper.
If all else fails and you don't have a tortilla press or a rolling pin and just can't wait to make this recipe, I have been known to use a wine bottle as a substitute. 😉
How to make authentic Mexican corn tortillas
One of the biggest reasons that corn tortillas hold such a special place in my heart is because they remind me of family. I can close my eyes and just picture my mom and dad making a batch of corn tortillas to eat with a bowl of frijoles and chile topped with queso fresco.
To this day, tortillas are a staple at my parents house and I always have some when I visit. It's like a big warm hug from my family.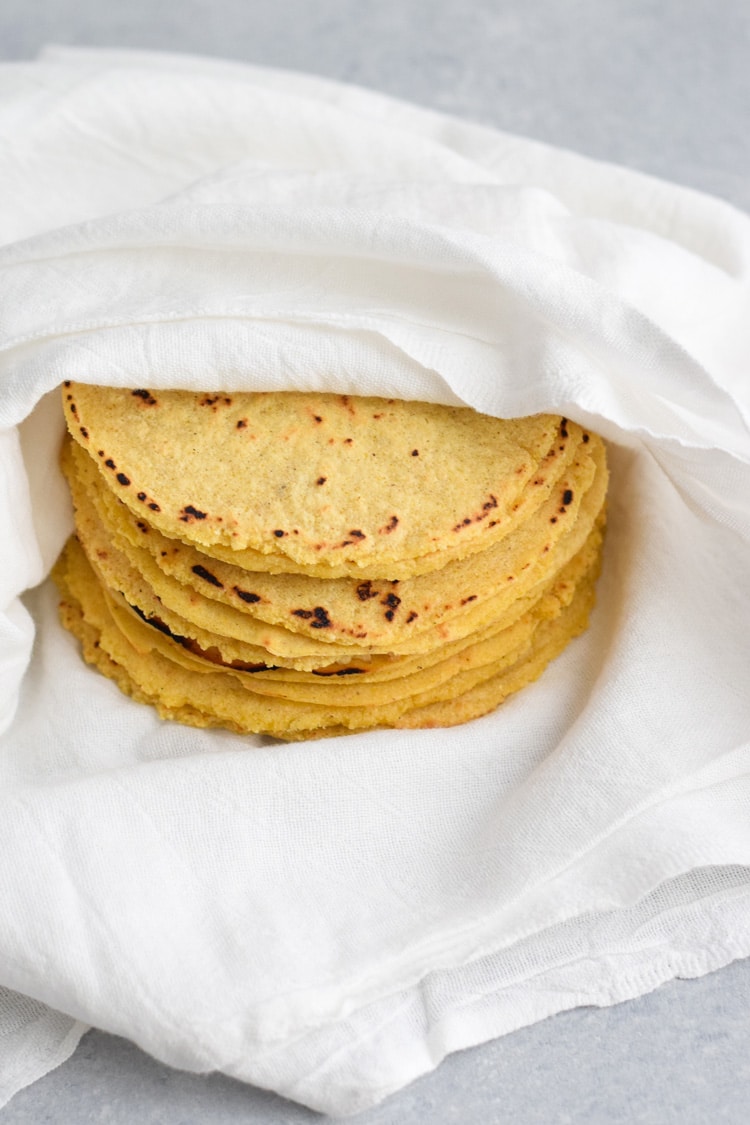 If you like this recipe, be sure to check out my recipe for Authentic Mexican Flour Tortillas (White & Whole Wheat Versions).
Or maybe you're looking for some tortilla fillings? Take a look at these recipes:
INGREDIENTS
2

cups

masa harina

1 1/2

cups

hot water,

plus more if necessary

1/2

teaspoon

sea salt
INSTRUCTIONS
In a large bowl, mix salt and masa harina together.

Pour 1 1/2 cups of hot water into the dough and mix with a spoon or your hand to form a big ball. The dough should be firm and springy when touched, not dry or super sticky. If the mixture is too dry and it needs some more water, add it in small amounts until dough is the right consistency.

Cover the bowl with a cloth napkin and let the dough rest for about an hour.

Preheat a griddle or large frying pan on medium-high heat.

Pinch off a golf-ball sized piece of masa harina and form it into a ball by rolling it in a circular motion in the palm of your hand.

Put the masa ball in between two pieces of plastic wrap, parchment or wax paper and flatten it using the tortilla press.

Gently remove the flattened masa from the plastic wrap and cook on the hot griddle for about 30 seconds to 1 minute, depending on how hot the surface of the griddle is. You want the tortilla to have beautiful brown marks.

Flip the tortilla over and cook on the other side for 30 seconds to about 1 minute. The tortilla may start to puff up in the middle, That's okay!

Remove the tortilla and place it between a cloth napkin or a

tortilla warmer

to keep it warm.

Repeat steps 5-9 until all the dough is gone.
NOTES
If you don't have a tortilla press, you can use a rolling pin to flatten the masa dough in between two sheets of wax or parchment paper.
To keep tortillas warm and pliable when serving:
Place tortillas inside a tortilla warmer
like this
or wrap them in a clean kitchen towel and place them inside a large gallon-sized plastic storage bag to help them retain heat and moisture.
Storage:
Fresh corn tortillas can be stored in a plastic storage bag in the fridge for up to 7 to 10 days.
Reheating:
Reheat corn tortillas in a skillet or griddle over high heat until fully warmed through. To reheat in the microwave, wrap corn tortillas in a damp paper towel and place on a plate. Microwave on high in 10-second increments until fully warmed through.
---
Nutrition Facts
3-Ingredient Authentic Mexican Corn Tortillas
Amount Per Serving (1 tortilla)
Calories 67
Calories from Fat 9
% Daily Value*
Total Fat 1g 2%
Total Carbohydrates 14g 5%
Protein 1g 2%
* Percent Daily Values are based on a 2000 calorie diet.
Did you make this recipe?
Leave a comment below and tag @isabeleats on social media!
This page contains affiliate links. If you make a purchase on Amazon after clicking one of my links, I may receive a small commission. The price of the item stays the same and any money I make goes to supporting this blog. I only endorse products and services that I fully believe in.