Jump to Recipe
This healthy Brussels Sprouts Slaw with Cabbage and Apples is the perfect side dish for any meal. Also goes great on tacos! (gluten free, paleo, vegetarian, vegan)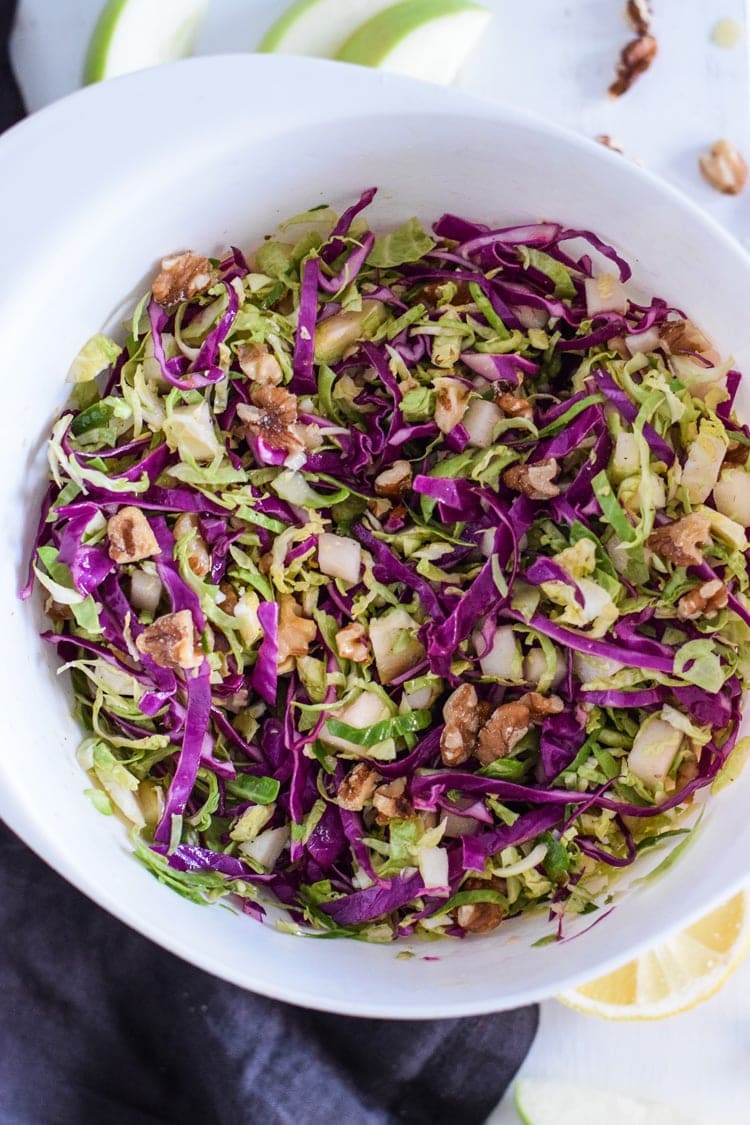 I have a confession to make: I need a little crunch in my life. With the cold weather not letting up, my slow cooker and stock pot have taken over the kitchen. And whether I'd like to admit it or not, the nice thing about making slow cooked soups and stews is that it requires minimal effort, which is perfect because I've been pretty lazy in the kitchen during the week.
The slow cooking process can sometimes make veggies and other ingredients overly soft and sometimes mushy if overcooked. Don't get me wrong – all the slow cooked soups and stews are tasty and flavorful, but I'm craving a little variety. I need some crunch.
What better way to fully experience the crunch factor than making a slaw? Today I'm sharing with you a recipe for healthy brussels sprouts slaw with cabbage and apples served with a lemon-dijon vinaigrette and chopped walnuts.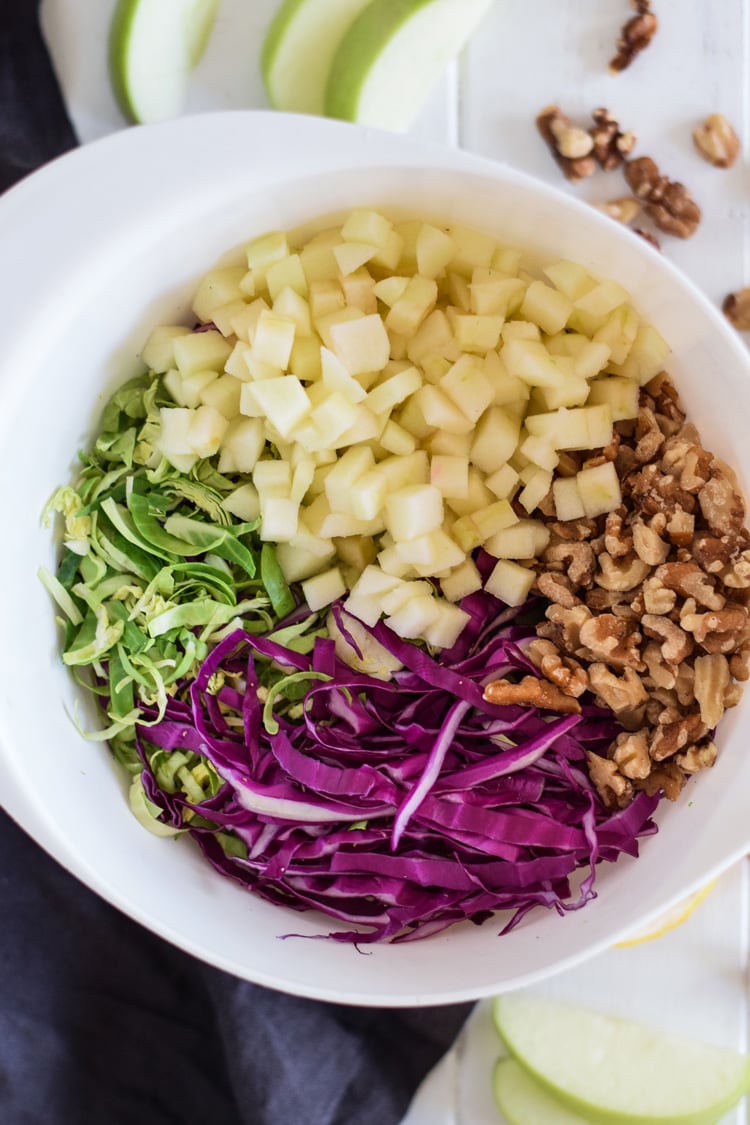 Let me toot my own horn for a bit – this is seriously the perfect side dish. You've got your Brussels sprouts, Granny Smith apples and walnuts, all topped with an easy lemon-dijon vinaigrette made with honey and Dijon mustard.
It goes perfectly with any protein and is great as a topping on tacos to help add some brightness and crunch. Here are some taco recipes that would be go great with this slaw.
If you're looking to save some time, many grocery stores like Trader Joe's, Whole Foods and even your local grocery store carry bags of pre-shredded Brussels sprouts and pre-shredded bags of red/green cabbage. They definitely come in handy when you're in a pinch. And while I haven't found a great substitute for the lemon-dijon vinaigrette, there are many dressings that could work really well with this slaw. Some of the flavors and brands I recommend are:
Annie's brand can be found in many grocery stores and even larger stores like Target. I've only been able to find Tessemae's brand at Whole Foods (in the refrigerated section).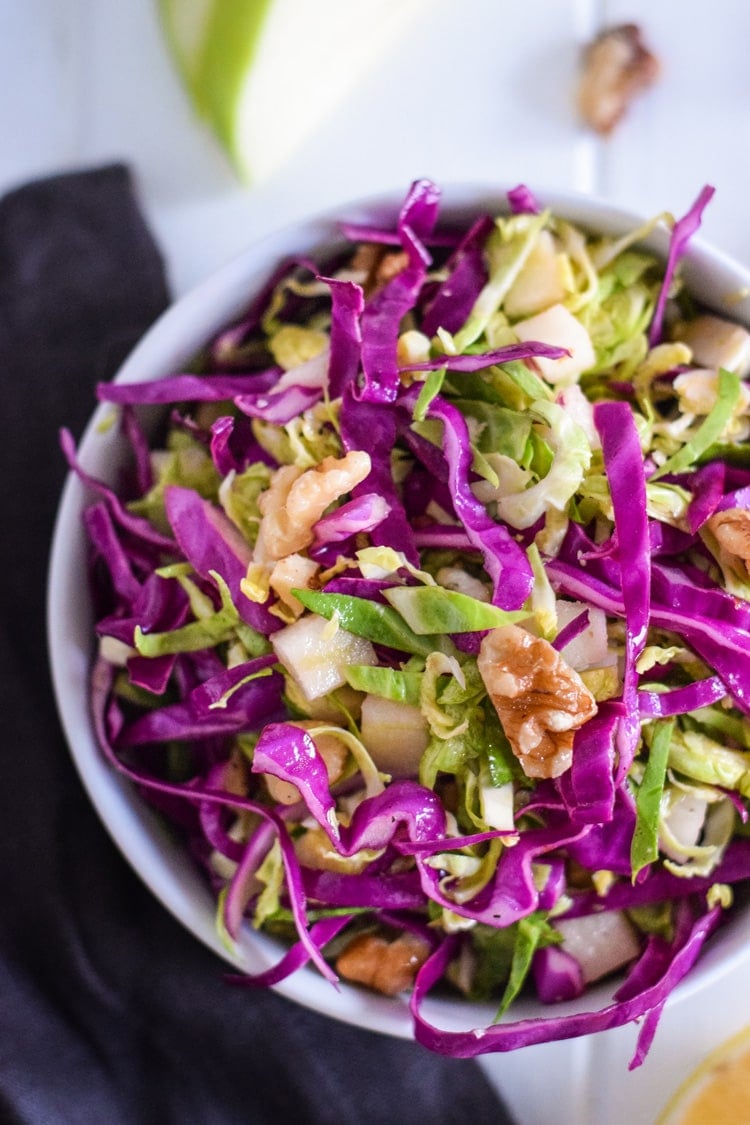 The best part of this dish is how well it holds up in the fridge. The toughness of the shredded Brussels sprouts and red cabbage lend themselves very well to leftovers or even just making this dish hours ahead of time. And because of the lemon juice in the vinaigrette, the Granny Smith apples don't turn brown quickly and stay fresher longer.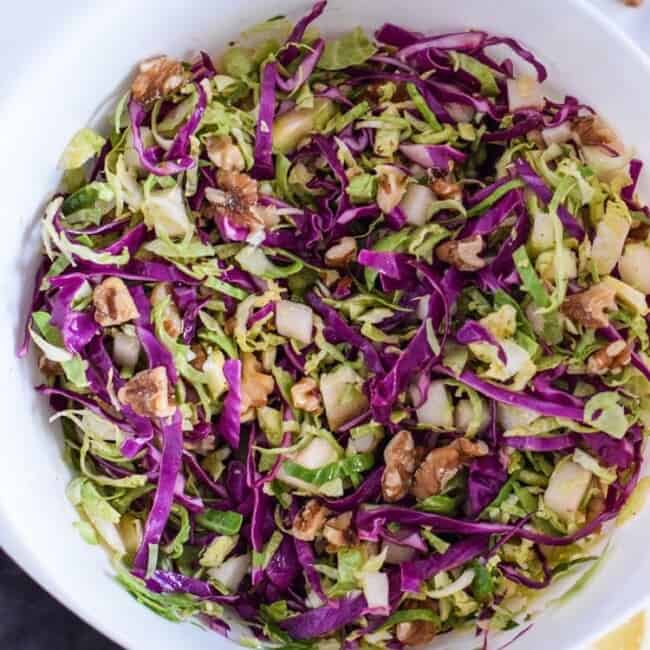 Prep: 10 minutes
Total : 10 minutes
This healthy Brussels Sprouts Slaw with Cabbage and Apples is the perfect side dish for any meal. Also goes great on tacos! (gluten free, paleo, vegetarian, vegan)
Ingredients
For the slaw
3 cups brussels sprouts, shredded
2.5 cups red cabbage, shredded
1 large Granny Smith apple, peeled and diced
1/4 cup walnuts, chopped
For the Lemon-Dijon Vinaigrette
1/4 cup extra virgin olive oil
3 tbsp lemon juice (about 1 lemon, juiced)
2 tsp honey
1 tsp Dijon mustard
1/4 tsp sea salt
1/8 tsp ground ginger
black pepper to taste
Instructions
In a small mason jar, add all the ingredients for the vinaigrette and cover with lid. Shake well to mix and let set aside until ready to use.

In a large mixing bowl, add all the ingredients for the slaw and stir to combine.

When ready to serve, shake the mason jar again to combine all the ingredients as some separation may occur.

Pour the vinaigrette on top of the slaw and lightly toss to evenly coat the veggies. Serve and enjoy!
Isabel's Tips:
If you don't have a mason jar for the dressing, feel free to whisk the ingredients in a small bowl.
This page contains affiliate links. If you make a purchase on Amazon after clicking one of my links, I may receive a small commission. The price of the item stays the same and any money I make goes to supporting this blog. I only endorse products and services that I fully believe in.