Jump to Recipe
These Honey Balsamic Brussels Sprouts are oven roasted to perfection. Tossed with a bit of honey and balsamic vinegar, this recipe is the perfect side dish for any night of the week. (gluten free, paleo, vegetarian)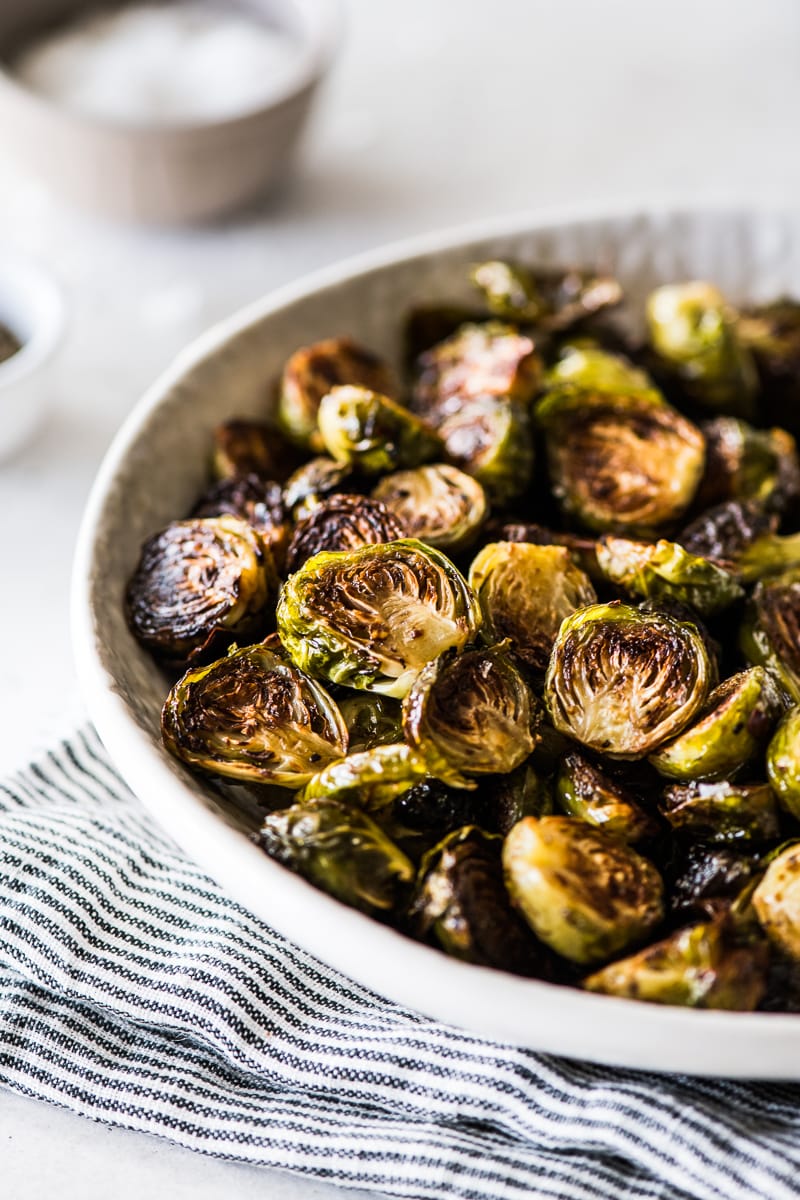 Roasting brussels sprouts in the oven is the best way to turn a brussels sprout hater into raving fan. Aside from eating them raw in a brussels sprout salad, roasting them is the only way I'll eat them!
But to really take them to the next level, I love tossing them with just a teeny bit of honey and balsamic to bring all those roasty toasty flavors together. Here's why I love this recipe so much:
These little guys are really easy to make – cut the sprouts, toss everything in a bowl, then throw them on a pan in the oven to bake. Super simple.
The flavors are incredible – sweetness from the honey, tang from the vinegar, you can't go wrong!
This recipe WON'T result in soggy brussels sprouts. They're perfectly roasted in the oven, with a crisp and crunchy exterior that is to die for.
How To Make Honey Balsamic Brussels Sprouts
Step 1. Preheat your oven to 400 degrees. Next, trim the stem off each brussels sprout and cut them in half lengthwise. Place them in a bowl and toss them together with olive oil, salt and black pepper.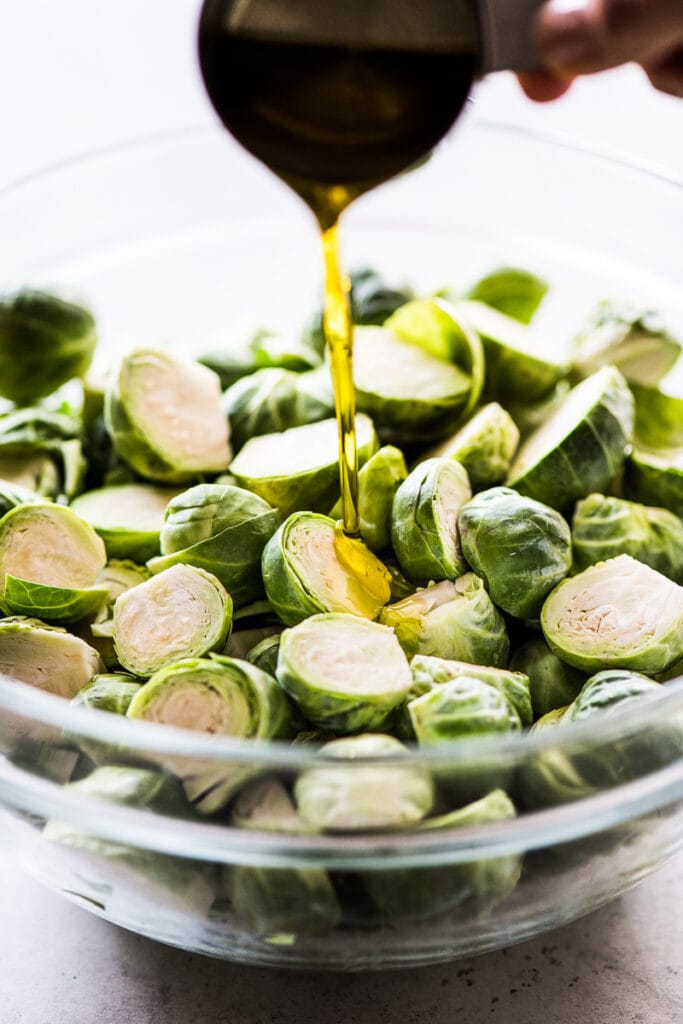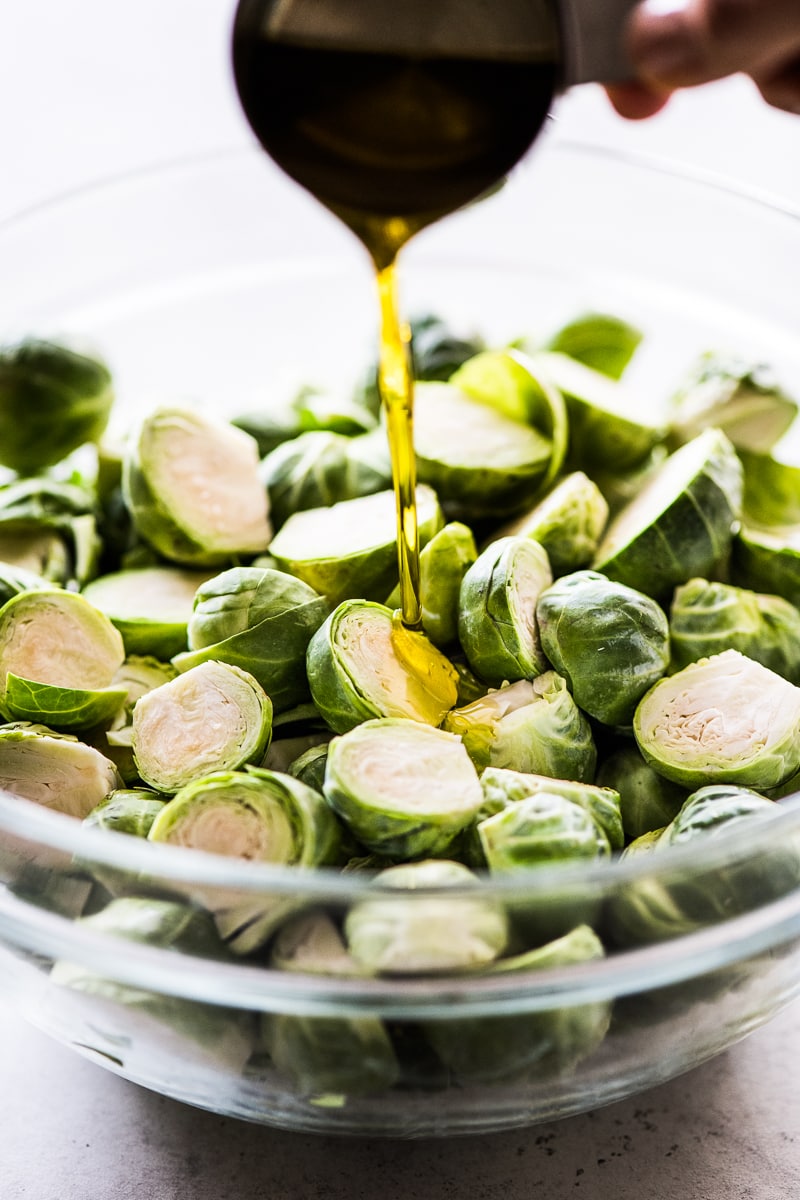 Step 2: Transfer the brussels sprouts to a large baking sheet and place each sprout flat side down.
This helps to make sure they all bake as evenly as possible, which means no need to flip them over halfway through baking!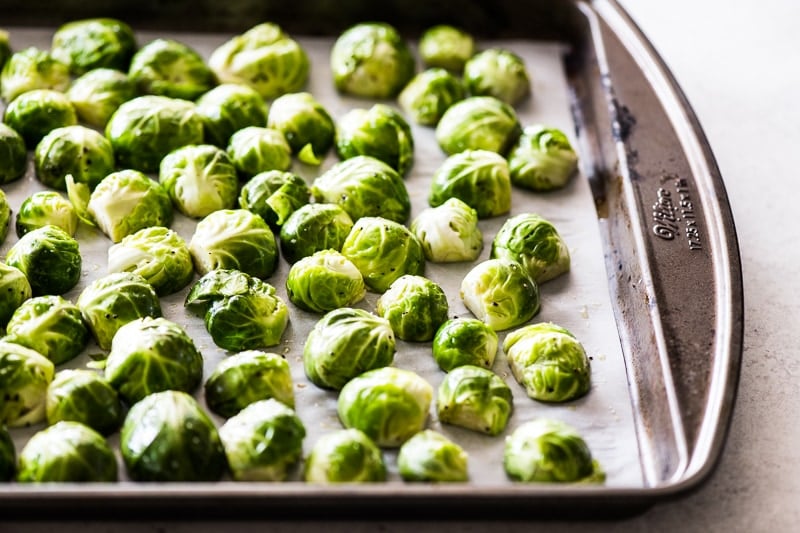 Step 3: Bake for 20-25 minutes in the oven, or until the bottoms of the sprouts are browned to your liking.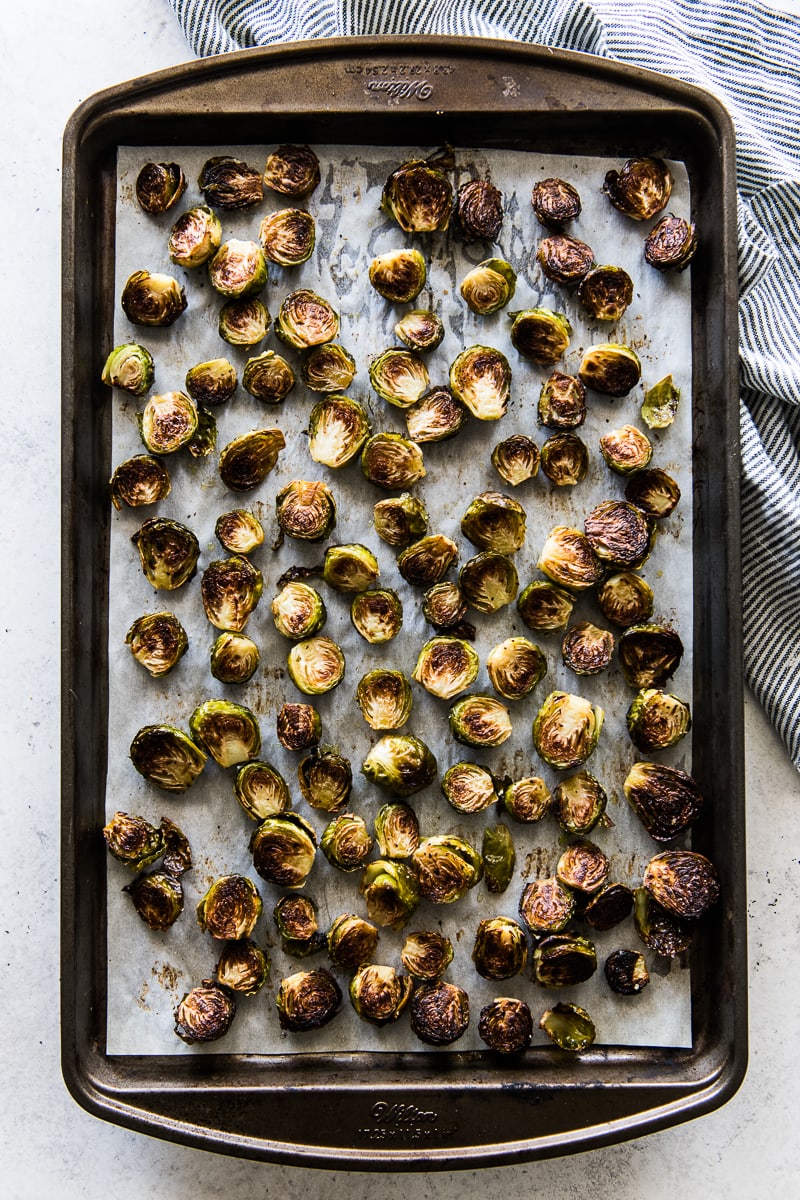 Step 4: While the brussels sprouts are roasting, mix together the honey and balsamic vinegar in a small bowl.
Step 5: Pour the mixture on top of the finished roasted brussels sprouts, toss everything to combine and eat up!
Tips, Tricks and Variations
The outer layers of the brussels sprouts will naturally come off when you cut them in half. You can either toss these in the garbage or cook them with the brussels sprouts. They'll turn out like little mini sprout chips!
Cover your baking sheet with parchment paper to prevent the roasted veggies from sticking to the pan.
If you find yourself out of honey, you can use a different sweetener. Agave syrup or maple syrup would work, using the same amount of maple syrup and about 1 heaping tablespoon of agave syrup.
Can't find any coarse kosher salt? Use regular table salt but in half the amount to start, then keep seasoning if you'd like your dish saltier.
Want to serve this at a holiday gathering like Thanksgiving or Christmas? Add some bacon to make them irresistible! Simply saute 4-6 slices of chopped bacon while the brussel sprouts roast in the oven. Then add in the crispy bacon when you toss the brussels sprouts with the honey balsamic mixture at the end.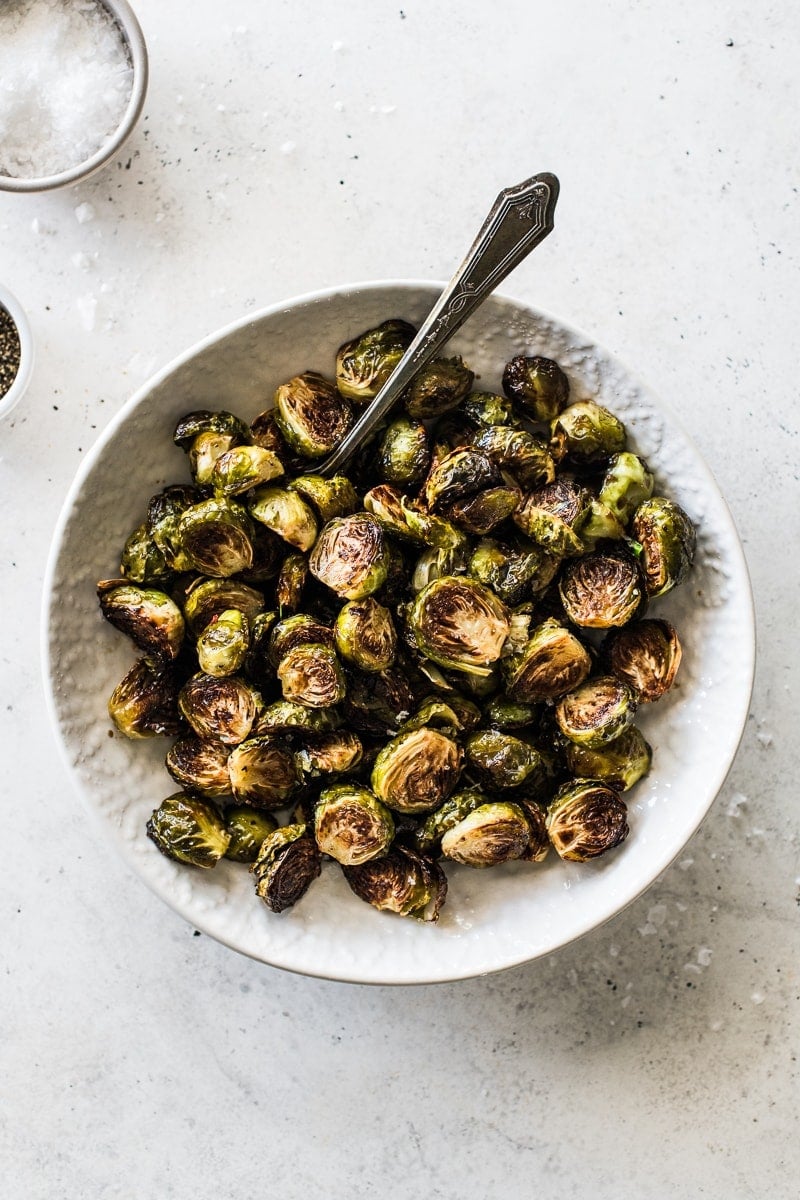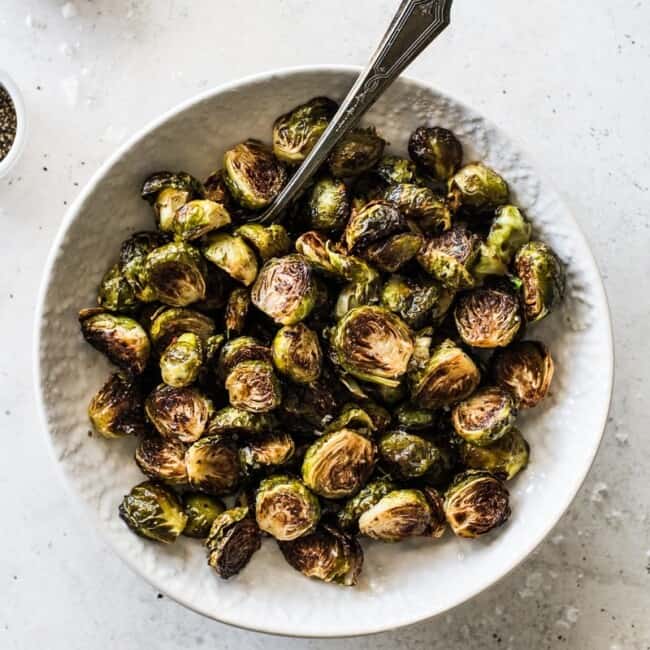 Prep: 10 minutes
Cook: 30 minutes
Total : 40 minutes
These Honey Balsamic Brussels Sprouts are oven roasted to perfection. Tossed with a bit of honey and balsamic vinegar, this recipe is the perfect side dish for any night of the week.
Ingredients
2 pounds brussels sprouts
4 tablespoons olive oil
3/4 teaspoon coarse kosher salt
1/2 teaspoon black pepper
2 tablespoons balsamic vinegar
1 tablespoon honey
Instructions
Preheat oven to 400°F. Line a large baking sheet with parchment paper and set aside.

Trim the stem off each brussel sprout and slice in half lengthwise. Place them in a large bowl and add in olive oil, salt and black pepper. Toss together to coat.

Transfer brussels sprouts to prepared baking sheet and place each sprout flat side down. Roast in oven for 20-25 minutes, or until the bottom of each sprout is roasted to your liking.

While they're roasting, mix together balsamic vinegar and honey in a small bowl.

Remove from oven, transfer to a serving bowl and add the honey and balsamic vinegar mixture. Toss together to coat and serve immediately.
Nutrition Information
Serving: 1/6th of recipe Calories: 163.27kcal (8%) Carbohydrates: 17.43g (6%) Protein: 5.16g (10%) Fat: 9.79g (15%) Saturated Fat: 1.38g (7%) Sodium: 330.07mg (14%) Potassium: 594.13mg (17%) Fiber: 5.79g (23%) Sugar: 7g (8%) Vitamin A: 1140.03IU (23%) Vitamin C: 128.52mg (156%) Calcium: 63.5mg (6%) Iron: 2.21mg (12%)