This easy Buffalo Chicken Fajita Pizza Ring is the perfect game day appetizer for parties and get-togethers. By the end of the night, everyone will be asking for the recipe!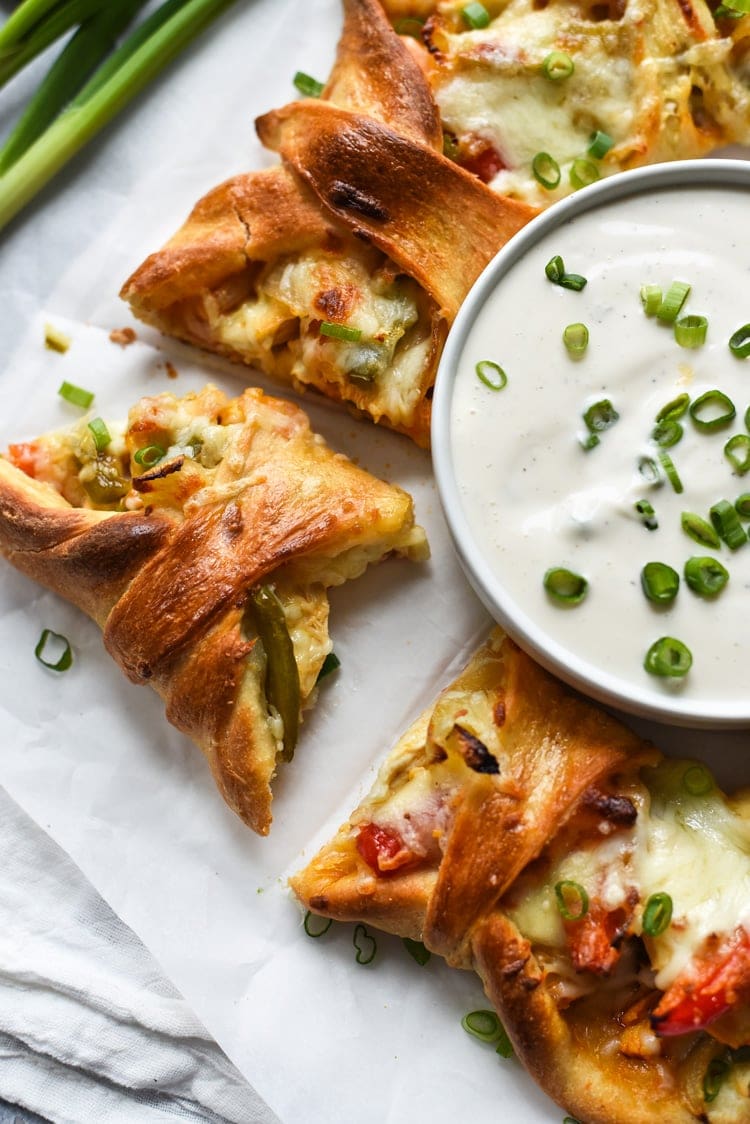 Happy Wednesday! Making it through Monday and Tuesday is no small feat. Give yourself some credit. Let's celebrate the fact that we made it to the middle of the week with a tasty pizza party. Are you with me?!
Okay, so maybe I'm just looking for a reason to eat some pizza, but hey, pizza lover for life right here. Without a doubt, pizza is one of my top five favorite foods. Top it with some buffalo sauce and I'm in heaven.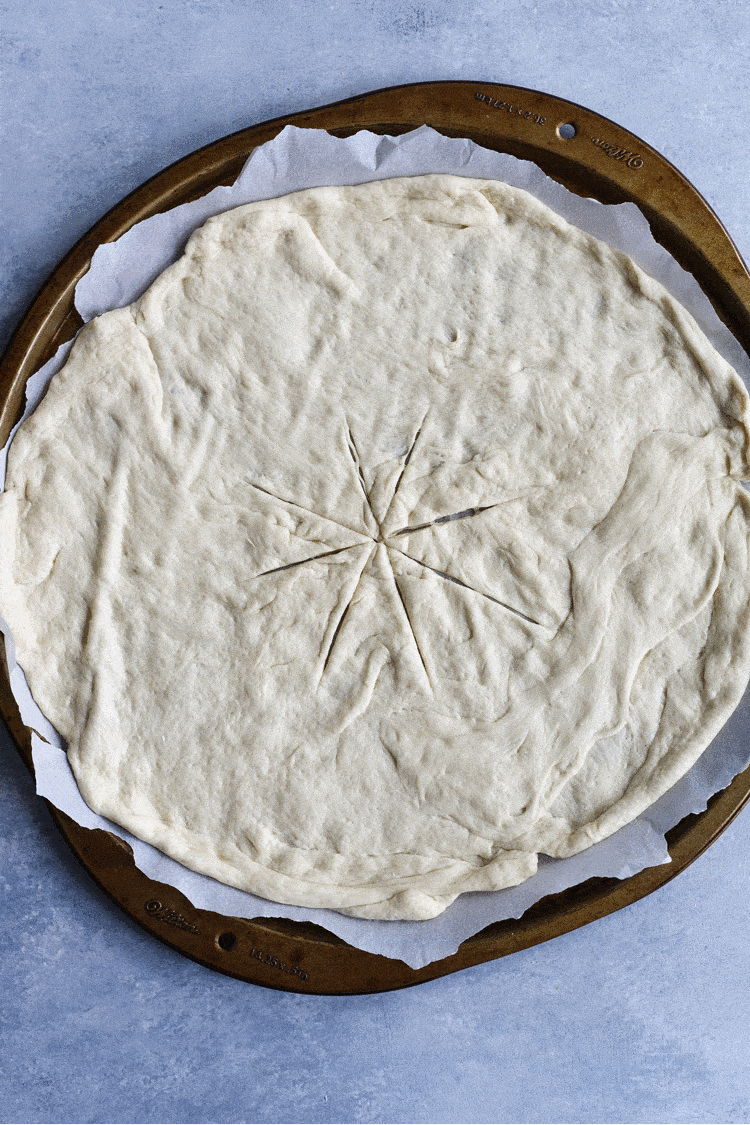 Like a bag of chips, pizza is one of those foods that's really difficult for me to put down once I start eating it. Especially when it's shaped like this Buffalo Chicken Fajita Pizza Ring – the shape just makes it super snackable and perfect for parties! It's hard to deny that pizza has an irresistible combination of salty, fatty and cheesy flavors that are so good, my body and brain have a difficult time determining when enough is enough.
And honestly, I can't blame myself. It's just so damn good! Of course I don't want to put it down.
So instead of limiting the amount of pizza I eat, I prefer to add lots of nutrient-rich ingredients to my pie (or ring, in this case) in addition to my favorite toppings. That way, not only am I enjoying my favorite food, but it also just so happens to have some veggies on it. It's seriously a win-win in my book.
But not all veggies are great on pizza. For example, I'm not a fan of broccoli, carrots, brussels sprouts or cabbage on pizza. Never tried the last two on a pie, but I have absolutely no desire to. Peppers and onions, on the other hand, are a totally different story.
When in doubt, add some peppers and onions. And garlic. Because garlic is amazing.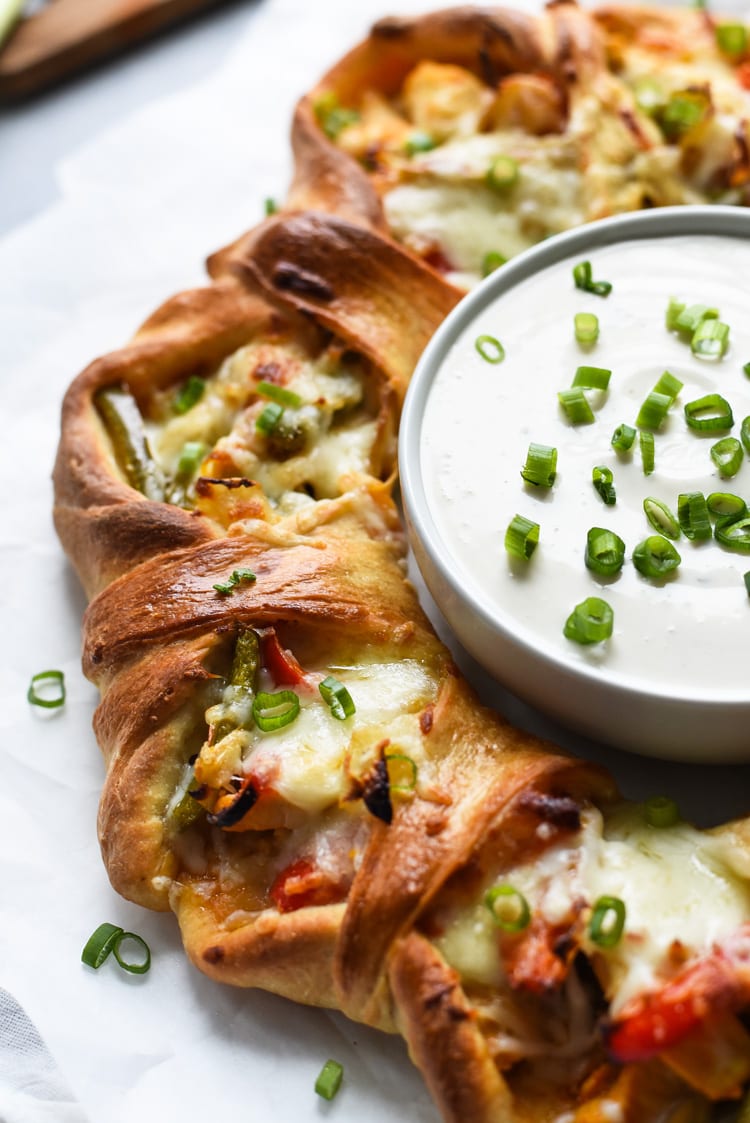 If at first glance this pizza ring looks too complicated to make, let me assure you that it's not at all! For the pizza dough, I used an already-prepared store-bought dough that you can find in the refrigerated section of a grocery store. All you have to do is roll it out to fit the size of your pizza pan and cut two small x's in the middle of the dough using a pizza cutter to make a star shape.
Then, cook the chicken and the peppers and onions in a skillet. Lay them in a ring shape on the pizza dough and pull the point of one of the stars over to meet the edge of the crust. Gently push them together to secure the dough. Once all the little flaps have been folded over, bake in the oven and that's it!
Easy, tasty and the perfect little appetizer or dinner to share with friends and loved ones.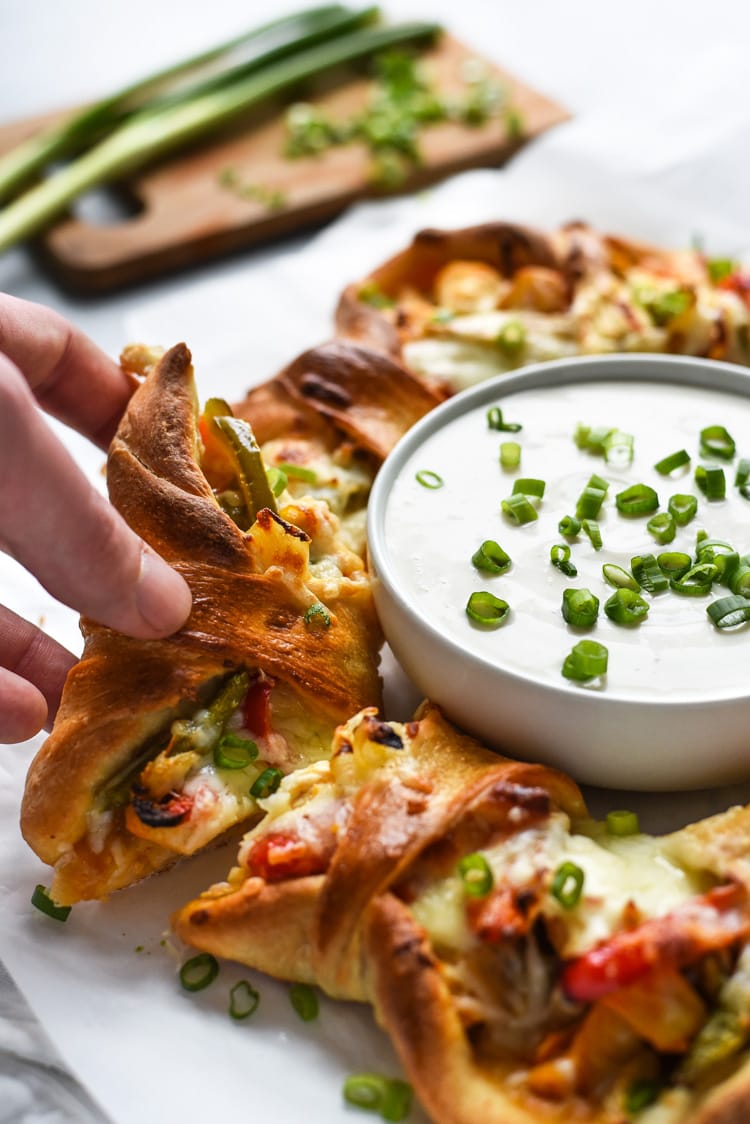 INGREDIENTS
2

tablespoons

butter

1

lb

boneless, skinless chicken breast,

cut into thin fajita-style slices

2

teaspoons

minced garlic

(about 2 cloves)

1.5

teaspoons

onion powder

1/4

cup

buffalo wing sauce + 2 tablespoons, divided

(I used Frank's Red Hot sauce)

1

tablespoon

olive oil

1/2

large

green bell pepper,

thinly sliced

1/2

large

red bell pepper,

thinly sliced

1/2

large

onion,

thinly sliced

1

ball

of pizza dough

(I used a refrigerated pizza crust dough)

1

cup

shredded mozzarella cheese

1

large

beaten egg

chopped green onions

for sprinkling on top

sauce

for dipping
INSTRUCTIONS
In a large skillet over medium-high heat, melt the butter. Add the chicken breast, garlic and onion powder and stir to mix. Sauté until chicken is fully cooked through, about 10 to 12 minutes. Add in buffalo wing sauce, stir, and remove from heat. Transfer chicken to a heat-safe plate or bowl.

Preheat oven to 400 degrees.

While the oven is heating up, add olive oil into the same skillet as the chicken was cooked in and place over medium-high heat. Add the red and green bell peppers and onions. Sauté until the vegetables have softened, about 10 minutes. Remove from heat and set aside.

Roll out the pizza dough onto a piece of parchment paper in a large circular shape. Cut four small lines through the middle of the dough using a pizza cutter to make a star shape.

In the space between the center cuts and the edge of the crust, layer the buffalo chicken and the fajita vegetables. Sprinkle the mozzarella cheese on top.

Gently pull the point of each star back and tuck it over the outer crust, rolling both sides inward so they overlap and are secure. Repeat this process with all the cut sections. The final shape should look like a ring.

Brush the top of the ring with the beaten egg and bake for 20 minutes or until golden brown.

Place a bowl of your favorite sauce (I used ranch!) in the center of the ring, garnish with green onions and enjoy!
Did you make this recipe?
Leave a comment below and tag @isabeleats on social media!