Jump to Recipe
Queso blanco is the most delicious white cheese dip you'll ever have! This easy recipe is rich, creamy, and better than your favorite restaurant-style queso. It's the perfect addition to any football watch party, taco Tuesday, or just as a snack.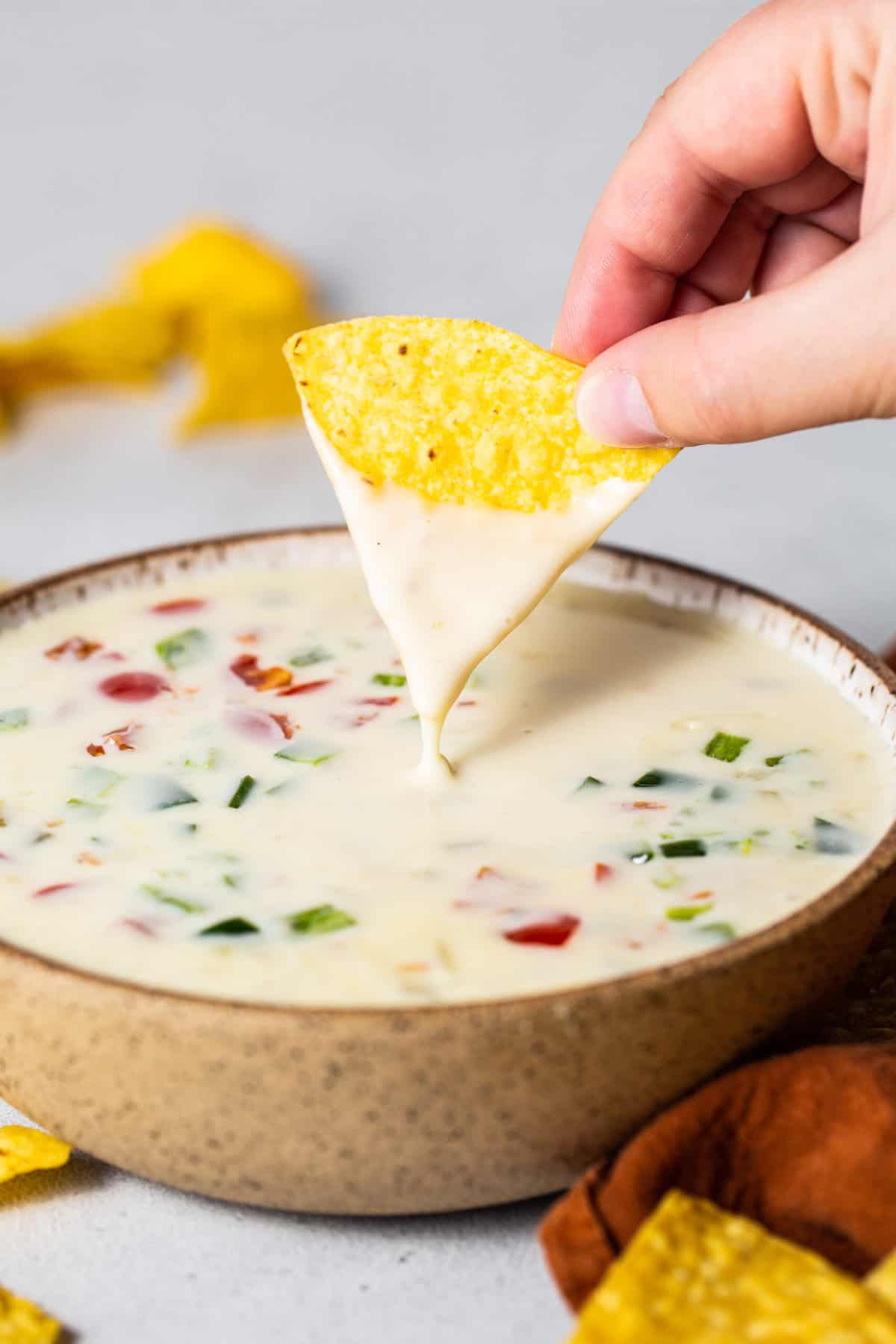 I love queso for any occasion and have always wanted to make it from scratch instead of relying on restaurants. Many recipes and restaurants use Velveeta, but I wanted to use real cheese. So it's taken me some time to perfect this queso blanco, but I finally did it!
I feel like queso is one of those staple recipes served year after year for Cinco de Mayo, Super Bowl Sunday, or even Taco Tuesdays. So, I had to make my own instead of buying the restaurant kind.
Homemade queso is so easy to make, uses real cheese, and is so versatile. It can be used as just an appetizer with your favorite tortilla chips or to enhance a dish. For example, if you add queso blanco on top of tacos, burritos, or nachos, it takes it to the next level! Trust me, it's a must-try. 
What Cheese To Use?
In this recipe, I used white American cheese, which can usually be found in your grocery store deli section or behind the deli counter. Be sure not to confuse it with yellow American cheese, which is fattier and has a different flavor. You can use sliced white American if that's all you can find, but getting it in block form is best.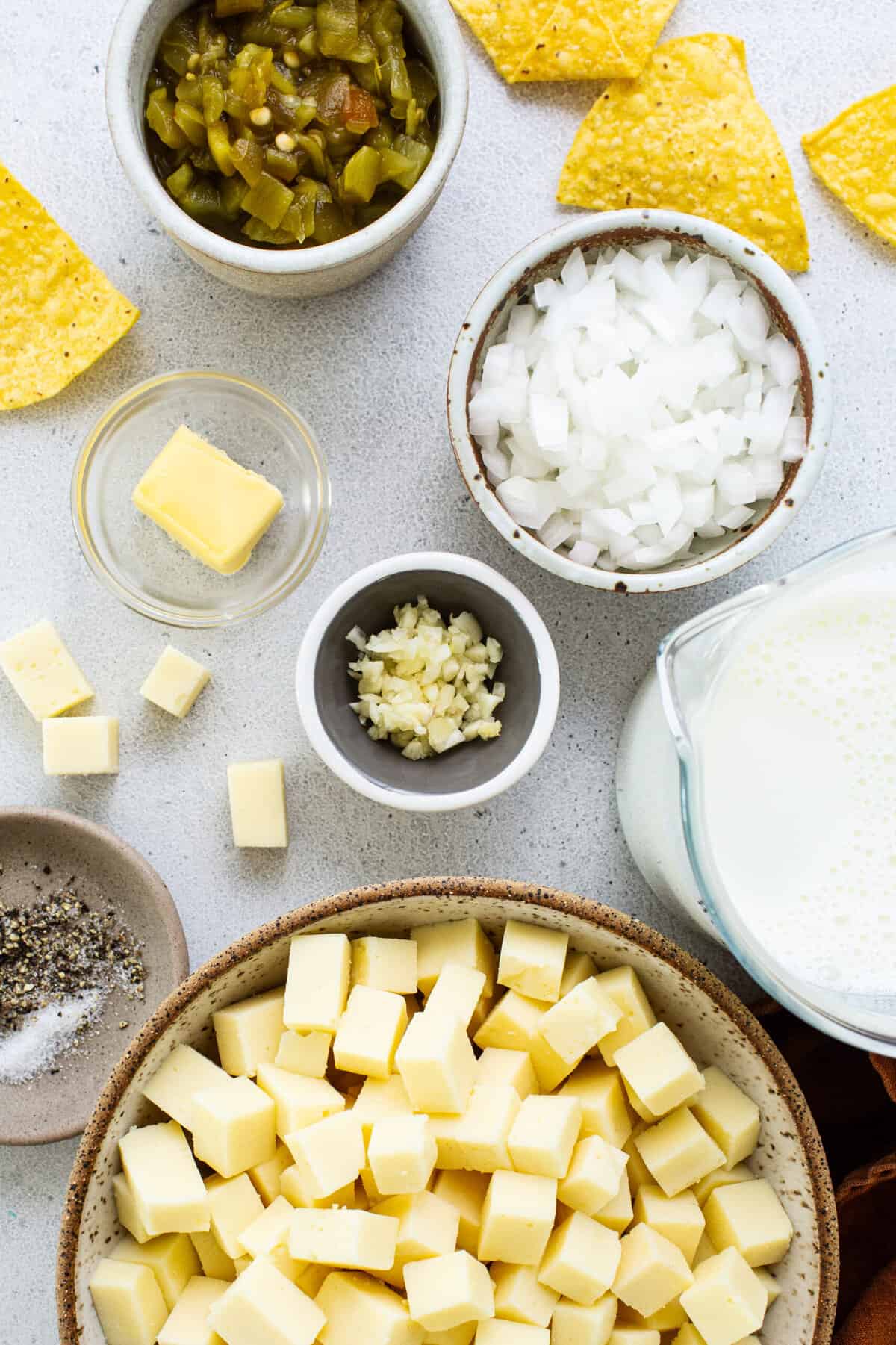 Ingredients
Cheese: I used white American cheese for this recipe because I prefer its texture. It can usually be found behind the deli counter at your local grocery store. Make sure to ask for it in block form if possible!
Green chiles: A can of diced green chiles is all you need. You can use either mild or hot. This gives the queso a hint of spice and delicious pepper flavor.
Milk and butter: These two ingredients are key in reaching a creamy and silky texture. I recommend using whole milk, but 2% or nonfat will work in a pinch.
Onion and garlic: To be sautéed and mixed in with the cheese. These add depth to each bite.
How to Make Easy Queso Blanco
Warm up some milk in a medium pot, then add the cheese cubes in small increments and stir continuously until melted. Make sure to do this over low heat.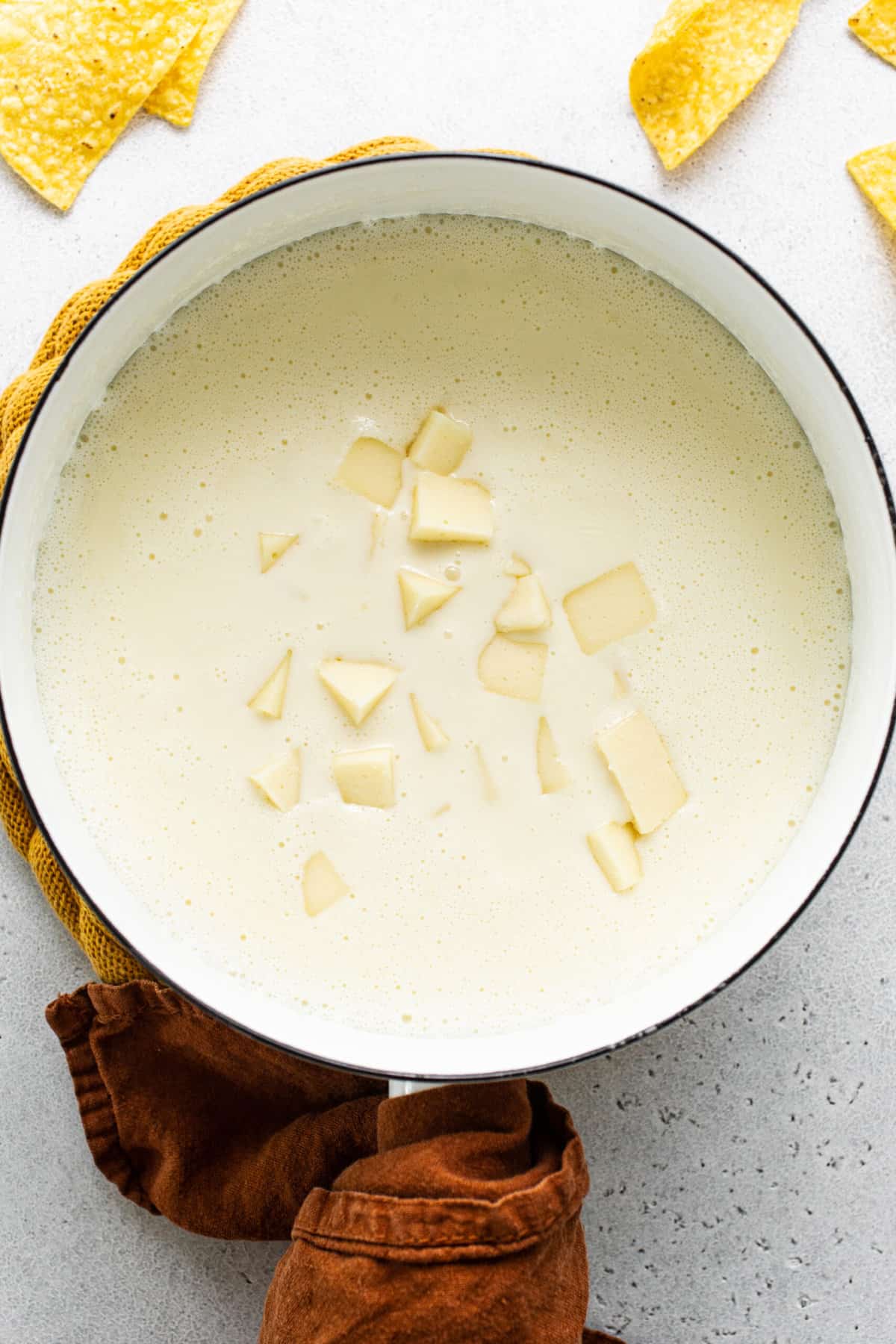 Remove the saucepan from the heat and gently stir in some sautéed onions and garlic, a can of diced green chiles, some salt, and black pepper. Serve immediately with your favorite tortilla chips and enjoy!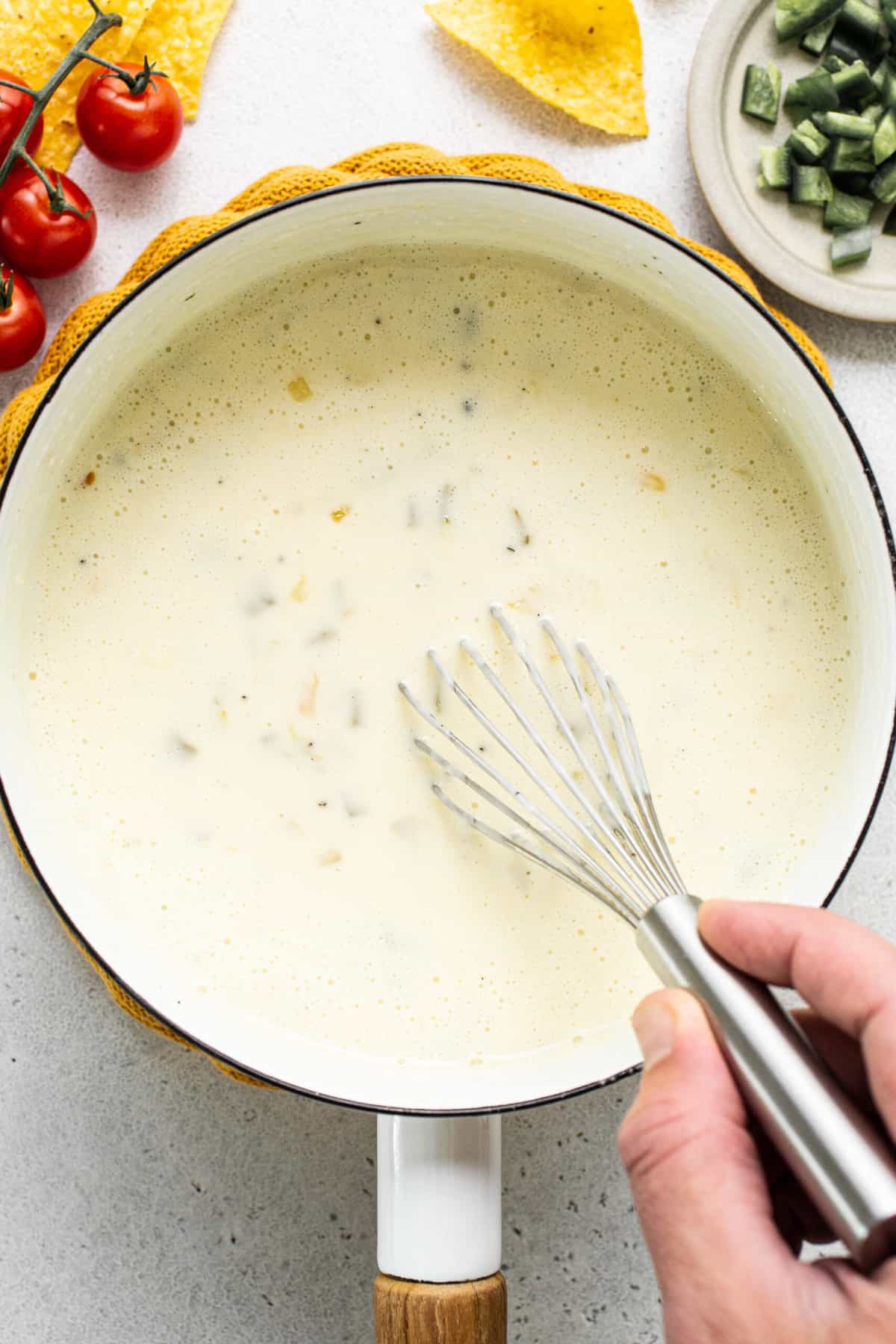 Suggested Toppings
Some of my favorite toppings to use for queso blanco are:
jalapeños or serranos
diced tomatoes
chopped cilantro
Really anything you like would be great, but make sure to serve it with your favorite tortilla chips or try making my homemade tortilla chips!
Tips
Buy block cheese instead of the pre-shredded kind. The pre-shredded cheese at the grocery store is often covered with additives that are meant to reduce clumping, which doesn't always produce the best texture when melted.
For the creamiest results, use whole milk.
If the queso dip is too thick, stir in a splash of milk until it reaches your desired consistency.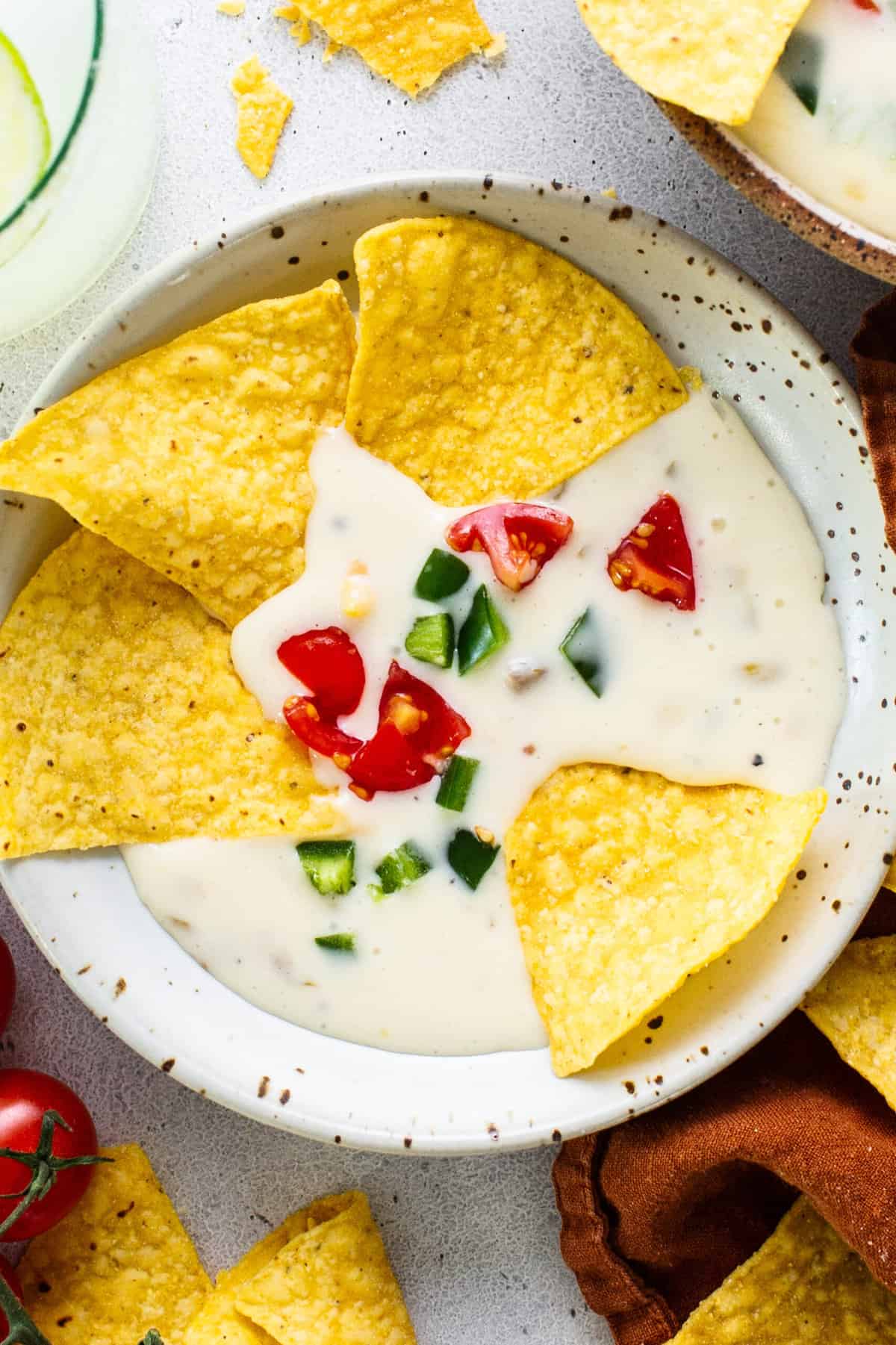 Recommended Tools
Whisk set. When it comes to making queso, having a good whisk is very important to achieve the right consistency.
Garlic press. This tool is my favorite when it comes to mincing garlic.
Storing and Reheating
Leftover queso blanco can be stored in an airtight container in the refrigerator for up to 4 days. 
To reheat, add it to a saucepan and heat over the stovetop. If you have a crock pot, you can add it in there and set it to the low setting. You can also heat it in the microwave for a few minutes until warm and melted.
Whichever method you use, make sure to stir in a splash of milk to thin it out.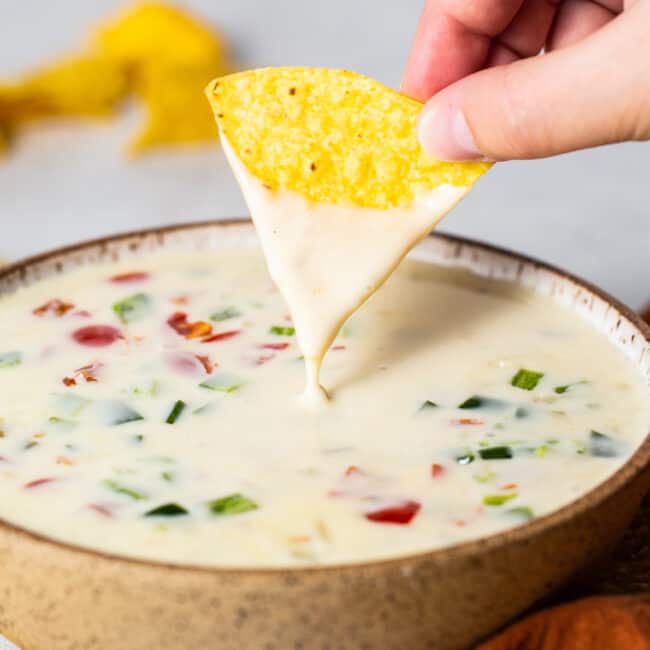 Prep: 10 minutes
Cook: 30 minutes
Total : 40 minutes
Queso blanco is the most delicious cheese dip you'll ever have! This easy recipe is rich, creamy, and better restaurant queso.
Ingredients
1 tablespoon unsalted butter
¼ medium white onion, finely diced
1 clove garlic, minced
1 cup whole milk, plus more as needed
1 pound white American cheese, cut into small cubes
1 (4-ounce) can diced green chiles
¼ teaspoon kosher salt
¼ teaspoon freshly ground ground pepper
Instructions
Melt the butter in a small skillet over medium heat. Add the diced onion and cook for 5-8 minutes until softened and beginning to caramelize. Add the garlic and stir, cooking for an additional 30 seconds until fragrant. Remove from the heat and set aside.

Heat the milk in a medium saucepan over medium heat until small bubbles form on the edges of the saucepan. Reduce the heat to low.

Add the cheese cubes ½ cup at a time and continuously stir into the heated milk with a whisk until they are fully incorporated and melted. Continue this process until all the cheese cubes are melted, making sure to gently and continuously whisk the queso dip until it is smooth and silky.

Remove the saucepan from the heat and gently stir in the cooked onions and garlic, the diced green chiles, salt, and black pepper. Stir in any additional milk as needed if the queso becomes too thick.

Serve immediately with your favorite tortilla chips and enjoy!
Isabel's Tips:
Continuously whisking the queso dip can be tedious, but this is an important step so that the queso doesn't become grainy and lumpy. Slowly and gently melting the cheese is what gives you a smooth consistency.
If you prefer your queso a little more runny, add more milk.
Nutrition Information
Serving: 1serving Calories: 324kcal (16%) Carbohydrates: 5g (2%) Protein: 15g (30%) Fat: 27g (42%) Saturated Fat: 16g (80%) Polyunsaturated Fat: 1g Monounsaturated Fat: 7g Trans Fat: 1g Cholesterol: 85mg (28%) Sodium: 1392mg (58%) Potassium: 170mg (5%) Fiber: 0.1g Sugar: 4g (4%) Vitamin A: 839IU (17%) Vitamin C: 1mg (1%) Calcium: 843mg (84%) Iron: 0.5mg (3%)
Photos by Ashley McLaughlin.