Jump to Recipe
This Easy Red Chilaquiles recipe features baked corn tortillas, a red chile sauce and sunny side up eggs. Ready in 25 minutes! (gluten free, vegetarian)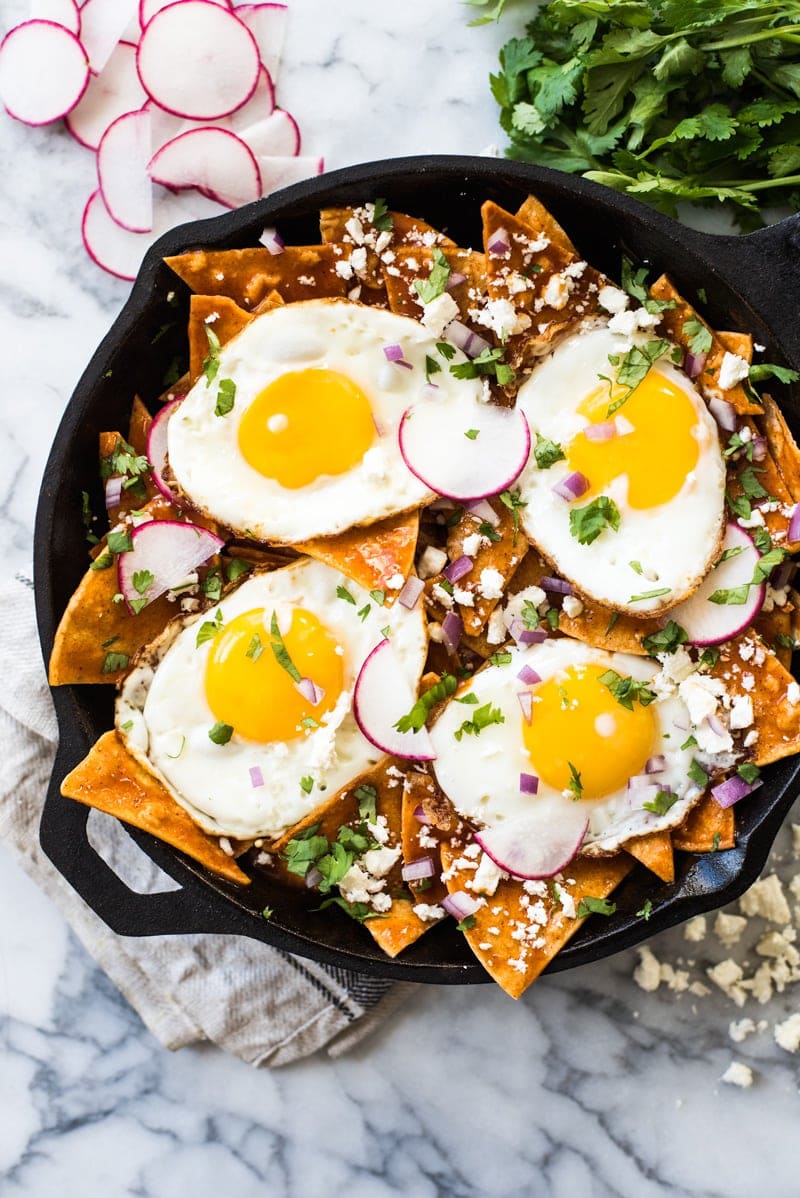 Gooooood morning!
Today I'm bringing you the easiest, tastiest, best breakfast ever – an easy red chilaquiles recipe! (Also check out our chilaquiles verdes!)
What are chilaquiles?
Chilaquiles (pronounced "chee-lah-keel-ehs") are a Mexican dish made up of crispy corn tortillas covered in a chile sauce and lots of cheese. Often served for breakfast or brunch, the corn tortillas in chilaquiles are traditionally fried and served with a side of refried beans.
Though I don't mind eating fried foods, I try to avoid frying things myself because a) I usually make a mess and b) it's not really a healthy option. So instead of crisping up the corn tortillas by frying them, I baked them and made them into tortilla chips. It's a super easy process and is worth the 10 to 12 minutes of baking time.
After the tortillas are baked, all that's left to do is cook some sunny side up eggs, toss the baked tortilla chips in a cup of red enchilada sauce (I highly recommend using this authentic enchilada sauce or this easy enchilada sauce) and top with the eggs, cotija cheese, cilantro, radishes and red onions.
Brunch dreams do come true!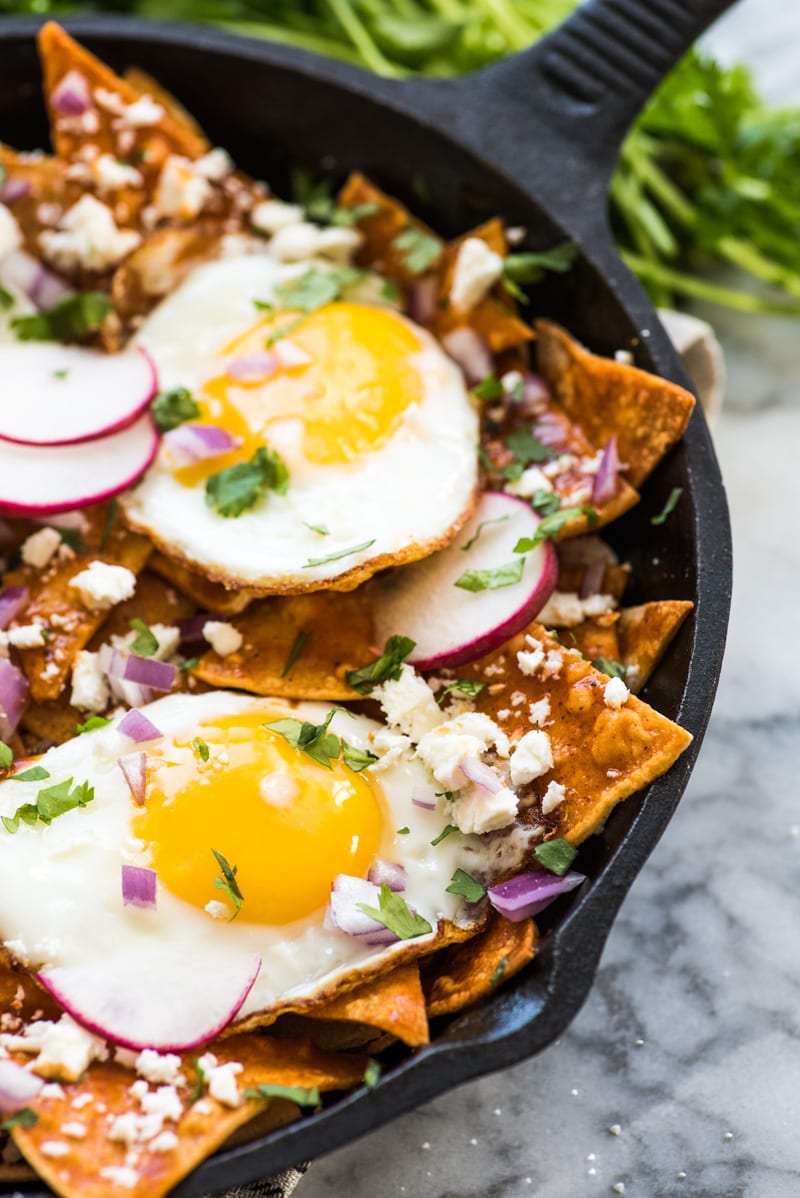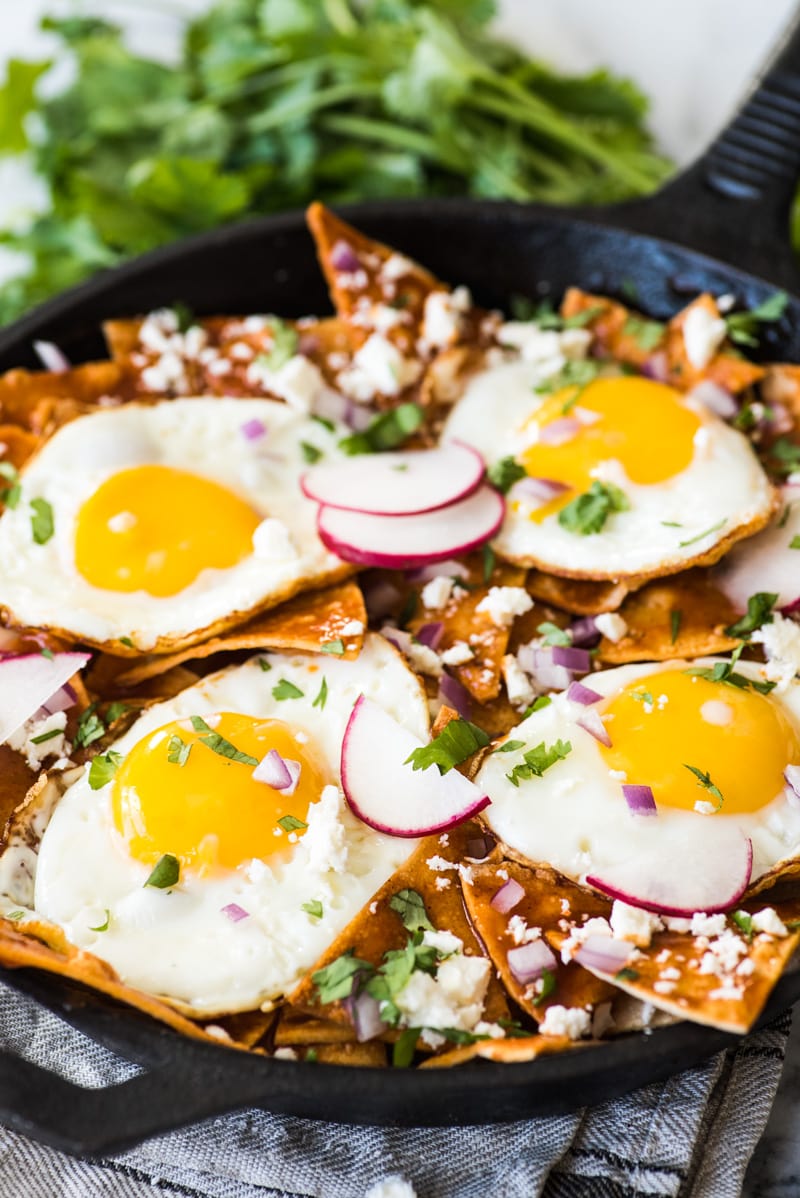 Ingredients in chilaquiles
The two crucial ingredients in chilaquiles are the tortillas and the chile sauce. Because the recipe only contains a few ingredients, quality matters. Here's what I recommend.
For the tortillas
As tempting as it may be to use store-bought tortilla chips, I don't recommend it. Making your own baked chips literally takes 10 to 12 minutes and the end result is so much better. (Instructions on how to make your own are in the recipe below.)
I find that store bought chips tend to get soggy really quickly when mixed in the sauce, whereas homemade chips are sturdier and can withstand more liquid. Plus, the taste of homemade chips is way more corn-y and grain-y, which I absolutely love.
For the sauce
I highly recommend making your own. Here's an authentic enchilada sauce recipe I like. It's made with whole dried chiles and Mexican chocolate. The complex flavors don't even compare to any store-bought red enchilada sauce I've ever tried. You can also make this easy enchilada sauce version made from pantry ingredients like chile powder and broth.
That being said, it's totally okay to use store-bought enchilada sauce. When looking for a premade sauce, I prefer to buy ones that don't contain tomato sauce/puree listed in the ingredients. I like to see water, chiles, spices and salt in my sauce. That's it.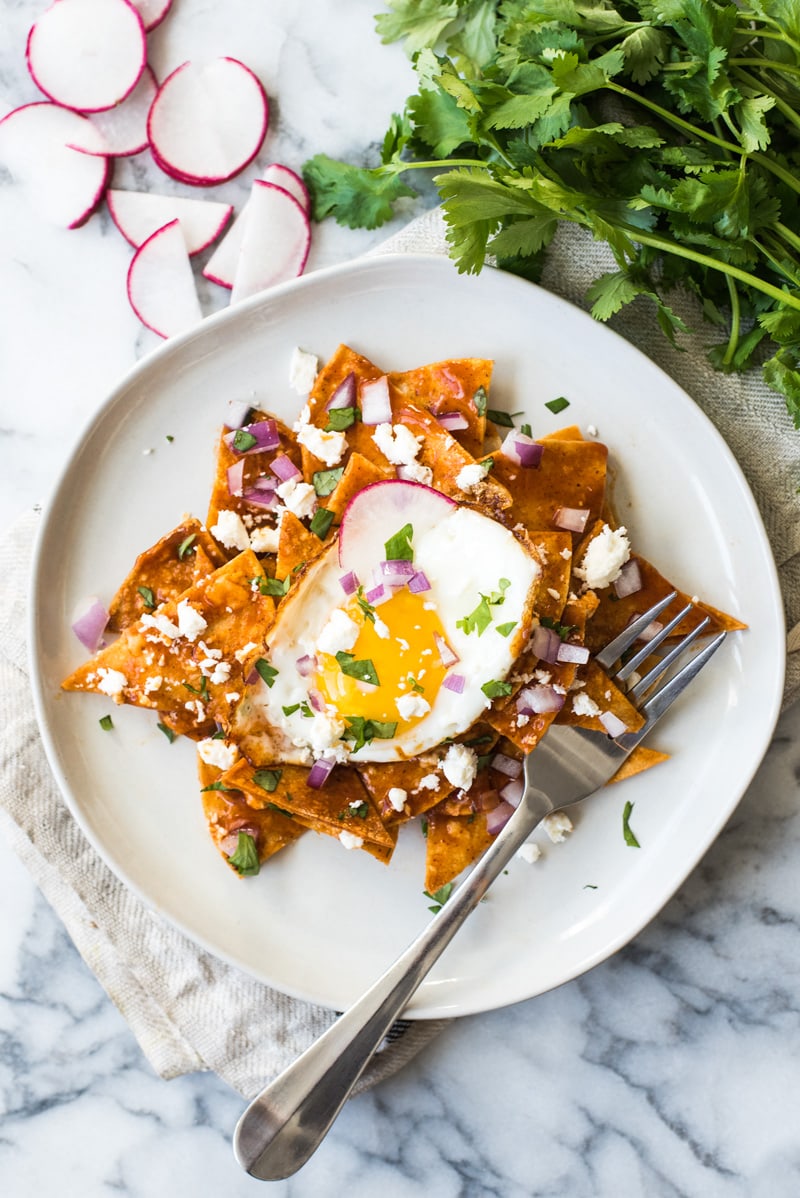 Ready in only 25 minutes, these red chilaquiles are by far one of my favorite Mexican breakfast/brunch dishes. They're filling, easy to make and make for a beautiful presentation. I mean just look at all those colors!
Makes me just want to dig in.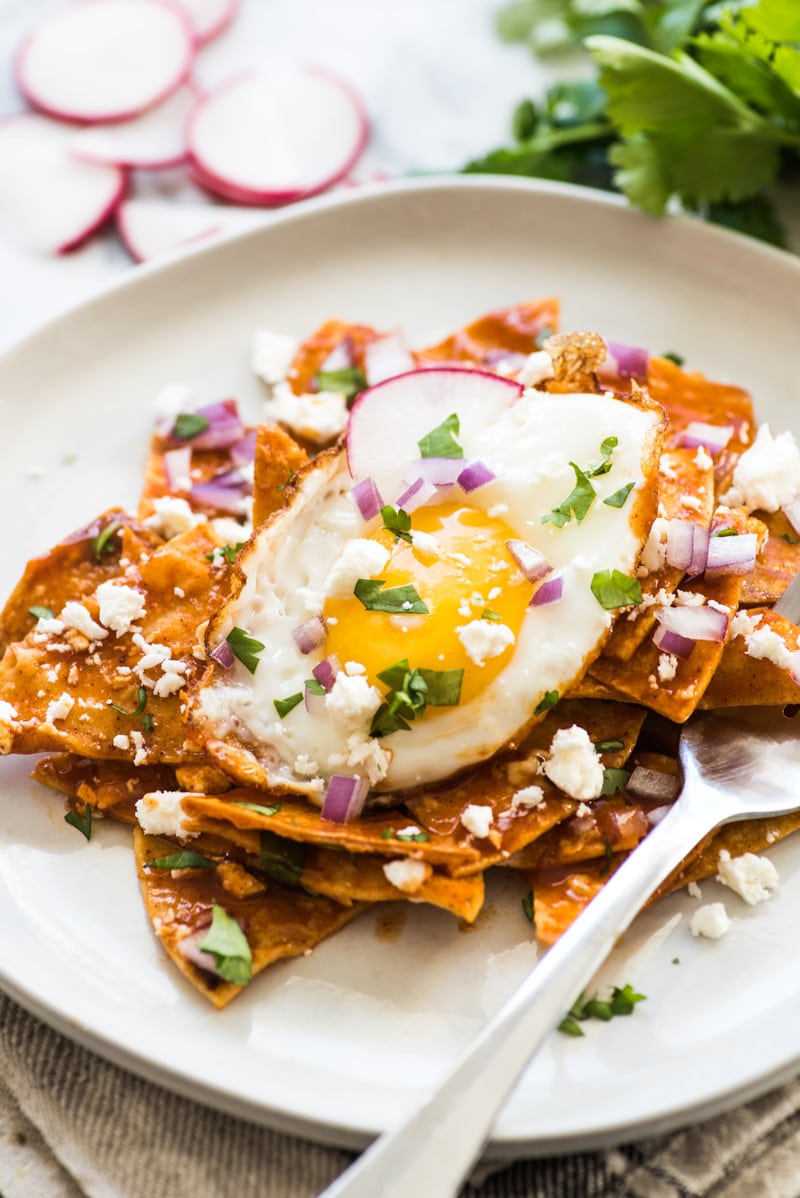 More recipes to try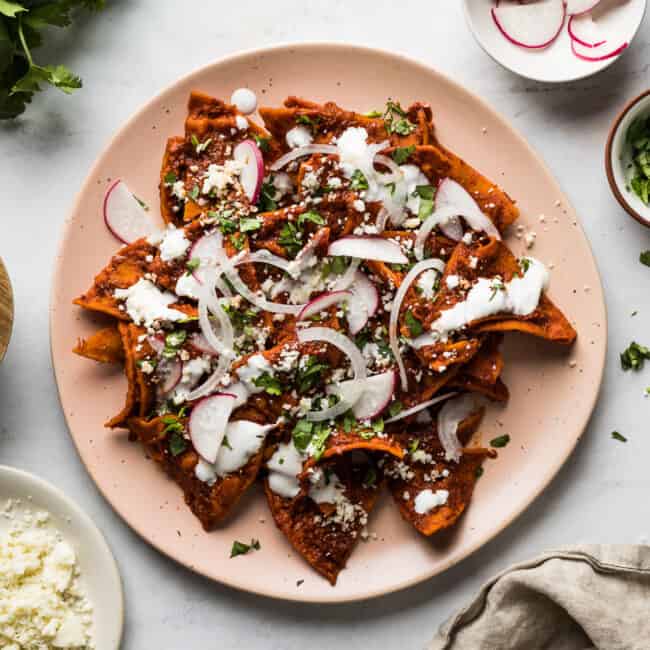 Prep: 8 minutes
Cook: 17 minutes
Total : 25 minutes
This Chilaquiles recipe features baked corn tortillas, a red chile sauce and sunny side up eggs. Ready in 25 minutes! (gluten free, vegetarian)
Ingredients
9 guajillo chiles, rinsed, stemmed, and seeded
2 árbol chiles*, optional, rinsed and stemmed
water, as needed
1 Roma tomato
1 clove garlic
¼ medium white onion
1 ½ teaspoons kosher salt, plus more as needed
12 corn tortillas
1.5 teaspoons vegetable oil, plus more for frying
For serving
Cotija cheese
Chopped cilantro
Diced white onions
Mexican crema or sour cream
Fried eggs
Instructions
In a medium pot, add the guajillo chiles, árbol chiles, and enough water to completely cover them. Bring to a boil over high heat. Remove the pot from the heat, cover, and let the chiles soak for 10 minutes to soften.

Using a slotted spoon, transfer the softened chiles to a blender. Add 1 ½ cups fresh water, the tomato, garlic, onion, and salt. Blend until completely smooth. If the sauce is not smooth, strain it through a fine mesh sieve to remove any solids.

Stack the corn tortillas on top of each other and cut them into eighths to create small triangle wedges. Line a large plate with paper towels and set it aside.

Fill a large sauté pan or deep skillet with about 2 inches of oil and heat over medium-high heat until the temperature reaches at least 350°F. (To test, drop a small piece of tortilla in the oil. If it sizzles, it's ready.)

Working in batches, add half of the tortillas and fry for 8 minutes, stirring every minute or so, until they are crispy. Transfer them to the lined plate to drain and repeat the frying process with the remaining tortilla wedges.

In a separate sauté pan or skillet, heat 1 ½ teaspoons of vegetable oil. Pour in the salsa roja and cook for 3 minutes, stirring occasionally.

Remove the pan from the heat and add in the fried tortilla chips. Gently toss them together to coat.

Serve immediately and garnish with cotija cheese, cilantro, onions, and Mexican crema. Top with a fried egg if desired.
Isabel's Tips:
Spice level: The árbol chiles add a little heat to this salsa roja. If you don't want it spicy, you can leave it out.
The sauce: I highly recommend you make your own salsa, but if you don't have time, feel free to use 1 1/2 cups of your favorite store-bought red enchilada sauce.
Baking instead of frying: If you don't want to lightly fry the tortilla wedges, you can bake them instead. Simply spread them in a single layer on two greased baking sheets and lightly spray the tops with nonstick cooking spray or brush with olive oil. Bake at 400°F for 10 to 15 minutes until crispy.
Store-bought chips: I'm not a fan of using store-bought tortilla chips because they tend to get soggy really quickly when mixed in the sauce, whereas homemade chips are sturdier and can withstand more liquid. However, if you do use store-bought chips, make sure they're thick and sturdy. Many Mexican grocery stores often sell homemade tortilla chips that you can purchase!
Serving: One of the most popular ways to serve chilaquiles is with a fried or sunny-side-up egg!
Nutrition Information
Serving: 1/4th of recipe Calories: 216kcal (11%) Carbohydrates: 42g (14%) Protein: 6g (12%) Fat: 4g (6%) Saturated Fat: 1g (5%) Polyunsaturated Fat: 2g Monounsaturated Fat: 1g Trans Fat: 0.01g Sodium: 916mg (38%) Potassium: 347mg (10%) Fiber: 8g (32%) Sugar: 5g (6%) Vitamin A: 2283IU (46%) Vitamin C: 5mg (6%) Calcium: 72mg (7%) Iron: 2mg (11%)