Jump to Recipe
This Chile Colorado recipe combines tender pieces of beef with a rich and flavorful red chile sauce. Serve with rice for an authentic Mexican dinner!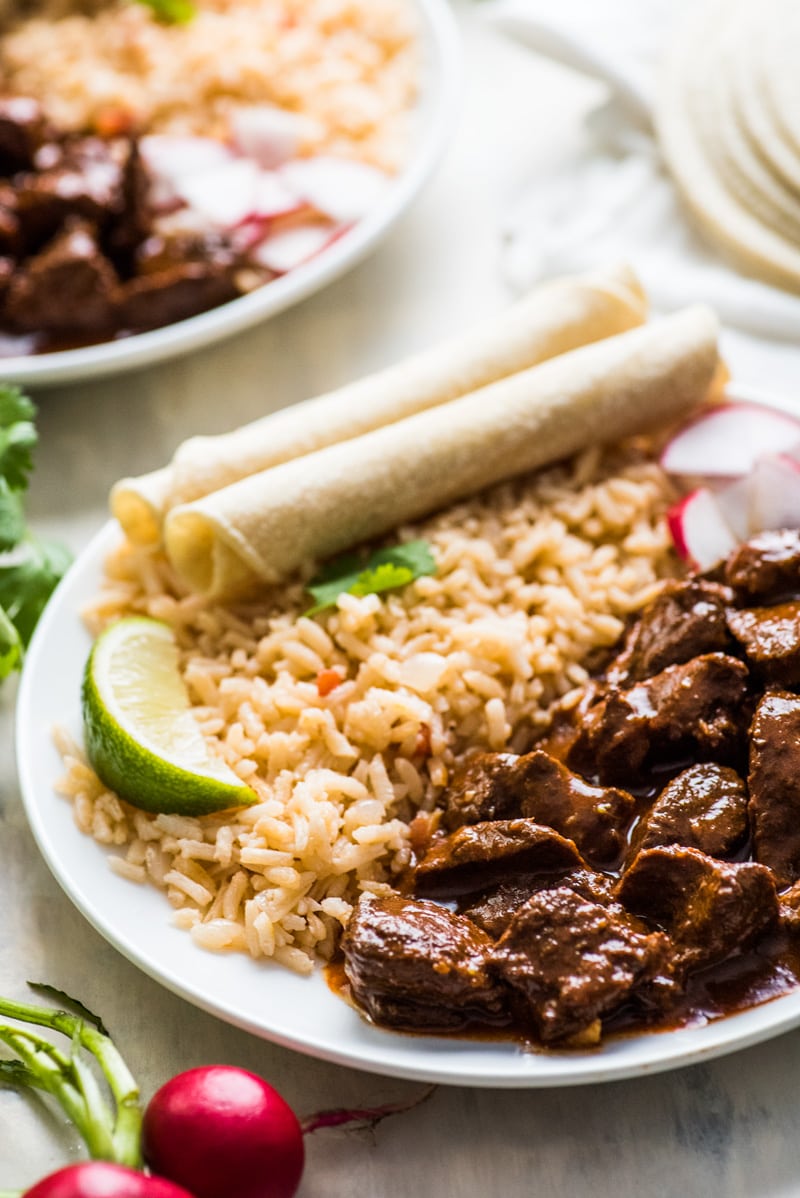 Chile Colorado makes my heart skip a beat and I'm super excited to be sharing it with you today!
Made of tender pieces of beef simmered in an rich and flavorful red chile sauce, chile colorado is one of my favorite things I ate growing up. I have fond memories of coming home from school and eagerly walking to the kitchen to see what my dad had cooked for me that day. If it was chile colorado, I was a happy girl.
I didn't need all the extra stuff like rice and beans and tortillas – all I wanted was a bowl of chile colorado, some tortilla chips and life was good.
Those were the days.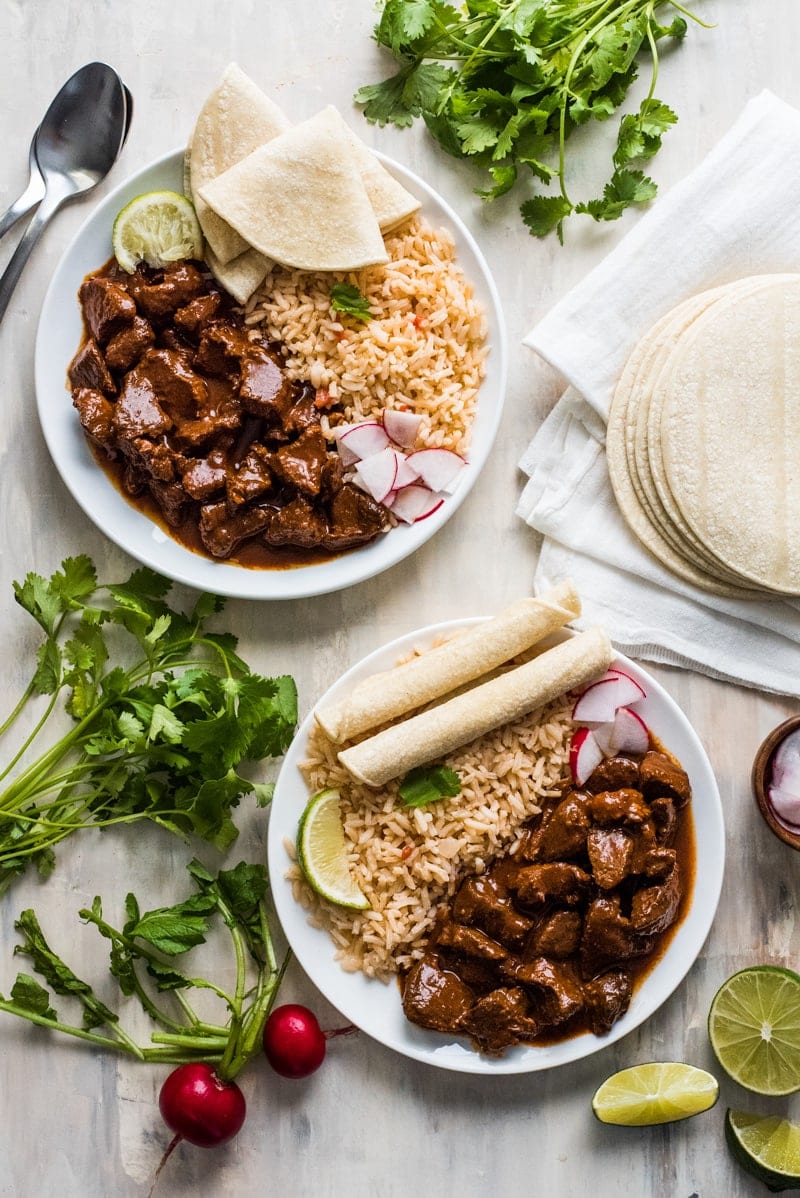 This dish is an attempt to recreate those childhood memories as best as I can. This dish will never taste as good as my Dad makes it, but I think I came pretty freakin' close!
The most important part of this recipe is the red chile sauce. To make it, you'll need some dried chiles that can often be found in the Mexican aisle at your local grocery store or a specialty Mexican grocer. If you can't find any close to you, I recommend ordering from Amazon. Here are the three types of chiles you'll need.
They're pretty inexpensive, especially when you consider how many chiles come in a bag, and they'll last forever! Okay, not literally forever, but they'll last in your pantry or cupboard for up to a year.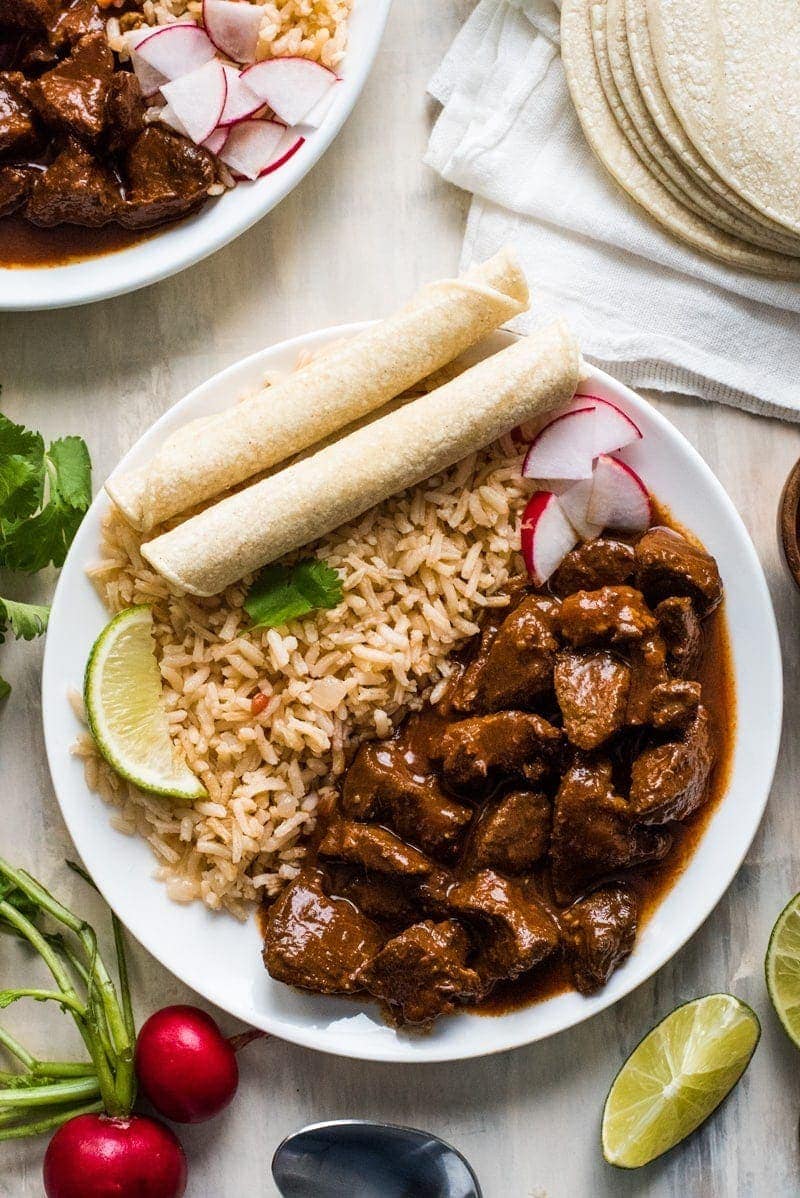 I served myself a good helping of this chile colorado alongside some authentic Mexican rice and I felt like I was back at home. So good, so comforting and oh-so satisfying.
Here are some ideas for sides to eat with this dish.
Or you can be like my 13-year-old self and enjoy it an a bowl with some tortilla chips. Highly recommend.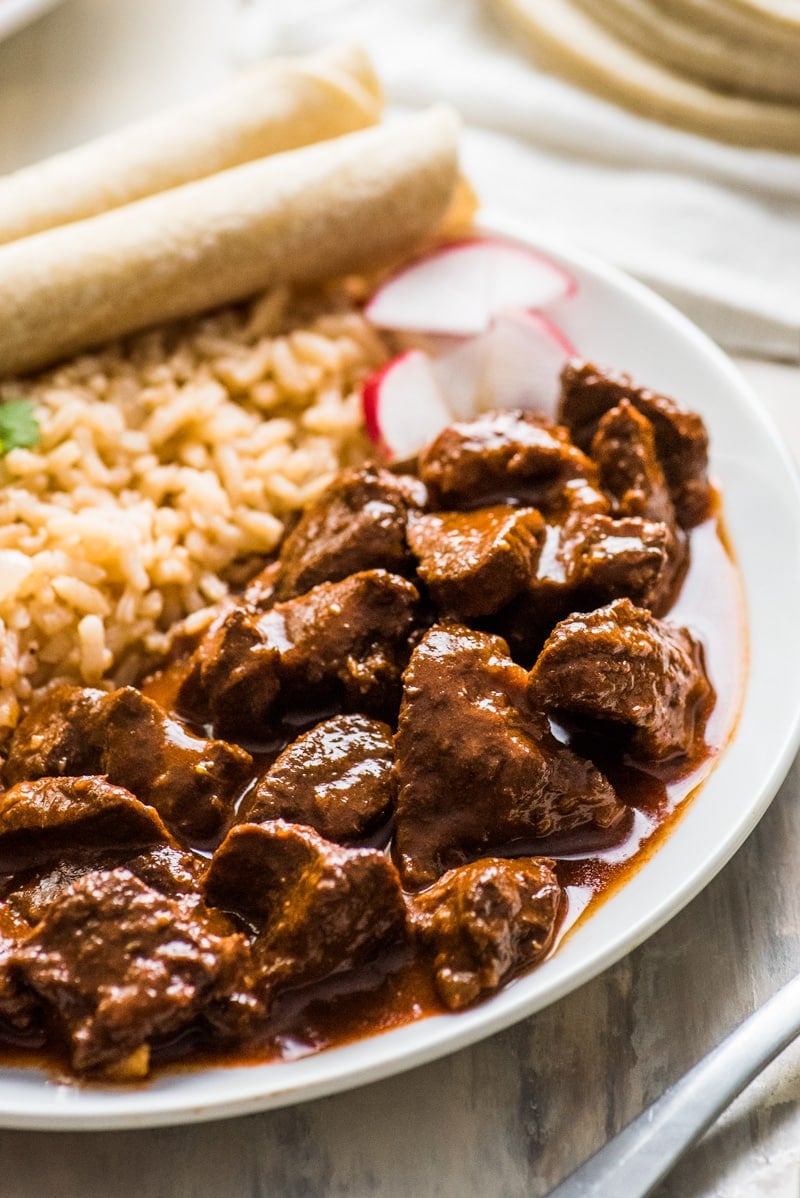 I hope you love this recipe as much as I do! Be sure to leave a comment below and rate the recipe if you make it!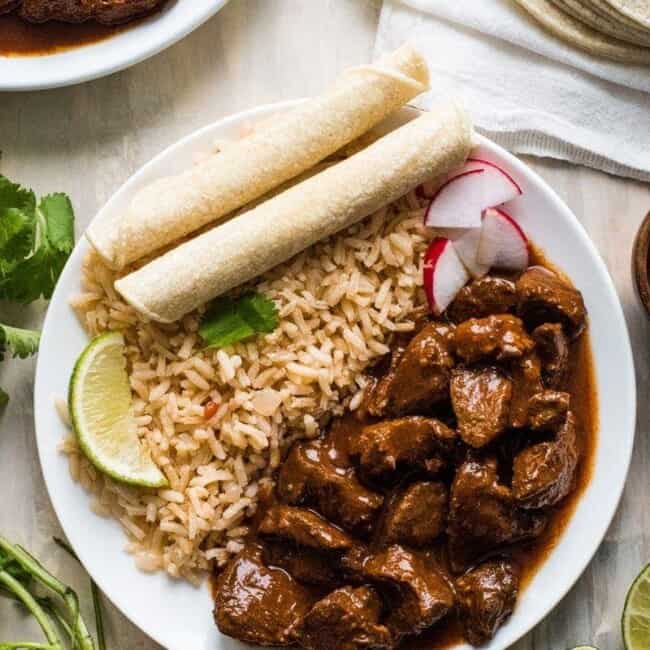 Prep: 15 minutes
Cook: 1 hour 35 minutes
Total : 1 hour 50 minutes
This Chile Colorado recipe combines tender pieces of beef with a rich and flavorful red chile sauce. Serve with rice for an authentic Mexican dinner!
Ingredients
For the red chile sauce
8 guajillo chiles, stems removed and seeded
2 ancho chiles, stems removed and seeded
1 árbol chiles, stem removed and seeded (or more if you like spicy food)
½ medium yellow onion, quartered
1 teaspoon dried oregano
1 teaspoon kosher salt
1 clove garlic
½ teaspoon ground cumin
For the meat
2 pounds beef stew meat (like chuck shoulder or roast), cut into ½-inch squares
2 tablespoons all-purpose flour
½ teaspoon kosher salt, plus more to taste
¼ teaspoon freshly ground black pepper
2 tablespoons cooking oil
3 cups beef broth, divided (or chicken or vegetable broth)
2 bay leaves
Instructions
For the red chile sauce
In a medium pot, add dried Guajillo chiles, Ancho chiles, Arbol chiles, and onion to a medium pot. Cover with water until chiles and onions are completely submerged and bring to a boil over high heat. Once boiling, remove from heat, cover and let it sit for 20 minute to soften the peppers.

Using a slotted spoon, transfer the softened chiles and onions into a large blender. Add in 1 cup of the chile-soaked water, the dried oregano, salt, garlic and cumin. Blend until smooth. Add some of the beef broth from the meat ingredients as needed if the mixture is too thick for your blender.

Once the red chile sauce is as smooth as possible, pour it through a strainer into a bowl, pushing down on the solids that accumulate to get as much moisture out as possible. Discard the solids.
For the meat
In a large bowl, add the beef, flour, salt and pepper. Toss together to coat.

Heat a large pot or dutch oven, heat the oil over medium-high heat. Add in half of the meat and brown on all sides so they have a good sear, about 5 minutes. Transfer the browned beef into a bowl and repeat the process with the remaining uncooked meat.

Once the second batch of meat has browned, return all the meat into the pot. Add in the red chile sauce, beef broth and bay leaves. Stir to combine and bring to boil. Once boiling, reduce heat to simmer, cover and cook for 45 minutes.

Uncover, taste and add more salt as necessary. Raise to medium heat and cook for another 15 to 30 minutes, until the sauce has reduced and thickened slightly. If you prefer a thicker sauce, cook longer.

Discard bay leaves and serve with Mexican rice and beans.
Video
Isabel's Tips:
Serves 6 big meat-eaters or 8 smaller portions. Sauce can be made ahead of time and stored in the freezer for up to 6 months until needed. To make gluten-free and paleo, use tapioca starch or white rice flour instead of all-purpose flour.
Nutrition Information
Serving: 1serving - 1/6th of recipe Calories: 377kcal (19%) Carbohydrates: 8g (3%) Protein: 50g (100%) Fat: 16g (25%) Saturated Fat: 11g (55%) Monounsaturated Fat: 3g Cholesterol: 107mg (36%) Sodium: 1073mg (45%) Potassium: 94mg (3%) Fiber: 1g (4%) Sugar: 1g (1%) Vitamin A: 350IU (7%) Vitamin C: 3.3mg (4%) Calcium: 10mg (1%) Iron: 9.9mg (55%)
This page contains affiliate links. If you make a purchase on Amazon after clicking one of my links, I may receive a small commission. The price of the item stays the same and any money I make goes to supporting this blog. I only endorse products and services that I fully believe in.