My Mom's Authentic Mexican Rice Recipe is made with simple ingredients like chopped tomatoes, onions and garlic and is the perfect side dish for any meal.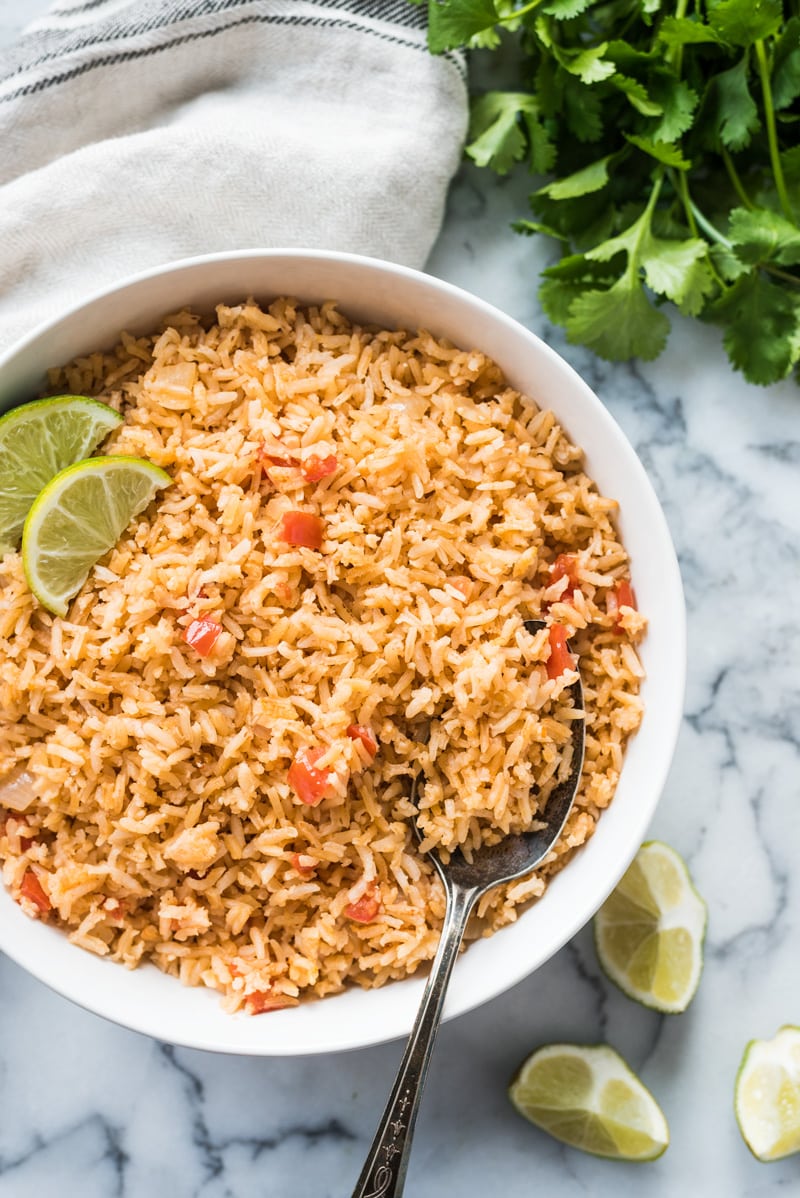 If there's one dish my mom could make in the kitchen blindfolded, it's this Authentic Mexican Rice. I, on the other hand, can't even make normal white rice while following the instructions on the bag. Seriously. I wish I were joking. Whenever I want rice with a meal, I ask John to make it because I ALWAYS end up burning it or under/over cooking it. It's really sad.
I guess everyone has those dishes that they just can't get right no matter what. Rice used to be one of them. But thanks to my Mom's mad cooking skills, it's a different story now.
The last time I visited my parents, I asked my mom to make her usual rice. Don't change anything. Just do what you normally do. So I grabbed a notebook and started writing down everything she did. I asked tons of questions, asked her to estimate how much of a certain ingredient she used since she doesn't really measure anything and I just observed.
I was probably REALLY annoying. But oh well. It's my mom. She's probably used to it by now.
When I got back home to Pittsburgh, it was time to recreate her recipe. I read and followed all the notes I had taken and in the end, the recipe turned out just. like. hers.
Seriously amazing. One – that I didn't burn my rice or under/over cook it like I normally do. And two – it was so similar to what my mom's tasted like. And it wasn't hard to do!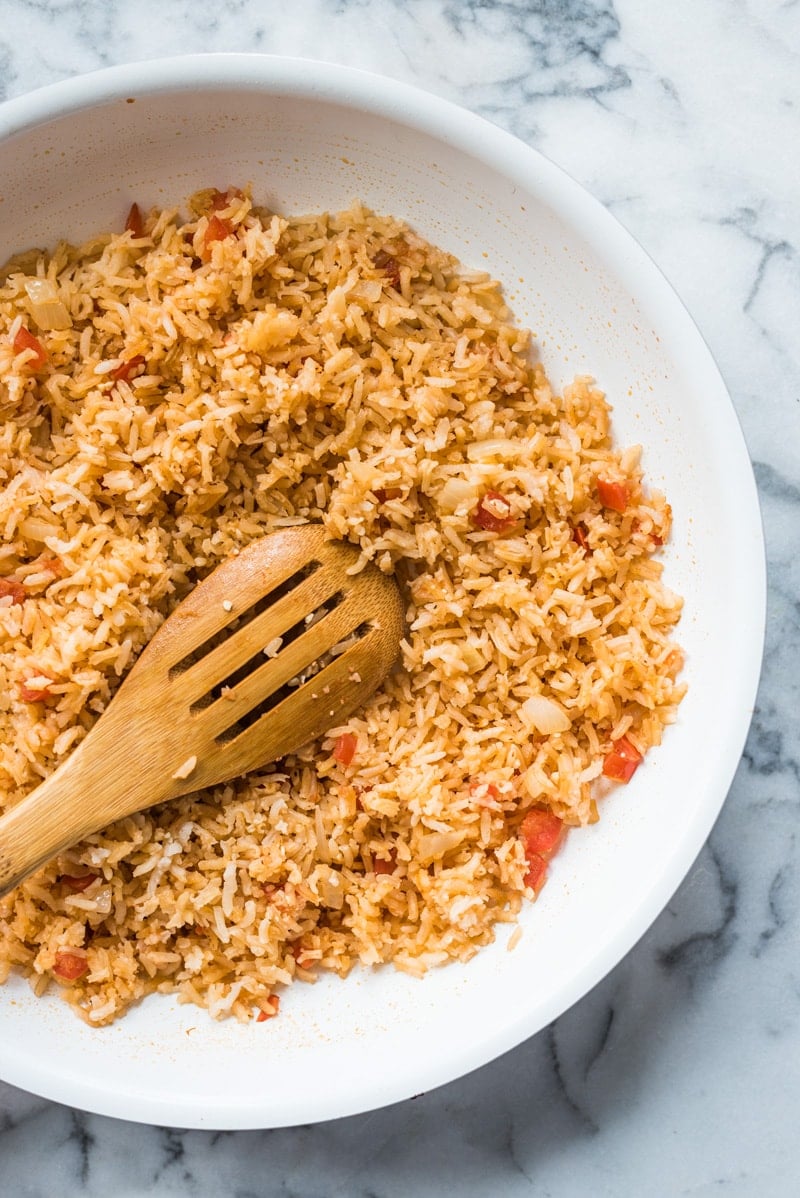 How to make Mexican rice
Here's what you need.
Rice. Olive oil. Tomato. Tomato paste. Onion. Garlic. Water.
Pretty much just the really good stuff.
Toast the rice in a large skillet with some olive oil until some of the grains begin to brown and slightly pop and open up. Add in the tomatoes, onions and garlic. Cook for another 30 seconds and add in the water and tomato paste. Stir and bring to a boil. Lower heat to simmer, cover and cook for 20 more minutes.
Done.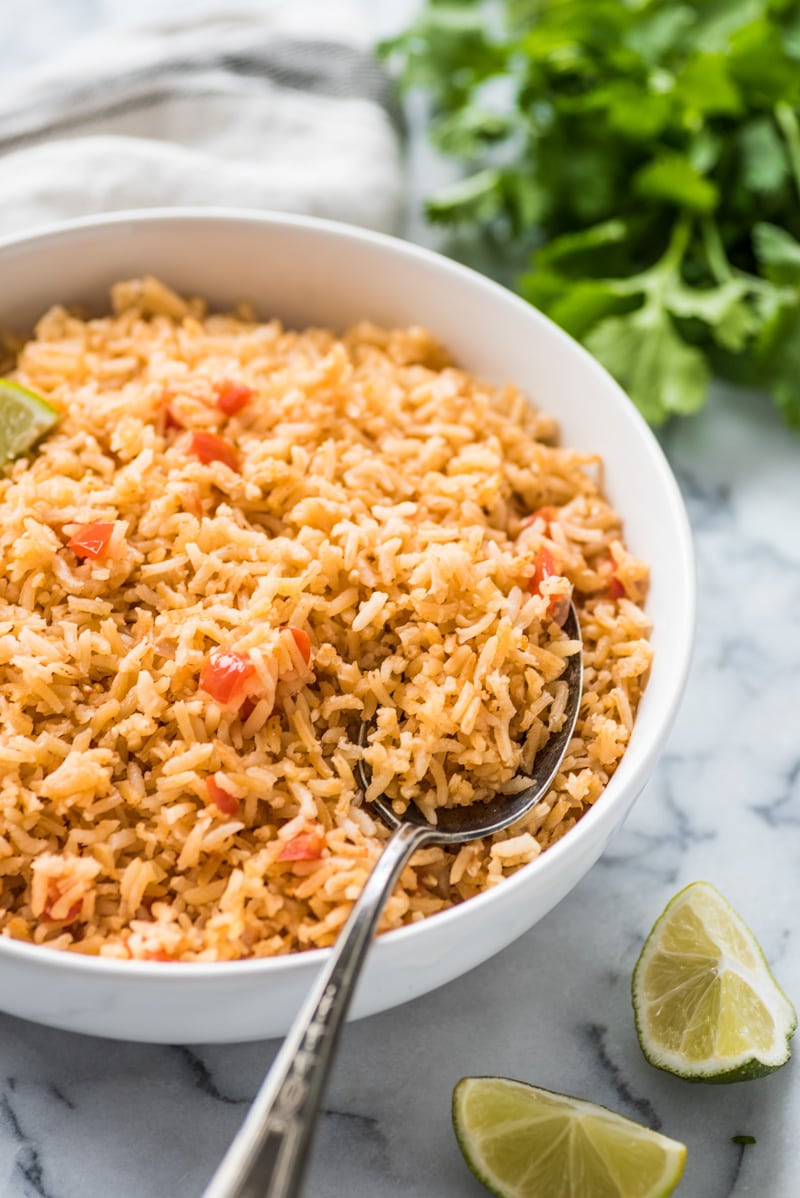 The tomatoes and tomato paste give the rice the beautiful reddish hint that everyone knows and loves about Mexican rice. However, if you don't have tomato paste, you can use a tomato bouillon cube like these from Knorr.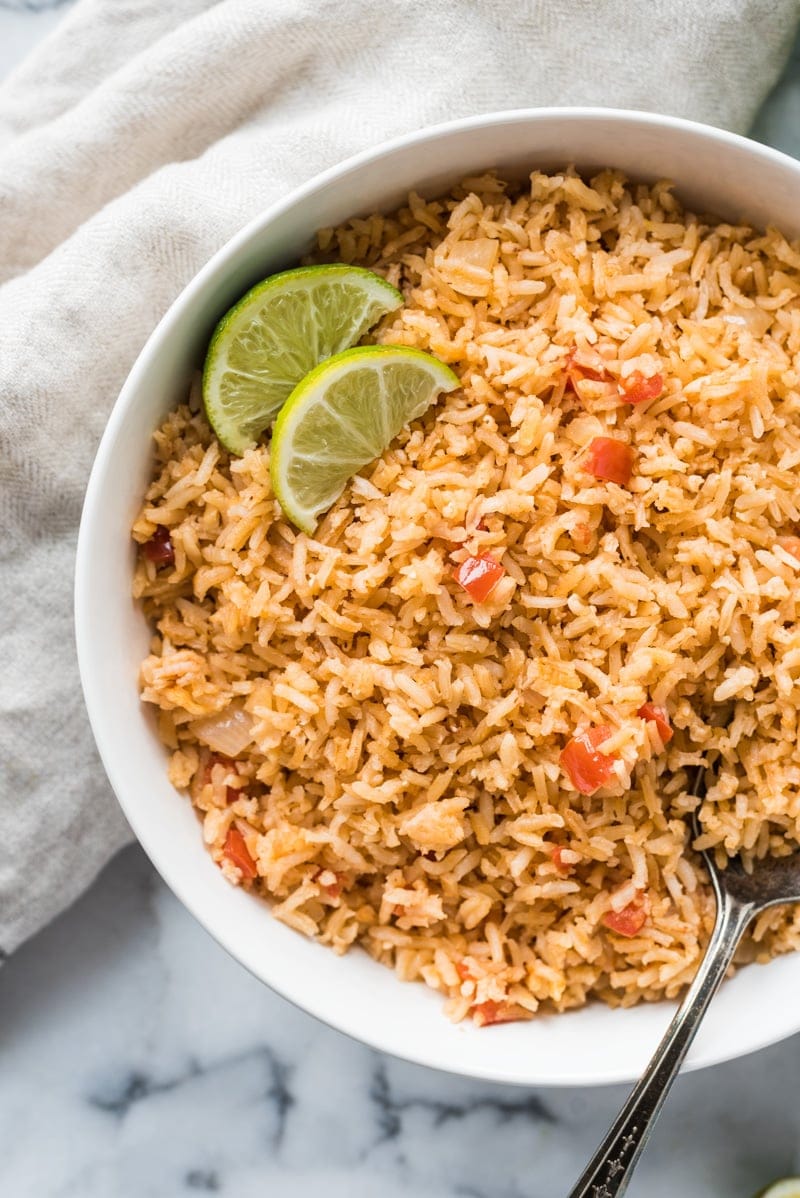 Now the only thing left to do is eat! Here are some dishes that may go well with this rice.
What to serve with this Authentic Mexican Rice Recipe
INGREDIENTS
3

tablespoons

olive oil

2

cups

long-grain white rice,

rinsed and drained

1

roma tomato,

diced

1/2

medium

white onion,

diced

2

teaspoons

minced garlic

(or 4 cloves, minced)

4

cups

water

2

teaspoons

tomato paste

salt,

to taste
INSTRUCTIONS
In a large skillet over medium-high heat, add the olive oil.

When the oil is hot, add in the rinsed rice and sauté for 10 minutes, stirring occasionally, until the rice begins to brown very slightly. At this point, some grains of rice may even pop. That's okay. This step adds some nuttiness and more depth of flavor to the rice.

Add in the diced tomatoes, onions and minced garlic. Sauté for about 30 seconds.

Add in the water, tomato paste and a generous pinch of salt. Stir together to mix until the tomato paste has fully dissolved.

Bring the rice to a boil, lower the heat to simmer and cover. Let cook for 20 minutes, or until all the water has evaporated from the skillet and the rice is fully cooked through.
NOTES
---
Nutrition Facts
Authentic Mexican Rice Recipe
Amount Per Serving (1 /8th of recipe)
Calories 205
Calories from Fat 54
% Daily Value*
Fat 6g9%
Potassium 154mg4%
Carbohydrates 40g13%
Protein 4g8%
Vitamin A 150IU3%
Vitamin C 5.8mg7%
Calcium 10mg1%
Iron 2mg11%
* Percent Daily Values are based on a 2000 calorie diet.
Did you make this recipe?
Leave a comment below and tag @isabeleats on social media!
This page contains affiliate links. If you make a purchase on Amazon after clicking one of my links, I may receive a small commission. The price of the item stays the same and any money I make goes to supporting this blog. I only endorse products and services that I fully believe in.