Jump to Recipe
Made with a Cholula Hot Sauce pizza sauce, this homemade Mexican Chili Lime Chorizo Pizza is a tasty and easy meal for any day of the week.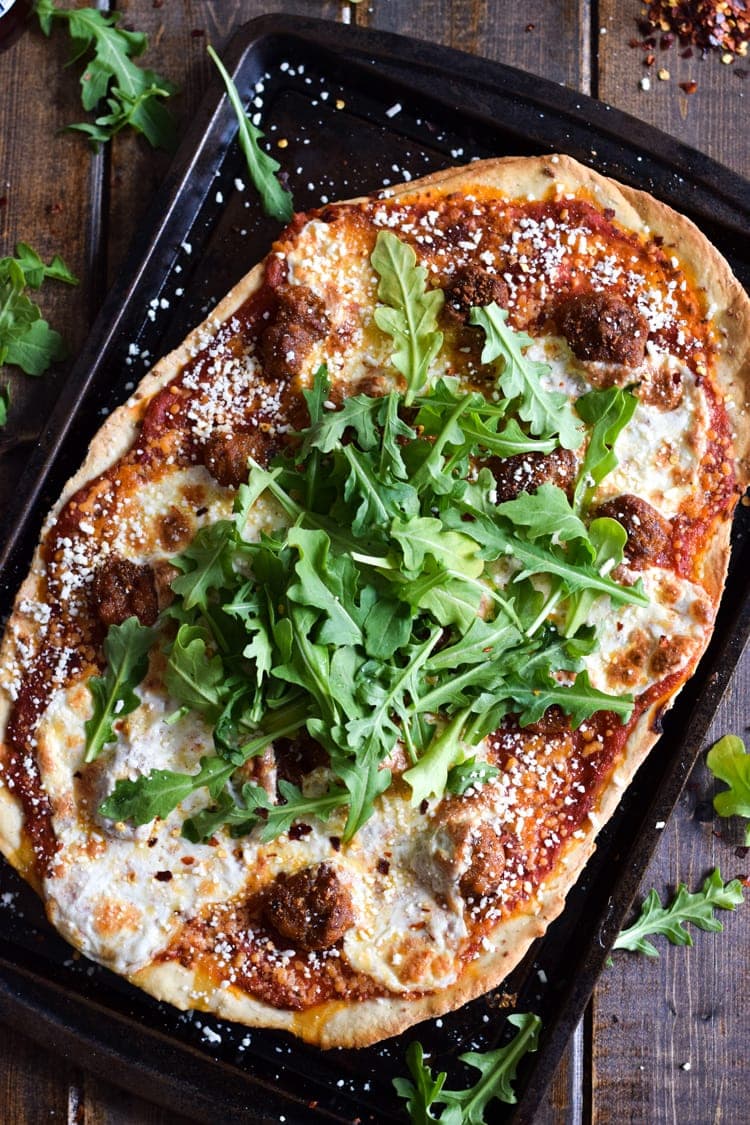 Hellllooo, fellow pizza lovers!
I can't believe this is the first pizza recipe on the blog. Ever. What is wrong with me? Oh wait, I remember. I don't normally have the self control to make a pizza, take a ton of photos and THEN eat it. I usually just jump right in when it's hot and fresh out the oven.
But not this time!
This time I summoned every ounce of willpower I had and I waited. I held off on eating this amazing Chili Lime Chorizo Pizza right away just so I could share it with you. And I know you'll love the results.
First things first, you've got to have a good crust. After testing out about 4 different crust recipes, I finally made one that I absolutely loved that will definitely become my standard pizza crust recipe from now on. Everyone has their own personal preference on the type of pizza crust they prefer, so I recommend testing out a few recipes and finding one you like and sticking to it.
This particular crust recipe is nice and doughy, but not too thick. It's not a thin and crispy crust, because that's not my favorite. And it's definitely not deep dish. It's right in the middle and it's juuuuust right. I added some garlic powder, oregano and salt to it because I didn't want it to be boring and bland. No cardboard crust here.
Next, you've got to have the right cheese. I decided to go mostly classic by using freshly sliced mozzarella. You really just can't go wrong with mozzarella on a pizza. It melts perfectly, compliments the pizza sauce perfectly and is just really beautiful.
Yep. I'm officially weird.
And because I do love me some Mexican food, I also sprinkled on some cotija cheese, a salty crumbly cheese that's almost like feta, but wayyyy more intense.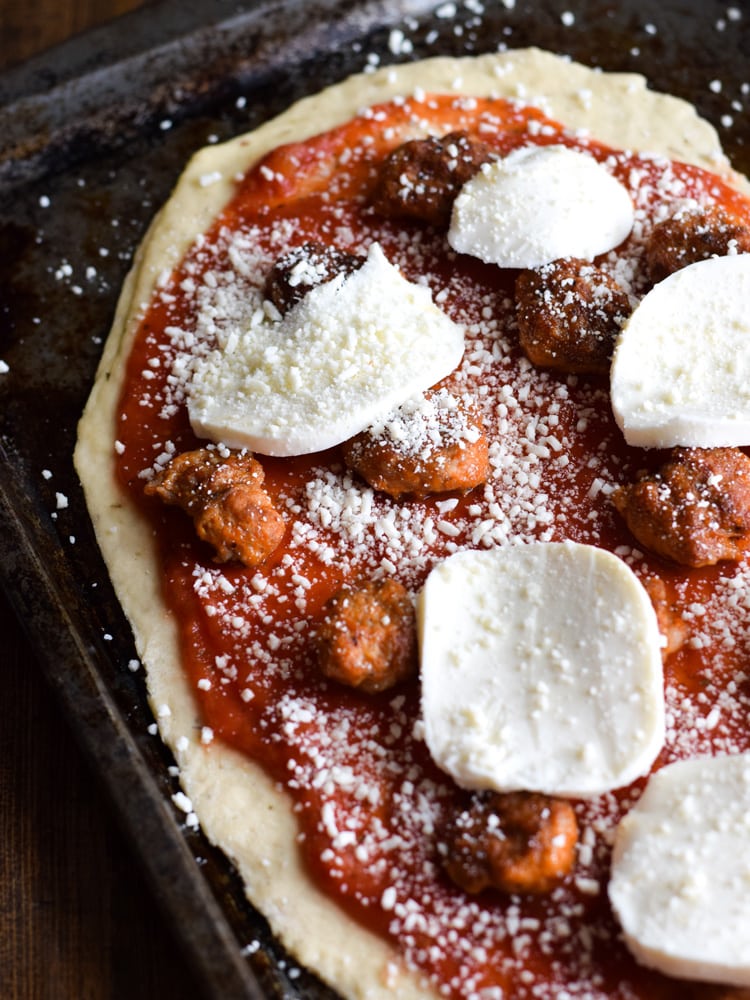 Most important is the chili lime pizza sauce. The secret ingredient? Cholula Chili Lime Hot Sauce! While the recipe doesn't call for a ton of it, the amount that is in the sauce gives it a nice chili lime flavor that goes really well the the spicy chorizo sausage and the salty cotija cheese. Plus, Cholula is one of my FAVORITE hot sauces and I love putting it on everything.
It's only natural that I put it on my pizza.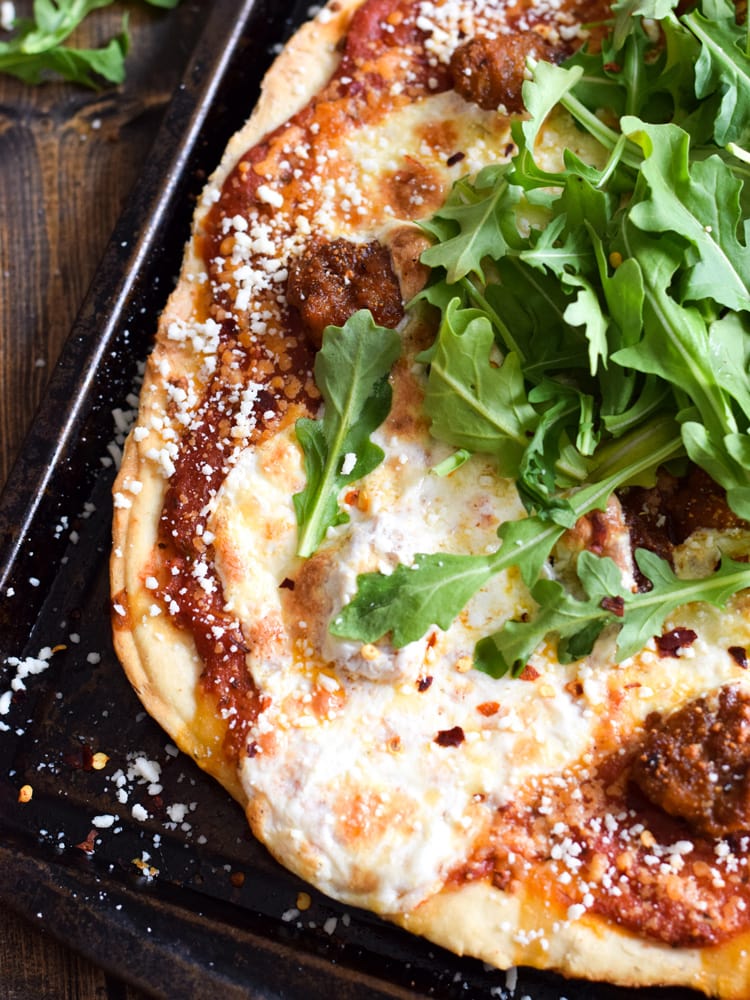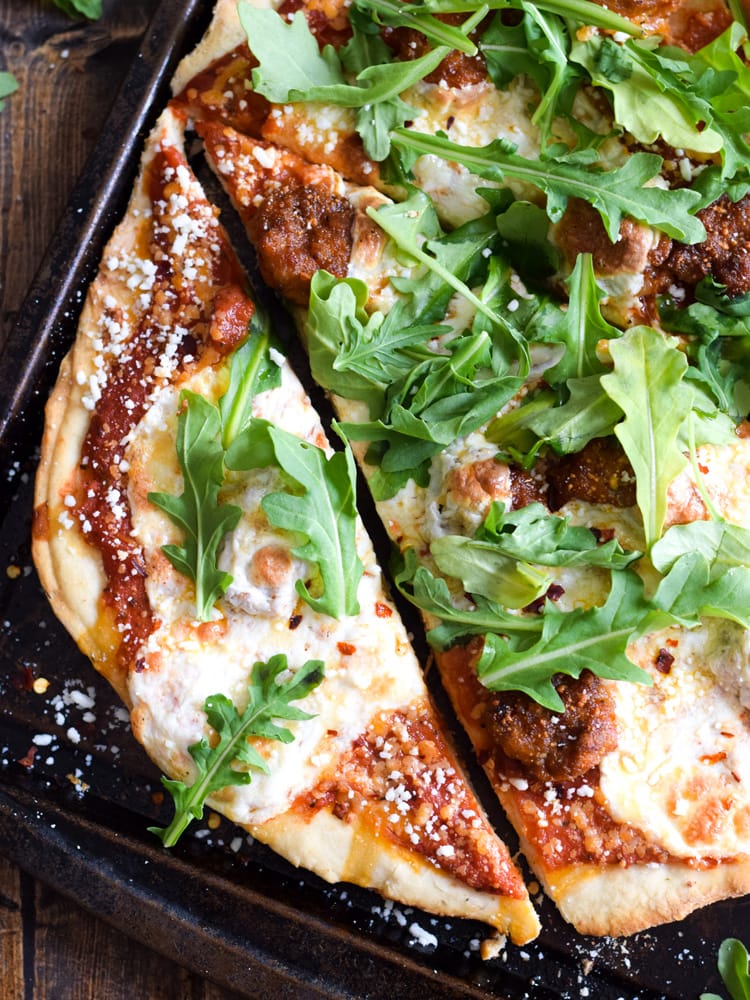 Since the flavors in the pizza sauce and chorizo are a bit darker and complex, I wanted to add in a touch of brightness to balance everything out.
Solution? Arugula! Just a handful will do. It' s seriously like magic.
The only thing that's left to do is crack open a beer and dig in.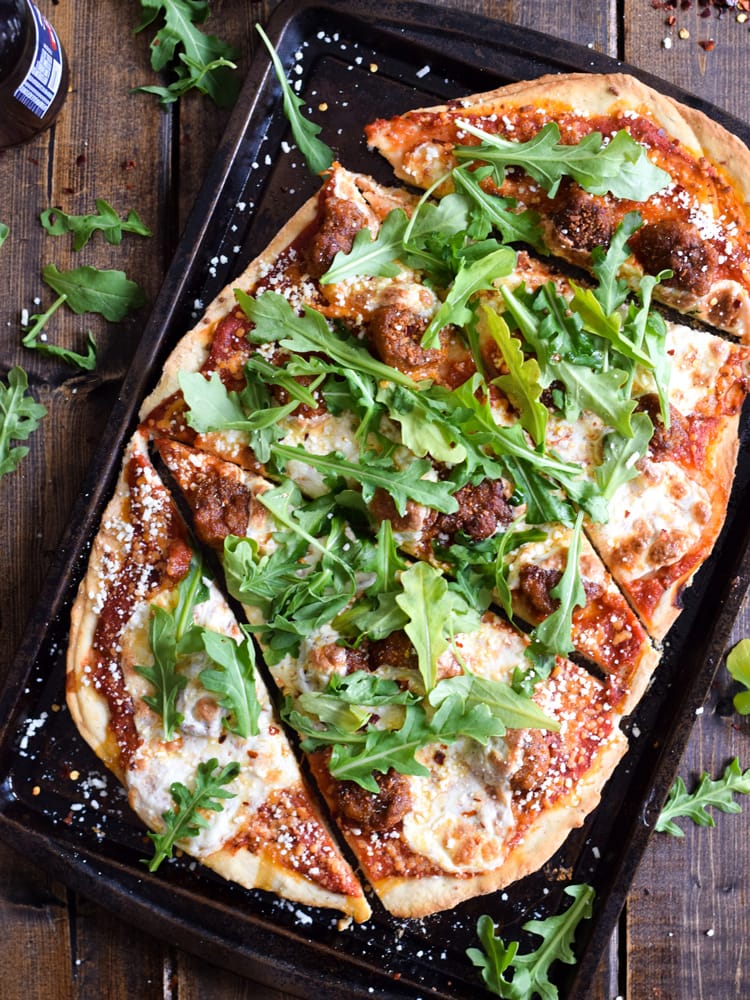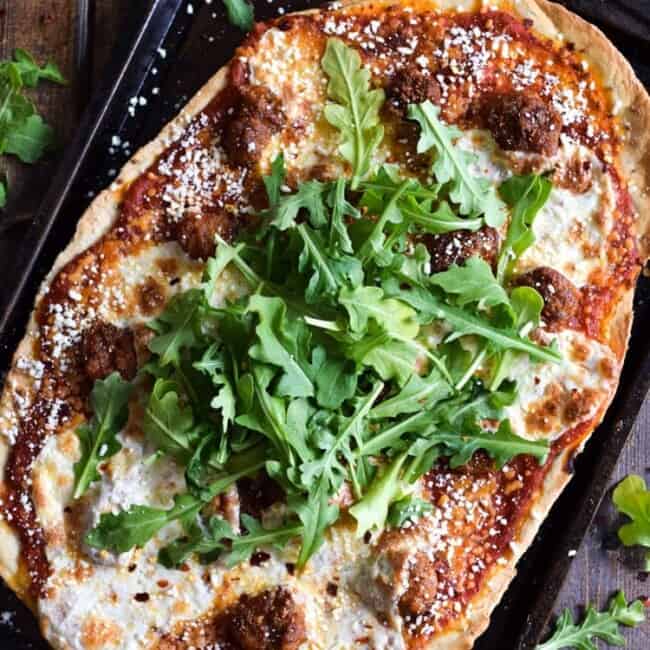 Prep: 50 minutes
Cook: 20 minutes
Total : 1 hour 10 minutes
Made with a Cholula Hot Sauce pizza sauce, this homemade Mexican Chili Lime Chorizo Pizza is a tasty and easy meal for any day of the week.
Ingredients
For the sauce (half on each pizza)
1 cup canned diced tomatoes, drained
2 tbsp tomato paste
1 tbsp Cholula Chili Lime Hot Sauce
1/2 tsp dried basil
1/4 tsp dried oregano
1/4 tsp salt
For the toppings (half on each pizza)
8 oz fresh mozzarella cheese sliced into thin circles
3/4 lb chorizo sausage sliced into small coins
1/4 cup cotija cheese
Handful of arugula
Pinch of crushed red pepper flakes
Instructions
For the dough
In a small bowl or cup, combine warm water and packet of yeast until yeast is fully dissolved.

In a large mixing bowl, combine flour and salt.

Add yeast water and 2 tbsp olive oil to bowl and mix with a fork until fully combined.

Transfer mixture onto lightly floured surface and knead together until dough is formed into a large ball, about 2 to 3 minutes. Dough should be smooth and slightly sticky.

Place ball of dough in a large mixing bowl that has been greased with the remaining tsp of olive oil.

Cover bowl with a towel and let rest for 30 minutes.
For the sauce
While the dough is rising, place all ingredients for the sauce in a blender and blend until liquified. Set aside until needed.
For the pizza
After making the sauce, cook chorizo in a medium skillet over medium-high heat until thoroughly cooked through, about 5 minutes. Place cooked chorizo on a few paper towels and set aside to allow towels to soak up any excess grease.

Time to check on the dough. Remove the risen dough from the bowl and place it on a lightly floured surface. Punch it down and cover it again to rest for 10 more minutes.

While dough is rising a second time, preheat oven to 450 degrees.

After dough has risen a second time, cut ball in half to make two small 12-inch pizzas. Roll each half of dough into your desired pizza shape (I like it to look 'rustic' so I just roll it out freeform style) and place on a large baking sheet covered in parchment paper.

Top pizza with sauce, cooked chorizo, mozzarella and cotija cheese.

Bake in the oven for 20 min.

Remove from oven, top with arugula and crushed red pepper flakes.

Enjoy!
This page contains affiliate links. If you make a purchase on Amazon after clicking one of my links, I may receive a small commission. The price of the item stays the same and any money I make goes to supporting this blog. I only endorse products and services that I fully believe in. Thanks for your support!