Jump to Recipe
Homemade Mexican Chocolate Pumpkin Seed Biscotti dipped in melted chocolate and sprinkled with sea salt. Holiday perfection.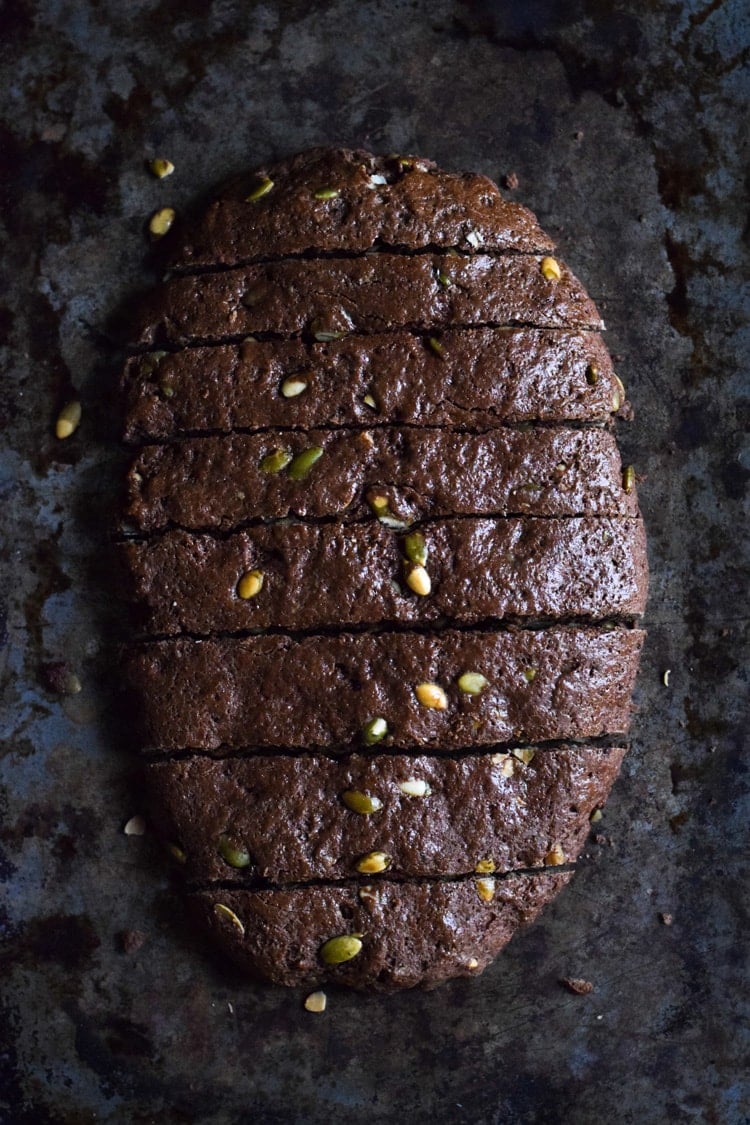 Hellooooooo, holidays!
I can't believe it's already December. But I must say, I'm totally and completely ready for it this year. The Christmas tree is up in the living room, John's huge collection of nutcrackers is on display (he's such a dork) and my pine and cedar scented candles have been burning nonstop.
So it's cold. So what! I've got warm boots and scarves and sweaters and jackets to keep me warm. And the smell of this Chocolate Pumpkin Seed Biscotti baking in the oven? Well, that makes all the bad things about winter a-okay in my book.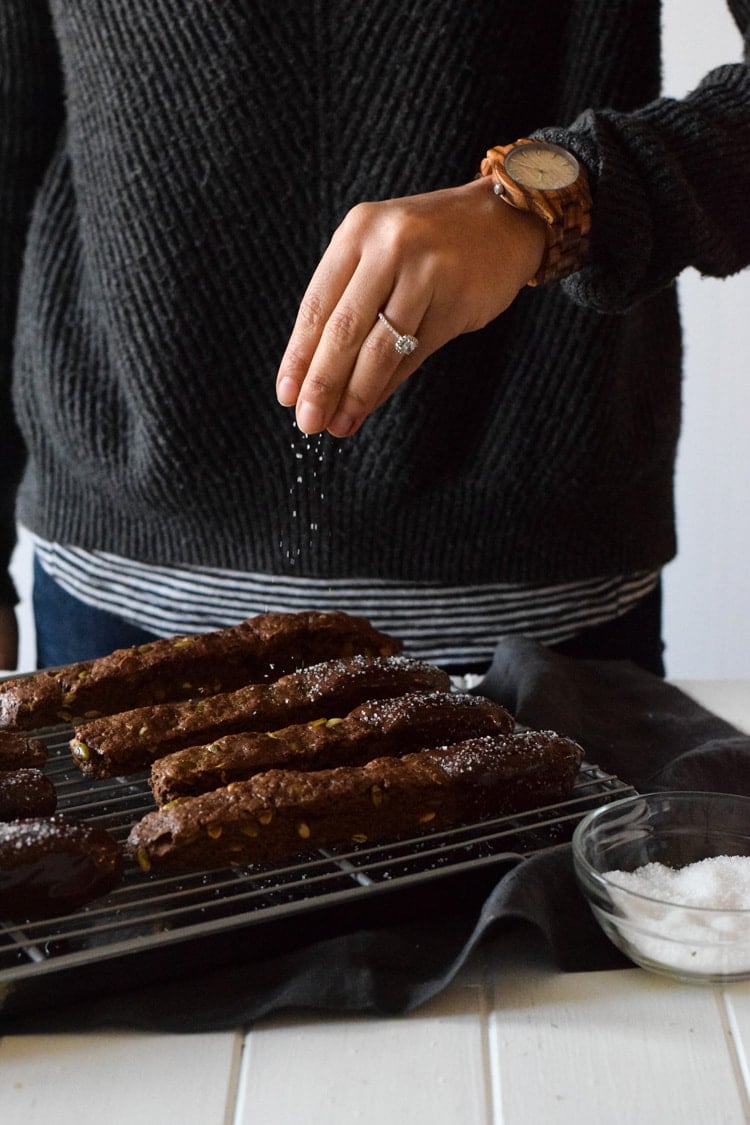 Dipped in a very generous amount of melted milk chocolate and sprinkled with coarse sea salt, this biscotti really hits the spot. I like to enjoy it in the mornings with a hot cup of coffee or in the evenings with a big glass of cold milk.
It's really in that category of foods that people eat for breakfast or dessert. Think donuts, crepes, muffins, cinnamon rolls, "breakfast" cookies. Baaasically the best food category ever.
But as good as all the foods in the category are, there's something that sets biscotti apart.
It makes me feel…cozy. It makes me want to snuggle up on the couch under a warm blanket. It makes me happy. It makes me want to spread the holiday cheer.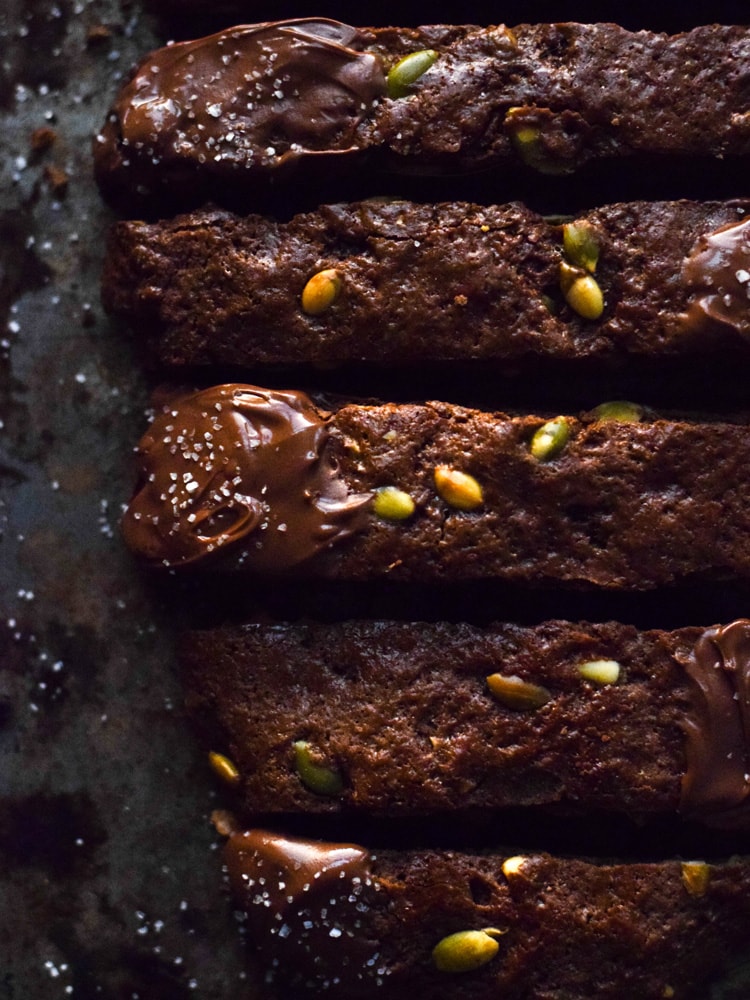 So let's do it. Let's spread some holiday cheer! I'm so excited to be partnering with JORD Wood Watches today to bring you this Chocolate Pumpkin Seed Biscotti recipe. When they reached out to me about giving you a special e-gift code, I couldn't resist saying yes. Their watches are absolutely GORGEOUS.
I mean, just look.
I can't even.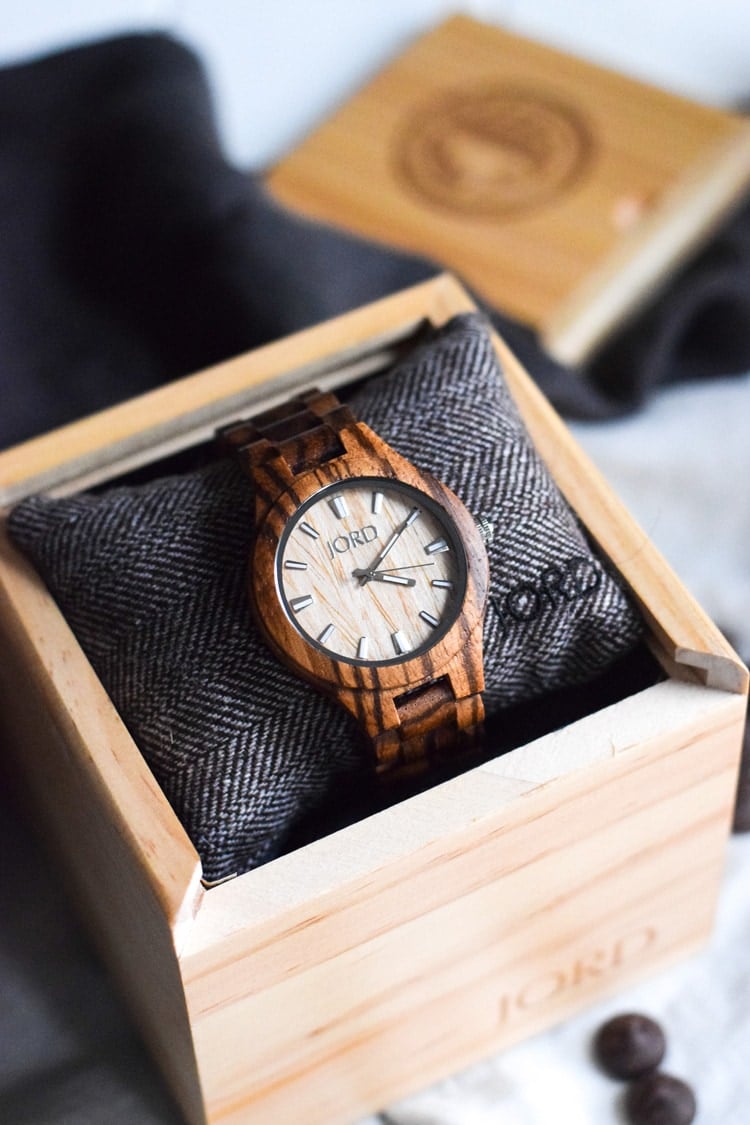 JORD has a huge selection of women's and men's wood watches that would make really great gifts. Christmas gifts to friends, Christmas gifts to yourself. You know – gifts. 🙂
The one I'm wearing is the Fieldcrest Zebrawood and Maple.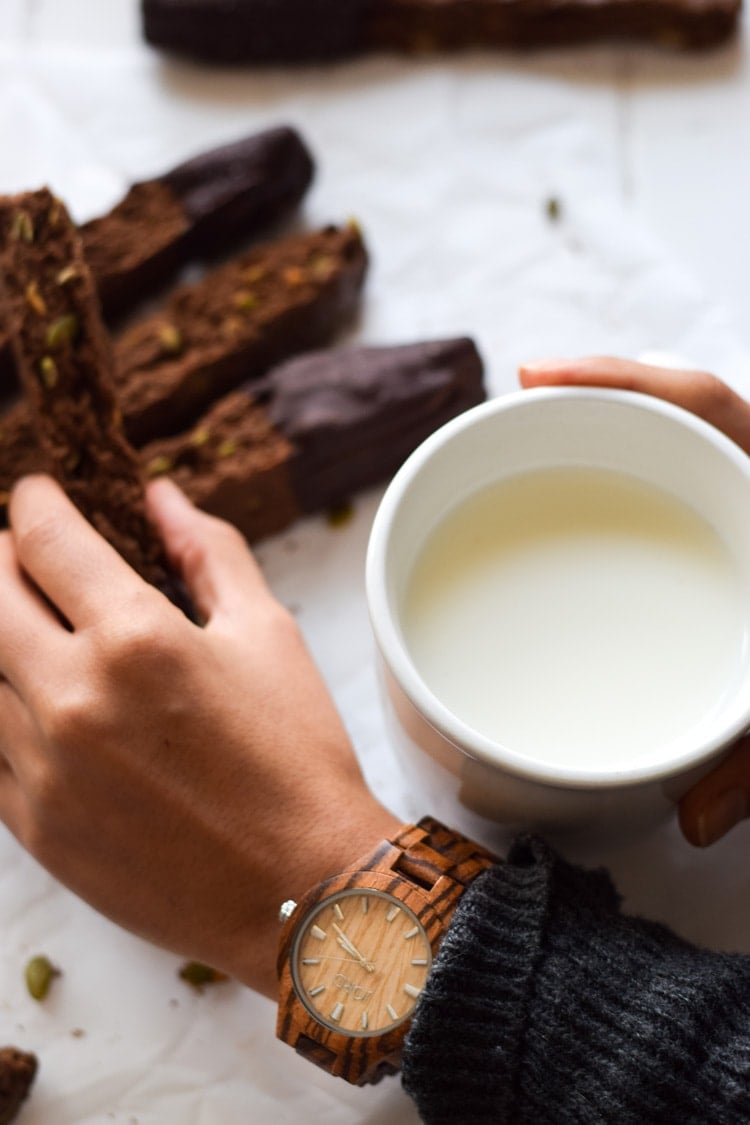 To get a free gift courtesy of JORD Wood Watches, all you have to do is fill out a simple form and you'll be instantly emailed a $25 e-gift code to use on the JORD Wood Watch of your choice!
Gift cards are only available until December 18, 2016 – so don't wait!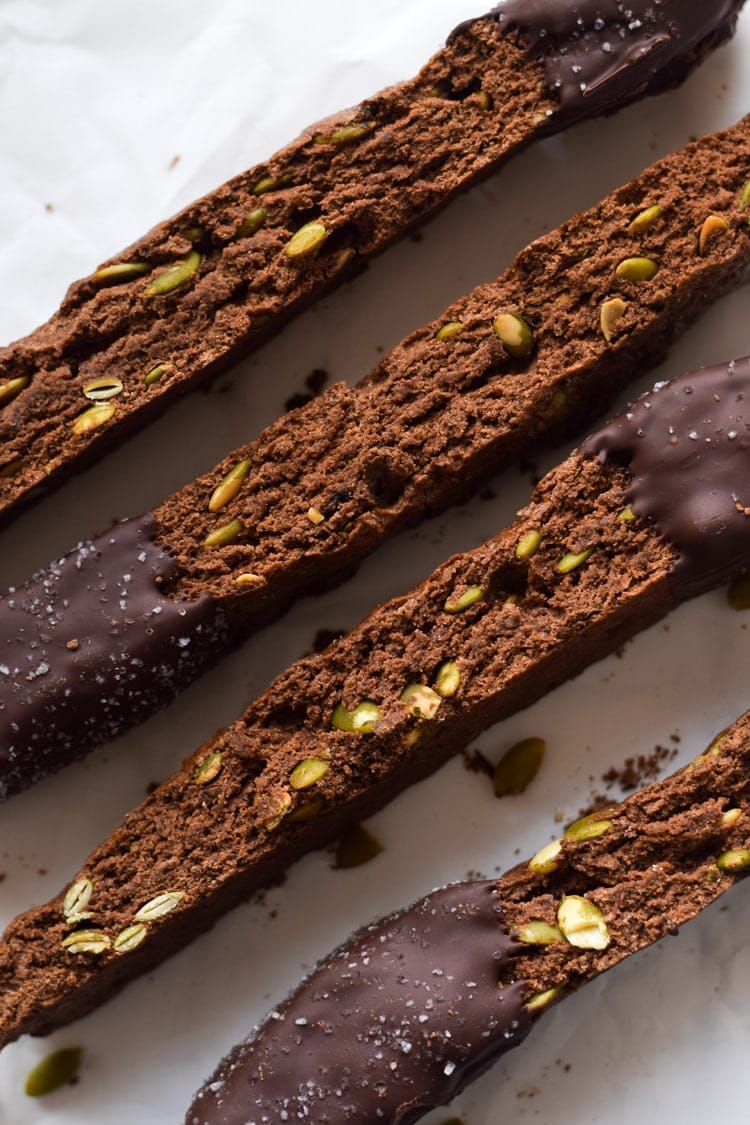 I hope you enjoy this recipe as much as I do.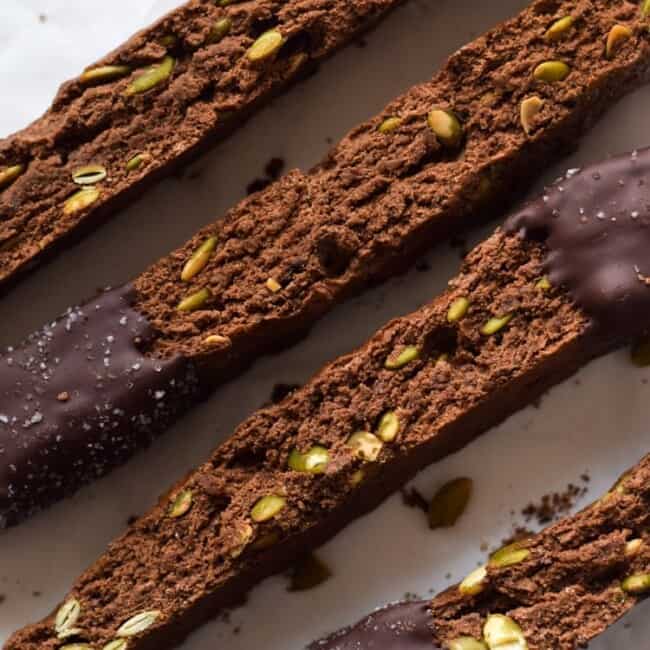 Prep: 20 minutes
Cook: 50 minutes
Total : 1 hour 10 minutes
Homemade Mexican Chocolate Pumpkin Seed Biscotti dipped in melted chocolate and sprinkled with sea salt. Holiday perfection.
Ingredients
2 1/4 cups all-purpose flour + more for hands and counter
1/2 cup light brown sugar
1 tablet Abuelita Mexican chocolate, pulverized in blender
1/4 cup unsweetned cocoa powder
1 tsp baking powder
1/2 tsp ground cinnamon
1/2 tsp salt
3 large eggs
1/4 cup + 1 tbsp coconut oil, melted
1 tsp vanilla extract
1 cup roasted and unsalted pumpkin seeds
1 tbsp egg wash (1 large egg beaten with 1 tbsp milk)
8 ounces milk chocolate chips
Coarse sea salt for topping, optional
Instructions
Preheat oven to 350°F. Line one large baking sheet with parchment paper and set aside.

In a large bowl, mix the flour, brown sugar, pulverized chocolate, cocoa powder, baking powder, cinnamon, and salt together until combined.

In a small bowl, whisk the eggs, melted coconut oil, and vanilla together. Pour the wet ingredients into the dry ingredients and mix together until everything is just moistened. Then fold in the pumpkin seeds.

Place dough onto a lightly floured surface and knead until the dough is soft and slightly sticky. If it's not sticky enough, knead 1-2 more tsp coconut oil until the flour sticks together.

Place the dough onto the baking sheet and shape into a long roll, patting down until it's about 1/2 inch thick. Using a pastry brush, lightly brush the top and sides with egg wash.

Bake in the oven for 25 minutes, or until the top and sides are lightly browned. Remove from the oven and allow the biscotti to cool for about 5 minutes until they are cool enough to touch. Cut the biscotti into 1 inch thick slices. Set the slices cut sides up and bake again for 10 minutes. After the first 10 minutes, turn biscotti over and bake on the other side for 10 more minutes. Remove from the oven and allow to cool completely.

Once the biscotti has cooled completely, it's time to dip it in melted chocolate! To melt the chocolate, place the chocolate chips in a microwave safe container (I used a glass) and melt it in the microwave in 30 second increments, stirring with a fork each time. Do this until the chocolate is completely melted. Dip each biscotti end into the chocolate and place on the baking sheet to cool. Top each biscotti with some coarse sea salt if desired and enjoy with a glass of milk or coffee!
This post was sponsored by JORD Wood Watches.
Watches Made From Wood