Jump to Recipe
A refreshing and flavorful gazpacho recipe made from fresh sun-ripened tomatoes, cucumbers, bell peppers, onions and other simple ingredients. It's the best chilled soup you'll eat all summer!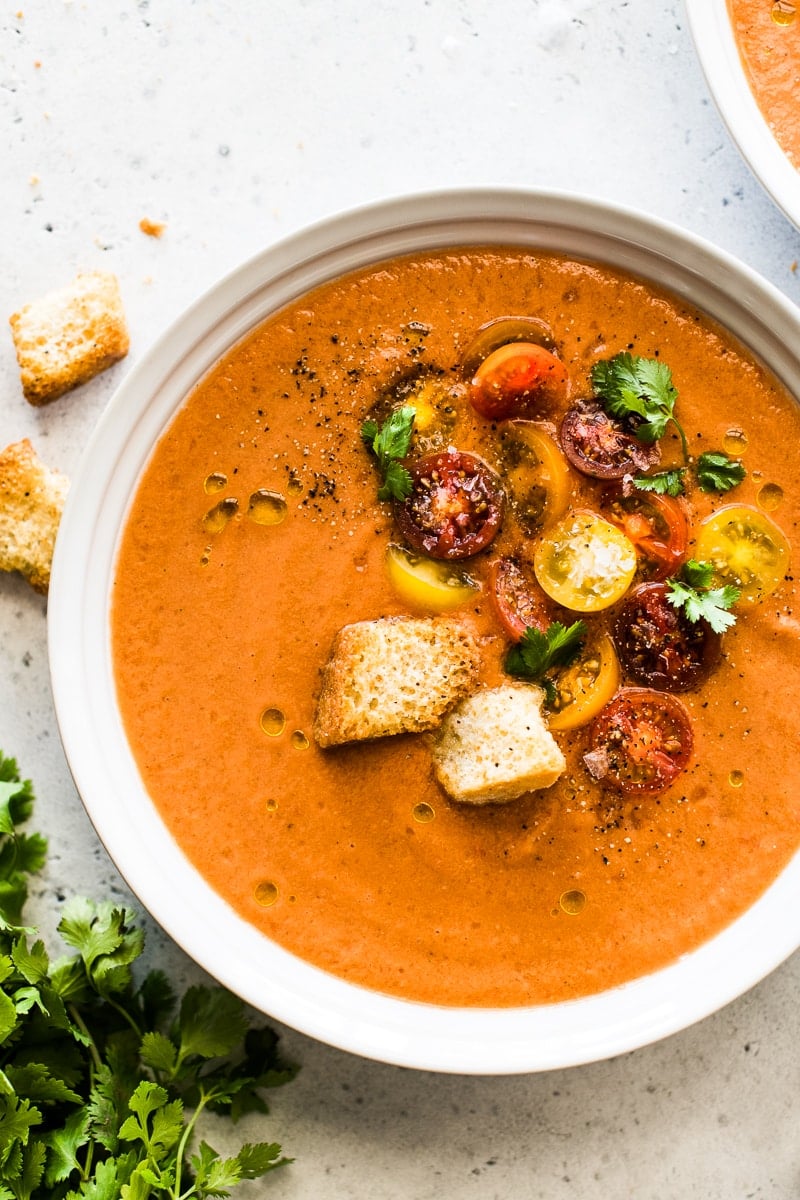 Take a break from turning on the oven and stove this summer, and grab your blender instead. It's time to whip up a batch of fresh gazpacho!
This is my first summer really making gazpacho, and after making batches upon batches of this stuff, I'm absolutely hooked! This tomato-based soup is served cold (perfect for those hot summer days) and one of those recipes that often tastes better the next day after all the ingredients have had time to meld together.
It's quick and easy to make, made with fresh produce and requires no "cooking" at all! All you need is a blender and you're good to go.
What is gazpacho?
Gazpacho is a chilled vegetable soup made from fresh summer ingredients like tomatoes, cucumbers and bell peppers. It's pureed with a little olive oil to create a light yet creamy texture.
It originated in Andalucía, Spain and has become a popular soup to serve during the hot summer months around the world.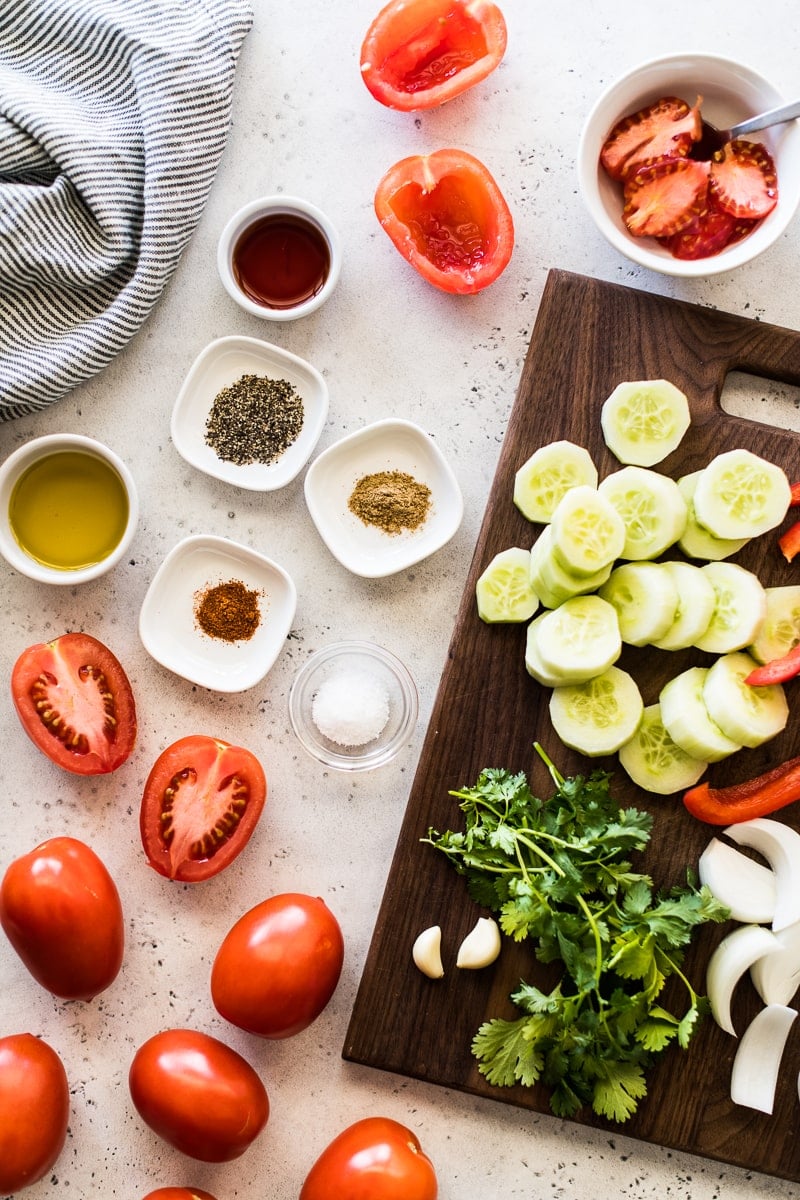 Ingredients in gazpacho
For this recipe, you'll need:
juicy & ripe vegetables like plum/roma tomatoes, a cucumber and a red bell pepper
garlic and a sweet yellow onion
cilantro
olive oil and red wine vinegar
coarse kosher salt, black pepper, cumin and cayenne (optional if you don't want anything spicy)
How to make gazpacho
Once you've got all your ingredients together, all you have to do is place everything in a blender and puree it until smooth! (photo 1 & 2)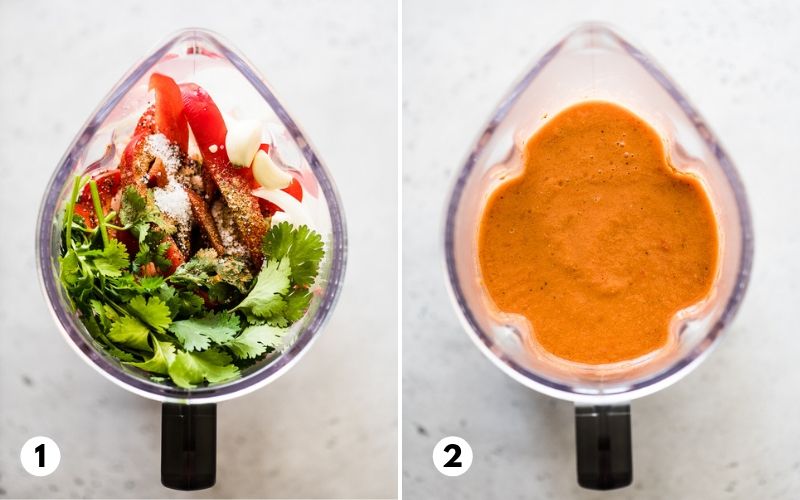 It's literally that simple! After pureeing, the waiting game begins.
I recommend letting the soup chill in the fridge for at least 4 hours to really help the flavors come together and develop. After that, serve with some croutons or crusty bread, a drizzle of olive oil, halved cherry tomatoes if you've got some fresh ones from the garden and eat up!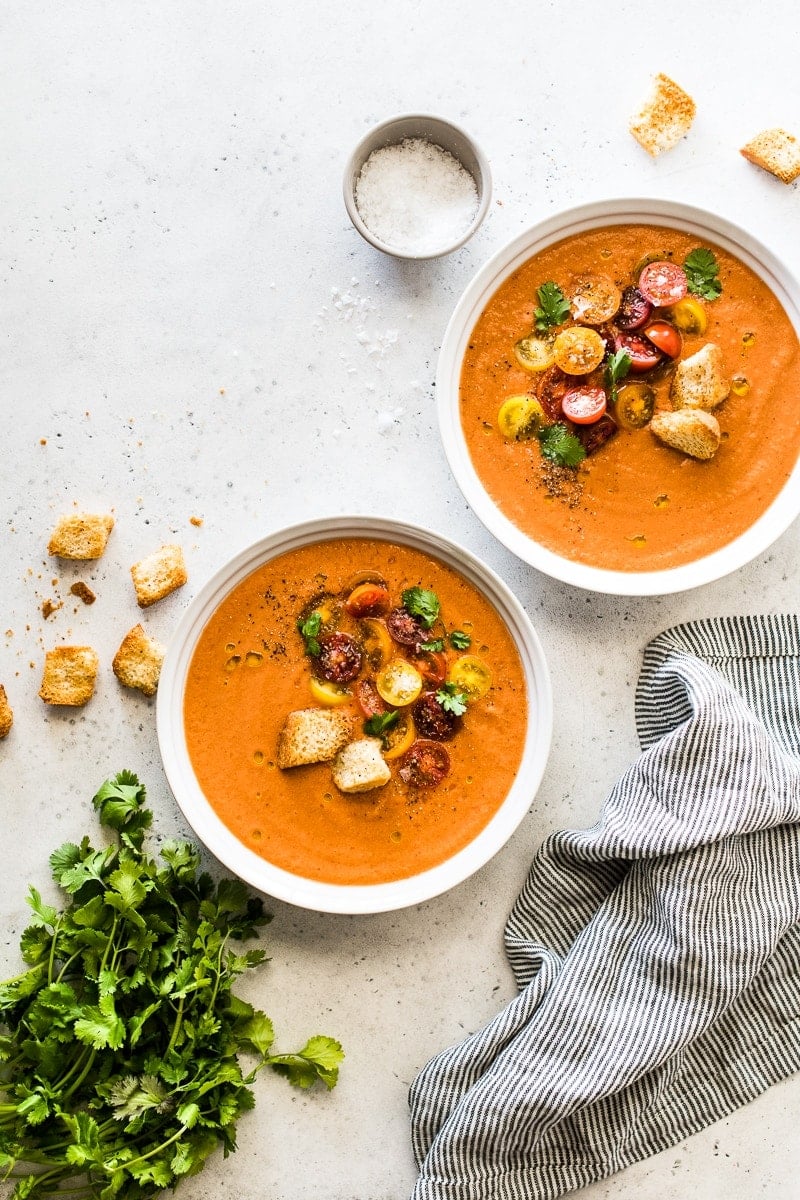 Tips for making the best gazpacho
Let it sit in the fridge for at least 4 hours, but preferably overnight. I find that the flavors really meld together once it's had a chance to sit for that amount of time.
Serve cold. This is crucial.
Drizzle a little olive oil on top when serving. It really adds some creaminess and healthy fats to the soup.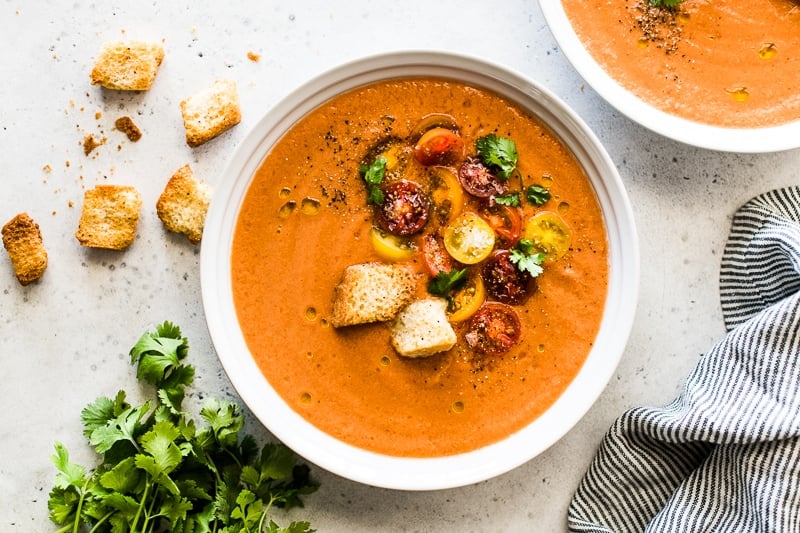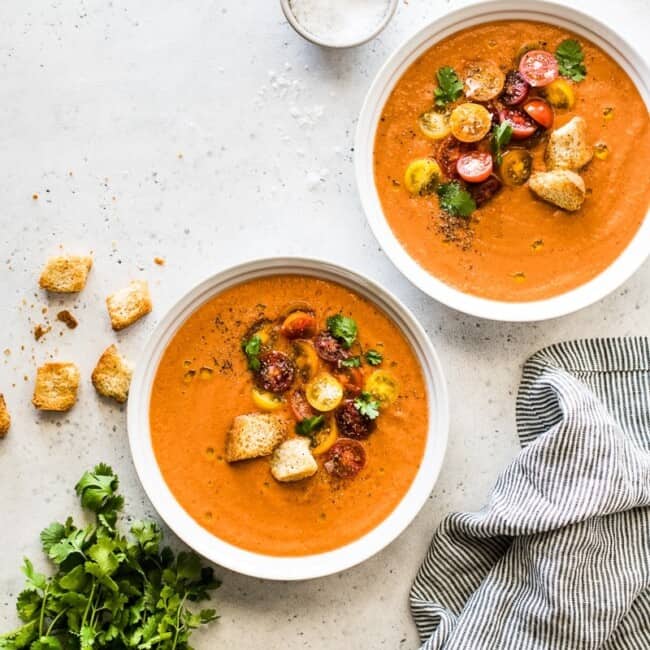 Prep: 15 minutes
Total : 15 minutes
A refreshing gazpacho recipe made from fresh sun-ripened tomatoes, cucumbers, bell peppers, onions and other simple ingredients. The best summer soup!
Ingredients
2 pounds ripe plum or roma tomatoes, halved, core and seeds removed
1 medium cucumber, peeled and cut into coins
1 medium red bell pepper, stem and core removed
1/2 medium sweet yellow onion, peeled and cut into large chunks
2 cloves garlic
1/4 cup cilantro
2 tablespoons olive oil
1 tablespoon red wine vinegar
1 teaspoon kosher salt
1/2 teaspoon freshly ground black pepper
1/2 teaspoon ground cumin
1/4 teaspoon cayenne pepper (optional)
garnishes: croutons, cilantro leaves, olive oil
Instructions
Add all ingredients in a large blender or food processor. Puree until completely smooth, about 1-2 minutes depending on the power of your blender. (You may have to do this in two batches if your blender isn't large enough.)

Taste and season with more salt if necessary.

Transfer to a large glass container, cover and refrigerate for at least 4 hours or up to overnight to help all the flavors meld together.

Serve cold with croutons, cilantro and a drizzle of olive oil.
Isabel's Tips:
Makes about 5 cups total.
Nutrition Information
Serving: 1serving Calories: 114kcal (6%) Carbohydrates: 11g (4%) Protein: 2g (4%) Fat: 7g (11%) Saturated Fat: 1g (5%) Polyunsaturated Fat: 1g Monounsaturated Fat: 5g Trans Fat: 0g Cholesterol: 0mg Sodium: 412mg (17%) Potassium: 517mg (15%) Fiber: 4g (16%) Sugar: 6g (7%) Vitamin A: 2400IU (48%) Vitamin C: 85mg (103%) Calcium: 60mg (6%) Iron: 0.9mg (5%)