Jump to Recipe
The easiest way to make black beans in the Instant Pot! No soaking required and cooks dried black beans with the best texture and flavor. This pressure cooker method is way better than the canned version and is an inexpensive way to feed the whole family!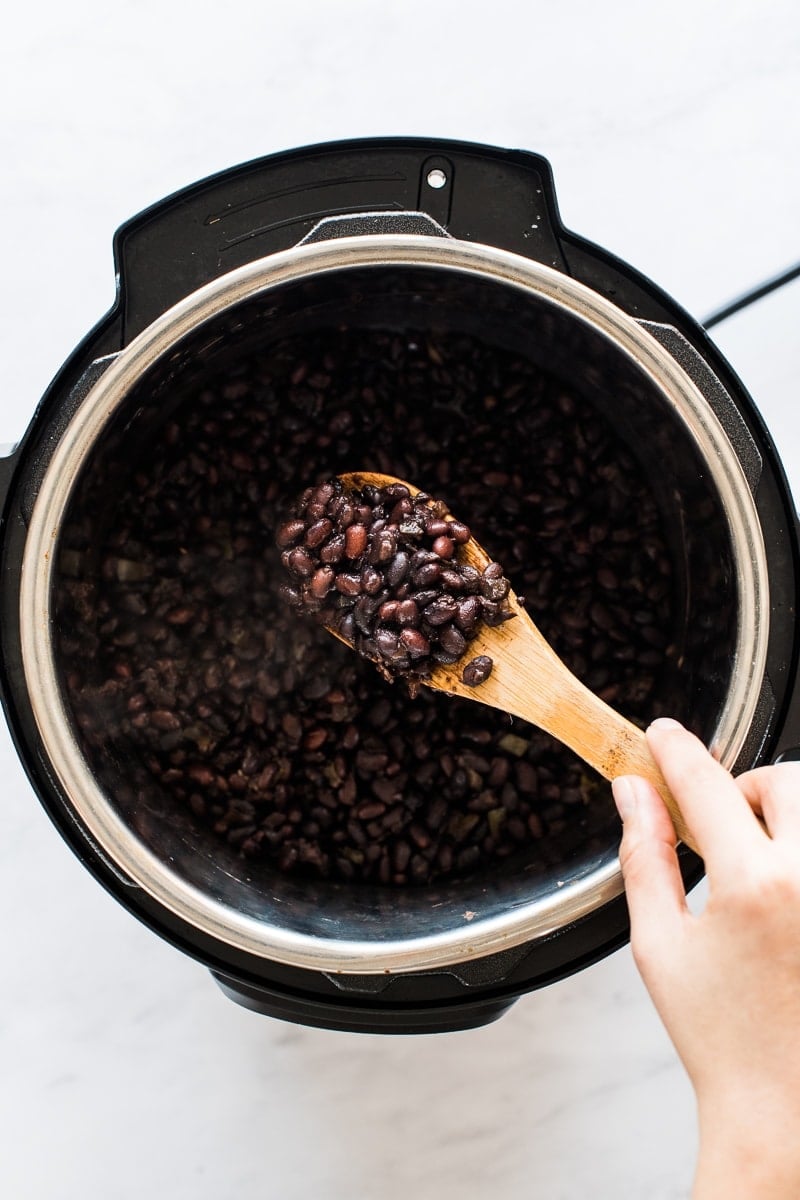 Do you have a bag of black beans in your cupboard that needs some love? Then you've got to make these easy Instant Pot Black Beans!
We're huge fans of beans here on Isabel Eats – all kinds including refried beans, Instant Pot refried beans, charro beans, pinto beans, and even canned black beans! I grew up eating them every single day and I'm still not tired of them. They're inexpensive and affordable, healthy, full of fiber and are a great source of protein.
While I still love the canned version when I'm looking for something convenient, I prefer the taste and texture when they're cooked from dried. They're not mushy, they taste fresh and you can really make them your own by adding different seasonings and spices if you like.
The only issue with cooking black beans from dried? Time. Cooking them on the stovetop can take long and often requires soaking. But cooking them in a pressure cooker like the Instant Pot requires no soaking at all and only takes about 1 hour!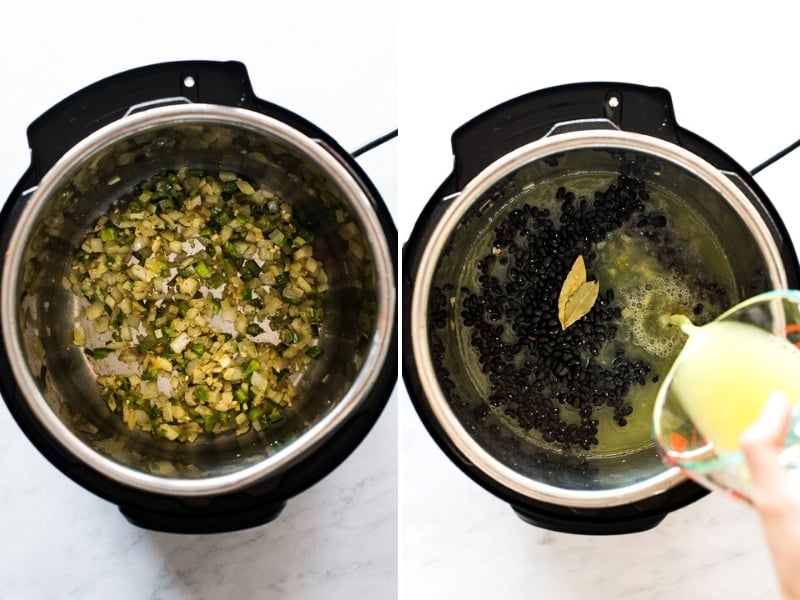 Adding flavor to dried beans
Cooking beans from dried is not only cheap, it's also easy to customize and make your own. You can make this recipe with only black beans and water, but I like adding a few simple ingredients like onions, garlic, bell peppers and bay leaves to help infuse a little more flavor into the bean broth.
I sauteed some onions and bell peppers in the Instant Pot using the saute function for 5 minutes to help bring out that sweet caramelized onion flavor. Then I mixed in some other seasonings before adding the beans and water.
Do you need to soak black beans before cooking?
No, not with this Instant Pot pressure cooker method. The beauty of the Instant Pot is that it cooks things much faster than normal, so no need to soak the beans!
Water ratio for Instant Pot Black Beans
There are two different water ratios you can use to cook your black beans depending on how much broth you prefer:
1 pound black beans + 3 1/2 cups water or broth – This bean to liquid ratio makes black beans that don't have a lot of broth left over. There's still some liquid in the pot to help ensure that the beans don't dry out when they're stored in the fridge, but not so much that it's like a soup. This is perfect for adding to salads and other dishes that you don't want to add any excess moisture to.
1 pound black beans + 5 cups water or broth – This bean to liquid ratio has a lot of liquid left over that's perfect if you like soupier black beans. They definitely won't dry out when stored in the fridge because they'll have a ton of liquid covering the top. You may have to drain them if you don't want them too wet depending on how you want to serve them. This is perfect for adding to soups or making into mashed refried black beans.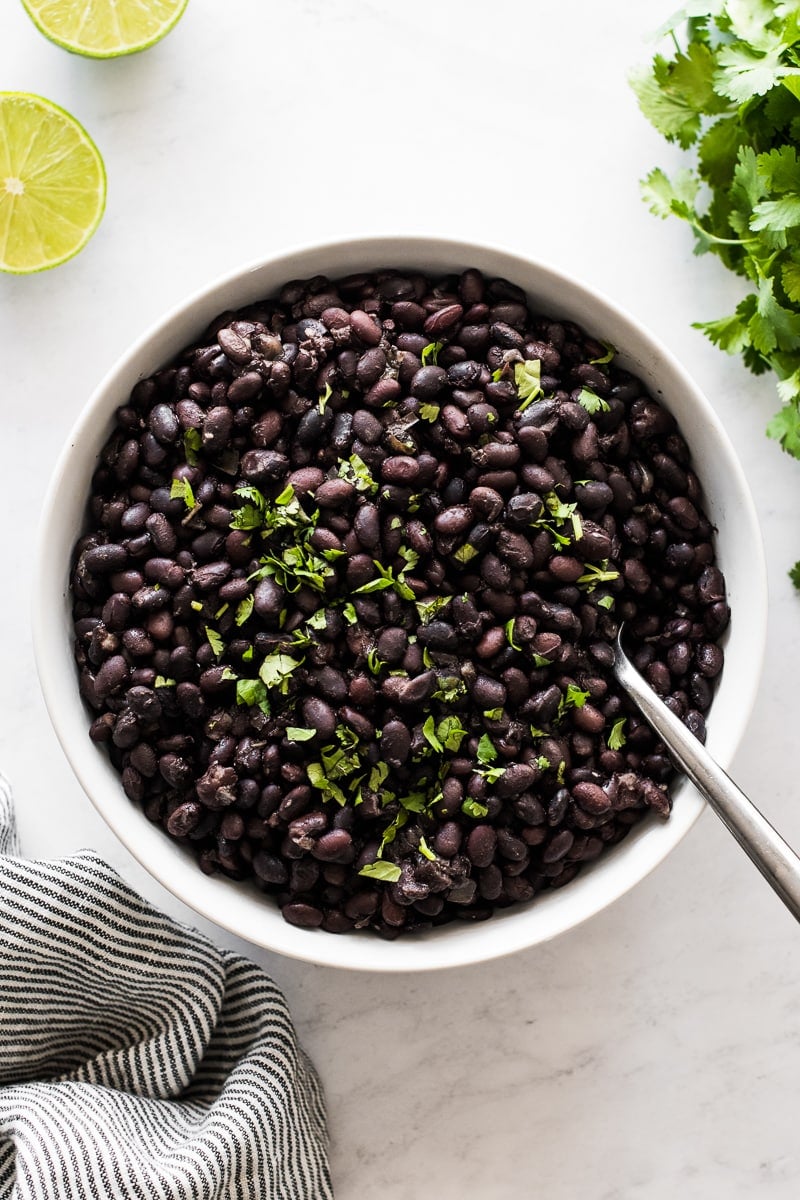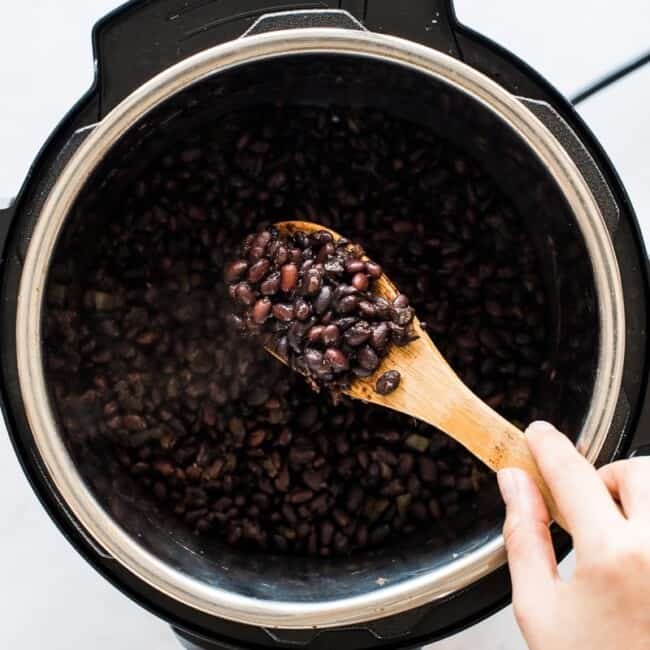 Prep: 10 minutes
Cook: 1 hour
Total : 1 hour 10 minutes
The easiest way to make black beans in the Instant Pot! No soaking required and cooks dried black beans with the best texture and flavor.
Ingredients
1 pound dried black beans
1 tablespoon olive oil
1 small yellow onion, diced
1 green bell pepper, diced (or anaheim or jalapeno)
2 teaspoons minced garlic (about 4 cloves)
1 teaspoon kosher salt
1/2 teaspoon ground cumin
1/2 teaspoon dried oregano
3 1/2 cups water (or chicken or vegetable broth)
chopped cilantro for garnish (optional)
Instructions
Rinse and drain black beans. Discard and beans that are cracked or split in half, as well as any rocks or debris.

Press the saute button on the Instant Pot and add the olive oil. When hot, add the onions and bell pepper. Cook for 5 minutes, stirring occasionally, until onions become translucent.

Add the bay leaves, garlic, salt, cumin and oregano. Cook for 30 seconds, stirring continuously.

Add the water and rinsed black beans. Stir everything together to combine.

Cover with lid, seal the pressure valve and cook on high pressure for 35 minutes.

When the timer goes off, let the pressure release naturally for 20 minutes, then carefully open the pressure valve to manually release any remaining pressure.

Discard the bay leaves and serve immediately with chopped cilantro for garnish.
Isabel's Tips:
Do you like your black beans to have a good amount of broth? To make them a little more "soup-y", add 5 cups of water instead.
Nutrition Information
Serving: 1/8th of recipe Calories: 218kcal (11%) Carbohydrates: 37g (12%) Protein: 13g (26%) Fat: 3g (5%) Saturated Fat: 1g (5%) Sodium: 300mg (13%) Potassium: 885mg (25%) Fiber: 9g (36%) Sugar: 2g (2%) Vitamin A: 65IU (1%) Vitamin C: 13mg (16%) Calcium: 81mg (8%) Iron: 3mg (17%)