Jump to Recipe
Baked Loaded Sweet Potato Breakfast Fries topped with sunny side up eggs, bacon, avocados and cotija cheese are sure to be your new favorite weekend breakfast.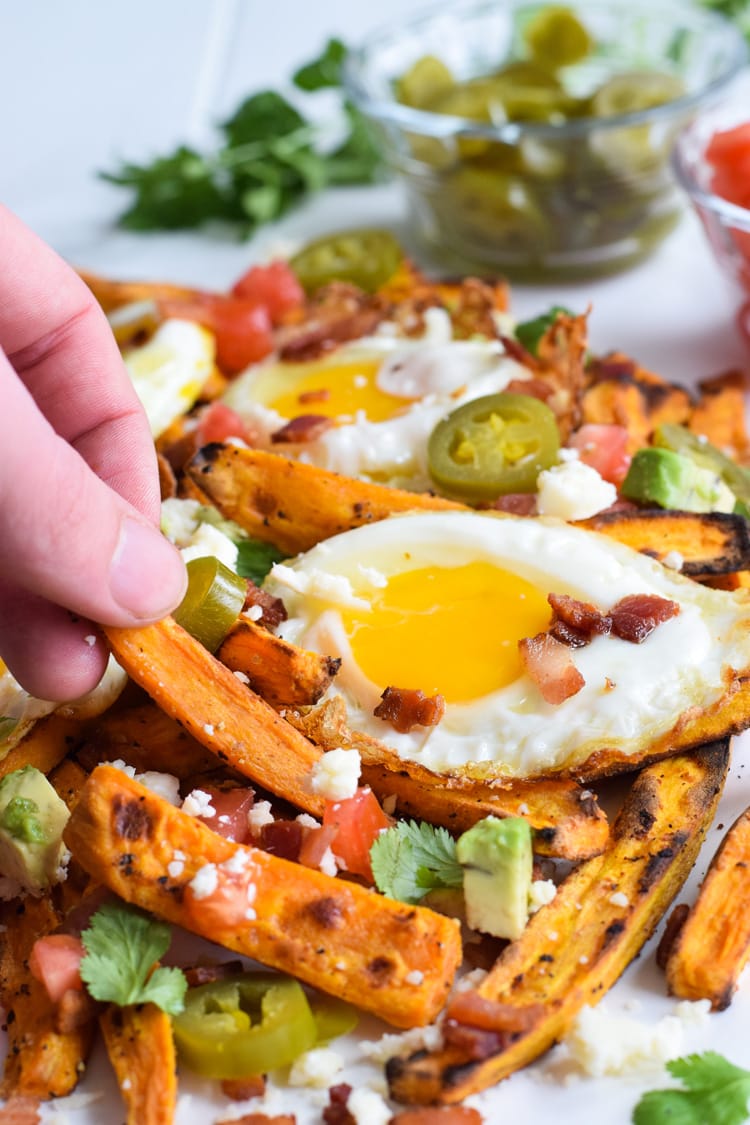 This may be the best breakfast idea I've thought of this year.
Baked sweet potato fries. Sunny side up eggs. Bacon. Avocados. Cotija cheese. Anything your little heart desires.
This, my friends, is why I love the weekends so much! I get to sleep in a bit, relax with some coffee and enjoy amazing food without worrying about getting to work on time.
Note: this meal is exactly what you're body craves after a night involving a drink or two. ?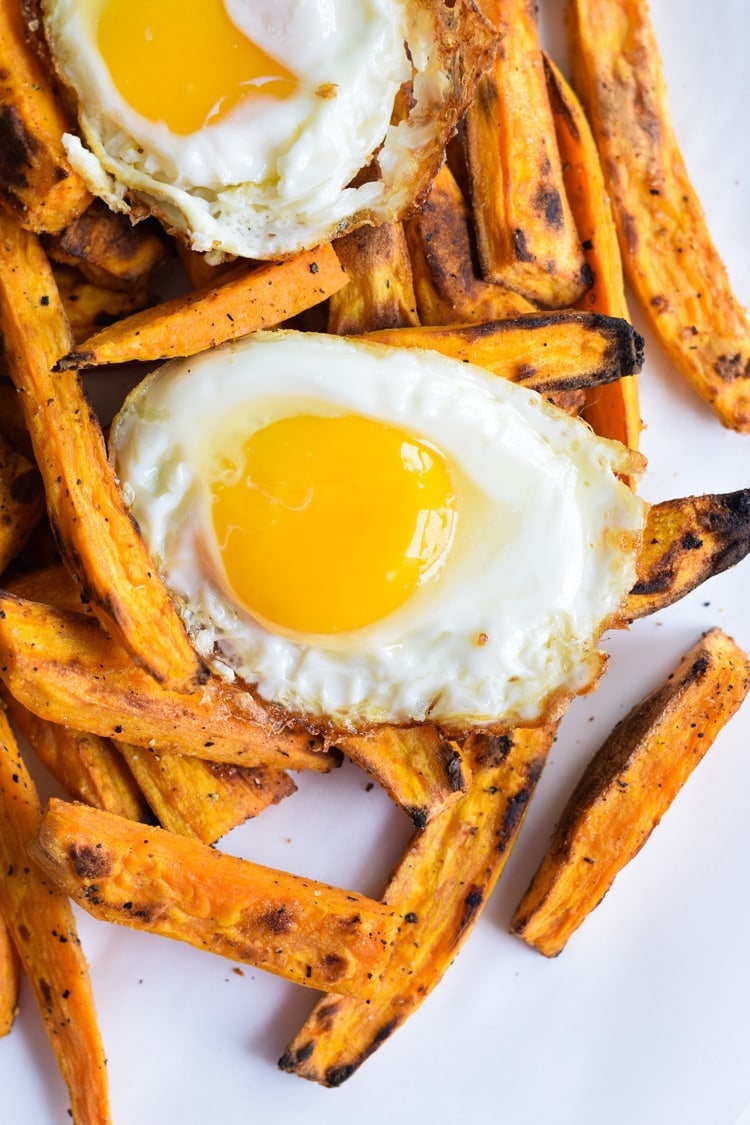 You may think this looks a little indulgent, but let's break it down.
Let's talk about the sweet potato fries. They're baked, only require one tablespoon of olive oil to crisp 'em up and they're pretty damn healthy. Just sprinkle them with some salt, pepper and garlic powder and you're good to go.
When there's 5 minutes left of baking time for the sweet potatoes, I like to prepare my toppings.
Let's talk about the eggs, the the main source of protein in this dish. I decided to leave them sunny side up, but you could poach them or make them over easy. The important thing (at least for me) is that it has a runny yolk. That way, when you break it open, the fries get coated in the yolk and the dish literally goes from average to decadent. There's just something about a runny yolk that makes everything better.
When the eggs are ready, carefully place them on top of the baked fries. Speaking from experience, breaking open the yolk accidentally is very easy to do. You'll notice in the photos below that the egg yolk in the top left corner accidentally broke open. I must have set it on top of a pointy fry and bam. I was super sad about it, but what can you do. Life happens.
Also, I have got to work on my egg cookery. I'm just your average home cook so I just want to point out that these sunny side up eggs aren't perfect by any means. I did, however, just read this quick little wiki-how article on how to make the perfect sunny side up eggs and it's so helpful. I'll definitely be putting those instructions into practice next time.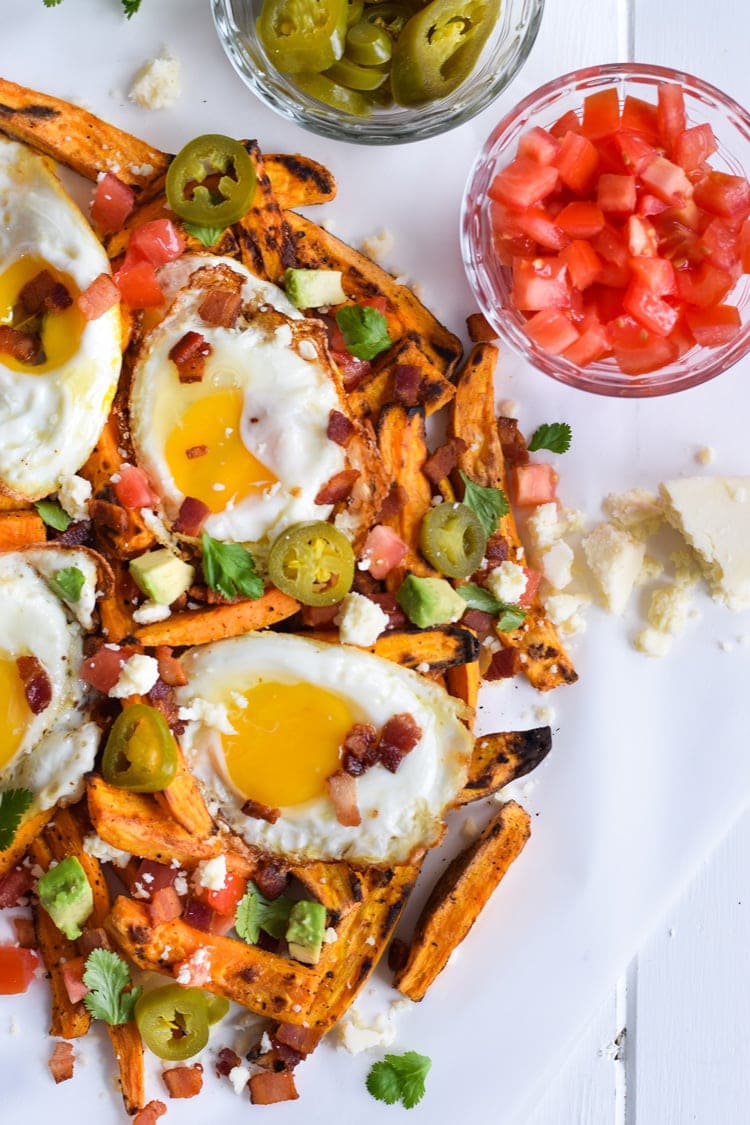 In addition to the sunny side up eggs, I added some of my favorite nacho toppings like bacon, diced tomatoes, avocados, cilantro, jalapeño slices, and cotija cheese.
But don't let what I added stop you from being creative. This is your moment! Feel free to add any of your favorite toppings. Here are some suggestions.
corn
black beans
pinto beans
sour cream
hot sauce
green onions
more cheese
It's all up to you!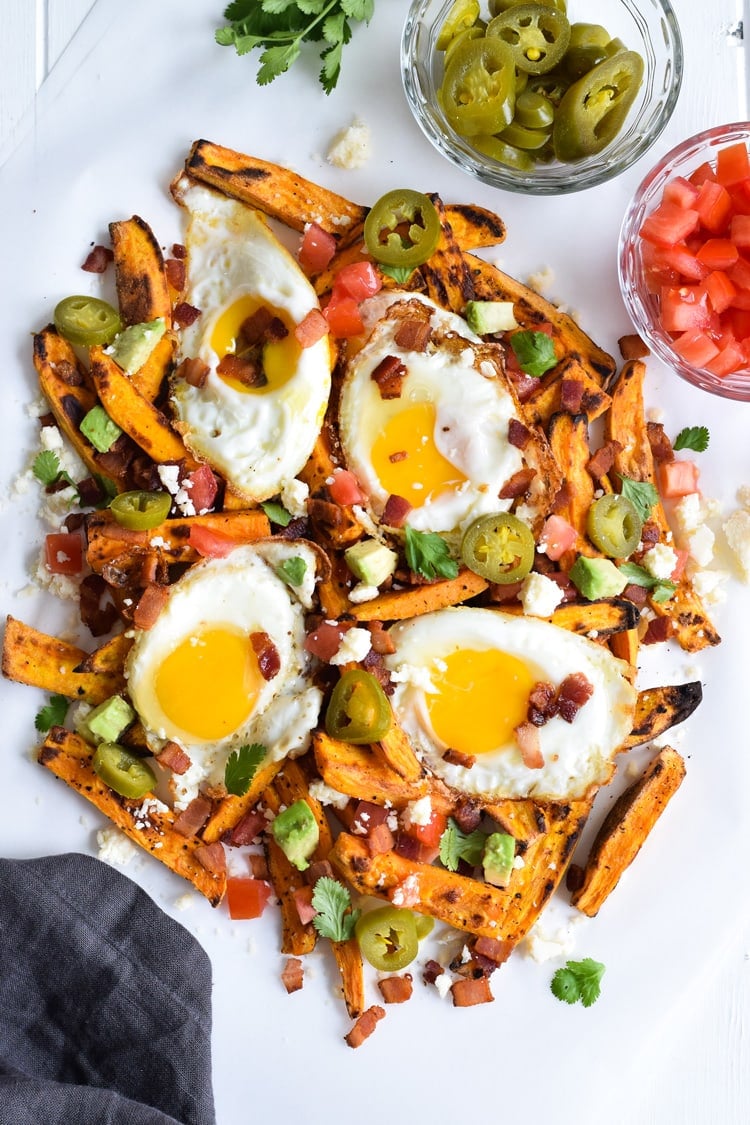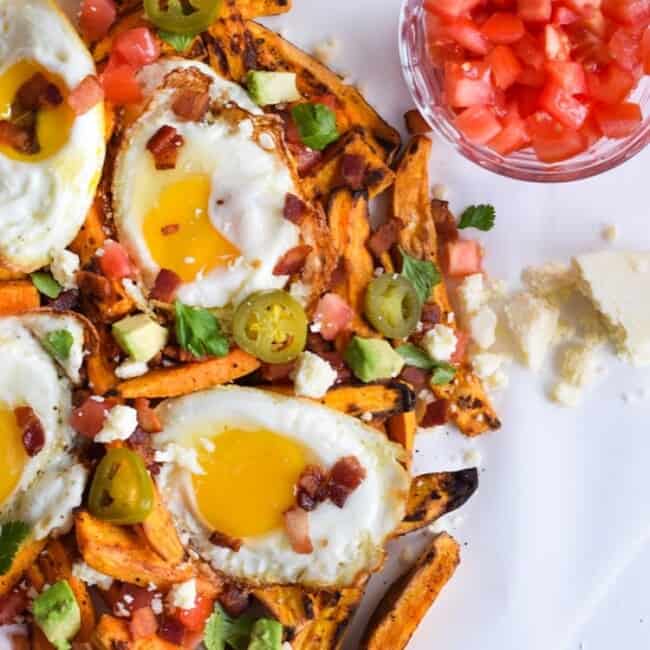 Prep: 5 minutes
Cook: 25 minutes
Total : 30 minutes
Baked Loaded Sweet Potato Breakfast Fries topped with sunny side up eggs, bacon, avocados and cotija cheese are sure to be your new favorite weekend breakfast.
Ingredients
For the toppings
4 large sunny side up eggs
2 slices bacon, cooked
1/2 avocado diced
2 plum tomatoes, diced
1/4 cup cilantro, chopped
1/4 cup jalapeño slices
1/4 cup cotija cheese
1/4 cup sour cream or plain Greek yogurt
Instructions
For the fries
Preheat oven to 450 degrees. Cover two large baking sheets in parchment paper and set aside.

In a large bowl, add peeled and cut sweet potatoes, olive oil, sea salt, black pepper and garlic powder. Toss together to combine and place them evenly on the baking sheets, making sure not to overcrowd them.

Bake in oven for 20-25 minutes. Remove from oven, flip and bake for 5 more minutes. Remove from oven and place all the cooked fries onto one baking sheet.

For the toppings
Carefully place the sunny side up eggs on top of the fries. Sprinkle fries with the remaining toppings and enjoy!