Jump to Recipe
Made with rolled oats, Abuelita Mexican chocolate, pumpkin seeds and dried cranberries, this Mexican Chocolate Pumpkin Seed Granola is a tasty breakfast or snack any time of the day!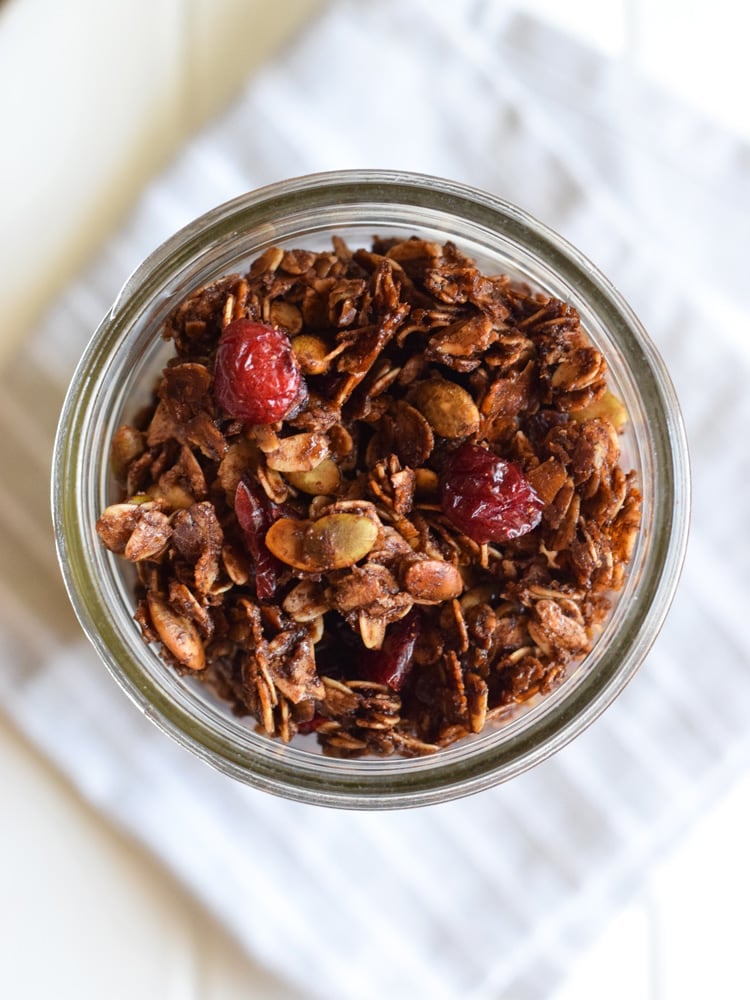 Mexican chocolate. Pumpkin seeds. Granola. FOR BREAKFAST. Sounds like heaven, right?!
Oh ho, it is!
Now I'm not much of a morning sweets person, but hear me out. Most of the time, I prefer something savory and salty in the A.M.. Eggs, sautéed kale, sauerkraut. That's my go-to. But lately, I've been craving something a bit out of the ordinary for me. Something sweet, but also something with some texture and crunch that doesn't bore me like pancakes or cinnamon rolls. (I'm probably the first person to ever call pancakes and cinnamon rolls boring. Gah, I'm weird.)
And that's how granola got on my radar. It's so insanely versatile and there are a million different ways to make it, the possibilities are really endless. After doing some research on how to make granola (this article from Epicurious was so helpful), I decided to make my own with a little Mexican twist incorporating some of my favorite flavors.
Hello, Mexican chocolate.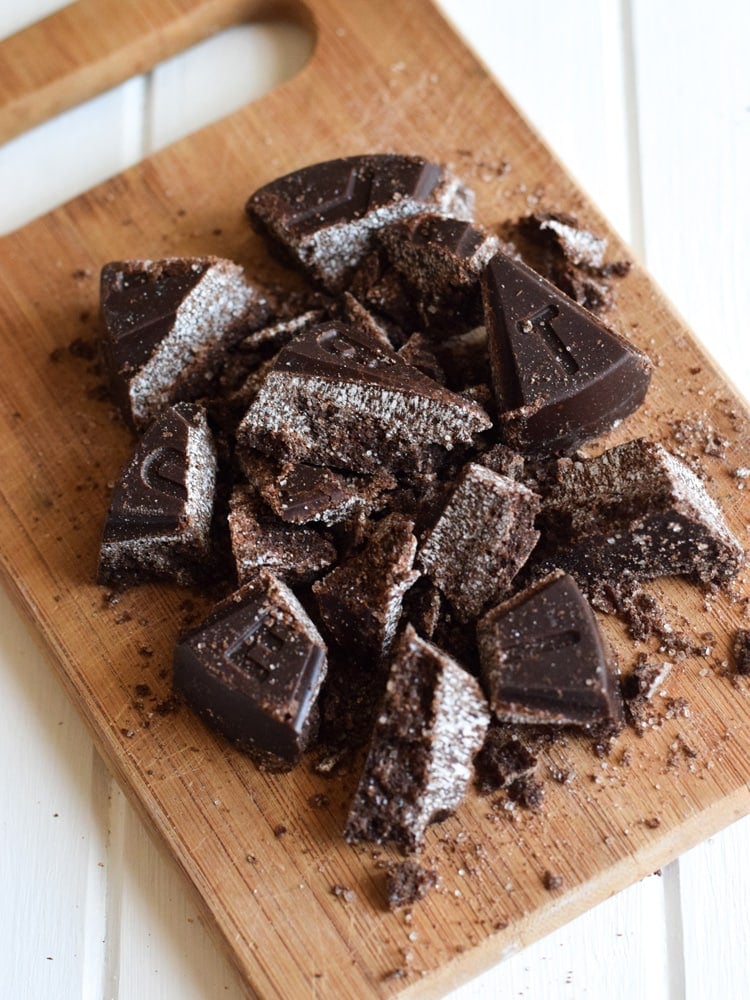 Abuelita Mexican chocolate was a staple in my house growing up. My parents used it to make (you guessed it) hot chocolate, but also used it in some sauces like mole and in certain stews made with red chiles. My older siblings who grew up in Mexico when they were younger have even told me that they used to just take bites out of the chocolate as a little dessert.
It's that good.
While you could make this granola with normal cocoa powder, I highly recommend using some Abuelita Mexican chocolate if you can. It has a very granular texture with coarse sugar and spices mixed throughout that really give it a unique flavor. I was able to find it in my local grocery story in the Hispanic foods aisle, but I've also seen it in other grocery stores near the hot chocolate section. If you can't find it near you, ordering it on Amazon is always an option. Here's where you can get it.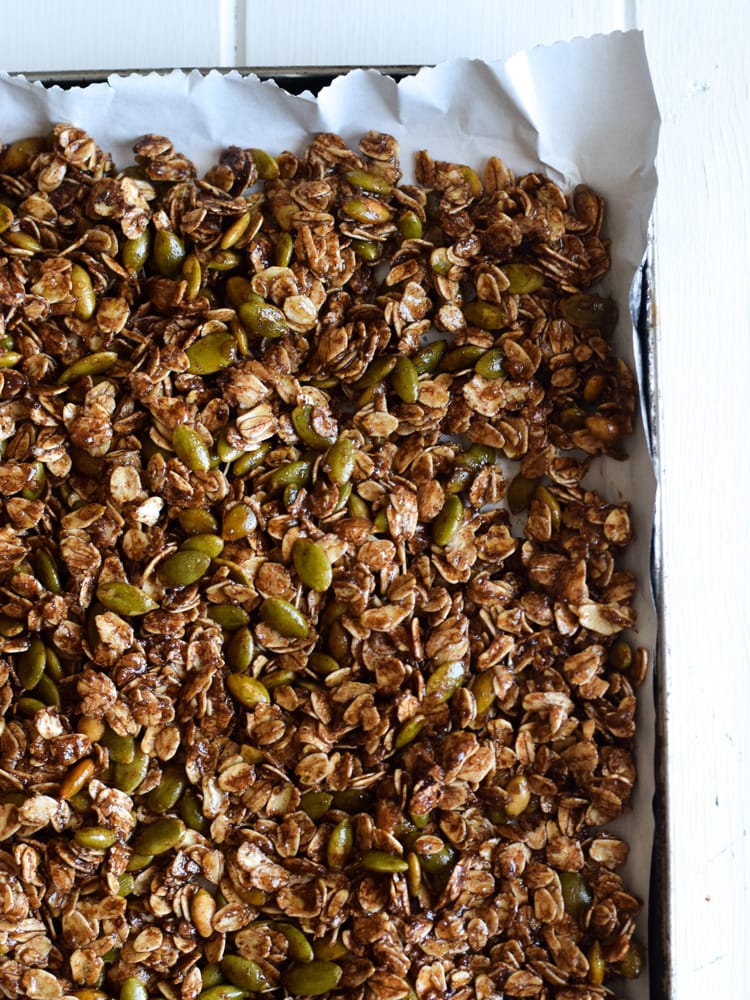 Once you have the Mexican chocolate, you'll want to pulverize it to make it into a powder. I tried making the granola with chunks for the chocolate, but the overall end result wasn't what I was looking for. Pulverizing it did the trick! To do that, I just put a tablet of the chocolate in my KitchenAid blender and pulsed it a few times until the chocolate turned into a powder.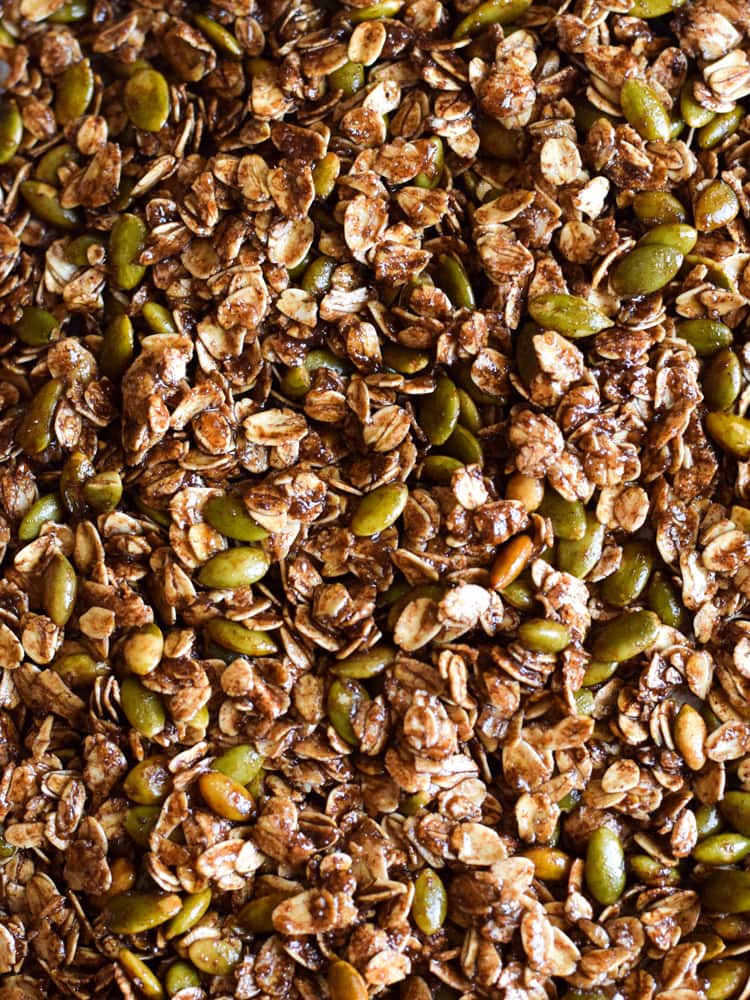 After that, I just mixed all of the ingredients together (except for the dried cranberries) and transfered it onto a baking sheet. Then I baked it for 15 minutes in a 350 degree oven, mixed it up with a spoon, baked it again for 10 minutes and then removed it and let it cool. Once cool, just mix in the dried cranberries and you're good to go.
Now comes the delicious part.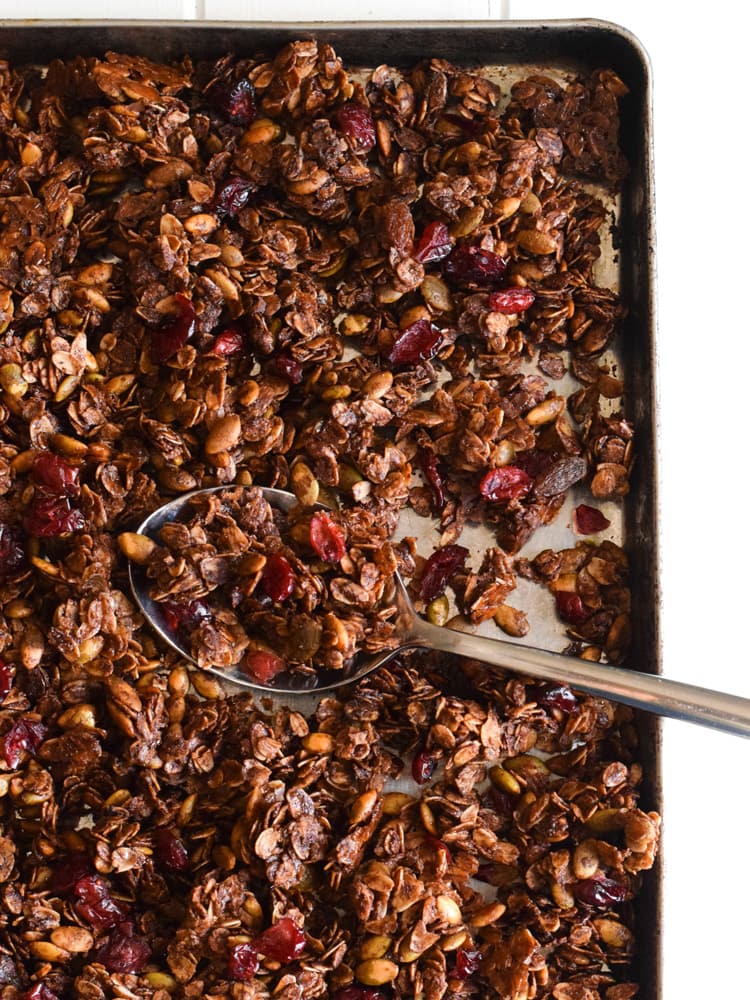 Time to eat!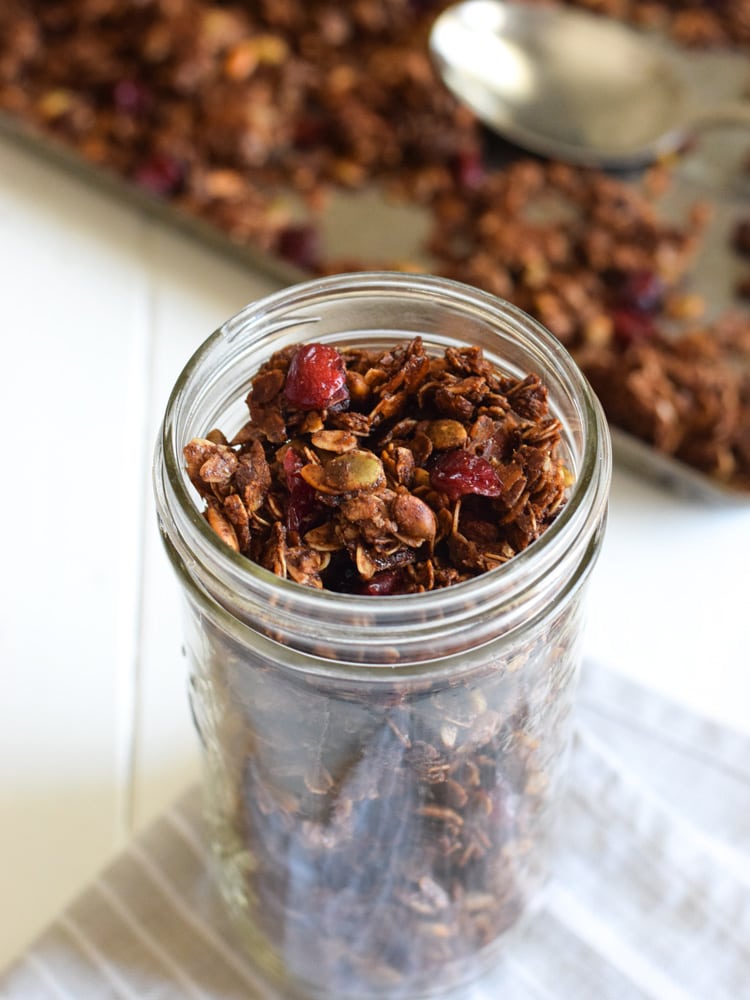 I've eaten this granola with plain Greek yogurt, vanilla Greek yogurt, milk, on top of oatmeal and by the handful. So good and it even lasts for up to a month! What's your favorite way to eat granola? I'd love to know! Let me know in the comments below. I'm always looking for new ways to enjoy it.
If you make this recipe, let me know in the comments below or snap a photo and tag me @isabeleatsblog on Instagram. I'd love to see what you cook!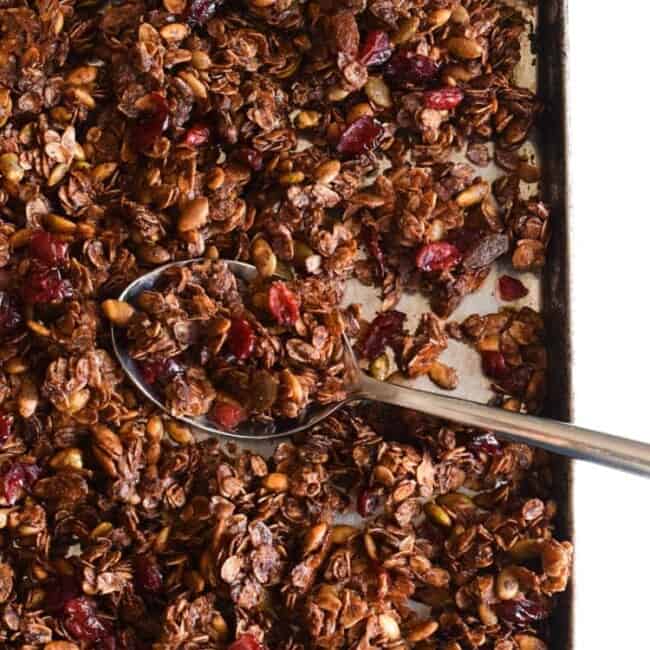 Prep: 10 minutes
Cook: 25 minutes
Total : 35 minutes
Made with wholesome rolled oats, Abuelita Mexican chocolate, pumpkin seeds and dried cranberries, this Mexican Chocolate Pumpkin Seed Granola is a delicious breakfast or snack any time of the day! (gluten free, vegetarian)
Ingredients
3 cups rolled oats
1 tablet Abuelita Mexican chocolate, ground a blender (each tablet weighs about 93 grams)
1 cup roasted salted pumpkin seeds (unroasted works as well)
1 tablespoon ground cinnamon
1/3 cup honey
1/3 cup coconut or olive oil
1/3 cup cranberries
Instructions
Preheat oven to 350 degrees.

In a large bowl, mix together rolled oats, ground Abuelita Mexican chocolate, pumpkin seeds and cinnamon.

In a small bowl, mix together honey and oil.

Add the wet ingredients into the dry ingredients and mix with a large spoon until oats are fully coated.

Transfer the oat mixture onto a large baking sheet covered in parchment paper and bake for 15 minutes.

Remove the baking sheet and stir the granola with a spoon to help the granola bake evenly.

Bake for 10 more minutes.

Remove and let the granola cool completely, about 20 minutes.

Remove the granola from the parchment paper and crumble into chunks with your hands.

Mix in the dried cranberries and enjoy!
Isabel's Tips:
Store leftover granola in an airtight container for up to 2 weeks or in the refrigerator for up to a month.
LIKE THIS MEXICAN CHOCOLATE PUMPKIN SEED GRANOLA? LET ME KNOW IN THE COMMENTS BELOW!
This page contains affiliate links. If you make a purchase on Amazon after clicking one of my links, I may receive a small commission. The price of the item stays the same and any money I make goes to supporting this blog. I only endorse products and services that I fully believe in.